Star Wars Battlefront beta for Xbox One and PC will be held from October 8-12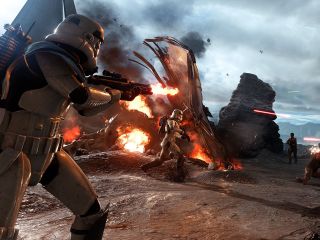 Star Wars Battlefront will be released for the Xbox One, PlayStation 4 and PC will be released to stores on November 17. However, any gamer on one or more of those platforms will be able to play a limited amount of content from the upcoming first-person shooter for free during the open beta test for the game. Publisher Electronic Arts has just revealed that the test will be held for all three platforms from October 8-12.
Here's what players can expect to check out during the beta test:
Walker Assault on Hoth: Fight in epic 40-player battles as a Rebel to destroy the Empire's onslaught of AT-AT's by calling in Y-wing bombers. Or, side with the Empire and protect your walkers while utilizing their mighty weaponry to crush the Rebel objective.
Drop Zone on Sullust: Escape pods are crashing down and you and your team must fight to control them. With its frantic 8v8 matches, Drop Zone is sure to put your combat and strategy skills to the test.
Survival Mission on Tatooine: Play alone or with a friend via co-op or split-screen as you battle to hold off waves of Imperial forces including AT-ST's, TIE fighters, elite stormtroopers and more.
The beta test will also offer users a chance to try out the Star Wars Battlefront Companion experience:
The download file for the Xbox One and PlayStation 4 versions of the beta will be 7GB, while the PC version will be 11GB. Unfortunately, there will be no way to carry over your progress or stats from the beta to the full game.
Buy Star Wars: Battlefront for Xbox One at Amazon for $59.88 (opens in new tab)
Source: Electronic Arts
Companion app not available for WP of course.

Just have to hope Windows 10 fixes the app gap. I've been an iPhone user since the 3G. I love my iPhone but I really like the hardware and interface of windows phone. I have all PC's at home just hoping this universal app thing pays off so I can switch!

Do we need invites for this beta or can we just download it and play?

Available for all with an EA account

Velya kaaryam aayi poyi. Eneetu poda maire

am i the only one that gets bothered by the fact that games are now advertising beta access as a feature and when that arrives, it's just for a few days at most? don't get me wrong, this game looks AMAZING in person, but beta access shouldn't be used as a marketing gimmick.

it pretty much is a marketing gimmick, not a beta. You cant get feedback and change the game a few weeksbefore release. I'm not complaining... I'd love to tryout the game as I await halo5. But I wish they'd stop calling it a beta as if we have some exclusivity here. It's simply a demo. They continue to treat us consumers as dummies

While I agree that this is more of a demo then a beta. There is a lot of valuable information they can get from this and tweek a lot of little things on the server side of things. They have to test thier servers out with as many people as possible for thier launch to be sucessful. This gives them enough time to delay the game if its super broke as this will be about 1 week before the game would go gold.

Yep, this. This is meant for server stress. I don't see a problem with it.

That's exactly what it is now though. That and a server test is about all they have left. Companies spend millions to work out all the bugs they plan on working out (except for server issues) before the game goes gold. So this is to generate hype and get people to pre-order it.

I'm going to try the beta on my AMD Radeon R7 M270 mobile graphics with 4GB of memory and my Intel Core i7 5500U CPU, if the game runs on low settings (1280x720) with more than 30fps I'll purchase it, if not I'll wait until I can purchase a Xbox One (when my wife lets me, since we have a tight budget right now since I'm paying my mortgage).

Either DICE is the dumbest developer ever, and this is going to be flooded with crap, our they are making a decent game and need the good beta to changew the bad taste of BF4 from everyone's palates.

I think they've done more than enough to make up for the messy launch. Even at launch BF4 was amazing. I remember it being the first game I played on Xbox One before launch during the Xbox One Tour. I'm with you reguarding Battlefront though, I wasn't a fan of the Hardline beta so I never got it. It felt childish in comparision to BF4. Hopefully there's a good sense of realism in Battlefront and the 3rd person is executed well.

DICE didn't make Hardline. Also, BF4 was broken a year after launch, even if it was better than it started as. I mean, it was so bad they stopped DLC development. I just worry about that kind of stuff until they show me I shouldn't. The thing with this game, it mostly looks like Battlefied Star Wars Edition. I'm not that keen on paying for what mostly might be a skin over BF4.

Btw I won one of the keys from Rainbow six siege, for the first time though

Congrats? I got it off Amazon no contest needed..

Going to play it Sunday at EGX

They are bringing back split screen gaming??? Sweet!!!

Doubt an i5 with old graphics could even handle this on low....
Windows Central Newsletter
Thank you for signing up to Windows Central. You will receive a verification email shortly.
There was a problem. Please refresh the page and try again.