Starbucks partners with Duracell to offer PMA wireless charging with your coffee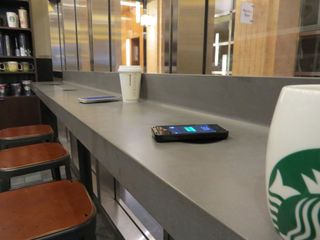 Taking wireless charging to the next level, 100,000 Powermat spots are to be deployed in participating Starbucks and Teavana tea bars. Duracell today announced alongside Starbucks that the rollout will commence in the San Francisco Bay area, expanding Powermat to additional markets next year with full nationwide coverage planned over time at supporting establishments.
These Powermat spots will be located on tables and counters where beverages can be enjoyed. It's worth stating that the wireless charging itself is with the PMA standard and not Qi. While wireless charging isn't anything new and has been featured in the public domain before, it's good to see such a powerful brand such a Starbucks really get behind the technology.
Check out the full press release below.
National Rollout of Wireless Charging - by Duracell Powermat - Begins in Starbucks
SEATTLE and NEW YORK, June 12, 2014 /PRNewswire/ -- Duracell Powermat and Starbucks today announced that they have begun a national rollout of Powermat wireless charging in Starbucks beginning with stores in San Francisco's Bay Area. The companies will expand Powermat to additional major markets in 2015, with a full national rollout in Starbucks company-operated stores and Teavana Fine Teas + Tea Bars planned over time. Initial pilots in Europe and Asia are expected within the year.
"From WiFi and the in-store Starbucks Digital Network to mobile payment and digital music downloads, we have always tried to anticipate our customers' needs early in the adoption curve and provide a world-class solution. We are thrilled to offer our customers that next level of convenience with Powermat wireless charging. Rather than hunting around for an available power outlet, they can seamlessly charge their device while enjoying their favorite food or beverage offering right in our stores," said Adam Brotman, chief digital officer at Starbucks. "We were pleased with the customer response to the pilot tests, and we're now expanding this offering nationally to provide our customers a quality and reliable experience as they use our stores as their respite, their office away from home or as a gathering place with their friends and family."
Stores will be equipped with 'Powermat Spots' - designated areas on tables and counters where customers can place their compatible device and charge wirelessly. Select Starbucks stores in Boston and San Jose offer Powermat today and the broader rollout can be tracked at www.powermat.com/locations .
"Powermat Spots in Starbucks are the result of almost a decade of scientific research spanning material sciences, magnetic induction and mesh networking," said Ran Poliakine, CEO of Powermat Technologies. "The two-pronged power-plug dates back to the era of the horse drawn carriage, so that today's announcement marks the first meaningful upgrade to the way we access power in well over a century."
Powermat Spots comply with the open standard set by the PMA – whose members include AT&T, Blackberry, HTC, Huawei, LG, Microsoft, Qualcomm, Samsung, TI and ZTE – resulting in a growing universe of devices and accessories that will charge seamlessly in Starbucks.
"Starbucks is a highly regarded global brand and its decision to rollout a Powermat network is both empowering and transformative for consumers and the mobile industry as a whole," said Jeff Howard, vice president, Mobile Devices and Accessories, AT&T Mobility. "Many of our newer devices have compatible technology either embedded or available as an added feature to give consumers the freedom to charge wirelessly. Today's announcement marks an important time for our customers – they will have the freedom to stay charged effortlessly in Starbucks stores nationwide over time."
"Starbucks is transforming the way consumers get power to their phones, in much the same way it made WiFi a standard amenity in public places. This endeavor is a critical step in Duracell's vision to make dead battery anxiety a thing of the past," said Stassi Anastassov, President of Duracell at Procter & Gamble. "When Starbucks introduced WiFi in their stores in 2001, 95 percent of devices didn't have WiFi, and multiple standards hampered the industry. The rest is history. Starbucks' plans to offer Powermat nationally is likely to settle any lingering standards questions, and usher wireless power into the mainstream."
Windows Central Newsletter
Get the best of Windows Central in your inbox, every day!
Rich Edmonds was formerly a Senior Editor of PC hardware at Windows Central, covering everything related to PC components and NAS. He's been involved in technology for more than a decade and knows a thing or two about the magic inside a PC chassis. You can follow him on Twitter at @RichEdmonds.
Wish they would give us an app, so bored of explaining why I can't download the app and continue to use the card in their stores

Use Sbux Card. It's not official, but it works. You can use your phone to pay, and it shows you your reward stars and remaining balance.

Rewards are not working outside the US. The App only supports login in the US. But paying and balance is possible in the UK for example

2nd for SBUX app. I use it several times a week and it work really well. Not as slick as an official app, but every bit as useful

And then they went with PMA...

The only explanation for this is the vast variety of devices not supporting Qi and supporting PMA out of the box. unfortunately i cant give you a list of the PMA devices because I never heard of one. But hey.. you can still buy those ugly cases as seen in the picture above :O

there in AT&T's pocket as they're in the PMA camp

Well and which stock phone on AT&T Supports PMA without a case. the 1520 doesnt because it doesnt support any wireless charging out of the box

1520 supports Qi, but AT&T had it ripped out.

What phones use PMA? They should have gone with Qi. HTC, Nokia, Motorola, Sony and LG are members of the Qi camp and that certainly puts WPC in a leading position.

I am not aware of any phone with PMA built in. This is Duracell trying to force something. Get you chargers everywhere and get carriers to block the competition and drag the market kicking and screaming to your "standard"

Yes, because in the near future Apple will 'invent' it's own standard (prob based on PMA)... So the iUsers will be proud that there devices are allready supported. That all other devices support wireless charging for years is ignored!

I wouldn't be surprised. :/

There are aftermarket sleeves for qi i believe but not sold in places apple users would look

Aren't there more qi phones out there?

Lumia phones and Samsung phones

BlackBerry Z30 from Verizon only as they have an exclusive on the specific variation/model of the Z30. Posted via the WPC App for Android! on BlackBerry Z30

Woah. Your sig says Posted via the WPC App for Android! on BlackBerry Z30. WTF?

Android apps run well on BBOS10.

Maybe but back when powermat came out it had aftermarket parts for a variety of devices the Nintendo ds included

It's high time all the wireless charging companies start working together to a single standard. Chosing one brand over the other still causes a niche experience, just like trying to find a wall charger in the US while you only have a british powerbrick with you and there is nog adapter at hand.

There's always going to be competition. In any industry. Look at the BluRay vs HDDVD fiasco.

and where is the bluray competition now.aha.. those there is not always competition as soon as one "standard" get adapted throughout the industry

Broadcom us developing a chit that will auto detect among the three competing standards.

Whatever the case Microsoft needs to be the first to buy into this new Broadcom tech. Windows Phones are well known now for wireless charging. We can't lose a big advantage we have over the competition.

Is wireless charging really safe?

might give you cancer though

Yep I've been using it on my Lumia 920 for about a year now and it's much safer than a USB charger

Safer for your phone. If you forget its on charger you don't accidentally pull out the cable :P

Also no wearing out the USB Jack.

Not if you buy a longer micro usb cable

Only grown one extra testicle in the two years I've used it.

Wow, that's going to be a mess in the long term. Probably going to end up with a bunch of them, like grapes. I've only had my chargers for a few months, not enuff time to become a mutie... Frank Horrigan

Just give us a damn Starbucks app...

Y u need that to find that? U can,find that through bing right?

I was initially confused as well, but I believe Aashish13 is under the impression that the Starbucks app would only be used to locate Starbucks locations. He/She probably commented without knowing its other uses such as tracking rewards points and paying in stores.

Since PMA charging is not available on Lumia phones then this development is not of use to me. Maybe in future I'll look at a PMA supported phone, but only if it offers me something useful. But the key difference between QI and PMA charging according to the wiki is " A key advantage of the PMA standard over Qi addition of data transmission at charging stations for marketing purposes". So that's a double no, being mercilessly spammed while drinking an expensive cup of coffee at a establishment that uses dubious corporate tax rules does not appeal.

Completely true. But lets not forget that you need a additional cover too!. So spend more and get spammed more. I really dislike corporate America.

I'm with Eddie on this one. Suddenly it all makes sense now.

There aren't any phones that support PMA. The reason that Starbucks and AT&T went with PMA is because PMA can serve advertising to the devices that are charging. It's all about the money, money, money... not about adopting a technology that people actually care about or are using.

Because the comment you responded to didn't say this.

I think manufacturers should just offer charging cases and not actually have the wireless charging standards built in until we finally settle on a standard.

And how is this going to help settling a standard? why would i want to have one of those ugly cases around my £600 phone

Or they can put in one of those chips which supports all the standards. (saw it in a news article recently, forgot who was developing these chips)

I read somewhere that the PMA wireless charging tech allows data to be pushed to the device, in addition to charging. I think that Starbucks will push ads through their PMA chargers. Other than that I cannot think of any other reason for why they choose PMA over Qi, which is already inbuilt into plenty of devices. Is there a phone with inbuilt PMA charging coil?

I wonder is some type of data gets "pulled" too. That would be scary as hell.

Is "inbuilt" a word? I guess it is.

Ok, no reason to visit starbucks then. There are a lot of other coffe shops where i live...

Starbucks "coffee" is disgusting anyway.

I make my own coffee and never go to Starbucks, but the fact that they are everywhere and a lot of people hang out there, they have the potential to force a "standard" on the market. If PMA becomes the standard add-on for iPhones, they win.

Didn't they do a Qi installation a couple years back? No one cared and they got ripped out. This is just Duracell paying Starbucks money. If Apple releases a phone with wireless charging then you will have your standard (in the US anyway).

This whole standards war is bullshit. So frustrating to the consumer.

I'll take whichever one they put inside the phone

Why jump on board with these plates when they never had micro USBs hanging out of their wall before wireless charging, I had to bring my own plugs etc

Microsoft needs to work with their Seattle buddy Starbucks to make a killer app for Windows. What's taking so long?

If this is anything like the wireless wars, Qi just died.

Except PMA isn't available and most people won't get charging cases.

If I was a betting person, Apple will have PMA built into the Iphone6. Starbucks has a bone for Apple, and since no other phone supports PMA, that makes it unique to Apple.

Just like their usual chargers... "lightening" lol

Good. So when people come in my office and ask if I have an iPhone charger, while my Lumia is sucking juice through my Qi charging stand, I can still say, "no".

If the leaked pictures of the iPhone 6 case are correct, it won't have any built-in wireless charging. It's still a metal case, and inductive charging doesn't work if it has to travel through metal. Apple would have to switch back to an all-glass back like was on the 4/4s for wireless charging (or NFC) to work, and it really doesn't look like that is in the plans right now.

No app, and no qi... I'm feeling some anti Star$ucks coming on!!
THERE IS NO FKING WAY STARBUCKS IS DOING THIS FOR THE CUSTOMER!!

I hate the whole idea of Starbucks. Yuk!

They did a test run in Boston for a year now and literally nobody ever uses it. starbucks says they are future proofing, but you can't future proof anything without knowing which is the standard.

I think that should be made into a meme ;)

The only reason I can think of for doing this is the new iPhone having wireless charging using PMA. If true this will effectively kill any reason to buy Windows Phone if Microsoft doesn't stop using Qi. It sucks already that I can't use a Starbucks app, now I will miss out on this experience as well. Face it, how many times when you badly needed WiFi have you looked for a Starbucks? Now think about how looking for a charger at Starbucks will become as socialized in peoples minds as well. Pretty smart move on their part of you ask me. You build it and this time they will come. Of course if Apple goes the other way then it will be different but its highly unlikely.

Microsoft already signed up for PMA just in case.

Wow,fair weather friend there. "If true this will effectively kill any reason to buy Windows Phone if Microsoft doesn't stop using Qi."

The point is about mind share i.e. when was the last time you heard a musician said that their album is on Xbox music or even the Google play store? Yet you walk into Starbucks you can get a free iTunes song, free WiFi and soon s place to charge your phone. Now if only iPhone comes out very publicly with that charging standard then it is really hard to get people in North America to consider anything not Apple. However if a Windows phone works then it is an easier sell.

Technically I am unconcerned. I expect MS will adopt the new multistandard (Broadcom BCM59350) chip.

I dont see Apple adding PMA since the seem to be obsessed with thinness. However, I could see this move by Starbucks solidifying PMA as the standard iPhone add-on charging shell accessory. That alone would kill Qi. IPhone people spend they money.

Except that all of the wireless charging sleeves for iPhones are bulky and awkward. Dealing with the sleeve is a lot more of a hassle than dealing with a charging cable. The sleeves for PMA have been available for iPhones for a long time, and nobody is buying them.

Or if the iPhone is made larger then they can add charging just like how the surface pro 3 was able to before thinner by increasing size.

I'm still waiting for the wireless charging pads at The Coffee Bean & Tea Leaf stores that Nokia promised us 18 months ago.

Cool idea but I'd be wary of plunking down my expensive toy in full glare of every tom, dick and harry. I'm that paranoid really. But then I don't go to Starbucks enough for this to be a concern and having a G2 which lasts for eons plus a Zagg Sparq in the tote bag...I stay prepared.

I dint want to have to purchase extra accessory crap or have adds pushed to me. This is why I have Qi and love it as well as why I use ad block. Arg.

Hey gang, I started an idea at the starbucks idea site for them to make all our lives easier and switch to Qi. Go and vote on it if you agree! The market has already decided and they are out of touch with it. http://mystarbucksidea.force.com/apex/ideaview?id=08750000000Jqd5AAC

They have had charging tables in my SBux for almost a year. In the 10 hours a week I spend in the store I have only seen one other person besides myself use them. The ink reason why I do on occasion is the Duracell rep was in the store one day, saw I had a Nokia phone and offered me a couple charging units for free. Just another stupid format war and both ATT and SB should be slapped for going with the format not supported in the hardware. But money talks. Guess we'll all just have to keep plugging in for the foreseeable future.

PMA is the Google of wireless charging. "Use are wireless charging tech so we can spam you with ads."

BluRay vs HD DVD. Ugh.
Thu should use those hybrid Qi/PMA chargers that were recently announced. Enough with the pissing wars for format supremacy. Qi is far more common, Duracell. Please stop.

Hope that they will roll this out internationally!

i just hope it fails miserably, there's no phone with that crap PMA other than the att's 1520, and that one is being hacked to use Qi, i hate this kind of corporate wars, they only hurt the consumer, Qi works like it should already, why we need a competitor making it harder for US to live, i hope apple isnt sold to this idiocracy that would complicate things even further, i just imagined a day where the world(iphone users) ask me why my phone doesnt have wireless charging because their iphones can charge everywhere and mine doesnt

Congratulations Starbucks, so far as I know, 93.5% of people use qi.

Very good news for Powermat users worldwide. This is good protection for their early adoption of technology. www.bigfunmarket.com sells innovative Powermat (PMA standard) compatible wireless charging thin receivers for Samsung Galaxy S4, S3, Note 3, Note 2. And micro-USB connect Powermat (PMA standard) compatible wireless charging thin receiver is for phone/tablet with USB charging function.

PMA is used in the AT&T variant of the LG G3. Wireless charging is not that popular in the US. Its moves like these that make a standard. well.. a standard lol. AT&T phones with wireless charging are now required to adopt the PMA standard, therefore it is only a matter of time until iPhones arive with this feature. All praise and admire the 'revolutionary' iPhone!