Starbucks retires its app for Windows 10 Mobile
Starbucks has bid adieu to Windows 10 Mobile.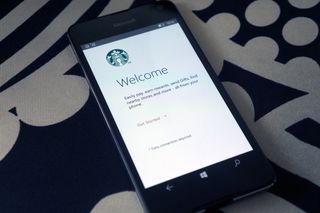 The Starbucks app (opens in new tab) for Windows 10 Mobile has been retired, dropping it from the Microsoft Store a little more than a year after its arrival. The official app is no longer available for download, and people with the app installed are being greeted with a message directing them to use Starbucks' website.
If you have the Starbucks app on your phone, you'll be logged out and unable to sign in the next time you open it. When trying to sign in, you'll be greeted with the following message instead:
When it launched in August of 2016, the official Starbucks app for Windows 10 Mobile was only available in the U.S., Canada, and the UK. It never expanded from there, but people in those regions could use the app to pay at Starbucks stores, manage their account, redeem rewards, and find nearby stores.
Starbucks is another in a long line of big names leaving the platform, but it's not surprising. With Windows 10 Mobile essentially dead at this point, a number of recognizable apps have opted to drop support for the platform. Aside from Starbucks, Barclays bank announced it would soon drop support. That's in addition to others like Flipboard, Wells Fargo, and Evernote, just to name a few. But while Windows 10 Mobile may be on the way out, we could potentially see Microsoft launch back into the mobile space in a unique way in the future.
Thanks for the tips, everyone!
Windows Central Newsletter
Get the best of Windows Central in your inbox, every day!
Dan Thorp-Lancaster is the former Editor-in-Chief of Windows Central. He began working with Windows Central, Android Central, and iMore as a news writer in 2014 and is obsessed with tech of all sorts. You can follow Dan on Twitter @DthorpL and Instagram @heyitsdtl.
inb4 "I never used it anyways. Who uses SB nowadays"

I didn't, though I downloaded it just to show support. Crappy coffee.

Who cares, never go to starbucks anyway. Goodby & goodluck.

Moderate coffee at a fairly high price IMO. Though, if you take a look at some of these indie coffee joints, you'll REALLY get a wallet shocker.

Surprised it was still there....

It's a real shame what happened to W10M. They did so much work on 7.5 and 8.1 and really got devs involved. Then a shift in leadership and everything goes to the dogs. Such a shame. Switched to Note8 a month ago and no longer worried about apps.

Right, iam with you on that.

Yeah, I switched over to the Note 8 a couple months ago. I love the phone and access to all kinds of apps. Although, I use Win 10 Launcher to make it look and feel like Windows 10 Mobile. I decided to spend the $5 to get the full experience. If you really want the full look and feel of Windows 10 Mobile, this is a must have for anyone switching over and want to relive the experience. It has limited live tiles, meaning, the tiles update from the notification center and not directly from the app. If you clear the all the notifications, the tiles pined will no longer show the notification. Pretty good app, for anyone looking.

"Launcher 10" is much better. It's so good I think it's better than the real thing.

I tried to use it on both my 950XL and my X3 and it never allowed me to log on despite many uninstalls and reinstalls. Always had to sign in on web. No loss now that they are pulling the app.

Why do you still write articles about Windows 10 Mobile? What percentage of this site still uses it in December 2017? I think most of us are on iOS and Android now.

Sure it's immaterial but they're still WINDOWS Central and not acknowledging WINDOWS 10 Mobile, even if it's abandoned, would be kinda wrong.

Then, why are your here?!
Go to droid and ios central...

This would be an awesome app for a small pocketable folding device. Sounds like Microsoft isn't committed to offering an ecosystem for such a device.

Yep, exactly what we have been saying as well.

ROFLMAO... what folding device ??? the new Samsung Galaxy Note X??? ..... anything else besides that Samsung device is vapourware.

"the new Samsung Galaxy Note X??? ..... anything else besides that Samsung device is vapourware"

Cites literal vaporware to combat supposed vaporware. Your comment quality is below par, try harder.

You don't understand the point of his comment? Microsoft is unreliable while you can be almost certain Samsung will release such a device in 2018. It is a perception issue for Microsoft. Here is a great article where the author makes the exact same point. https://www.windowscentral.com/microsoft-unlikely-quit-surface

Replies to the author of a post with said post to try to prove a point. GGWP.

I see you have a new copy/paste auto response - "You don't understand". Ugh

Lol.. Daniel. That's exactly what I was thinking... Trolls trolling themselves😂😂😂😂

To be honest the app felt like a half-assed attempt. You couldn't order ahead and it used to log me out all the time. Some of the errors that it raised were misinformative. I swear it had some weird WiFi bug also. The site that they point you to, is a thousand times better than the app ever was, which hurts to say.

Which is exactly why I went to the X. Well, that and the fact that Apple supports their deviceS for more than TWO GOD DAMN YEARS!

By support, do you mean intentionally slow down your device with each future release?
Sorry, had to go there. =P

@gamo62 Enjoy your rent-deposit-eating-overpriced smartphone lol, no need to tout what route you went. Use what works for you :).

There goes my feedback to Starbucks flushed down the drain. Why they limited the app to ONLY certain countries (us, uk, Canada), I'll never know.

@David MacdAj , well considering Microsoft has been isolating most of their products to the US... it's not surprising and plus the latest iteration of tap to pay for WM10 is USA only so there is that...

Except the app wasn't limited to the US, it was available here in the UK.

They must be planning to release a new version for foldable devices that can happen to makes calls but that are not really phones.

For people to not really order coffee.....

It's sad to see it go, but personally I don't use these "install it and use it maybe twice a year" brand apps. That app centric model is dying because it's not useful to anyone nor sustainable from a developer's perspective. If you think of it, it's crazy to have an app installed for each brand, product, or web page you support or use. It's impractical.

Used it, was buggy. Android app works fine with morre features

The web app is miles ahead of what the hard app could do anyway. Good riddance. Mobile ordering rules...on good old 950XL.

If the App was as good as the new web exerience I think I'd be missing it a little more. Maybe the point here is that a web experience can be so good that apps can become irrelivent.

Perhaps that is the point. If the web works as good or better than an app, it kind of eliminates the app gap.

Too bad. Would have used the app if it had been worthwhile. Did have it installed, 950/950XL, and periodically complained about it on their forums. Guess they got tired of the complaints. The iOS and Android apps are way out ahead and very similar. I've actually migrated to an iPhone X for day to day, but I was carrying a 6s or Pixel when I was on WP to supplement for those apps that didn't exist or sucked. My feedback was always that they should make a real UWP that worked on Windows as well as WP. I see a lot more Windows laptops in Starbucks these days, and popping into the app to place an order and just walk up when it's ready would have gone over well. Yea, there is the web, but apps are convenient for these specific tasks.

Oh, well, less and less apps support Windows phone, sucks.

The web app brings mobile order so I'm cool with this. I'm willing to bet this will easily turn into a PWA.

Thanks for pointing that out. That's a nice add for the web site, a feature the app never had on Windows.

The new webapp is encoded as a Progressive Web App (and is already listed on PWA sites tracking these developments), so when Microsoft starts automatically adding PWA's to the store in the next few months this one should be there for the future of Windows 10, and considering that it already works much better than the Windows Phone app, the latter will not be missed. The fact that Starbucks is developing this as a PWA should actually be an indicator that this will likely end up being the Android and iOS version as well.

At least they never wasted any time actually making it work correctly, before retiring it. That would have been terrible. For me, the website always worked better, and Edge would even remember my login.

The app on the Band was more useful than the W10M app. /s... kinda.

I've had their mobile web site pinned to Start instead of their app for a while now. Their site has long had more features than the scarcely updated app ever did. It's still an easy way to pay with and manage gift cards.

app.starbucks.com works just fine for me. Found both of my cards and I can use and reload them, which is all I need. Don't see what all the fuss is.

The app was junk. App.Starbucks.com works much better. They should have swapped for a web wrapper.

Honestly, SB would have been better off had they ported the app to Windows 10 PC.

Good, it never worked properly in the first place anyway. It would always log you out when the app was closed, would refuse to log you in even with the correct password, lacked pretty much ALL the features from other platforms and I believe had one single update in the entire time it was on W10M.

I'm surprised it lasted this long. Isn't Nadella on the Board of Starbucks?

The web app is so much better. On par with iOS version or better. Just pin it to start. Can order online now. This is actually a net gain for W10M users who go to Starbucks.

It was only a matter of time. So many features were added to the app for iOS and Android that never made it to Windows.

This is the thing i dont get. With microsoft abandoning windows mobile, in favor of a "new" foldable device focused on enterprise customers; what enterprise/company is going to supply their employees with device that can't call a cab via lyft or uber? Or book a flight or hotel room from a carrier app or hotel chain app. Even if this telephony enabled device comes out, people are still going to be carrying around their androids or iphones to perform these basic business functions.

Starbucks, they do all but coffee.

Still sad to see, I just imagine the developers/managers behind Windows Mobile development at these companies finally having to give in to pressure to drop support. I finally switched to an LG V30 about a month ago, and I'm sorry to report that it's a much better world. I'm in absolute love with a phone again.