Start11 adds folder support to its customizable Windows 11 Start menu
By Sean Endicott published
The latest update to Start11 lets you organize your apps into folders on Windows 11.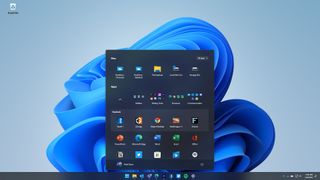 (Image credit: Stardock)
What you need to know
Start11 just received an update that adds folder support and a handful of other new features.
The app now supports importing your Start menu layout from Windows 10.
Locking a layout into place is also an option with the latest version of Start11.
Windows 11 includes a new Start menu that's been met with mixed reviews. Stardock's Start11 aims to deliver an improved Start experience for both Windows 11 and Windows 10. In addition to allowing people to choose a legacy look, Start11 provides more customization options than the default Start menu and has some unique features. Now, the app has been updated to version 1.1, which includes support for folders and a list of other new options.
Folder support is the main draw of this update. Users can now drag one icon over another while holding the Shift key to create a folder. The app's integration with Fences is also a nice touch.
"One of our priorities in v1.1 was bringing folder functionality to the Windows 11 style menu and enhancing integration with our most popular application, Fences," said VP and General Manager of Stardock Software Brad Sams.
Here's everything that's new in Start11 version 1.1:
Folder support for Windows 10 and 11 styles. Create a folder directly in the Start menu by dragging one icon over another while holding down the shift key.
Open an icon submenu with a simple right click and easily change the app icon that appears in the menu on Windows 10 and 11 styles.
Streamlined onboarding with the ability to import an existing Windows 10 menu layout into Start11
Easily add fences directly to your Start menu with enhanced support for Fences integration.
Lock icon positions in Windows 10 and 11 style menus.
The ability to lock a layout should prevent other people at your home or office from messing with your Start menu. The feature also stops you from accidentally changing your setup.
Start11 is available from Stardock for $6, though you can save a bit if you already have Start8 or Start10. Start11 is also included in the Object Desktop suite, which includes a variety of apps for customizing a PC.
Start11 (opens in new tab)

Configurable Starts

Start11 is a third-party app that aims to fix the Start menu by bringing back and adding new configurable options for the Start and Taskbar experiences. Its latest update adds support for folders and several other new options.
Sean Endicott is the news writer for Windows Central. If it runs Windows, is made by Microsoft, or has anything to do with either, he's on it. Sean's been with Windows Central since 2017 and is also our resident app expert. If you have a news tip or an app to review, hit him up at sean.endicott@futurenet.com.
This feature is probably enough to put me over the edge and buy Start11. I like just about everything about Windows 11 other than the Start Menu's forced recommended section and lack of folders. Glad this fixes that.

I bought this a couple of weeks ago (grabbed the whole Stardock Object Desktop suite). It's MUCH easier to launch apps than the Windows 11 Start, which is just crippling for me to the point that I feel I can't use the OS (probably not so for everyone, but I had 85 apps organized and grouped on my Windows 10 Start menu, out of hundreds of total programs in my All Apps section). However, having used it for a while, I would say that it feels very non-native. Still worth it for me, because the alternative is just so unusably bad, but be aware that it lacks the nice animations of Microsoft's native Win 11 Start and, possibly more important, if you hit the Windows key and start typing to search (my standard way of searching for anything on my PC or the web), there's a distinct lag as it shifts from Start 11 to the Windows Search options. You can stick with Start 11 for search too, but it doesn't provide the nice thumbnails like Windows native search does. Fortunately, they let you use Start 11 just for the Start menu launcher and still use Windows' native Search capability, but there's a 1-3 second lag as it switches, vs about instantaneous in Windows native. This means you have to wait a moment after you hit the Windows key to start typing your search. It's painful for me. I haven't tried the Fences piece that is also included in the Object Desktop suite (and mentioned in this article), but that MIGHT be better for me than Start 11. It allows for groups and folders on the Desktop, similar to what we can do in Windows 10 Start, and then quick ways to access that without having to move windows out of the way. Maybe that plus native Windows Start is the best combination, but I don't have any first-hand experience yet. Ultimately, I hope MS just gives us back the features we had in the Windows 10 Start menu for grouping and folders. With that Windows 11 would be fantastic.

Hey! Thanks for the feedback about Start11...and would love to know more about which animations and the processes where you see latency on the input. We made some adjustments in a patch that went out in 2021 and want to know if you are still seeing these issues post-patch. Based on your UN, I think I know who you are on Twitter and if so, feel free to respond here or DM me.

Yeah, I agree with being feeling non-native, but this is just the nature of 3rd-party apps replacing certain Windows shell. Pretty much to be expected and a compromise we just have to accept for now until Microsoft themselves act together. Heck, Microsoft can't even always polish their own software to begin with. But yeah, it awesome this exist considering how crippling current Start menu in Windows 11. And disappointingly, there seems to be no progress we will see these again in Insider so far, though we still have like months before the next Windows 11 feature update release. So there is still time. I wish the next thing to add is the ability to have notification badges, which is currently missing in Windows 11 Start menu as well. They seriously gutted too many features, even made old iOS Springboard UI (homescreen) from iOS4 feels more feature rich.

"And disappointingly, there seems to be no progress we will see these again in Insider so far", I do think MS will expand the start menu more because they also already improved it a bit (they just seem to do it at a snail pace): https://www.theverge.com/2021/12/1/22812258/microsoft-windows-11-taskbar...

I bought Object Desktop a few weeks ago as well and Fences is a lovely program. My desktop has never been so functional but clean at the same time. I used Start 11 on my Surface and it definitely helps to make Windows 11 more bearable as well. Give Groupy a try as well. I love that you can group not only multiple tabs but it adds tabs to Windows Explorer as well.

Well said @GraniteStateColin I fully agree with you. I also bought a licence from Stardock. Once I've tried Start 11, I knew I would only keep Start11 IF it was able to simulate well enough the Windows 10 "tiles" (sadly not in a LIVELY form) but still static tiles are better than no tiles at all. It's all about being able to organize your windows experience, create group AND being able to "SEE" those group and the names that come with it. I'm happy to say I'm satisfied with my Start11 experience so far. I paid for the full 5-device versions. I wish the tiles could be become "LIVE" again in the future, that would be perfect. And yes, I have kept my start button in the MIDDLE, my Windows 11 experience is a mix between what was best from Windows 10 (the tiles) and all the new features of a new OS, Windows 11.

@slapsco the live portion is quite hard for us to replicate as it needs to tie into a service that Microsoft is no longer supporting. If you really want live tiles, check out LiveTilesAnywhere as that's probably the only way to get them on Windows 11.

Still waiting to be able to put the TB on the right side of the screen.

Folders along with removal of the recommended section would be enough to get me on board. But I'm still waiting on an ARM compatible version of Start11. An app tagging feature would also be interesting IMO. It could function as a more flexible alternative or addition to folders. For example, typing 'games' or 'finance' would display all apps tagged ìn those categories. Or better, tags could be used to dynamically generate smart folders.

"Folders along with removal of the recommended section would be enough to get me on board. ", agreed, seems like such a simple thing for MS too 🤷‍♂️. At least they added the option for an additional row I believe so it seems to be slowly going somewhere. Ps: I accidentally reported your comment (that damn report button lacks a confirmation dialog).
Windows Central Newsletter
Get the best of Windows Central in in your inbox, every day!
Thank you for signing up to Windows Central. You will receive a verification email shortly.
There was a problem. Please refresh the page and try again.