Starting October 9th, you'll be able to install apps on up to 81 devices with your Microsoft account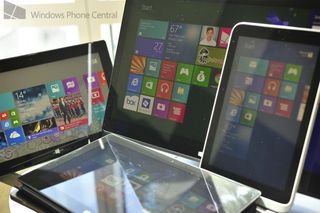 One of the great things about the digital future is the ability to tie your app purchases to your respective account. In the Microsoft ecosystem we get the ability to have up to 5 Windows Phone devices with our app purchases that are tied to our Microsoft Account ID. If you get a sixth device, you'll need to deactivate one of your previous handsets.
On Windows 8, that 5 device limit was the same as Windows Phone. But Windows 8.1 is going to increase that roam limit quite a bit. How much? A lot.
Right now on Windows 8 you can use your Microsoft account and apps on up to five different devices. It's easy to approach that limit with all the various tablets, ultrabooks, and desktops you have access to. Especially if you're into getting new gadgets all the time. Have no fear going forward, because Microsoft is upping your app roaming limits to not 8, 10, or 20 devices, but instead you'll be able to use up to 81 devices.
That's insane. Your single Microsoft account can install apps from the Windows Store on up to 81 different devices starting October 9th. We first thought it was a typo and they meant 8, but it looks like 81 is the number of devices you can use with your account. The change comes from feedback from both developers and consumers. This applies for both Windows 8 and Windows 8.1.
We'd love to see the same increase on Windows Phone. Although, we're probably in the minority around here when it comes to having a handful of devices at any time. For example, Daniel has something like 14 devices in his house within sight at the moment (and that's just Windows Phone 8). But, we can all agree the Xbox Music device limit is too small. Only four devices can be associated with your Microsoft account for Xbox Music. Lame.
What do you think of the increase in Windows 8.1 app installs across devices? Good? Bad? Neutral? Sound off below.
Source: Windows App Builder Blog
Get the Windows Central Newsletter
All the latest news, reviews, and guides for Windows and Xbox diehards.