Steve Ballmer officially lays down $2 billion for the Los Angeles Clippers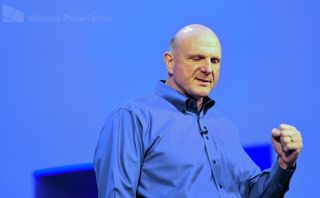 The rumors of Steve Ballmer wanting to pick up the Los Angeles Clippers can now come to an end. It's official. In a statement released on the NBA site confirming the deal, Steve Ballmer now owns the Los Angeles Clippers pending approval by the NBA Board of Governors.
What Steve plans to do with the team in the long run remains unknown but hey, I'm sure there will be plenty of Clippy jokes to be had from this one. What do you folks think about it all?
Source: NBA
Windows Central Newsletter
Get the best of Windows Central in your inbox, every day!
Ballmer being a baller tonight!

He will rename the facility the Surface Center. Each player and their families will have to rock the new Surface phone. The team mascot will wear a giant Lumia 1520 costume which isn't much of a stretch. The score board will be giant windows 9 Surfaces. Windows will be everywhere. During timeouts, the players in the huddle will all pull out their surface phones to get their instructions because the new coach, bill gates, will be giving instructions via the cloud. Oh and in this dream, Sterling is going to buy google so that the fan boys hatred of google will be legitimate. Ballmer will finally get the credit he deserves by marketing the hell out of windows with his new LA Surfboarders team.

Go home Java, your drunk.

Still can't believe he payed that much for what's known as LA's "other basketball team" 2 billion is more of an NFL franchise valuation.

He should've used ShopSavvy on his Windows Phone.

Teams can be moved... I wonder if he might be planing on taking the sport back to Seattle.

he probably will...
some people doesn't seem to understand what you really buy when you buy a team it's the spot it has in NBA or NFL or MLS or whatever... you can't just create a team and put it there. so yeah after adquisition is approved, Ballmer should move it someday to Seattle... why not? he always said he wanted a team and move it to Seattle because a NBA team from Seattle wouldn't magically appear until someone does what Ballmer might do.

one of the stipulations of the deal was to keep the team in LA. i don't know if there a time limit on that, but he won't be moving anytime soon.

well, I'm sure in some years he would do it if he wants. it was expected not to be moved this or next year... I give it 3 to 5 years, and if ballmer wants he will move it.
it's silly he can't do it sooner like other sports but oh well... at least he has a NBA team lol.

Just hope their open to the idea unlike the NHL was with Jim Balsillie

Too many tv deals and merchandizing going on for him to pickup and leave right away. He may after a few years. But I suspect that he will keep them in LA, the larger market, until he gets his investment back. Then maybe look into moving them.

this year all the stars were watching the clippers, not the lakers. LA supports winners and if the clippers keep winning they won't be LA's other team. the clippers have a young talented and the lakers have an aging squad that will soon need to be rebuilt.

First, you forget that clippers haven't even began to build a legacy yet(no championships), second, you make it seem like Lakers are gonna sit there and not rebuild their team, they have plans, big plans

At two billion dollars the team will be in LA for a long long time before he makes any return on his investment. Its a know fact each year around 20 of the 30 NBA teams make no profit and run with a loss.

Old news, we still talking about this? You scaring me!

Ballmer + LA Clippers = LA Clippys

https://twitter.com/jeffisageek/status/472365322578960384

Haha he'll also introduce a new position to the NBA, the PowerPoint Guard... **Bum Bum Tiss!*

He can move then to Seattle (probably will in about 2-5 years) and then rename them the Seattle Clippys.

Think one of the stipulations was he cant move the team sadly.

Yeah, but it's only for a set time, 5 years I think. I could be wrong though.

brb. trading in the lakers jersey for my new clippys one.

New jerseys should definitely have a paperclip on them somewhere surely?

Now that's what I call a retirement!

And now maybe all those complaining about these articles can get a life...keep em coming WPC! Thin out the herd of small/narrow minds :/

What's narrow about wanting articles about Windows and Windows Phone on a Windows and Windows Phone web site? I don't go to ESPN to read reviews of Lumia devices and I don't come here to read sports news, its just that simple.

It really isn't that serious. I mean, i understand the argument. But at the same time, articles like this (which are few and far between) can easily be ignored. There are many sites I frequent that sometimes go "off topic" and I just simply ignore the piece if it's something I'm already aware of or have no interest in.

Can you really say it's official if it's not approved by the NBA governors?

You really love making comments like this, huh?

Someone has to be the token asshole

We have DJBCS for that, he is a lawyer after all. ;)

He's something, that is for sure...

Knowing Ballmer's cash flow first mindset first thing he'll do is release Chris Paul and/or Blake Griffin to cut his operational expenses. Agh but who cares Im not a Clippers fan, anyone is better than demensia Sterling at this point.

Is it this app...? http://www.windowsphone.com/s?appid=43647c08-6a51-40bd-8a7c-8393e610070e

No the app has an orange emblem called MytextTwister

Curious as to if and when the clippers to Seattle rumors will begin

They already did. Read it on ESPN and MSN earlier.

Why would anyone be a Lakers fan right now hahah

Loyalty to what? A jersey? That's ridiculous. I'm an Angelino fyi

Loyalty to the rich history. Maybe falling in love with the game because of the ShowTime era.

Why buy anything when you already got 2 billion?

Okay...how did you do that???

( 8 ) It looks like you purchased an NBA team. I can help you with that.

Good for Ballmer and MSFT. Great acquisition. Kind regards and best wishes.

what about this? http://www.bloomberg.com/news/2014-05-30/donald-sterling-sues-nba-for-an...

Sterling has no chance, he just needs to disappear and shut up.

Notice all the commenters have sided with sterling, hoping he nails silver with the law suit

As stated in the article a condition of the sale was to indemnify the NBA from any further legal action by the Sterlings or their trust. So this will be dropped.

I've hated the Clippers for decades. Now I don't have to hate them anymore.
But... Go Lakers!

Connect the NBA with Microsoft!!! Finally a good marketing plot.

...and just like that, I have a favorite NBA team!!

If the clippers weren't using Microsoft products before as a company they sure as he'll be using them now! Stakes should now be the most Microsoft forward arena in the NBA the same way the 49ers stadium is slated to be.

Bring em to Seattle if LA doesn't want them. One more friendly slap from Washington to California haha.

Seriously this town fucking worships Lakers. They're not even that good anymore.

No team is good every year without ever going through bad spots. But the Lakers have a history of bouncing back faster than any other NBA franchise. So they'll be good again soon.

Move them to Redmond and call them Redmond Clippy's.

Has enough time on his hands now, why not? Must be nice to have all that cash handy. In this case, apparently price is no object. Go Clippy! I mean Clippers!

New surface 3 for all the players and fans?

To bad he is no longer CEO he could of promoted the hell out of windows at the games

Probably can sign a marketing deal with Microsoft or something if they move to Seattle

What's this article have to do with WP

Look like I got a new Newsreader app....WP Central

basketballers... basketballers... basketballers... BASKETBALLERS!!!

Again, this story has almost nothing to do with tech, outside of Ballmers relationship with Microsoft. Really doesn't belong here.

There's a slight link there and some of us would love to know.. The title clarifies what it is and the ones who dont want to read can easily avoid it.. Its like 1 in 30 articles for which existence is debatable.. That's not too much to ignore I think..

If people are going to base their team preference on a reason as vague and silly as the owner's affiliation with Microsoft, why aren't there scads of Portland Trailblazer fans around here since they're owns by Paul Allen?

Could that amount of cash be used to further improve the windows phone ecosystem? Or.. Get further develop the apps people want? Nah nvm

ehmm... do you understand this is BALLMER MONEY? not Microsoft? he is not even CEO anymore.
but please keep commenting things you seem not to even understand.
now Ballmer has to use his own money like if Microsoft didnt have? oh yeah it makes sense /s oh also, Microsoft can't do much if a developer doesnt want to bring apps to the ecosystem. even if Microsoft pays millions... what can make you think the developer will keep supporting the ecosystem? nothing. and that has happened like Kik and other guys that never update their apps anymore.

Because you said this was his own money.. Was the main reason I said nvm... No one would ever do what I'm suggesting...
Please don't take it up the butt.. ..... ..... Although I'll admit, my spiel in the app ecosystem was a bit.. Irrelevant.

Well he is still he is the major stockholder in Microsoft. His share is even bigger than that of Bill Gates himself. So everything he does is still linked to Microsoft. And I'm sure that Steve is still deeply in love with Microsoft and is in some way on the background a major influence on Microsofts businesses ;-) beside being the biggest share holder I mean :-p Posted via Windows Phone Central App

Does the deal come with V. Stiviano?

Going to be Call the stadium the SURFACE CENTER ..

When opened for first time it says whatsapp features some application that doesn't support this version of windows..but tons of features added and speed also increased

Return of the Seattle Supersonics?

Sponsors are already coming back to the team after the news that Ballmer is going to purchase. Right Guard has now added sponsorship :)~

That's crazy... No team, no sport is worth that amount of money.
But hey, it's his money, collected from us users that he is spending.
I wish him good luck with this football, hockey or whatever team he's buying ;)

The old cliche, "there's no such thing as bad publicity", seems to hold up in this case...

Clippy:
Looks like you are trying to buy a basketball team. Can I be if assistance? Cortana:
I heard that he lately got some new kind of affiliation. It's nice to see him get good press for once. Ballmer:
BASKETBALL, BASKETBALL, BASKETBALL! (wish the comment system showed emoticons... Cortana-like Dot, a paperclip, and a bald dude with glasses, all unsupported....)

If Clippers are valued at $2bn, the Lakers are worth$200bn! Ballmer balled it with over inflation... Bad for sport

This is hardly news. And definitely not windows news.

He agreed to pay almost four times the value of the team. That was just stupid. The Bucks sold a month ago for $550 million. I'm just glad he's not running Microsoft anymore. We'll see how well he does as an NBA owner once everything becomes official.

its too expensive, i think.

I'm sure he will move the clippers to Seattle, he was pursuing the kings before,clippers looking good this year with Chris Paul, and Blake this will be awesome for the state of Washington,he's a smart guy he knows what he's doing he will for sure make all that back at the same time at the same time it will be good for MSFT..