Stream multimedia content from your home server with Media Browser for Windows 8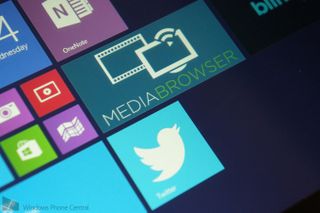 Media Browser (www.mediabrowser3.com) is a sweet service that turns your home PC (or server setup) into a multimedia server. There's an app available for Windows Phone that enables you to stream content from said machine when not physically in front of it. Now, the Media Browser team has released a Windows 8.1 app, perfect for those with hardware running Microsoft's desktop OS.
Just like the app available on Windows Phone, you're able to browse through your collection of media when not at home (or physically in front of the device with everything stored). Because this is a Windows version of Media Browser, your Windows 8 tablets will become more useful on those long journeys if you already have content purchased and available locally (as well as an active data connection).
Also, you'll need to have the Media Browser server installed and setup. As we noted in our past coverage, this step may prove troublesome for those who aren't computer savvy or are not familiar with configuring a home server. That said, there's handy documentation available should you require some general assistance.
The team behind the service have included both a dark and light theme for the Windows 8 app, along with two different layouts. If you're on the desktop and don't wish to use a Windows 8 interface, or are using an older version of Windows, fear not as there's always the web version of Media Browser available.
We recommend you check out the official website for more details on hosting your own home server, as well as checking out the apps available. If you haven't already got the Windows 8 app installed, you can download Media Browser (opens in new tab) from the Windows Store for $3.99 - do note that Windows 8.1 is required to run the app. There's also the Windows Phone version for the same price.
Windows Central Newsletter
Get the best of Windows Central in in your inbox, every day!
Rich Edmonds was formerly a Senior Editor of PC hardware at Windows Central, covering everything related to PC components and NAS. He's been involved in technology for more than a decade and knows a thing or two about the magic inside a PC chassis. You can follow him on Twitter at @RichEdmonds.
So excited about this! I also use the MediaBrowser app for the Roku. Now I am hoping that they launch this app for Xbox One.

I've got 15TB connected to a WDTV-HD mainly running 1080p MKVs in DTS. But this does sound intriguing.

How well can WDTV-HD handle streaming from NAS storage of MKV? Boxee box has been a dream but obviously needs a replacement.

@k00ksta boxeebox still rules. You know you can already run XBMC on It, dont you ? ;)

I haven't had any issues. You can install custom software on the WDTV-HD. There are a lot of sites to customize it. I've heard boxeebox works well too. The WDTV-HD unit will decode Dolby DTS which pretty cool if you need it.

Just wish WDTV had a wp8 app I have the 1TB one and works well for the most part. FF & RW sometimes don't work...

Just a warning - the server is very beta. It consistently keeps freezing my computer and DDOSing my network, strange as that sounds. To be specific, if I'm remotely going through the control panel, suddenly I'll lose connection to not only that computer, but every computer on the same network switch. It floods my network and nothing gets in or out. When I physically go to the server to turn it off, suddenly internet is restored.

As with most PC things YMMV... I have not had a single hiccup yet running MB3 server for about two weeks now. Theater client in alpha works perfect for me too along with MB3 classic. I have a small movie library and rotate files in/out regularly. Looking forward to trying this app out and external streaming.

It didn't happen for the first week I used it, and then it happened 5 times in the following week after one of the updates, and that may have been addressed in another update since. I haven't used it since, because I plan on digging out the logs and version number to report it to them. Also it is a remote server in the same network as three other servers, so I cannot afford to turn it on and try it out- if it crashes again, all four of my servers will go down until I drive the two hours to physically address the issue.

Xbox one app? Bluray ISO streaming?

Bluray iso streaming is unlikely, you will probably need to convert to a lossless MKV. But an XBox One app is probably on their list - you can go to the site and tell them you want it, they will add it to their potential platforms. I can't imagine it would be hard to port since they have already gotten the Metro and WP8 ones out.

I haven't tried it but it does support ISO streaming.

Bluray ISO? That would be impressive if it's the case. XBMC can do it, but not much else has gotten that right.

It uses other tools to mount the ISO, and while I'm sure it can play the blu ray files when mounted, the desktop client can specify an external player.

Any reason to choose this over Plex?

I see some people have reported MB3 Server to be a bit unstable, but my experience with Plex has been much worst. What I like about Plex is that any DLNA device can see its content, but as the developers of MB continue building nice front end apps for the devices I use, I'll keep supporting them. The server is still in beta, but it has been pretty good in my experience. However, while I test a few products and the beta for this one, XBMC is still my main media browser in the living room. No server side setup required other than regular file shares, it recognizes my whole movie and TV libraries, and the software and streaming just work perfectly well on my 4yr old laptop connected to my TV, and controlled from my Windows Phone.

MB3 is still very much in beta. It worked great for me for a while, and now will only play the first 20 seconds or so of a show and then fail. It'll get there, I'm sure, but like you I am sticking with XBMC on my TV set for the forseeable future - it's simple to set up, and it works flawlessly.

7 days trial, doesn't it? It is in the Dutch store.

I was pointing out that the article incorrectly said it was $3.99.

Bought even though I really don't need it, must support developer. This genre of app is vital. -Lumia 920

I stream PC media using my Xbox via MediaMonkey, or I push it to the Xbox using Play To. Works fine for me, if I want to watch or listen to something on the big setup, rather than on the PC. Help me understand, other than a spiffy front end, how would this enhance my experience?

Metadata, searching, actor info, etc. If you want a media center solution that's available across almost every platform that is popular today, that's what this is for. If you just want to watch transcoded movies, there are a billion choices, none better than the other for the most part - you can go use Jimmy Jo Bob's Redneck Trancooter if that is what gets the job done for you, nobody will shed any tears. ;)

Thanks, but could't find Jo Bob's Redneck Trancooter in the Windows Store, is it avail for 8.1 yet? /s

Ugh, that last screen shot looks like it belongs on OSX.

I don't think it's the real app from mediabrowser3.com. This one's from a dev who's also other Media's client, XBMC and others. Also, the official client will be called Media Browser Theater as the site stated!

This IS the official Media Browser app for the Windows Store designed for touch interfaces(tablets). Media Browser Theater on the other hand is the Media Center replacement meant to be used on desktop HTPCs (10 foot interface with remote) like XBMC as well. Media Browser Theater is meant to be the granddady of all the MB clients having all the latest features and support.
Windows Central Newsletter
Thank you for signing up to Windows Central. You will receive a verification email shortly.
There was a problem. Please refresh the page and try again.