Here's how students can save cash when upgrading to Windows 8 Pro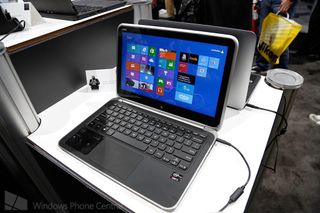 Tomorrow may be the last day to snag the early bird upgrade price on Windows 8 Pro, but students have a bit of wiggle room going forward.
For whatever reason if you were planning on upgrading your PC to Windows 8 Pro, you should do it now and lock in that sweet $40 upgrade fee, because it goes up to $200 for Pro. However, students can wing it for $69.99 starting February 1st in the US with staggered roll outs depending on your location.
Being a student has its fair share of ups and downs. Some of the big ups include getting an education, booze, undergrads, and more undergrads. While the downs are mostly limited to no money, no money, and even less money. One perk is the ability to get software on the cheap and Windows 8 Pro will be no exception.
We already mentioned that qualified students can get the Windows 8 Pro upgrade edition at a reasonable $69.99 (hold your laughs) here in the United States starting February 1st. Here is how the rest of the roll out looks for dates and locations.
February 1st - United States
February 21st - Canada, UK, Austria, Belgium, France, Germany, Ireland, Italy, Netherlands, Spain, Switzerland, Denmark, Finland, Norway, Sweden, Portugal, Hong Kong, Australia, New Zealand, Brazil, Russia, and Luxembourg.
March 7th - Bulgaria, Cyprus, Czech Republic, Estonia, Greece, Hungary, Iceland, Indonesia, Korea, Latvia, and Lithuania.
March 19th - Israel, Kuwait, Oman, South Africa, UAE, Malaysia, Malta, Mexico, Philippines, Poland, Romania, Singapore, Slovakia, Taiwan, and Vietnam.
In addition to offering students Windows 8 Pro at a discount, Microsoft will kick off a 'Windows Campus Tour' on February 18th that travels to over 150 university campuses in the U.S.
Of course there is a fine print, this offer is only for eligible students, faculty and staff. It requires verification of that eligibility prior to purchase. Hit up the source link below if this offer is something you're interested in. But really, take advantage of the $40 offer today before its too late.
Source: Windows Blog
Windows Central Newsletter
Get the best of Windows Central in in your inbox, every day!
Lol I love the last line of the article haha.

ProTip for getting Windows 8 Pro for $14.99: (Before Feb. 1, 2013)

Buy the 39.99 upgrade before the end of this month from the Windows site, during the process there is a space for a Promo code. Go to this site: http://windowsupgradeoffer.com/ and fill it out with a purchase date in Dec 2012 or Jan 2013 and you will get an email for the discount to use in the Promo Code field mentioned above. You can save this upgrade to an ISO file to install as a fresh setup or as an upgrade so there is no problem there.

This guy is a Pro. Take his tip.

Purchased, thanks for the tip! Not sure if I want to upgrade from Windows7 yet, but it'll be nice to have the upgrade around if I ever look to upgrade.

Wow thanks for the tip... Genius idea to save the ISO as a fresh install...didn't know that would work.

The free install sometimes has a problem where it won't activate once you get into windows. The fix is easy and can be found here: http://www.pchelpforum.com/xf/threads/windows-8-clean-install-with-upgra...


Wish I had seen this before I upgraded last night.

If your school/department has a Dreamspark Premium account you can get Windows 8, along with a lot of other great MS software such as Visual Studio for free.

Yeah. This. I already had Windows 8 before it even launched. The down side is that multitasking between normal apps and Desktop or between apps and other apps doesn't work at all.

I got my copy from Dreamspark and it works fine. It's supposed to be the identical thing as what's being sold to customers. I think you have some other problem there.

Here at the Univeristy of Texas @ Austin we can get a licensed "upgrade" copy for 20$. Although you can do a clean install from the disk anyway, so the "upgrade" is just to fool people. Glad we have this discount. Office also starts at 35$.

I think you mean "cash money" haha

You can also get Office 365 for 2 computers for FOUR YEARS for 79.99 with the student discount.

W8 Pro grows on you the more it's used. There will be a mad rush at the eleventh hour in my opinion.

Anybody already using W8 with a lumia 920? Really tempted but worried something will go wrjng and i won't be able to sync or lose some other functionality...

Hi, Some sites mention that Jan 31st is last day for upgrading to Win 8 Pro, But the site http://www.windowsupgradeoffer.com/en-IN/Home/ProgramInfo says 28 Feb 2013(Under Key Date section). I already got my promo code But unable to purchase the upgrade as payment method only supports Credit card and Paypal. I only have a Debit card. Am i still eligible for the upgrade before Feb 28th. However i will try to get my credit card ready. Please suggest.

You can run your debit card as credit. I do it all the time... Just fill out the info accordingly.

Ohh really.! I tried with my debit card but failed. It's already 23:30 here i think i am unlucky. But still i am curious to know about date mentioned 28feb in microsoft site. Any idea ? Thanks of replying

For some weird reason the email address my school registered on MS server was wrong so I will never get a discount on any MS product.... (Interlochen Arts Academy (Highschool))
Windows Central Newsletter
Thank you for signing up to Windows Central. You will receive a verification email shortly.
There was a problem. Please refresh the page and try again.