Subway Surfers is now available for Windows 10 Mobile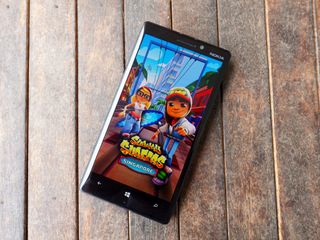 Kiloo Games' endless runner Subway Surfers is now available once again. The publisher delisted support for the Windows Phone 8.1 version of the game earlier this week, but has since introduced a newer version designed for Windows 10 Mobile.
In the latest version, the game heads to Singapore, letting you explore the island city-state. Here's what's new:
The Subway Surfers are traveling to the beautiful Subway of Singapore
Get Jia, the street skater, on your Surfer team
Improve your collections with a wild Outfit and a cool new Board
Pick up colorful orchids to earn great Weekly Hunt prizes
Download Subway Surfers for Windows 10 Mobile (opens in new tab)
Thanks Abhiraj and Amit!
Windows Central Newsletter
Get the best of Windows Central in your inbox, every day!
Harish Jonnalagadda is a Senior Editor overseeing Asia for Android Central, Windows Central's sister site. When not reviewing phones, he's testing PC hardware, including video cards, motherboards, gaming accessories, and keyboards.
It's been long kilo and I've moved on.

I'm close to feel the same about Terraria. The difference is, that I payed actual money for that game before the developers took it down from the Store... :/

Im still holding on to their promise though.. :(

Yeah, they messed up an update, so the game just crashed on the splash screen after it. And they decided to remove it from the store until they fix it. And it took them half a year to make it work again on WP 8.1, but it still isn't available on W10M :S

Does it have cloud save or back up from participating apps?

I don't know exactly, but what I saw was, that when you log in with Facebook, your previous score is there.

I don't know about now, but I stopped playing because I lost everything I had worked hard to achieve and unlock. It was bye bye for me.

Yay! I have missed this darn game it is not funny! Though I have always lost my progress, but my high score is always there.

That's great news for all lovers of the game (I am not one of them:) ) Is it only for mobile? Does it run in continuum mode?

when this game disappeared on store for a long time, i thought they forgot us.

What's the difference between uwp game app and 8.1 game app? I really didn't see any difference between them

The difference is in the background. They're obviously coded differently, and other than that, UWP apps perform better on W10M than wpv8.1 apps.

Most of the changes will probably be on the developers end. But you might notice better performance, the app behaving better within the OS (more battery efficient, using newer APIs etc.) etc.

It enables (at the developers descretion) the same game to run on PC and Mobile, and if they are indeed one package (Like Ski Safari 2) then it can work in Continuum on your TV. The Xbox One controller and new Bluetooth One S controller make this pretty cool for those who have continuum. I don't like playing games with touchscreen much but if I could play future games with an Xbox Pad it would be a lot more enjoyable for me.

So happy to see this game in store

Even after signing in, all my previous Purchases were gone.... But happy to see it back.

Happy to see the title back.

This game is lagging on my device (735 10586.420). The reason I die :(

I'm sure that's the reason....:)

Yay! Finally. The other day I was looking for it. Long time.

Well that was quick ! Ill give them that.

Lol "windows phone is dead" (that's true but they don't know how and why) and all that bullshit... Where are they?

No one dies as soon as you get a disease, but if you don't treat yourself properly, then u will die some day..... MS is not understanding the basic issues of it's users.... If you say anything, simply they stop providing services for older mobiles

If you say anything, simply they stop providing services for older mobiles

​That's life. Things get outdated real quick.

Now all they need is to fix the random freeze/lag.

Oh, thank you. I thought it was only me who was with this problem.

Great.. Been a long time fan. Already played couple of times on different device. I have to see how it fares on my 950xl

Yes! Wish they had followed minion runs example and made it on PC as well though.

What a beautiful pic..!
Which lumia is shown in the img? Lumia Icon or Lumia 930?
P.S - Glad dat d game is back.... Though i don't play it anymore.. :/

Its Lumia 930. And pic is indeed beautiful. Atleast Nokia's designs were far better than Microsoft's

Yepp.... I hv Lumia 830 :) last phone of Nokia :|

Hope it comes to PC too. Would love to play this on my tablet. Posted via the Windows Central App for Android

Wow that was fast. Just pulled the game and they are already back. Maybe they have been working on a Windows 10 version for a while then...

Finally, I've been waiting since Dec 2015 but it's better it's here than leaving forever

Yeah I think the thing was that the 8.1 version didn't work right on 10. I think they said they were fixing it

Seems I will give a try again

hit us with UWP Games ....kiloo....

Why doesn't the download button show up in this app anymore.

Still buggy... Can't use keys to continue the run and it's laggy in comparison to 8.1