Surface 3 LTE is now available for Verizon's business customers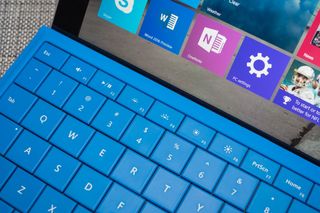 Microsoft's Surface 3 LTE tablet is now available from another US carrier. Verizon Wireless will now sell the 10.8-inch tablet with 4G LTE features directly via its business channels and B2B telesales.
Verizon is selling the version of the Surface 3 LTE with 4GB of RAM and 128GB of storage for the price of $649.99 with a new two-year contract or $749.99 for the full price without a contract. Microsoft also sells a version of the tablet with 2GB of RAM and 64GB of storage for $599, and the one Verizon sells for $699 unlocked.
Buy the Surface 3 LTE at the Microsoft Store (opens in new tab)
Source: Verizon Wireless (opens in new tab)
Windows Central Newsletter
Get the best of Windows Central in your inbox, every day!
I got a heads up from my rep yesterday...... Yay!

Tell him you're getting it from Att along with Lumia 950s.

This -^.........F Verizon, they will screw you on updates, and charge you more for their services.

About time for some good news about VZW. Wonder what they'll do to screw it up.

Release a Surface 3 instead of a Surface 4 for starters...

Because a Surface 4 exists...
And the Surface Pro 4 has LTE..

Is it compatible with Verizon's network though? That's what's tripping up the 950/950XL.

Im guessing so if they're reselling it

950/XL is compatible with Verizons Network. The Qualcomm chip is absolutely capable of supporting the radios that are on Verizons frequencies...Microsoft and Verizon probably couldn't agree on how the OS updates would occur, and the installation of crappy VZW bloatware.

It was sarcastic :) Surface 4 doesn't exist either... Maybe I should have been more obvious

Can we use it as a phone since they won't be carrying the 950s?
https://m.youtube.com/watch?feature=youtu.be&v=dhk_OL-5aVo

Almost! With the new W10 10586 Build on your Surface 3 LTE, and Windows 10M on your phone, you can send\recieve texts and see missed calls. I suspect right around the corner we might be able to piggyback calls from the desktop. But you'll likely need a new Microsoft Phone that Verizon won't support. :) Sorry, couldn't resist.

Yeah use skype, problem solved.

The questions are: Will they offer the commercial Sku of the OS do it can be joined to the domain? Will they also offer the 128 GB version? My rep didn't know yet

The version they are offering is the 4GB/128GB

Awful strange relationship they have going on. Gives me some hope for the surface phone on Verizon though.

I dont think it's that strange of a relationship. Verizon wants to sell devices that sell. Surfaces do. Windows phones don't

So Verizon will gladly sell a Surface 3 but not a Lumia...bit of a mixed message to their customers.

I know, it's pretty damn annoying. If they offered some sort of package that included a Surface 3 LTE with a Lumia phone, I'd be interested.

Surface 3 does waaaay more than a phone that is always in beta or alpha then restarts all over again next year

Great news!!! Calling my rep now.

Must have sold through their stock of crap elipsis tablets my rep has sent me 35 emails about... Bring on the S3 spam!

Oh, so they're adding the IDs for Surface units to their database, but not for the upcoming 950s? What's up with that?

Whats the point? With Verizons treatment of Windows phone being so terrible my company is moving to AT&T

They should launch a new surface 4 with i3 in it.

Well, they have Microsoft products now....maybe there is a CHANCE we will get the 950/950XL model (assuming the 949 / 949XL)