Surface Book 2 vs. MacBook Pro (2017) tech spec comparison
By Jez Corden last updated
The Surface Book 2 is a verifiable powerhouse, with a 6GB GTX 1060 GPU and Kaby Lake quad-core processing on the higher tiers. But how does it stack up to the competition? Very well.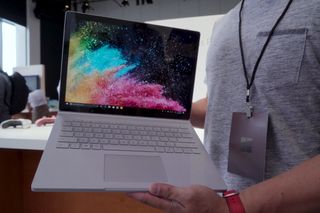 Sure, the Surface Book 2 has a wide range of competition within the Windows market itself in terms of internal specs, but for many, the Surface Book 2 is a direct affront to Apple's 2017 MacBook Pro, sporting premium design standards and features geared towards "prosumer" creative types.
The MacBook Pro, like the Surface Book 2, has a wide range of options, but the best comparisons both in terms of price and features are on the high-end, so that's where we put the focus.
Here's how the Surface Book 2 stacks up against Apple's flagship, the MacBook Pro.
See at Microsoft Store (opens in new tab)
Surface Book 2 vs. MacBook Pro (2017) specs
Model
Surface Book 2 13-inch
Surface Book 2 15-inch
MacBook Pro 13-inch
MacBook Pro 15-inch
Processor
Core i5 (dual-core 3.2GHz)
Core i7-8650U (quad-core 4.2GHz)
Core i7-8650U (quad-core 4.2GHz)
Core i5 (dual-core 3.3GHz, Turbo Boost up to 3.7GHz)
Core i7 (dual-core 3.5GHz, Turbo Boost up to 4.0GHz)
Core i7 (quad-core 2.8GHz, Turbo Boost up to 3.9GHz)
Core i7 (quad-core 2.9GHz, Turbo Boost up to 3.9GHz)
Display type
13.5-inch PixelSense Display
1600:1 contrast ratio
10-point multi-touch
15-inch PixelSense Display
1600:1 contrast ratio
10-point multi-touch
13.3-inch Retina Display
720:1 contrast ratio
Touch Bar
15.4-inch Retina Display
720:1 contrast ratio
Touch Bar
Display resolution
3000 x 2000
3:2 aspect
267 PPI
3240 x 2160
3:2 aspect
260 PPI
2560 x 1600
16:10 aspect
227 PPI
2880 x 1800
16:10 aspect
220 PPI
RAM
8GB or 16GB
16GB
8GB or 16GB
16GB
Native graphics
Intel HD Graphics 620
Intel UHD Graphics 620
Intel UHD Graphics 620
Intel Iris Plus Graphics 650
Intel HD Graphics 630
Discrete graphics
Core i5: None
Core i7: NVIDIA GTX 1050 (2GB)
NVIDIA GTX 1060 (6GB)
None
Radeon Pro 555 (2GB)
Radeon Pro 560 (4GB)
Storage
256GB, 512GB, or 1TB
256GB, 512GB, or 1TB
256GB, 512GB, 1TB
255GB, 512GB, 1TB, 2TB
Battery
70WHr
Up to 17 hours
Up to 5 hours in Tablet Mode
80WHr
Up to 17 hours
Up to 5 hours in Tablet Mode
Up to 10 hours
Up to 10 hours
Wireless
Marvel
Wi-Fi: IEEE 802.11 a/b/g/n/ac
Bluetooth 4.1
Marvel
Wi-Fi: IEEE 802.11 a/b/g/n/ac
Bluetooth 4.1
Wi-Fi: IEEE 802.11a/b/g/n compatible
Bluetooth 4.2
Wi-Fi: IEEE 802.11a/b/g/n compatible
Bluetooth 4.2
Xbox Wireless
No
Yes, built-in
No
No
Ports
Two USB Type-A 3.1 (Gen1)
One USB Type-C w/ video, power in/out and USB 3.1 (Gen1) data
Full-size SDXC card reader (UHS-II)
Headphone jack (3.5mm)
Two Surface Connect ports (one in tablet, one in keyboard base)
Two USB Type-A 3.1 (Gen1)
One USB Type-C w/ video, power in/out and USB 3.1 (Gen1) data
Full-size SDXC card reader (UHS-II)
Headphone jack (3.5mm)
Two Surface Connect ports (one in tablet, one in keyboard base)
Four Thunderbolt 3 (USB-C) ports, Headphone jack (3.5mm)
Four Thunderbolt 3 (USB-C) ports, Headphone jack (3.5mm)
Audio
Stereo speakers with Dolby Audio Premium
Windows Sonic for Headphones
Dolby Atmos for Headphones compatible
Stereo speakers with Dolby Audio Premium
Windows Sonic for Headphones
Dolby Atmos for Headphones compatible
Stereo speakers with high dynamic range
Stereo speakers with high dynamic range
Dimensions
312 mm x 232 mm x 15 to 23 mm (L x W x D)
12.3 in x 9.14 in x 0.59 to 0.90 in
343 mm x 251 mm x 15-23 mm (L x W x D)
13.5 in x 9.87 in x 0.57 to 0.90 in
304 mm x 212 mm x 15 mm (L x W x D)
11.97 in x 8.36 in x 0.59 in
349 mm x 240 mm x 15 mm (L x W x D)
13.75 in x 9.48 in x 0.61 in
Weight
i5 total: 1,533 g (3.38 lbs)
i7 total: 1,642 g (3.62 lbs)
Tablet: 719 g (1.59 lbs)
Total: 1,905 g (4.20 lbs)
Tablet: 817 g (1.80 lbs)
1,307g (3.02 lbs)
1,830g (4.02 lbs)
Cameras
5.0MP 1080p video at 30 FPS (front)
8.0MP 1080p video at 30 FPS with auto-focus (rear)
5.0MP 1080p video at 30 FPS (front)
8.0MP 1080p video at 30 FPS with auto-focus (rear)
720p (front)
720p (front)
Biometrics
IR Camera
IR Camera
Touch ID
Touch ID
Price
Starts at $1,499
Starts at $2,499
Starts at $1,799
Starts at $2,399
Availability
November 16, 2017
Preorders: November 9, 2017
November 16, 2017 (U.S.)
Preorders: November 9, 2017
July 2017
July 2017
Surface Book 2 vs. MacBook Pro: Making sense of the specs
As you can see, the Surface Book 2 beats the MacBook Pro in almost every area when it comes to tech specs. Some things are a little harder to test due to the different OSes in play, but in general, you should get far more performance out of the Surface Book 2 at every level.
The Radeon Pro 560 in the highest-end MacBook Pro is quite easily trounced by the GTX 1060 Mobile in almost every sense. In some cases, the GTX 1050 Mobile found in the 13-inch Surface Book 2 beats the Radeon Pro 560 found in the highest-end MacBook, providing better memory bandwidth and a higher clock speed. The Surface Book 2 range has relatively comparable processors in some configurations, but at the higher-end theSurface Book 2 dominates. The 13-inch MacBook Pro doesn't even come with a quad-core option, unlike the Surface Book 2 at 13 inches. For graphics and editing work, you're going to want a quad-core Surface Book 2, at least if you want the best.
Then, of course, there's form factor. The MacBook Pro is a standard clamshell laptop with a unique Touch Bar across the top of the keyboard. This allows you to quickly access certain features within apps, take small notes, produce tiny doodles, and has other uses when you tie-in the fact app developers can make use of it. The Surface Book 2, of course, has a full 10-point multi-touch screen, complete with 4,096 levels of inking pressure detection.
Combined with the 2-in-1 reversible and detachable display, you can use the Surface Book 2 to create real art or take huge amounts of hand-written notes, without the need for an external drawing tablet. There are also some niche use cases like tent mode on a plane for media consumption, and tablet mode to consider, both of which are impossible with a MacBook Pro.
The Surface Book 2 has seen various refinements as a result of feedback obtained from Microsoft's first generation of devices. Key travel has been improved, the hinge has been balanced to support one-handed display opening, and you now have USB-C for the first time. The MacBook Pro supports full Thunderbolt 3, however, while the Surface Book 2 does not. That might be a problem for creatives in certain data-intensive industries. Also, there's the question of OS. Some applications like Adobe's creative suite simply have better integration with the shell on macOS, and shifting over to Windows can disrupt workflows if you're used to a Mac. These sorts of "quality-of-life" shell problems haven't really improved in recent Windows 10 updates, but that's a relatively minor issue for most.
The Surface Book 2 is a real monster PC, to the point where the 15-inch comes with Xbox wireless to support direct connections for Xbox wireless-compatible gaming peripherals. Considering its slim size, beastly power, and versatility as a 2-in-1 device, on paper, it's hard to fault the Surface Book 2 for anything really, even though its configurations are slightly more expensive. If you're shopping for laptops at $2,000, though, you probably don't care about an additional $100.
Bottom line
We won't know all the details until we conduct the full review, of course. If you're already making considerations between what flagship laptop to get, and Microsoft nails the Surface Book 2 firmware and software, the only real reason you should consider a MacBook Pro is if you really love MacOS ... or if you really love buying extra dongles.
Preorders for the Surface Book 2 should start on November 9, 2017.
See at Microsoft Store (opens in new tab)
Related reading
Jez Corden is a Senior Editor for Windows Central, focusing primarily on all things Xbox and gaming. Jez is known for breaking exclusive news and analysis as relates to the Microsoft ecosystem while being powered by caffeine. Follow on Twitter @JezCorden and listen to his Xbox Two podcast, all about, you guessed it, Xbox!
MackBook Pro 15 has a 45 W CPU that is more powerfull than the 15 W CPU on Surface Book 2. This must be mentioned in a fair comparison.

true but the 1060 with 6 GB ram make up for that :)

Yes, that's the marketing strategy. Now, U series come with quad cores so, it's a standard.

There is a difference between power consumption and being powerful.

so it will run hotter, but be less powerful? why would they do that?

45 W quad-core (HQ) CPUs are workstation-grade that is what a professional needs for his work. 45 W CPUs can keep up a high clock speed for a long time. This makes them suitable for long and CPU-demanding tasks. On the other hand, 15 W CPUs are meant for ultrabooks. A quad-core 15 W CPUs can keep up a high clock speed for only a short period, and it goes back to the base clock quickly. The trend of clock speed vs time would be like a zig-zag. It is useful for momentary speed up like when opening a new App, but it is not suitable for a CFD (Computational Fluid Dynamics) simulation that takes hours.

Thanks for that info. I really like having all the facts when making my coparisons, i'm still gonna buy the SurfaceBook but when asked why I made my choice I don't wanna look stupid spouting incorect info.

I am buying one too, and asked why I made my choice my answer is easy...the book 2, mops the floor with the macbook pro. Leaving CPU out of it. There is just SO MUCH MORE with the surface book 2 compared to the macbook pro.

This comment is correct. This is not an apples / apples comparison. 15/20W U series vs a 45W HQ series. Also doesn't mention the base clock of the U series, which is down at around 1.8GHZ, vs 2.8GHZ of MBP. 15" SBook will likely run higher clocks vs a regular I7 U series (due to the extra 5W) but this information _should_ be in the post if you want to more accurately compare. It's cherry picking and disingenuous.

But, but, but... touch bar! It's all about the touch bar! ;-)

Yeah this touch bar thing is a bit strange, but then I also think touch screens are not really required on a machine like the Surface or Makbook pro.

Not required, and definitely not for every professional out there, however after incorporating it into my workflow, I would never go back to a laptop without touchscreen (ideally a detachable)...

I use Dell touch monitors for my two desktop PCs even. I'll never use non-touch monitors again.

Touchscreens are one of those things that are not for everybody but for many, once they've used one it is hard to do without it. I'd say that the smaller the screen, and thus the further away it will generally be used, the less useful touch is. Obviously it's great for phones and tablets but I also found it hard to go back to a laptop without a touchscreen once I got used to one. I haven't tried a touchscreen monitor with a desktop machine but I don't find the idea very attractive because the screen would be at arm's length and thus less comfortable and convenient to use that way. I'm sure that a great many Mac users would love to use a touchscreen on their MacBook if they could, although the lack of optimistaion in OS X would obviously make it less attractive.

In the end, the surface loses because it is saddled with Windows 10. It NEEDS higher specs to run this turkey of an OS.

What are you smoking? Windows 10 is brilliant: it seamlessly switches between mouse/keyboard and tablet mode (though you're not forced to switch if you don't want to), it is rock solid, fast, conservative in its power use for everyday usage, has built-in Linux, UWP apps that adapt to any size of screen but also runs any legacy programme, brilliant gaming performance, etc., etc. Instead of proper touch screen what do Mac users get -- a "touch bar"? I think I spotted a turkey right there.

Ha ha...totally MacOS sucks at UI anyways...the 'finger gymnastics' you need to do just to "right click" is hilarious, just to name ONE example of many of a poorly executed UI. windows 10 rocks compared to the macOS crap.

100% agree with you. Saying that both machines are over priced anyway. but Apple after sales service is brilliant and as a friend of mine said, after sales is important when youu rely on your computer to make a living.

I have been making a living out of my Surface Book for the past year and the after sale service has been great. I only experienced 2 issues that needed assistance and both were taken care through chat with customer support. Apple service is still king, but Microsoft is not that far behind.

I have a surface book and Lumia 950xl. My wife has apple products. Apple's customer service is NOWHERE near as good as Microsofts! I've waked out with a brand new Surface book AFTER my warranty was expired and I paid nothing! same for my phone. My wife is a crazy shopper and she agrees. No one has better customer service than microsoft.

If Apple computers are as good as users always claim they are, then how does every Apple user also know about how good Apple's tech support is?

Thank you for an obvious troll attempt and you are not very good at it either.

If I someday get one of these (I wouldn't buy it) I would ditch Windows 10, I wouldn't even let it start for the very first time. The chosen OS for replacement would be Linux, and if I ever needed Windows, the choice would be Windows Server because it does not waste resources and does not have that UWP crap that M$ developers haven't been able to implement it without bugs. UWP/UWP apss, no matter the version of SDK, they always crash.

@rromerof, Windows 10 (Windows Server 2016 is almost exactly Windows 10 + server functions, unless you install it in Nano mode without the GUI) is the only OS that can take full advantage of the touchscreen and the tablet detach feature. UWP apps are great. They finally put an end to the constant stream of notices "There's a new version of XXXXX. Would you like to update now?" I wish I could get rid of all the those little applications and use exclusively UWP, but alas, for now, I'm still stuck with the old, crappy, 32 or 64 bit Windows Desktop applications (things like PuTTY, Git, CloudBerry Explorer for S3, Mp3tag, WinSCP, Audacity). At least Slack and Skype are fully UWP now. The UWP versions are much more pleasant, usually include Live Tiles for more time savings, NEVER crash (that's a huge myth), use fewer resources not more, are more likely to support touch properly, and best of all stay updated in the background. I hope the rest follow soon. If I never see another announcement to update an app when I launch it, it will be too soon.

Yeah, because Linux would work so well with that touchscreen. Please stop. Buying a high-end laptop like the SB2 and replacing a touch-optimized OS like Win10 with Linux is absurd. If you're into Linux on a laptop, you're wasting wads of cash on the hardware. Linux on a powerful non-touch laptop makes sense. Some Linux trolls know a thing or two. You? Not so much.

Agreed. I ditched MacOS on my macbook and run linux on it now because its a superior operating system.

Too bad, function wise... Mac is still keyboard-user-unfriendly...

@Hirox K, great point -- Windows is better for the total keyboard power user and, with full touchscreen-tablet mode, is also easier for the novice (especially if left in the Store-only mode for app selection).

Long as you have a SSD, Windows 10 runs amazing.

You'll need Paralels to run W10 just to make MacOS useful!

Lol been a corporate **** for long. No one cares about your baseless corporate shill opinion.

for developer it's better mac because you can develop native ios, android, and you can install windows too, and yes windows phone is no more.

What are you smoking, Xamarian allows development of all the same.

And yet, still need a Mac to compile/test the iOS apps. Instead of buying two laptops, only one: the Mac with the best specs. Anyway who needs to develop UWP Apps if nobody use them. Garbage of platform M$ developed.

I'm pretty sure Xamarian.iOS can run on W10 and it compiles ARM native code.

If no one's using UWP apps, why the Facebook, Messenger, Netflix, Spotify, up-coming-iTunes, Instagram, Line (popular in Taiwan & Japan) and other Japan only apps?
uwp.xbox? uwp.iot? uwp.ar/mr? Unless, you think a freshman / startup or indie should a) code their own mechanism to install, update, crack-proof, uninstall, advertise, get user to trust their not-famous-exe will do no harm to their system, will clean up registry during uninstallation, in old-fashion-way. b) just give up win10.pc, win10s and win10.arm all together.

If Mobile was driving UWP development they would never have been made. There is a steady stream of development because of W10 and Xbox and it will continue.

Ever heard of test cloud https://www.xamarin.com/test-cloud#video

Your comment just exposes your ignorance in Windows development ecosystem.

Not true. Can you go keyboard-only with Mac? (except adobe, 3dsMax, those graphical applications) As a pro, why waste time moving cursor here and there?
Mac is only for xcode, nothing more.

Well, you can't really develop apps for the Windows market on a Mac if you don't buy a PC and link your app to the Windows platform. Secondly, Mac OS is a closed system, so you won't be able to change a lot of thing in the system, like you can on Windows. Thirdly, Visual Studio was until a few months ago but available on Mac OS, which also says something about how bad Mac OS is for developing.

you can however install windows on your mac :D

Sure you can... absolutely no downside?

Why end up paying for expensive just nice looking hardware, and the a Windows license, when with a Windows PC you already got it much useful!

Maybe you need OSX as well. Also one thing one has to keep in mind: Since there are fewer mac-models than there are windows ones, compatibility is most of the time quite great.

So a just announced product has better specs then an existing product. Wow, pat on the back there Microsoft! Working hard in those tree houses.

I mean the MacBook Pros weren't launched that long ago man

@bdball Funny you say that because last year when I bought my Surface Book (1st Gen) it was more powerful than the newly announced MacBook Pro with touchbar (13")... So a new pro device will not always have better specs than an existing product. - My Surface Book: Intel Core i7-6600U, 16GB of RAM, 512 SSD, dGPU - MacBook Pro fall 2016: Intel Core i7-6600U, 16GB of RAM, 512 SSD, iGPU Iris And my purchase was less expensive than the alternative. The Perfomance Base was out of my budget though.

The fall creators update is pretty dandy actually. Mine is messed up right now, but im sure it will be fine once an update rolls out tomorrow. I may revert back and try again. Either way windows 10 is million times better than the terrible MacOS. This is my next device. I was going back and forth between an xps, macbook pro etc. This nails it!

Update rolled out yesterday

I meant for the problem with the missing apps Etc. I fixed it...spent the day figureing it out but it's done now!

I'll definitely consider it when looking for a gaming ultra book.. We need more of those. Gaming laptops that are portable and sleek looking..

this is much more than a gaming system too...thats the cool part. I just have decide if I want 15 or 13 inch version. I know im going 16gb and 1TB.

It's not hard making a spec'd out product... The key is selling that spec'd out product with high demand not inflated demand by making limited quantities. Specs are great but let's see if that translates to sales. After everything MS has stopped supporting (zune, windows phone, MS band and Groove) right now may not be the best time to purchase MS products with confidence they will get long term support.

In todays world, specs mean nothing. What matters is how the software works with the hardware it has.

"hardware it has" is specs!

Correct, but the 15" version uses the full 20W of TDP of ULV processor.
I've read this on a article. And seeing the cooling system of the 15" version I believe it's true.
It has dual heapipes-heatsinks and dual fan in the tablet portion.

The Surface Book 2 15 is virtually a portable Surface Studio, only much more powerful. Surface Studio needs badly a refresh with 8th gen processor and GTX 1060 (or better).

WOW, you are right! I never thought about that, the CPU is almost identical but the GPU in the Book 2 is massively better and it uses SSD instead of HDD. The Studio does desperately needs a refresh.

has someone a link to that wallpaper?

Macbook Pro has a headphone jack!

Good to know. Now I can sleep at night ;-)

It also has MacOS so I would rather lose the jack than touchscreen and windows 10.

Price almost the same. Mac is better because you can dual boot, run mac and windows on one machine. Best of both world, especially you are developer, XCode and Android studio on mac and Visual studio on Windows (bootcamp)

What a comment!!! Why do I need to buy a Mac to boot with Windows? Do you know that you can dual boot any pc too? Why do Macs can dual boot (the same way as any pc)? Because a few years ago they started using the intel processors so they can offer that alternative. But, why to pay double for a computer just to boot with Windows? Just buy a Windows pc. Why do you need to boot a Mac with Windows? Obviously you need to. If you have a Windows pc you will never want to boot with Mac, because simply you don't need to. You can install Mac OS on ANY pc with intel processors. You don't sound like a developer, really.

The Surface book is far better. Better hardware, touchscreen, pen and dial support, tablet support, much better battery life, don't have the look at me Im a screenplay writer at starbucks look to it. Having a full touchscreen is far better than that joke called touchbar. Thats a passive agressive version of touchscreen. After reading the article again, the 13" top spec book 2 will be in my messenger bag by the end of january next year. I have to take care of the kids christmas first. I am going to get the wife a new surface pro maxed out with the auqa accessories too. I think the book is the better choice for me.

It seems you can't configure an i5 surface book 2 with 16 GB of RAM, so you need to pay a huge difference to get a 16 GB surface book 2 with the i7 compared to the 8 GB fanless model. Is that right?

If you really want to make this interesting, compare the $3299 Surface Book 2 to the $1820 HP Spectre x360 15 - it is astounding what you get with the HP, INCLUDING Thunderbolt 3. The Surface Book 2 trounces the HP in only one category - GTX 1060 vs MX150. It also techinically wins in the Clipboard vs 360 degree hinge gategory. When you add the cost of a pen (included with HP) you are paying $1579 MORE for the SB2 - where is the value to that?

benchmarks. I wanna see benchmarks! I don't trust that U quad-core processor yet ...

Lisa Gade at MobileTechReview has good short video on the the 8th Gen performance (both CPU and GPU) worth looking up.

thanks! Was a great video indeed. I love mobile tech review

Good thing this is coming out before I have kids because they'd have to eat ramen noodles until Christmas. Yes, the 15" sb2 is worth hungry children.

All of Microsoft's hardware is high quality and compares well against others. I'm really looking forward to seeing the Surface version, of pocket pc.

I agree with you Sam Ingram.
And also, I will note that last week MS had a bad moment when they announced Windows Mobile is dead. All the critics came out. But now everything is getting clear to me.
MS and Panos will have the Future Decoded event next Monday and we were kind off expecting a Surface Book 2 released. But, they just announced it yesterday! That means that Panos will make some Surface related announcements next week. That may be the long waited Surface Mobile or like you called it, Surface Pockect PC. And the big line up of Windows on Arm devices. I can't wait until next week..

Do the guys from Windows Central realized that the comments system is broken if you try to reply to a comment? It had happen to me using Edge, IE and Firefox. Also it breaks if I try to edit my own comment.

point of clarification these are the new 8th Gen processors which is Coffee lake, Kaby Lake is 7th gen, I think only the I5 version is Kaby. The new surface pro is 7th Gen Kaby as well.

Incorrect. The 8th gen desktop processors are indeed Coffee Lake; however, 8th gen mobile processors are actually Kaby Lake R (refresh).

I didn't know that that was possible. Why would Kaby be gen 7 & 8? seems odd. I guess what I'm suggesting is that the new 8th Gen Processor whatever it's name would be an improvement over the 7th Gen.
Windows Central Newsletter
Get the best of Windows Central in in your inbox, every day!
Thank you for signing up to Windows Central. You will receive a verification email shortly.
There was a problem. Please refresh the page and try again.