Microsoft Surface Book 2 full tech specs and FAQ
These are the full technical specifications for the Microsoft Surface Book 2, as well as how the 13-inch and 15-inch models compare.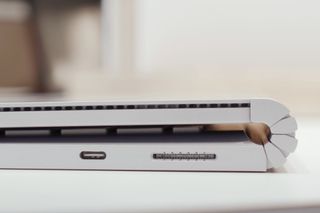 The Microsoft Surface Book 2 is expected to launch on November 16, 2017.
There are two Surface Book 2 models, a 13-inch and a more powerful 15-inch version, both with discrete NVIDIA GeForce GPUs for extra graphics power.
Here are the full specifications for both models and how they compare.
Surface Book 2 full specifications
Swipe to scroll horizontally
Model
Surface Book 2 13-inch
Surface Book 2 15-inch
Processor
Core i5-7300U (3.2GHz)
Core i7-8650U (4.2GHz)
Core i7-8650U (4.2GHz)
Display size
13.5" PixelSense Display
1600:1 contrast ratio
15" PixelSense Display
1600:1 contrast ratio
Display resolution
3000 x 2000
3:2 aspect
267 PPI
3240 x 2160
3:2 aspect
260 PPI
RAM
8GB or 16GB
16GB
Native graphics
Intel HD Graphics 620
Intel UHD Graphics 620
Intel UHD Graphics 620
Discrete graphics
Core i5: None
Core i7: NVIDIA GTX 1050 (2GB)
NVIDIA GTX 1060 (6GB)
Storage
256GB, 512GB, or 1TB
256GB, 512GB, or 1TB
Battery
70WHr
Up to 17 hours
Up to 5 hours in Tablet Mode
80WHr
Up to 17 hours
Up to 5 hours in Tablet Mode
Power supply
39W (i5)
95W (i7) w/ Type-A charging port (5W)
95W w/ Type-A charging port (7.5W)
Wireless
Marvel
Wi-Fi: IEEE 802.11 a/b/g/n/ac
Bluetooth 4.1
Marvel
Wi-Fi: IEEE 802.11 a/b/g/n/ac
Bluetooth 4.1
Xbox Wireless
No
Yes, built-in
Ports
Two USB Type-A 3.1 (Gen1)
One USB Type-C w/ video, power in/out and USB 3.1 (Gen1) data
Full-size SDXC card reader (UHS-II)
Headphone jack (3.5mm)
Two Surface Connect ports (1 in tablet, 1 in keyboard base)
Two USB Type-A 3.1 (Gen1)
One USB Type-C w/ video, power in/out and USB 3.1 (Gen1) data
Full-size SDXC card reader (UHS-II)
Headphone jack (3.5mm)
Two Surface Connect ports (1 in tablet, 1 in keyboard base)
Audio
Stereo Speakers w/ Dolby Audio Premium
Windows Sonic for Headphones
Dolby Atmos for Headphones compatible
Stereo Speakers w/ Dolby Audio Premium
Windows Sonic for Headphones
Dolby Atmos for Headphones compatible
Security
TPM 2.0 hardware chip
Common Criteria (CC) EAL4+, FIPS 140-2 level 2
Windows Hello face sign-in
TPM 2.0 hardware chip
Common Criteria (CC) EAL4+, FIPS 140-2 level 2
Windows Hello face sign-in
Dimensions
312 mm x 232 mm x 15-23 mm (L x W x D)
12.3 in x 9.14 in x 0.59 to 0.90 in
343 mm x 251 mm x 15-23 mm (L x W x D)
13.5 in x 9.87 in x 0.57 to 0.90 in
Weight
i5 total: 1,533 g (3.38 lbs)
i7 total: 1,642 g (3.62 lbs)
Tablet: 719 g (1.59 lbs)
Total: 1,905 g (4.20 lbs)
Tablet: 817 g (1.80 lbs)
Sensors
Ambient light sensor
Accelerometer
Gyroscope
Magnetometer
Ambient light sensor
Accelerometer
Gyroscope
Magnetometer
Cameras
5.0MP 1080p video at 30 FPS (front)
8.0MP 1080p video at 30 FPS with auto-focus (rear)
5.0MP 1080p video at 30 FPS (front)
8.0MP 1080p video at 30 FPS with auto-focus (rear)
Windows Hello
IR Camera
IR Camera
Price
Starts at $1,499
Starts at $2,499
Availability
November 16, 2017
Preorders: November 9, 2017
November 16, 2017 (U.S.)
Preorders: November 9, 2017
Surface Book 2 processors
Both the 13-inch and 15-inch models feature the new eighth-generation Intel Quad-Core Core i7-8650U processors with a maximum turbo boost of 4.2GHz and 16GB of RAM.
On the 13-inch model with the Core i7 runs at 15W, while the 15-inch model runs at 20W.
The entry-level Surface Book 2 at 13 inches costs $1,499 and uses an older, seventh-generation Intel dual-core Core i5-7300U processor that maxes out at 3.2GHz. It has 8GB of RAM and 256GB of solid-state drive (SSD) storage. This model has no discrete GPU.
Surface Book 2 storage
All versions of the Surface Book 2 use PCIe NVMe SSDs for internal storage. It is not user upgradable. Storage sizes are available in 256GB, 512GB, and 1TB options.
Surface Book 2 graphics
For the Core i7 models, the 13-inch has a NVIDIA GeForce GTX 1050 graphics card with 2GB of GDDR5 video memory.
The more substantial 15-inch model, however, has a much more powerful NVIDIA GeForce GTX 1060 graphics card and 6GB of GDDR5 video memory.
Surface Book 2 fans
How Microsoft cools the Surface Book 2 depends on the model.
13-inch Core i5: No fans.
13-inch Core i7: No fan in display or tablet. Fan in keyboard base for NVIDIA GPU.
15-inch Core i7: Fan in display and tablet. Fan in keyboard base for NVIDIA GPU.
The 15-inch Surface Book 2 has multiple fans because the Intel Core i7 processor runs at a full 20W all the time, whereas the 13-inch Core i7 runs at 15W and therefore is passively cooled.
Since the 13-inch Surface Book 2 with a Core i5 does not have a NVIDIA GPU, it needs neither a fan in the display or tablet area for the CPU nor one in the keyboard base for graphics.
Surface Book 2 ports
All Surface Book 2s have the same port configuration regardless of size or model.
Microsoft is still using its proprietary Surface Connect for power and the optional Surface Dock. There are also two USB Type-A 3.1 (Gen 1) ports for data and charging out. There is also a full SDXC card reader and USB Type-C instead of a mini DisplayPort.
Surface Book 2 USB Type-C
All Surface Book 2's have a USB Type-C 3.1 port instead of the mini DisplayPort found in the original Surface Book. It is not Thunderbolt 3 compliant, however, so there is no external GPU (eGPU) support.
What the Type-C Display Port can do for output depends on how it is used. When splitting it between power, data, and display, such as through the Surface Dock, users will get only two lanes of PCIe for the screen. That results in a maximum secondary display resolution of 2880 x 1800 at 60Hz allowing the most popular resolution today — QHD (2560 x 1440) — to be used.
Alternatively, if you are only using a secondary display through USB Type-C (using all four PCIe lanes), the Surface Book 2 supports up to a 4K output resolution at 60Hz.
External USB Type-C docks, including third-party options, are all supported through the USB Type-C port on the Surface Book 2.
Surface Book 2 and Xbox Wireless
Only the 15-inch Surface Book 2 features built-in Xbox Wireless support letting users connect an Xbox game controller using the native protocol.
The 13-inch Surface Book 2 can utilize the newer Xbox One S controller via Bluetooth instead, though it loses haptic feedback.
Surface Book 2 charging
All Surface Book 2s use the proprietary magnetic Surface Connect port and charger for power
The Core i5 13-inch uses a small 39W charger, while the Core i7 models (13-inch and 15-inch) both have larger 95W Surface chargers.
While both Core i7 Surface 95W chargers also have a secondary USB Type-A port for charging peripherals, the 15-inch charger supports 7.5W versus just 5W for the 13-inch model.
Users can also recharge the Surface Book 2 with a USB Type-C charger as long as it is powerful enough. Devices can be charged from the Surface Book 2, such as a phone using USB Type-C.
See at Microsoft (opens in new tab)
More on Surface Book 2
Windows Central Newsletter
Get the best of Windows Central in your inbox, every day!
Daniel Rubino is the Editor-in-chief of Windows Central, head reviewer, podcast co-host, and analyst. He has been covering Microsoft since 2007 when this site was called WMExperts (and later Windows Phone Central). His interests include Windows, laptops, next-gen computing, and for some reason, watches. Before all this tech stuff, he worked on a Ph.D. in linguistics, watched people sleep (for medical purposes!), and ran the projectors at movie theaters because it was fun.
Only $2500+ for 256 GB of storage ... I'll buy two.

LOL. Seriously, only $3.3K for the highest end model? Psfff, Let me get 3 to match the ACER Predator 21X.

Very dissapointing that for $1500 you're getting a last generation i5.

I guess neither MS nor Apple get it - USB-C WITHOUT Thunderbolt 3 - what a waste; nothing but USB-C/Thunderbolt - how inconveninet can you get.

I can't believe the 12" macbook doesn't have Thunderbolt 3, I just had to look that up. Apple has been pushing Thunderbolt hard since its inception.

Agreed, it's a no buy for me until they have Thubderbolt 3. No way in hell I am paying that much for a device that doesn't support the latest IO. Every other manufacturer does. They have no clue what they are doing on the Surface team.

No available PCI-E lanes for dGPU + TB3. it's an intel issue.

Umm the Macbook Pro's have had USB C WITH thunderbolt 3 since last year.

Could be a limitation of the motherboard Microsoft decided to use.

Does the macbook use a U class cpu? The U based CPU has limited PCIE lanes.

Thunderbolt will probably start to rise next year, when it becomes free

I'm pretty sure there is space in the $1500+ cost to cover ten bucks for Thunderbolt 3, they are simply preventing future proofing and creating a means of upgrade with the next machine. Every company does it, but it doesn't make it right.

Again... It's an intel limit on the U based cpus.

Pretty bad, finally added USB-C and it only supports 3.1 Gen 1? Where is the Thunderbolt 3? I cannot use this with any of my video editing gear. Also, the spec page on the Surface website doesn't list any of the capabilities of the USB-C port, they are afraid and embarrassed to list it.

ZzZzz. It's an INTEL limit on the CPU.

Now if only they had an LTE radio, I would so buy one yesterday.

The price is out of control!!!!

The Surface line has always been high.

It actually is. You would need at least $2000 for the 13.5" and $2500-$3k for 15" and that's talking i7/256/8gb dGPU models on the respective device. An extra $100 for the new Surface pen 4,096 lvls. (since it seems like it's not included in box, from pre-order website) An extra $70-200 (either 3rd-party or propiertary Surface Connect/Dock or that new MS USB-C dongle) if you like to use your external monitor/s with Surface Book 2. If you don't live in the U.S. expect 20%+ price increase in all previous categories. (because import tax/shipping/2nd vendor, etc). And remember! Everytime you upgrade a component for the specs its always an extra $150-200 (every 256G storage, every 8gb RAM, every i5 --> i7 bump, every +dGPU) for MS: [so even though price isn't out expect]: baseline 13.5": i5/256/8gb no dGPU = $1499 13.5" i7/256/8gb or 16gb +dGPU (gtx 1050) = $1900+ or $2000+ 13.5" i7/512/16gb + dGPU = $2300 13.5" i7/1TB/16gb + dGPU = $2600-2700 - baseline 15": i7/256gb/8gb (all w/ dGPU gtx 1060)= $2499 15"/512/16gb = $2900 15"/1TB/16gb = $3300 So yeah, it's phenomenally out of control. Sure it's the most versatile touch and pen form-factor and specs you can get vs a Macbook Pro (for $100-300 more) or any high-end flagships. But the price is just not accessible, and therefore as people say it: "only for specific users/w/ strong wallets or needs."

Disappointed with no kickstand again. Will stick with V1 until the Pro and Book series converges.

Holy Cow this came out of nowhere!

Kind of bullshit the i5 variant is still dual core Kaby Lake instead of quad core Coffe Lake

maintaining passive cooling is probably why. Despite anyone's feelings, it's somewhat justified.

Nothing we can do. Just hold up tho! ACER Swift Black Edition has i5-8th gen passive cooling. So it's either engineering or MS' justification to buy the the i7 model.

Still don't like the thigh-gap hinge that doesn't rotate 360 degrees.

Didn't Panay recently say how the Surface Pro wasn't going to use Type C because it is confusing and not mainstream yet? At first I was excited about the port, but now I hate the device entirely and Microsoft ironically did exactly what they were pointing out was wrong with Type C; they made it confusing. It's not Thunderbolt, so it can't do a lot of things right off the bat. If you use it for charging then your display bandwidth is gimped, but if you use it only as a glorified displayport, then it's fine (PS, your mini display port adapters are useless now even though the port does basically the same thing). What the heck? The inclusion of the Type C port that many wanted is ironically the aspect of the device that ruins the device as a whole, in my opinion. Maybe I'm being over-dramatic, but I've never been so disinterested in a Surface device due to such a terrible design choice. I really wanted to like the Surface Book 2. I think I'd rather get an XPS 15 or Precision line laptop now if I ever replace my work desktop with a laptop.

Yup, they completely screwed up this device. What I have been waiting for for years has been in a terrible way. HP is the only way to go in PC hardware. No one else seems to get it.

Someone had mentioned a while back that the Surface connector can do the same thing as a thunderbolt. I'm wondering if they can only add one or the other. Didn't Panay say that they are working on a Surface connector to USB-C adapter?

in my opinion you are being over-dramatic... I think the inclusion of USB-C in this model is adequate, and it comes at a time were we are still in the middle of the generational change in ports... Yes it sucks that it isn't Thunderbolt 3, but we already get a great dGPU in the base and it really isn't a dealbreaker for me.... I am glad I actually didn't invested in miniDP, and instead I got the Microsoft Wireless Adapter which is good for presenting and OK for video streaming (not for gaming)... and I am glad that it even supports USB-C Charging which is missing for many USB-C enabled laptops, this will be very great for traveling or on the go, since my phone is also USB-C. I respect your opinion about getting an XPS or Precsion, but none of those give you the flexibility of having a powerful tablet or pen input, both of which I have found to be invaluable in my line of work.

There are no doubt excellent things about the Surface Book 2. As a developer, the sketching of UI mocks would a very nice to have, but ultimately not a requirement. I just don't think it will be viable at my office where it would be best to standardize on a single dock model for everyone (even if different laptops each) while being able to push multiple external monitors at high resolution. I guess I'm just sad it doesn't meet my needs, whereas it clearly can meet others' needs.

Well, too bad you cant please everyone... these definitely are not for everyone and the entire Surface line is catered to specific groups of people.... I feel lucky to have all my boxes checked by my Surface Book, and the minor annoyances are extremely superficial... I am a mechanical engineer that works mostly as an industrial designer with 3D software, with some graphic design needs in the mix, and occasional side jobs as hardware and software certification for network operators and developers. I mostly work on the go, and I need to have a flexible, powerful device to do that from anywhere..... but I really don't care about external dual monitors, if I did I would get the Surface Dock. Honestly, if you don't need the tablet capabilities of the Book, then you should go ahead and get an XPS... these are the best line right now from what I've seen.... But I have had a great experience with my Surface AND the customer service as well, which is something that you don't usually get from other OEMs (except Apple)... Anyway good luck with your next device

Because they already have a GPU! ha.. haa haha... OK, I'll see myself out.

Probably because noone buying this doesn't already have a phone with GPS.

I don't know why the hate for this... I love this one. It is a substantial improvement over my 1st gen SBook. The 8th gen processor is very welcome, along with potential battery improvements. The tablet portion without fan worries me a little bit cause I do use CPU intensive programs and I wonder how they would perform without a fan... But the graphic card is awesome, and with that power, thunderbolts is mostly unnecessary for me... The USB-C is welcome addition even with limited features, but I wish that they would have placed it in the tablet portion instead... Though it is not a deal breaker. I know this machine is not for a lot of people on this site that are probably looking to buy a gaming rig for half the price... But this is the, almost, perfect improvement for my professional needs... This news just made me want to sell my SBook and wait until November

I think it looks great. Amazing what they were able to pack into such a slim design. I have the 1st gen Surface Book and still love it. And for everyone complaining about their "must-haves", if you need a kickstand or LTE, just get a Surface Pro, easy fix

PS: Daniel, could you please test if the original SB is able to connect to the new keyboard base? (13" obviously)

Disappointed at lack of eGPU support. :(

I don't really understand why you'd buy a machine that has a price inflated by a dGPU already if you wanted to add an eGPU.

Really? You must have a LOT of money.

So am I. I was thinking an Nvidia Volta card in an external enclosure. Specifically for those tensor cores and A.I research for us plebians without access to servers.

The specs are amazing for sure, I was expecting they'd make it full Mixed Reality compatible. My original Surface Book (pre performance base) is only barely compatible with Mixed Reality headsets according to the app. Anyways, the original surface book was already a significant investment for me so I don't think I'll be able to get this version anytime soon. I'll probably be waiting until the Surface Book 3 or even 4. Fortunately, it seems the rumors that Microsoft might cancel the Surface line are really unfounded as this new Surface Book clearly shows their commitment and dedication to the Surface brand. I was quite impressed and surprised that they even added a built in Xbox wireless receiver in the 15 inch surface book.

Significantly more powerful CPU, radically more powerful video card, and almost 50% better battery life. Those are significant improvements. I would have preferred they focus on reducing the weight and thickness, and the Thunderbolt support would have been nice. But still, this is a strong step up from my existing SB. I'll upgrade to one of the new 13" models. Glad to see them come out with this.

What? No time machine or spore drive? GTFO.

Looking at the 15" to upgrade my SB. The SB2 adds pretty much what I was looking for. Should be able to process 80 mb RAW files easier on Lightroom, and that 5hr tablet battery life is perfect for bathroom reading mode;)

i hope the storage won't have the slowness problem like original surface book drives did

'Some' of the drives... .

I wish they would sell the bases separately. I'm satisfied with the tablet performance of the SB now, but I'd murder for a 1050 GPU upgrade.

Can you get thd 13.5 with the i7 and no Nvidia graphics?

Monumental performance leaps over the last gen, but doesn't natively support the latest IO, which apparently makes it trash. Given that this is priced between the Razer Blade and Razer Blade Pro, and has way more compelling features, especially for myself as an engineer, it's good enough for me. Now all I need is the cash to spend on it.

I do like the improved emphasis on graphics. But I wish they would improve the screen so it's not soft and mushy with pixel ripples when drawing on it. Also on paper the tablet mode only 5 hours? Then I can probably expect 2 hours or less when using it with Photoshop and Zbrush.

Honest question:
I have been reading a lot of articles about the new Surface Book 2 and no one yet has commented on the fact that the RAM used is LPDDR3 1866Mhz. Does this not bother anyone, seeing as to other ultrabooks being released are using newer and faster DDR4 2400Mhz? Or is it because the SB2 has a powerful GPU making the kind of RAM used somewhat irrelevant? Would like to know your guys' thoughts. Thanks.

Marvel Avastar again? C'mon, that's not funny!!

Has anyone successfully connected 3 external monitors to the Surface Book 2 via an external adapter?