Microsoft Surface Book 2 comes in two sizes, packs NVIDIA graphics and USB Type-C
Microsoft just made it official: the new Surface Book 2 will be available starting November 16 in two sizes — 13 inches and 15 inches — and they'll pack NVIDIA GTX 1050 and 1060 GPUs and USB Type C.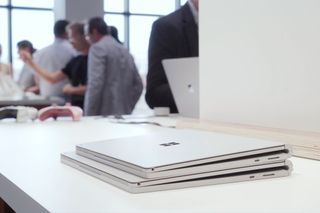 The original Surface Book celebrates its two-year anniversary this month. With Surface Book 2, there are now two sizes with a 13.5-inch and new 15-inch version. Packing powerful Intel eighth-generation quad-core processors and either a NVIDIA GeForce GTX 1050 (13.5 inch) or GTX 1060 (15 inch) these new Surface Books are five times more potent than their predecessor (and twice as powerful as the 2017 Apple MacBook Pro).
With up to 17 hours of battery life and the addition of USB Type-C 3.1, the Surface Book 2 could very well be the best all-around Windows laptop.
Surface Book 2 features and tech specs
Microsoft is not playing around, as the new Surface Book 2 brings some serious computing power to the table.
The most significant additions are the new ultra-low-voltage (ULV) Intel eighth-generation quad-core processors and NVIDIA GeForce GTX 1050 and 1060 GPUs, with the latter bringing some serious gaming-level power to the Surface line.
Swipe to scroll horizontally
Category
Surface Book 2 13 inch
Surface Book 2 15 inch
Processor
Intel Core i5 (3.2GHz)
Intel Core i7 (4.2GHz)
Intel Core i7 (4.2GHz)
Display size
13.5 inch
1600:1 contrast ratio
15 inch
1600:1 contrast ratio
Display resolution
3000 x 2000
3:2 aspect
267 PPI
3240 x 2160
3:2 aspect
260 PPI
RAM
8GB or 16GB
16GB
Native graphics
Intel HD Graphics 620
Intel UHD Graphics 620
Intel UHD Graphics 620
Discrete graphics
i5: None
i7: NVIDIA GTX 1050 (2GB)
NVIDIA GTX 1060 (6GB)
Storage
256GB, 512GB, or 1TB
256GB, 512GB, or 1TB
Weight
i5 total: 1,533g (3.38lbs)
i7 total: 1,642g (3.62lbs)
Tablet: 719g (1.59lbs)
Total: 1,905g (4.20lbs)
Tablet: 817g (1.80lbs)
Full Surface Book 2 specifications
Only the 13-inch Core i5 Surface Book 2 is dual-core (the older, seventh-generation Intel) while all the Intel Core i7 models are the newer eighth-generation quad-core variety.
For ports, Microsoft still uses its proprietary Surface Connect for power and the optional Surface Dock. There are also two USB Type-A ports, a full SD card reader, and now USB Type-C instead of a mini DisplayPort.
Surface Book 2 finally gets USB Type-C
All Surface Book 2's come with USB Type-C 3.1 instead of a mini DisplayPort. That Type-C port can handle data, video out, and power charging (in and out). However, it is not Thunderbolt 3, meaning there won't be support for external GPUs (eGPU), which is still very niche, according to Microsoft.
What the Type-C port can do for output depends on how it is used. When splitting it between power, data, and display, such a third-party USB Type-C dock or port expander, users will get only two DisplayPort lanes. That results in a maximum secondary display resolution of 2880 x 1800 at 60Hz, allowing the most popular resolution today — QHD (2560 x 1440) — to be used.
Alternatively, if you are only using a secondary display through USB Type-C (using all four DisplayPort lanes), the Surface Book 2 supports up to a 4K output resolution at 60Hz.
For charging, like all Type-C charging solutions, users will need a powerful enough wall charger to power the Surface Book 2, especially while using it. The 15-inch model can draw up to 75W between the CPU and GTX 1060. If a user slaps on the magnetic Surface Connect charger it will override a USB Type-C charge.
Surface Book 2 13-inch drops the fan
For the 13-inch model, there is no fan in the top half of the Surface Book 2, unlike the original Surface Book. That means when you use the 13-inch model as a tablet it will be completely silent even if running the new Intel quad-core i7 version.
For the base, there is a fan for the Core i7 model because it features a GTX 1050 GPU. The Core i5 model only uses native Intel HD graphics and is 100 percent fanless for both the top and bottom.
The 15-inch model has a small fan in the tablet-half, but for a good reason. The 15-inch model runs the Intel quad-core i7 processor at a full 20W compared to the 15W found in the 13-inch version. The idea is that unless under extreme circumstances (a sweltering room), the 15-inch model should not throttle. Users will always get max performance.
Surface Book 2: Serious performance and battery life
Microsoft is betting that people who purchase the Surface Book 2 will be professionals, such as engineers, data scientists, architects, software developers, or even prosumer gamers who want a Surface but need desktop-class power.
Our Xbox editor Jez Corden recently gave up on the Surface Book precisely because it was underpowered for his job, which includes gaming. The new 15-inch model, however, with a GTX 1060 (6GB), Xbox Wireless built-in for an Xbox Controller, and a new Quad-Core Intel CPU means he can finally move back to Surface without compromise.
When we benchmarked Gears of War 4 on the15-inch Surface Book 2, it managed a very respectable 80 frames per second (FPS) when configured at a resolution of 1620 x 1080 and graphics set to "Ultra." Combined with the native Xbox Wireless support, the 15-inch model is going to be a beast for gaming.
Microsoft claims "up to 17 hours" of battery life, but that number will vary depending on how you use the Surface Book 2. Like all PC manufacturers, Microsoft uses a standard video-rundown test due to its repeatability when measuring battery. When gaming and taxing the GTX 1050 or GTX 1060 to its max, battery life may be as low as two-hours, which is common for all gaming laptops. However, for typical usage of Windows 10 with modest GPU execution, pushing 10 hours in a real-world scenario should be possible.
Surface Book 2 rebuilt from the ground up
While the Surface Book 2 looks like the original, Microsoft says it is completely rebuilt. Besides the refreshed hardware there are many smaller changes:
Reworked fulcrum hinge — While Microsoft is keeping the gapped hinge, it has been rebuilt to be sturdier, and now both models can easily be opened with one hand.
Keyboard — The Surface Book 2 keyboard and trackpad both borrow from the Surface Laptop's design, with 1.55mm of key travel and the same overall response curve. There are also now dedicated keys for display brightness.
Display — Microsoft has improved the display with thinner materials and a higher contrast ratio, plus it fully supports that latest Surface Pen and Surface Dial on the display.
Improved audio — Surface Book 2 has reworked the speakers, which are now slightly more powerful but also take up less space
Front camera for Skype — Microsoft worked closely with the Skype team to make the front-facing camera work well with Skype.
Windows Mixed Reality ready — Both Surface Book 2's support Windows Mixed Reality. A USB Type-C to HDMI adapter will let current head-mounted displays (HMDs) connect easily.
Despite no massive redesigns for the external appearance underneath the Surface Book 2 is a significant upgrade over the original. With improved battery life – the tablet jumps from "up to 3 hours" to 5 – and those NVIDIA graphics the Surface Book 2 should be a contender for one of the best – and most versatile – laptops in the world.
Why name it Surface Book 2?
Despite Microsoft ditching the number in the name of the Surface Pro (see explanation), the company is adding a "2" to Surface Book for a few reasons.
First, it is introducing a second size, with the larger 15-inch version. That's a significant expansion and change for Surface Book, which was originally only available as a 13.5-inch PC.
Secondly, Microsoft is obviously still iterating, learning, and improving Surface Book. The laptop debuted in 2015 as a fancy Ultrabook with an optional discrete GPU, but it couldn't match the performance of gaming laptops or workstations or the MacBook Pro.
That all changes now, as Surface Book 2 features a very powerful quad-core Core i7 processor and some serious graphics cards with the NVIDIA GeForce GTX 1050 or 1060. In fact, these new Surface Book 2s are basically another class of PC compared to the original, and they rival many desktop systems. Microsoft even claims these are twice as powerful as the latest MacBook Pro laptops.
That sounds deserving of a proper sequel and number designation.
Surface Book 2 price and availability
The new Surface Book 2 laptops start at $1,499 for the 13-inch model and $2,499 for the 15-inch version (topping out at $2,999 for the 1TB version). Both are expected to launch on November 16 in the U.S.
The Surface Book 2 13-inch should launch in 10 additional markets that same day.
Microsoft says the Surface Book 2 will be available for preorder on November 9.
See at Microsoft (opens in new tab)
More on Surface Book 2
Windows Central Newsletter
Get the best of Windows Central in in your inbox, every day!
Daniel Rubino is the Editor-in-chief of Windows Central, head reviewer, podcast co-host, and analyst. He has been covering Microsoft since 2007 when this site was called WMExperts (and later Windows Phone Central). His interests include Windows, laptops, next-gen computing, and for some reason, watches. Before all this tech stuff, he worked on a Ph.D. in linguistics, watched people sleep (for medical purposes!), and ran the projectors at movie theaters because it was fun.
Let's see, I'm betting this device is going to start at close to 3k in Oz because... reasons.

The general feeling here, can be summed up as "they're quite nice, but I wouldn't buy one with my own money", and personally I wish they had eliminated the gap in the hinge as I think it's quite impractical and ugly (Do that many people actually use it in tablet mode?!) This will likely be the last Surface Book, I predict. A bit sad when you see the love that Panos' and team put into them, but you can blame Satnad for that and MS's inability to give the consumer confidence in high value purchases

I used to have the surface book, but upgraded to the surface pro 2017 because I needed tablet mode to last longer. I love the idea of it being like a normal laptop and then being able to detach the screen, just the battery life was too short. My only other complaint was that the SD expansion was only in the keyboard base, I wish it was in the screen part so I could still access it in tablet mode.

Alright. Time for a new PC. Have been waiting for SB refresh for a while now. :D I don't know why this device is less popular than Pro but I really love the concept of SB and a couple of days I played with it, loved it even more :)

Price info is in the story. See last section ...

Yes I saw that. Its in video as well. Updated my comment accordingly. :) Sorry about that.

Because the electring unlocking works 1/100 times and because it is so unreliable, and because unlike Apple devices that have ultimate sync between hardware and software this is just well built good looking hardware with installed Windows on it, just like any other Windows laptop.

the unlocking stuff had issues in the beginning, like any other new type of device. E.g. Samsung is arguably the king of smartphones in android but their flagships exploded last year. So that's a non issue. Probably you were just stuck with a bad piece of hardware. Hard luck. lol, and did you just say SB is just like any other laptop, lol... I don't think so... it has a similar software as most of other PCs but it is definitly not a regular laptop. It covers most of the bases an enthusiast may ask for.
* 2-in-1..... check
* dGPU.... check
* light as ultrabook... check
* touch and pen support... check
* distinct look... check
I don't think there are many laptops that do this. and by Pro I mean Surface Pro not MBP. -_-

It's definitely not as light as an UltraBook. Have you lifted an UltraBook or MacBook Air lately? at those price points most Windows Laptops will have a dGPU. That's nothing fancy. The only thing different is the detachable touchscreen with pen support, which I'll actively avoid Windows laptops just so I don't have to deal with that stuff. Indont want a touchscreen (period) and I certainly don't want a laptop to comes apart. So the MBP is pretty much the only option for me, because I want great support, as well. Will be replacing my Dell with one this coming holiday season. Can't wait.

Its not for everyone. No device is for everyone. You don't want pen and touch doesn't mean people don't want to. Question here is, is it unique enough or not? I am yet to find a device that does all the stuff SB does. Certainly not MBP, not good enough for me. That's why I also said enthusiast. Enthusiasts don't necessarily need support. They are support. This is certianly an enthusiast level device, not a regular clamshell laptop that companies have perfected over the years.

What is your point (question mark)?

And now the curse of the exploding batteries come to Iphone 8. And yes the macbook air is indeed very light, and very badly ventilated, mine is in the 3th mainboard

Not true. My first gen Surface book has never had any issues with this. It's a launch day unit, too, never been replaced for any reason. Firmware updates fixed pretty much every hardware related issue the thing ever had. Apple fanboys need not apply!

for surface book not bein synced with the OS made it also twice more powerful than a one purpose macbook that doesn't even have a touchscreen.

The macs not having touchscreens is a selling point. There's a reason why OEMs like Dell have to sell non-Touch SKUs of many of their laptop models... Cause a a lot of people don't want that. No one want to pay $1-200 for a feature that is effectively worthless to them. I wouldn't buy a Laptop with a dGPU just to do word processing, for example. I'd ask for a cheaper SKU, or buy a different product altogether. Ondont see the point of a touchscreen on a laptop (don't try to convince me, it's been years and I'm still not seeing it) except to inflate cost and profit margins.

lol, don't flatter yourself. Nobody is trying to convince you that touch is important on laptop or not. Might not be important to you, but other people sure like it. As you yourself said, why dell is selling non-touch SKUs, it applies vice-versa. Why are Dell, Lenovo, HP, Acer, Asus and even Razer at this point of time are selling touch enabled units? They are selling both coz there are some people who want them and some who don't. Simple as that.

the unlocking was fine and any issues that did exist were fimrware/software that was fixed

I am confused - was this new device presented at some event? Or is it basically just a press release?

A sekret event, yes in NYC.

Why Microsoft didn't announce it on future decode event .Is there will be anything new beside surface pro LTE on future decode event in london

At least according to the WC podcasts, Dan does not believe anything will be revealed at the Future Decoded event. I believe that, historically, that event has been more focused around futurists and industry trends; not about pushing any particular Microsoft product. Yes, Panos will be there, but that does not change the spirit of the event.

@Daniel Rubino....any rumblings on a surface "monitor" like the studio without the computer built in? A book 2 with a surface monitor would be an amazing combo.

Yeah that would be a killer monitor. But I don't think Microsoft would like to take surface line of products in that direction where they start making other accessories like monitor and stuff. Main machines, plus laptop keyboard is good enough. Anything more than that will not be worthy of coming in Surface line up, IMO. But, what they could do is to give that hinge recipe to other manufacturer and ask them to make one. LG should be good partner, those guys are making awesome displays. But, I don't see them doing it too :P

I guess I am buying a surface studio too. I would pay 1000 dollars for a studio monitor to run off a book 2. IMO that would still be in line with the whole, surface line. Premium products...premium price...

So, nothing new? Here is the thing: If Microsoft does not deliver ULTRA pocket Surface device in 2018 whatever OS is running now, Windows 10, W10M, Andromeda, Android, ChromeOS I don't care anymore, if they do not deliver such device in 2018, Microsoft is officially dead as a company.

Ha Microsoft wouldn't be dead just because they arent delivering the hardware you want them too. Grow up please.

Dead to you, maybe, but Microsoft is doing really well as a company. Their shareholders agree.

If by really good you mean Amazon and Facebook are coming closer and closer in market cap and soon to surpass it, leaving MS at 5th place, yes they are doing really well. Not to mention Alibaba. Good lord their shareholders agree

Just because Amazon, Facebook Alibaba or whoever are doing better in their market cap, therefore MS cannot be doing well? Stop embarassing yourself with your illogical rambling.

Best part was when Dona showed up 😝

pretty much everything i wanted except no thunderbolt. i dont understand why microsoft is so against that protocol. i guess its because it really helps to futureproof the device for a lot longer.

And that gap, man. The gap is so gross and the whole device has so many ways to collect dust, like the gap, hinge intself. Why cannot MS just produce unified solid clean design like Apple is it that hard?

You mean like the Surface Laptop? What Apple laptop has a detachable touch screen?

What Apple laptop needs a detachable touch screen? People love it anyway without this gimmick

Not a gimmick, I use it all the time. Just because you dont like it doesnt mean others dont like it. You are very self centered and self absorbed.

How about keeping it in a laptop bag when not in use? That's what I do with my current laptop. This idea isn't far fetched and would solve the issue you just brought up.

Coz Apple does so little with their devices.. which device supports touch, biometrics and tablet mode?! Go buy a surface laptop.. will beat Apple's design anytime

by what measure? security or stability/reliability? cause win32 is far away from unix, boy

They keep skipping out on something. Would love if this thing had Thunderbolt 3 for external graphics but skipping this again.

Protocol? There is no protocol to include thunderbolt 3 on any hardware. If anything, I'd say it's more of a premium feature that's nice to have. Also, the gap is fine. It looks stranger when you haven't used it and just look at it. When you actually use it, it doesn't change a thing with how you normally use a laptop and dust is really not an issue.

Well.. I'm actually confused with Microsoft's strategy (either they are deliberate or not): 1. Not enough PCIe lanes for U-processors (already taken by dGPu and Surface Connect), leaving no lanes for TB3 USB-C. (although funnily they've dropped from 20gbps display-port --> 10Gbps USB-C (3.1 gen1). 2. MS is directing expenses (our money) to it's propiertary accessories: - Surface Connect/Dock ($150), Surface Connect/USB-C dongle (?). On top off that, new 4,096 Surface Pen for $100 if it's not included. Heck, people will spend $2200/3000+ plus just to get 256gb/8gb models w/ dGPU (consecutively, 13.5" & 15" model), not to mention price inflation in other countries outside U.S. (like Australia/U.K.). At this point MS is certainly going insane w/ the prices for with dissapointing features like the lack of TB3 (at least 15" model).

Any news if there will be coloured versions like the surface laptop?

I'm super excited about the device (although I'm probably more of a Surface Pro user). But does this mean that the upcoming event around the end of the month is dead?

I would be really interested in trading in my Surface Pro for this, if only this supported Thunderbolt.

Do we have the price for 13 inches i7 version? I don't need extra ram nor storage, but if I'm going to pay this much (which I intended to) I'd like to have a quad core.

I guess you didn't here where the 13 inch does have the 8th generation i7 in it also

I did. Maybe I wasn't clear, but that's the reason why I asked for the price of 13" i7. I can live with 4gb ram and 128 gb storage, but I want a quad core. I would get the i5 version if it's quad core, but that's not the case so I'll have to take the i7.

Expect $1900+ (i7-8th gen/256gb/8gb w/ dGPU), MS has always priced $200 for i5 to i7 upgrade and +dGPU $200 on their Surface Book line. Plus it doesn't include pen this year (from site): so that's extra $100 (totalling to $2k). Not inluding tax/import or 2nd vendor outside U.S. or the USB-C dongle people will be using since display-port adapter ain't included either.

Thanks for the reply. Now we have the answer though. You're not that far off. zdnet dot com/article/microsoft-surface-book-2-specs-pricing-availability/ $2000. Ouch. And I'm in Europe this time, so expecting ~2000 EUR...
PS: I can't post link?

Like you are going to buy it

I have been hoping for a surface book 2. I wanted the ability to game, do vr on the go, and do illustration with the pencil. However, for the price of the 15 inch model I could get a vr ready laptop and an iPad Pro and still save money. I know, I know, if that's the case then I am not the target audience for this computer. Too bad they don't have one for me then.

So get the 13.5" version. Still a bigger screen then the tablet. They do have one for you as far as I can tell.

Do these things come with the pen? I've got a first gen Surface Book that is now about 2 years old, and I'm seriously eyeing the new i7/GPU 13 inch models, but I think for 1999, the pen should be included.

In the past they did, not sure now.

Damn. I was hoping you knew if they were including them, Daniel. Guess I'll have to wait til pre-orders start at my local store. Either way, it's looking likely that i'll be upgrading. I'm just going to be grumbling a lot if I have to buy a $100 pen, too.

Seems the pre-order website says it doesn't. Not in what's in the box or even spec sheet. But they sure have one for promotion on the pictures as an advertisement.

OK, 13 is my next after current Yoga 2 Pro although I don't trust them so will be prepared for ditching Surface line by Ms in long term.

How many years must the Surface exist and be successful before you would trust them? I've had an original RT, Surface 2 (still RT), Surface Pro 2 (hubby still has this), Surface Pro 3 (mom now has my old one), Surface Book (first gen). My father in law has a SP4. I've basically had Surface devices for many years now. MS has my faith when they've got a success on their hands. They haven't proven me wrong yet. Nothing they've abandoned has been nearly as successful as the Surface line (Zune? Windows Phone, heck no -- writing was on the wall with those long before they were officially ditched). MS is not going to abandon something that's making their brand stronger (I would say you have more to worry about from Google than MS in this regard -- they're better known for killing popular services).

Reasonable price for spec but too expensive for me.

Nope. Half of that price would be "reasonable", now it's just ridiculous.

now the london surface event becomes interesting.

I'm not expecting anything there, nor is it a Surface event.

hmm well wasnt Panos Panay supposed to present something on the future decoded event. May be just surface LTE but then its too low key, hope they surprise us. (Not expecting a phone though,)

Perhaps, Windows 10 ARM devices. Seems like they are ready and as promised for 2017 release. I'm actually more excited for it than Surface Book 2. Implying if it's lightweight/Yoga form laptops w/ Snapdragon 835 as we've seen in IFA Berlin or MS Ignite 2017. It should be a more accessible device for the masses!

A Core M (or xYxx as they call them now) would be much more powerful and that flagship Snapdragon probably costs the same. It really doesn't make sense, you have to emulate pretty much everything.

This makes me look forward to the Surface Studio 2.

How was the display wobble? I found screen wobble with the first-gen Surface Book to be the worst I've seen in any computer. Was a bit of a deal-breaker. Now, the deal-breaker is them sticking with 7th-gen CPUs in the base 13" model. Would rather choose the Surface Pro at that point.

The wobble only ever becomes an issue if you are say using your laptop in a car, on a train, or a bus. In any other scenario there is no wobble to experience (at least that's my experience with using the surface book, I've since upgraded to the surface pro 2017). Honestly, the only two complaints I had with the surface book is wanting the sd expansion to be in the screen portion so that in tablet mode I still had access to the storage and the battery life in tablet mode wasn't quite long enough for my uses.

Fantastic hardware! The Surface Book is the one computer I want more than any other. To bad all I'll ever get to do is read about them. I could never afford multiple thousands on a computer 💻. Oh well. If I could I would, but I can't.

Refurbished first generation are starting a 799, not the latest but will still perform well.

If I would have known this was coming out... I wouldn't have bought a XPS 15 in July. Now I'm trying to sell my XPS 15 so I can build up a desktop because I need more cores. This however... well... this makes me want to make my work buy me a desktop so i can get a 15" SB2. It's.... so pretty.

My surface book is experiencing a lot of bulging in the screen and some discoloration so this is coming at the right time. Hopefully they fixed whatever issue that was.

Whoa, you would but another after that? Could you just warranty it? Can't be that old.

Im deciding on a 15 or 13 maxed out...I don't game so I am not sure the extra GPU power is worth it for me.

probably not unless you do other graphic intensive work?

This is not a ultrabook born for gaming, so if you use it for photography/video/cad/3d work it definitely worth it.

Thats what I will be doing with it. photography video work. But would it really slow me down that much if I was using the 13 with the 1050 in it?

I was hoping that they would also release a new Surface Dock

wallet is happy not so much has changed that i need to upgrade. So Surface Book 2 is getting the keyboard of Surface Laptop? I tried the Surface Laptop keyboard and I definitely like the feel of original Surface Book keyboard better.

I'm looking for a definitive answer here as well, although I prefer the Surface Laptop keyboard and so I'm hoping that they ported over the same mechanism. I like the OG SB keyboard's feel well enough, it's just a bit loud for my tastes. Seems like the Surface Laptop has a slightly lighter feel and it's also quieter.

Lol if you don't like the surface book 2. Go get surface laptop quit ********. Lol

Isn't it a pre request for Microsoft's MR (You know that BIG thing their pushing as the future) for the device to have display output via HDMI or display port, which they removed for a none display out putting USB-C????

HoloLens is a stand-alone device, and I think that's what they want to push forward the most. Anyway, there are *dongles* for video output... Really annoying, but I guess it's still better than the mini display port that nobody uses. You need an adapter in either case. Type C adapters are more expensive, but at least you can use an OTG adapter to convert it into a real USB port. Of course, the best option would be full-size HDMI, or at least mini HDMI (adapters from that to full HDMI cost literally one dollar), because full size is probably too thick for such a thin device.

But the USB-C standard used does not support display, only power and data so a dongle has nothing to convert right? I was eyeing the 15inch model as a desktop replacement but I also wanted a MR Kit and the only way I can see it working is by using the surface dock for it's display out which is disappointing from a mobility standpoint.

Oh, yes it does. It has those "alt modes". Most devices support the DisplayPort alt mode, and now there's a new HDMI alt mode but pretty much nothing supports it. So DP adapters are not too expensive, since they use the alt mode directly, but HDMI adapters are a bit more pricey because they use DP alt mode and then convert it to HDMI. Here's one: https://rover.ebay.com/rover/0/0/0?mpre=https2F2F...

No you're right! Looking on reddit it seems DisplayPort alternate mode is supported, just not TB3 which I'm not bothered over. Thanks for the tip :)

Display — Microsoft has improved the display with thinner materials and a higher contrast ratio, plus it fully supports that latest Surface Pen and Surface Dial on the display.

Looking at the specs in this article the new Surface Book 2 has a contrast ratio of 1600:1, which is lower compared to the first iteration of Surface Book.

On Microsoft website: 1700:1 for the first Surface Book. Just marketing for new potential Surface Book buyer?

hmm Microsoft has updated all it's major Surface devices except the Surface Studio which is so new it may not need it til next yaer. it's not a year old yet. Folks where is Microsoft's hardware vision of Windows on ARM CPU device. folks they are supposed to be available the 4th quater of this year. October begins the forth quarter of 2017. Perhaps Panos will show us something

It woudl be amazing if they would launch it in Mexico, but Microsoft will probably think it is too expensive for this market... (Which it is :( )

I wish they would get rid of the hinge. Really makes the device look old.

Ok then, I'm all ears. What would make it look "new" to you? The screen magically levitating mid-air? Sorry pal, not doable. See, you need some sort of support mechanism. And since the GPU is inside the keyboard, a standard laptop hinge works much better than a kickstand for instance. It's more usable on the lap and doesn't require extra space on the desk. And of course, more stable on soft surfaces.

I don't like the look of the armadillo hinge either, but im looking past it as the device is such a killer machine.

With phones starting to have 256GB. Isn't time to upgrade to an entry level of 512GB?

No it's not. It's all about choice. I understand adding new options, but removing them is just stupid. Unless it hinders usability, of course. 64GB is pretty much impossible to use with 64bit Windows 10, so I understand why it was removed. 128GB is still a PITA, so I understand why it was removed. 256GB is perfectly manageable so I really don't get why you want to take away that choice from people. SSDs are expensive, you know...

Eh, another stupid article. Stupid, stupid, stupid. 4 PCIe lanes is 32Gbps, USB 3.1 is 10Gbps. And you're saying it supports 4 PCIe lanes. Stupid. You're also saying those lanes are used by HDMI adapters. Stupid. PCIe lanes can only be used for PCIe cards, most often that's eGPU. A simple HDMI adapter is not a PCIe card, it uses USB C alt modes. And last but not least, you probably think USB supports PCIe. Stupid. Only Thunderbolt supports PCIe and you said pretty clearly that the port is not a Thunderbolt port. Stupid.

nice, but i am native ios and android developer so mac is only the options for me. and i can run windows on mac too to develop for windows

Hmm... Between 5th gen X1 Carbon and 13.3" i7... I think Surface is much better... What happens when local Admin user creates Face Hello recognition and then Same person creates Microsoft account based account.. Does Hello then ask whick user would be used? Fingerprint is so much easier: middle finger for Admin and index for MS account :)

Daniel - seems to be an amazing device and I'll definitely be pre-ordering to replace my MacBook Pro, iPad Pro and Surface Pro 4. Brilliant Hand's On video, BTW. HOWEVER, everytime I watch it, my eyes continue to focus on the woman in the white blouse with the dark pants on (at the beginning of the video). OOHHH MY GOODNESS!

Thought I was the only one, I'm planning the same, 13in MacBook Pro with useless touchbar, iPadPro with Pen, and Surface Pro 4(4Gb/128) which I use for note-taking. I can get everything on one device now.

Is it posible to use to screen only connected to the Surface dock with two monitors, so it acts as a third monitor. is it only the gpu power that's in the keyboard? I do most of my work in Visual Studio, so im curious to now if the screen is powerful enough on its own :)

Soo... When are Surface Book w/ Performance Base users getting tilt for their pens or is this a case of Tilt only for the 2?

I pre purchased my original Surface Book i7 16gb, nVidia gpu and picked it up day 1. I love it, and have been ecstatic with it! I was so looking forward to Pre-purchasing the Surface Book 2 15 inch 8th Gen i7, 1TB SSD with GTX 1060 video card, and finally it has a USB-C connector!!!! I was already shopping for eGPU (external GPU enclosers), and GTX 1080 TI video cards, to run 4k games on my 75 inch 4k monitor, do some 3d creation, and run some VR content. Little did I know that the USB-C on the SB2 does not support Thunderbolt 3 (40GB per sec)! I am a professional by day (Surface Book (2) Premium Type-A hardware is perfect) and want the ability to come home and run some amazing 4K content (games, movies or VR), and power through some 3D Creation. Microsoft (Satya) acknowledges that gaming is one of the biggest drivers in the industry, Microsoft is also pushing 3D Content Creation with the Creators update. Hard to beleive the the Thunderbolt 3 (USB-C) 40GB per sec was left off the list.? The nVidia 1060 will do in a pinch, but it will not drive 4K full settings, hence the need to run a 1080+ eGPU via Thunderbolt 3. Thunderbolt 3- One last thing to make it the perfect machine. Microsoft Mission: Empower every person and and every organization on the planet to acheive more. (Please give us Thunderbolt 3) Thank you!

Just saw where Microsoft has quoted Daniel from this article on their Introducing the New Surface Book 2 web page.
Windows Central Newsletter
Thank you for signing up to Windows Central. You will receive a verification email shortly.
There was a problem. Please refresh the page and try again.