Microsoft may not announce a Surface Book 2 at rumored Spring event
The Surface Book 2 might not show up at Microsoft's rumoured Spring hardware event, so what could the company possibly want to announce?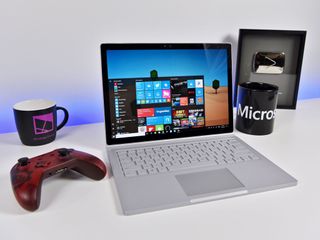 (Image credit: Windows Central)
A new report from ZDNet's Mary-Jo Foley today claims that Microsoft is not planning to unveil a new Surface Book at the rumored upcoming Spring hardware event in April. Recent rumors claimed the new Surface Book 2 would be a traditional laptop rather than a 2-in-1, and start at the lower price of $1000, but Mary-Jo Foley reports that the Surface Book 2, whatever it may be, isn't ready yet.
With that in mind, it's unclear what Microsoft plans to announce at its rumored Spring event. Mary-Jo Foley says it's unclear if even a Surface Pro 5 will see the light of day, so what could Microsoft possibly want to announce? A new device category? Perhaps the Surface phone? I think that's unlikely due to the fact that the software for it is nowhere near ready, meaning the Surface phone is still several months away, at the very least.
Perhaps those Surface Book 2 rumors weren't the Surface Book 2, but rather a new Surface-laptop branded product separate from the Book line? Mary-Jo Foley speculates that considering the Creators Update is also launching in April, it'd make sense to launch a Surface device that caters to some of the Creators Updates biggest features, including the upcoming Windows 10 Cloud SKU. Maybe Microsoft is planning to launch a Surface Cloud-Book instead?
This would be yet another new device category for the Surface brand, which is what Surface does best. The Surface Pro, Surface Book and Surface Studio are all devices that tried to reinvent device categories, and a Surface Cloud Book would do exactly that for the laptop form-factor. I personally would like to see another new non-pro Surface device be announced, powered by Windows 10 on an ARM CPU. The problem with that is Windows 10 on ARM isn't set to be ready until Redstone 3 in the fall, making a Spring announcement somewhat premature.
Regardless, we're interested in what you want to see Microsoft announce at its rumoured Spring hardware event. Let us know below!
Get the Windows Central Newsletter
All the latest news, reviews, and guides for Windows and Xbox diehards.