Surface Book 2 vs. Samsung Notebook 9 Pro: Spec showdown
In the land of 2-in-1 laptops, there are plenty of PCs that stack up against the Surface Book 2. But does Samsung's flagship?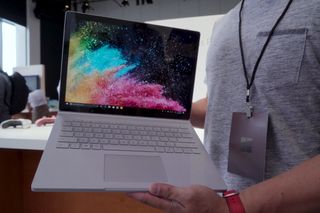 The Samsung Notebook 9 Pro was announced at Computex 2017, delivering a reversible display, its own S-pen digital inking, and a dedicated GPU. It's a slightly older device, but there are tradeoffs; namely the price.
If you were in the market for a new 2-in-1 with inking support, which should you dive in on? Ultimately, it depends on your needs, and your budget.
Comparing Surface Book 2 and Samsung Notebook 9 Pro
Swipe to scroll horizontally
Category
Surface Book 2
Samsung Notebook 9 Pro
Display
13.5-inch or 15-inch PixelSense Display
13.5-inch or 15-inch LED
Resolution
3000 x 2000
3840 x 2160 (4K)
1920 x 1080 (HD)
OS
Windows 10 Pro
Windows 10 Home
CPU
Core i5-7300U (3.2GHz)
Core i7-8650U (4.2GHz)
Core i7-7500U (2.7 GHz)
Storage
256GB SSD
512GB SSD
1TB SSD
Up to 256 SSD
RAM
8GB
16GB
8GB
16GB
Graphics
Intel HD Graphics 620
GTX 1050 (2GB)
GTX 1060 (6GB)
13-inch: Intel HD Graphics 620
15-inch: AMD Radeon 540 (2GB)
Rear camera
8MP
N/A
Front camera
5MP (Windows Hello)
720p
Ports
Two USB Type-A 3.1 (Gen1)
USB Type-C with video, power in/out and USB 3.1 (Gen1) data
Headphone and microphone
Full-size SDXC card reader (UHS-II)
HDMI, Headphone and microphone, USB Type-C with video, 2x USB 3.0, MicroSD
Sensors
Ambient light sensor
Accelerometer
Gyroscope
Magnetometer
N/A
Keyboard
Full-sized, backlit
Full-sized, backlit
Battery
70WHr (13-inch)
80WHr (15-inch)
54WHr
Pen
Surface Pen
S-Pen
Weight
Up to 4.20 lbs (1.9 kg)
Up to 3.7 lbs
Dimensions
13-inch: 12.3 inches x 9.14 inches x 0.59 to 0.90 inches
15-inch: 13.5 inches x 9.87 inches x 0.57 inches to 0.90 inches
13-inch: 12.21 x 8.54 x 0.63 inches
15-inch: 13.67 x 9.41 x 0.67 inches
Price
Starts at $1,499

(opens in new tab)

Starts at $949

(opens in new tab)
The key differentiator here is price. The Samsung Notebook 9 Pro is cheaper than the Surface Book 2 across the board, starting at just $949 vs. the Surface Book 2's entry point at $1,499. Naturally, that's due to a combination of tradeoffs.
First and foremost, the Surface Book 2 has a superior screen at every level, hitting higher resolutions than the Samsung Notebook 9 Pro's 1080p standard HD restrictions. If you're a digital artist, there's really no competition here. And even beyond the screen resolution, the specs for creative types, gamers, students, and beyond, are thoroughly better on the Surface Book 2 range. But there are price considerations to make, too.
At the lower-end, the Surface Book 2 and Notebook 9 Pro 13-inch models have more comparable specs, with Intel HD 620 graphics across both, similar sized screens, processors, and RAM. At this end, the Notebook 9 Pro 13-inch begins to make more sense than the extra $550 dollars you'll pay for a similarly spec Surface Book 2. The main benefits of picking up the lower end Surface Book 2 over the Notebook 9 Pro includes the more beautiful display, faster CPU, and the bigger battery life. As we head up to the more expensive models, the Surface Book 2 begins to outperform the Notebook 9 Pro in a huge way.
At the high-end, you can grab a Surface Book 2 with 1TB of SSD storage, a GTX 1060 GPU, and a crazy fast Core i7-8650U CPU, which packs 4.2 GHz against the Notebook 9 Pro's 2.7GHz. The Surface Book 2 also shatters the Notebook 9 Pro on listed battery life, claiming up to 12 hours with an 80WHr battery, compared to the 54WHr batteries found in every Notebook 9 Pro, which lists at around 6 hours. If you're planning on taking these devices to lectures, in the field, or at work, the Notebook 9 Pro will struggle to provide that realistic "all-day" battery life.
Also, there are features to consider. The Surface Book 2 has a detachable display, providing a clipboard-like experience. While I've found the scenarios where you might find this useful to be incredibly niche, it's still worth thinking about. The Notebook 9 Pro instead has a reversible hinge, allowing you to fold the display backwards to get tent and canvas modes. On the Surface Book 2, you have to detach the display and flip it around if you wanted to use it while still connected to the base (where the GPU and larger batteries are located).
Both devices have inking support, and by all accounts the Samsung S-pen is actually quite good, supporting up to 4000 levels of pressure sensitivity. The Surface Book 2 edges it out slightly, with 4096 levels, and comes with tilt support and a co-processor to improve latency between the pen and the screen. If you're willing to pay the premium price point, the Book 2 will provide a premium inking experience. Frankly, the same could be said about every aspect of these devices.
Which should you buy?
The million (thousand?) dollar question is, which should you buy? Ultimately, the Samsung Notebook 9 Pro is a Surface Book-like device with more affordable specs and features. Almost every aspect is slightly less "premium" than the Surface Book 2, resulting in a lower price point. If you're on a tighter budget, it looks as though the Notebook 9 Pro will still serve well for light gaming, light creative work, and should prove speedy for regular tasks like Office, browsing, and beyond.
The Surface Book 2, particularly at the higher-end, is a powerhouse. The d-GPUs on offer, combined with the faster CPUs, better screen, and huge batteries beat the Notebook 9 Pro at almost every level. The Surface Book 2 15-inch even comes with Xbox Wireless, allowing you to connect Xbox controllers and certified headsets without a dongle. This will run modern games extremely well, and provide great support for VR, Windows Mixed Reality, and higher-end creative and professional tasks. But whew, it is expensive.
The Surface Book 2 starts at $1,499 and will be available for pre-order (opens in new tab) on November 9, 2017. The Samsung Notebook 9 Pro is available now, starting at $949 (opens in new tab)
Windows Central Newsletter
Get the best of Windows Central in in your inbox, every day!
Jez Corden a Managing Editor at Windows Central, focusing primarily on all things Xbox and gaming. Jez is known for breaking exclusive news and analysis as relates to the Microsoft ecosystem while being powered by caffeine. Follow on Twitter @JezCorden and listen to his Xbox Two podcast, all about, you guessed it, Xbox!
According to less price Samsung Notebook is good.

Different concepts. I still thinks Surface Pro and Surface Book should merge together into one product line. Just buy a performance base or a type Cover to the tablet unit.

That would be a pretty cool idea, though I think it would end up with a compromised Surface Pro experience. If you split the batteries like in the Surface Book, you end up with a compromised Surface Pro experience, getting a measly few hours of battery life. If you put all the batteries in the screen unit, you get good battery life in Pro mode but now you've got a top heavy Book experience.

Samsung lost soon as I looked at the picture, there wasn't a need to read the article.

Picked up the Samsung Notebook 9 Pro (the 15" model) about a month ago. The Surface was just too far outside my budget plus I needed a laptop now (old one died). Dropping down to a 15" screen definitely helps in portability, performance is solid and battery life is in the 10-11 hour range. The only downside is the lack of an SD card slot but its easy to learn to remember to have an SD card reader handy. On the plus side, though, having a micro-SD card slot makes it easy to expand storage.

Uh. Yeah, I'm afraid this is like comparing a Surface to Amazon Fire tablet. These specs are so divergent, its silly. Sure price point is different, but it damned well better be!

Samsung = Dud. 16x9 screen = Fail.

There's no question, notebook 9 is way better even surface has better specs. My impression is just that surface always always has unexpected problems of all sorts. Notebook 9 is steady, robust and it lasts long in life.

JFI, the quad core version of the Samsung notebook 9 pro is already out https://www.amazon.com/dp/B076V63MQX/_encoding=UTF8?coliid=I2Q8IRLQUKIRV...

It is really a good add to the products. Thank you so very much Tarteel loves this new product. Thank you.
Windows Central Newsletter
Thank you for signing up to Windows Central. You will receive a verification email shortly.
There was a problem. Please refresh the page and try again.