The Surface Book will soon be available in 10 new markets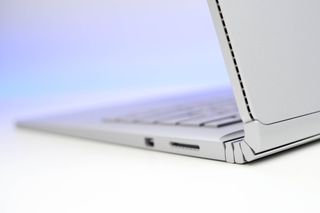 More people will soon be able to buy the Surface Book. Microsoft just announced that pre-orders for the Surface Book start tomorrow in Austria, Australia, UK, France, Germany, Switzerland, and New Zealand. It will also be coming soon to Japan, with India following in the coming weeks. The announcement comes after being recently available for pre-order in China and Hong Kong.
According to Microsoft, Windows 10 devices had an incredible holiday, led by strong demand for Xbox One, Surface Pro and Surface Book.
The Surface Book features a 13.5-inch display with 267 pixels per inch (PPI), backlit keys, and PixelSense for touch. Inside the Surface Book is the latest NVIDIA GeForce GPU, GDDR5 RAM, and a 6th-gen Intel Core Skylake Processor.
Surface Book specs
Swipe to scroll horizontally
Category
Specification
Display
13.5-inch Pixel Sense display
Contrast Ratio: 1800:1
Display Resolution
3000 x 2000 at 267ppi
Aspect Ratio: 3:2
Software
Windows 10 Pro
Processor
6th Gen Intel Core i7 dual-core
Storage
512GB Solid State Drive (SSD)
Memory
16GB RAM
Graphics
NVIDIA GeForce custom graphics (GPU)
Rear Camera
8MP with autofocus, 1080P recording
Front Camera
5MP
Full HD (1920 x 1080)
Windows Hello face-authentication
Speakers
Front-facing stereo speakers with Dolby audio
Ports
Two full-size USB 3.0, Full-size SD card reader, Surface Connect, Headset jack, Mini DisplayPort
Sensors
Sensors, Ambient light sensor, Accelerometer, Gyroscope, Magnetometer
Security
TPM chip for enterprise security
Battery Life
12 hours of use
Pen
Surface Pen
1,024 levels of pressure sensitivity
Magnetic storage
Power Supply
36W power supply with USB chargin port
65W power supply with USB charging power (discrete GPU SKU)
Weight
1.6lbs (tablet)
3.48lbs (full)
Dimensions
Laptop: 9.14 x 12.30 x 0.51- 0.90 in ( 232.1 x 312.3 x 13 -22.8 mm)
Clipboard: 8.67 x 12.30 x 0.30 in (220.2 x 312.3 x 7.7 mm)
Make sure to watch Daniel's unboxing and first impressions of the Surface Book if you haven't seen it yet. Will you be getting the Surface Book once it hits your market? Let us know in the comments!
Buy Surface Book from Microsoft Store (opens in new tab)
Source: Microsoft Blog
Windows Central Newsletter
Get the best of Windows Central in in your inbox, every day!
I know right! Although most probably i won't be getting it as i don't really have the need now.

Won't have that much many but would definitely love to go to the store and check out that beauty.

Yeah. Think about the taxes in our country.

If you read the windows blog properly, they're only saying that the surface pro will be launched in India in the coming weeks. They never talk about the surface book launch in India...

Mark should actually change it.. Its very misleading.. :-/

Yup, they have very fast and itchy fingers and they get mad when we point out an obvious mistake...

Well informed and determinant move by Microsoft to level up its already successful foundation with Surface products. However I'm about to get the imported Surface Book in a few days.

Hum... I wonder if any southern European countries will get it...

Not likely. At any rate, people wouldn't probably be willing to pay the prices Microsoft is asking for it... Because, as usual, Microsoft will rip us off compared to US prices (which is why, for example, I bought my SP3 in Redmond instead of buying it here in Europe). Posted via the Windows Central App for Android

I see your point, but people pay similar amounts of money for Apple products. And I, for one, would seriously consider splashing the cash on such a machine :D ...

Yeah but Apple products are a niche. Windows isn't. There are many many Windows laptops that offer the same or better experience than the Surface book which makes it harder to sell to the common consumer. Posted via the Windows Central App for Android

It's not for common customers, but those with class lol.

lol maybe once they remove that horrible hinge =P I find the Surface Pro a lot more classy. Actually, make the type cover metal and you'll have a Surface Book-like SP.

Agreed. Architects, Painters, Journalists prefer the Book.

Neither MS, or Apple or Google or OEMs are ripping anyone off.
Prices in Europe are higher than in the US simply due to exchange rates and VAT.

That, is bullshit. First the dollar is worth less than the Euro and the Pound. Second, after converting from dollars to euros, even after we add the 21% VAT (which is the medium value across Europe), the prices are NOT what they charge use for the products. The adition of the VAT would make the prices almost match up a 1€ = $1 exchange rate. But they don't. Microsoft charges us 200€ to 400€ more for the products just because we're in Europe on top of a 1€ - $1 ficticious conversion rate.

no its not bullshit. take the 1499$ modell (thats the price without taxes) wich would be 1.372,71€ transfered without tax. now add taxes (313,31€), wich would make a total of 1686,02€ but they charge only 1649€ that means you save 37,02€ on the actuall device because its sounds better i guess. and its not the fault of microsoft when there are higher taxes in europe than in the u.s (also there are differences form state to state). so it may be cheaper to buy it in u.s but its not true when claiming they rip us of just because fuxk you

And nothing in Brazil. ****

No Surface. No Lumia 950. No Lumia 950 XL. Nothing here.

You forgot Lumia 550 and Band 2. We have just Xbox One and PCs...

Hopefully it'll get here before 2020!! Fingers crossed!

They use to import the parts and build the devices here, but with the cambial variations being so volatile now, Microsoft doesn't want to risk their business with a market where the consumers only want Galaxys, iPhones and iPads. They think that those fans who really want it will import the devices for their own. And the price for import one is not so distant from the price it would practice in sell it here.

But they don't offer support from the imported products, so is not viable. And the consumers don't want the products because they even know it exists. Microsoft Brasil doesn't nothing in marketing, it's shameful

They do in Sao Paulo at least, I saw a lot of ads of the Xbox One, Lumia 640/XL and Acer Windows 10 notebooks.

We're the 3rd largest Lumia market. We have more Lumias than iPhones in Brazil. So no excuses.

What's the price for this in USA?? Posted via the Windows Central App for Android

It depends on what specs you want. You can choose between the model with the highest specs, middle or just a base model with the lowest specs. It's really up to you.

Need a surface book with 980M.

Probably have to wait for Surface Book 2.

This can run heavy games ?

Most games but at high res, high settings and at high frame rate?
Highly unlikely, however it depends on the game really.

I thought it was already available in Australia

It is. But ONLY at the Microsoft Store on Pitt St in Sydney. This article appears to be referring to general availability.

It should be able here since they launched it in Austria :( or did they write Australia?

They wrote both I see now. Maybe because the german keyboard works there too.

Wow, you guys are so lucky. I hope it comes to Denmark

Well, at least unlike Cortana (ever) we're getting this in New Zealand. Although if the Surface Pro 4 is anything to go buy, take the US price, and double it.

Shouldn't the specification state 1TB for storage? I have the 1TB version of the surface book, or are we saying here that the max storage available outside of the US is 512GB?

there is a 1TB version in U.S but for now it is not listed in other Microsoft stores outside.

I thought the 1 TB SB weren't shipping even in the USA until Jan 22nd.

waiting...waiting....forever... Posted via the Windows Central App for Android

Can't even mention Africa, a whole continent with 54 countries

Shocking really. Not even the old ones or band
Windows Central Newsletter
Thank you for signing up to Windows Central. You will receive a verification email shortly.
There was a problem. Please refresh the page and try again.