Surface Duo Otterbox Folio spotted online
Otterbox will have the Surface Duo covered with a folio case.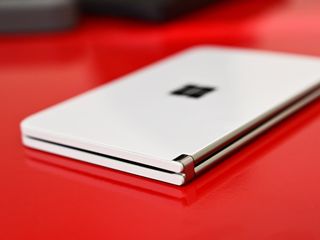 (Image credit: Daniel Rubino / Windows Central)
What you need to know
A folio case from Otterbox has been spotted online for the Surface Duo.
The folio case has a loop for a Surface Pen and wraps around the entire device.
The Surface Duo launches on September 10, 2020.
Microsoft's Surface Duo launches this week, and we'll likely see a bevy of cases for it. Based on photos shared by Aggiornamenti Lumia, Otterbox has a case for the Surface Duo. The Otterbox Folio case wraps around the foldable device and has a sleeve for a Surface Pen.
The Otterbox Folio looks like it's thick enough to provide good protection, but it doesn't appear overly bulky.
The Surface Duo has a unique form factor that includes two folding screens that can be used together or wrapped around to present a single screen. With that form factor in mind, the Otter Box Folio looks like it works with several of the Surface Duo postures.
With the Surface Duo launching this week, expect to see several accessories for the device pop up.
Preorders Live
(opens in new tab)
Two screens are better than one.

Microsoft delves into the future of foldables with an ambitious dual-screen device, featuring two ultra-thin 5.6-inch AMOLED displays bound by a 360-degree hinge. This pocketable inking-enabled Android smartphone marks the latest in the Surface lineup, geared for mobile productivity.
Main
Windows Central Newsletter
Get the best of Windows Central in in your inbox, every day!
News Writer and apps editor
Sean Endicott brings nearly a decade of experience covering Microsoft and Windows news to Windows Central. He joined our team in 2017 as an app reviewer and now heads up our day-to-day news coverage. If you have a news tip or an app to review, hit him up at sean.endicott@futurenet.com (opens in new tab).
I can see I'll be spending lots more money on this duo device.

With any premium phone these days it's a minimum $100 in accessories. With Duo I'd say most people are going to want minimum: skin or case ($30/$100) + slim pen ($120). Many will want a smart watch to handle NFC ($250 to $300) and some proper wireless ear buds like Surface buds ($200). Plus for the life of me I don't know why anyone would get this and not be paying for Office 365. This phone is made for people whose life revolves around work. So that's $6.99 a month single user or $9.99 a month family. Don't forget to save up for an XBox controller ($60) and Game Pass sub ($10 a month) too when XCloud drops later this month.

Yes there will be additional accessories to buy. But I think you estimates are a little off. Skin/Case: This one you're probably close. However, there will be options after some time. There are already skin providers besides dBrand that have similar products for less. Cases will come.
Pen: That's the price. Unless you want to buy used. Or you can use the non-slim for less.
Smartwatch: There are plenty of options below $200. You can get the Fossil Gen4 for $129 right now. It's a great watch, does mobile payment and looks super stylish. Plus, you get a 2 year complete warranty included. Besides, before the pandemic how many people actually used it more than their card. Not many. You still have to interact with the payment terminal sometimes anyways.
Earbuds: Again, plenty of options below $200 and even some good ones below $100.
Microsoft 365: You don't already have it? It uses the same subscription as your computer version so it is literally no extra if you already have it.
Gamepass: You don't need an XBox controller. I was a beta tester and I was able to play just fine using my PS4 controller on my phone. It can't tell them apart. You are actually low on the price for Gamepass, it's $15 per month. It's not as bad as some people are making it out to be.

I think the point was less the actual numbers and more how many potential add ons that one could spend money on. At least if they wanted to get maximum output in every area from this device.

Of course you don't have to purchase any of these things. And of course you could buy lesser quality items. But if you're already spending $1400, whey would you settle for an off brand pen? Or off brand buds? Or a PS4 controller? And no I don't pay for Office 365. For home use there's really little reason to. I have it of course on my work issued iPhone if I do ever need to get work done while not at my laptop. I guess the point of my reply was that like @browryan acknowledged there's likely a considerable outlay besides just the $1400. This is true of most devices these days, not just Duo. Although I do think it's more with Duo, as I think to enjoy the full potential of the device you'll want many if not most of these items. I'd get all of them if I were getting Duo v1! In for a penny in for a pound I guess. ;0)

Go find my post in the Windows Central Surface Duo Forums.. There's a really good Surface Duo tip there for fans.

Perhaps, by this time next week I will have the devices, in hand, and whatever covering that is functionally ideal.

I like the pen holder but the folio looks too cumbersome for everyday use. I will likely stick to getting a skin.

I suspect that a lot of people will like that Pen holder. I'd like to see an image of the device folded all the way open, as it will likely be used when making calls, to see exactly what the case looks like in that shape. The Duo is already wide so having parts of the case extending beyond the edges would indeed make it cumbersome.

I played with the Duo in store at Best Buy and was instantly sold on it. The downfalls of its limitation with features were a minor concern for me but the biggest concern was covers. I don't know how comfortable this case will be in my pocket. Looks cumbersome, but just from seeing it, it'll be hard for me to want one without some kind of protection. My other concern is how bendable it could be with the thin screens. When I played with it in store, I noticed the center of the 2 screen had a minor bend in them that I could push together to make flat. So it concerned me about it being in pocket. I'm on the fence of sending my Note 20 Ultra back to MS and exchange for this. Absolutely love this device.

Yes sir and why would some one intentionally bend a $1400 device? We know there a slight gap between the two displays due to the hinge so again why would you deliberately try pushing them together?

I'm assuming this was geared toward me since you posted in the wrong post. BUT to answer your question, I didn't say the center between the two screen. I said the center OF the two screen. The thing is thing can be be bendable. And that's a stupid question. Thats like saying who would deliberately try dropping their phone. Give me a break dude. This thing is thin. The thinner something is the prone its has of being bendable. Someone having it in there back pocket and sits down. S# happens. Settle down guru.

I like how the Folio protects the Duo in every position, but I can't figure out how it stays on.

It likely sticks on. In the lower image, half of the back of one side of the device is in contact with the case and that is likely stuck on.

Sean please pass this message to Daniel.
"It's Sept 10th where you are so where's my duo review, rubino."
Windows Central Newsletter
Thank you for signing up to Windows Central. You will receive a verification email shortly.
There was a problem. Please refresh the page and try again.