Microsoft's new Surface Go 2 gets bigger display, more power
A nice update for Microsoft's Surface Go product line.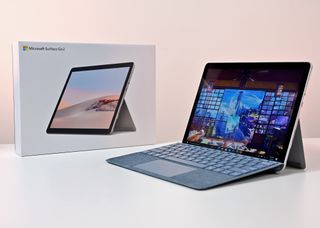 (Image credit: Daniel Rubino / Windows Central)
What you need to know
Larger 10.5-inch display with thinner bezels.
More powerful Intel Core m3 option.
Longer battery, dual studio mics, and a better front camera.
Launches May 12 starting at $399.
Microsoft has unveiled the next version of its popular Surface Go product line, featuring a larger 10.5-inch display and a more powerful Intel Core m3 option for customers who need it. The Surface Go 2, as it is officially known, still starts at its hallmark price of $399 and is compatible with previous generation accessories, as the overall size and design of the product is identical to the original Surface Go.
Tiny PC
(opens in new tab)
Small and portable

The new Surface Go 2 packs a larger 10.5-inch higher resolution display, thinner bezels, more power and storage for all your on-the-go computing tasks. Compatible with previous and new accessories.
Bigger display and more power
Surface Go 2: What's new for 2020
The biggest change with Surface Go 2 is the larger 10.5-inch display with thinner bezels. One of the original Surface Go's biggest complaints from users was that the bezels were too big. Microsoft listened, and slimmed the bezels down with the second generation by increasing the size and resolution of the display. The bezels are not the slimmest out there, but it is a massive improvement over what we had before.
On the inside, the entry-level $399 model ships with 4GB RAM, 64GB eMMC storage and an Intel Pentium GOLD 4425Y which should offer modest performance for light work tasks such as checking email, writing a document in Office, and browsing the web. The higher-tier option will pack 8GB RAM, 128GB SSD storage, and a 64 percent more powerful Intel Core m3 processor which should be good for most work-related tasks and multitasking.
Indeed, our initial benchmarks reveal quite a leap in performance with the Core m3 processor over the Pentium Gold.
Swipe to scroll horizontally
Category
Surface Go 2
Operating System
Windows 10 Home in S mode
Display
10.5 inches, 3:2 aspect ratio, 1920x1280 (220 ppi) resolution, PixelSense
Processor
Intel Pentium GOLD 4425Y
Intel Core m3-8100Y
Graphics
Intel UHD Graphics 615
Memory
4GB
8GB
Storage
64GB eMMC
128GB SSD
256GB SSD (commercial)
Expandable Storage
microSD
Rear Camera
8MP
Front Camera
5MP
Security
Windows Hello face sign-in
Connectivity
Wi-Fi IEEE 802.11 a/b/g/n/ac/ax compatible, Bluetooth Wireless 5.0
LTE Advanced Qualcomm Snapdragon X16 LTE Modem
Ports
1x USB-C, 1x Surface Connect, microSDXC card reader, 3.5mm headphone jack
Audio
2W stereo speakers with Dolby Audio Premium
Battery
Up to 10 hours
Dimensions
9.65 inches x 6.9 inches x 0.33 inches (245mm x 175mm x 8.3mm)
Weight
Wi-Fi: 1.2lbs (544g)
LTE: 1.22lbs (553g)
Colors
Platinum
Other notable improvements with the Surface Go 2 include an updated 5MP front-facing camera for video conferencing, improved battery life with a physically larger battery on the inside, and the inclusion of Microsoft's dual "Studio Mics" for better audio clarify when on a call. Microsoft is touting about 10 hours of battery life with the Surface Go 2, but real-life results will likely be somewhat less than that.
As with the last Surface Go, the new Surface Go 2 also has an optional LTE model for those who need to be always connected. It also supports Wi-Fi 6 technology for faster data speeds, and once again ships with Windows 10 Home with S mode enabled by default. Users can turn off S mode with the click of a button if needed.
Surface Go 2: Pricing and availability
The Surface Go 2 is an overall modest update for the Surface Go line, but one that I think makes the Surface Go 2 one of Microsoft's best Surface products. The larger 10.5-inch display and more powerful processor should make the Surface Go a viable PC replacement for many people. The last Surface Go was recommended as a companion PC for your main computer, but the Surface Go 2 comes across as a device that many people might be happy with using as their only PC.
Surface Go 2 launches on May 12 in the following markets:
United States
Canada
Australia
New Zealand
Germany
Austria
UK
Ireland
France
Switzerland
Belgium
Netherlands
Denmark
Finland
Norway
Sweden
Italy
Spain
Portugal
Poland
Japan
Surface Go 2 will also be launching in several more markets in the coming weeks, starting with China on June 2. On June 18, Surface Go 2 will launch in Taiwan, Hong Kong, Thailand, Malaysia, and Singapore, before also launching in Bahrain, Oman, Kuwait, Qatar, UAE, Saudi Arabia, and India on July 14. Microsoft will also be launching Surface Go 2 in Mexico and South Africa, new markets for Surface, on August 25.
Pricing is interesting, as there are more configurations for consumers at different price points this year. You can get 8GB RAM and 128GB storage with either the Intel Pentium GOLD or Intel Core m3 processor, giving you the option to save a few bucks if you don't need the more powerful chip.
Surface Go 2 Consumer
Swipe to scroll horizontally
| SKU | Price |
| --- | --- |
| Intel Pentium GOLD 4425Y, 4GB RAM, 64GB eMMC | $399 |
| Intel Pentium GOLD 4425Y, 8GB RAM, 128GB SSD | $549 |
| Intel Core m3-8100Y, 8GB RAM, 128GB SSD | $629 |
| Intel Core m3-8100Y, 8GB RAM, 128GB SSD, LTE | $729 |
Surface Go 2 Commercial
Commercial customers have even more configurations to choose from, such as a Core m3 model with just 4GB RAM and 64GB storage. Commercial SKUs also come with Windows 10 Pro instead of Windows 10 Home in S mode:
Swipe to scroll horizontally
| SKU | Price |
| --- | --- |
| Intel Pentium GOLD 4425Y, 4GB RAM, 64GB eMMC | $449 |
| Intel Core m3-8100Y, 4GB RAM, 64GB eMMC | $499 |
| Intel Core m3-8100Y, 8GB RAM, 128GB SSD | $679 |
| Intel Core m3-8100Y, 8GB RAM, 128GB SSD, LTE | $779 |
| Intel Core m3-8100Y, 8GB RAM, 256GB SSD, LTE | $879 |
Windows Central Newsletter
Get the best of Windows Central in in your inbox, every day!
Zac Bowden is a Senior Editor at Windows Central. Bringing you exclusive coverage into the world of Windows on PCs, tablets, phones, and more. Also an avid collector of rare Microsoft prototype devices! Keep in touch on Twitter: @zacbowden.
I want this. Yes, even illogically as a replacement for my i3 Pro 7.

Beautiful device. Hopefully the Surface Pro 8 gets a similar treatment (I'm hoping same screen size but smaller body)

Microsoft will not change body size because they keyboard would not fit. That's why they kept the body of the Go 2 exactly the same and changed the screen size.

Difference is the Surface Pro's design is much older than the Go's. Surely they can afford to change already.

They won't. You'll see they'll carry the design of the Go, Book, Studio, Pro, etc for a long time. I thought that at least they would change the hideous hinge on the Book for the 2nd o 3rd generations, but they are sticking to their original visions for all their devices.

Been 5 generations with the current Pro design already, if they want to keep people interested, they'll definitely need to change things up a bit eventually. I'm hoping they do, but we're both just guessing.

I think they hit the sweet spot with this. For my use case the m3 version will fit perfectly. Go serious, go fun, go office, go media, go play. Larger screen , more power, longer battery, same handy form factor. Can't wait for May 12th!

That core M3 is what it should have originally had, but I guess now costs for that CPU have come down enough for Microsoft to use it. It should definitely help with multitasking (which was not really that pleasant on the 4415Y and made me switch back to my Ryzen laptop now that I'm in quarantine). I'll still wait for the Surface Go 3 with Windows 10X and Intel's Tremont architecture, though.

I'm still waiting for the Surface Mini, the Thriving Windows RT ecosystem, and Windows on ARM that isn't a demo product released to see which suckers would buy it.

Great! Now I will wait for slimmer Go 3 with ARM, even thinner bezels and fricking 10X. Until Microsoft delivers I'll stick with my iPad 11 with perfect UI done for the hardware.

This is a nice upgrade for the same price! The bezels were too big before but seem perfect in this model. Keep in mind this device is pitched to schools and casual users. Cutting edge bezels can make it harder to use touch screen devices. Also, Zac, at 1:05 in the video the pen shown appears to be square. Can't quite tell if that is the Slim Pen or the original or something newer.

The Go seems to be shaping up to be nearly the perfect device and a true 2-in-1. Other devices call themselves 2-in-1s, but they are too heavy and big to really also be a sweet little tablet. I got the Surface Go X-mas 2018. My Go 1 is not really old enough to justify getting the Go 2, but I'll probably break down and get the Go 2 with m3.

Only real miss on the previous model was the abysmal battery life. My possible purchase will rest on that factor, only, so it had better be a much higher figure than before.

I think the 10 hours claimed is for S mode. Pretty sure it will be around 6 hours without the S mode which is not good

...that doesn't make sense You can run Win32 apps in S-Mode, just ones from the Store, including games. So why would Store Win32 apps be better than non-Store ones for Win32 apps? There's no consistency in your logic. Here is why it gets better battery life: The Go 2 has a bigger battery this time. It's not rocket science.

Still think you're better off going with a used surface pro unless you want smaller form factor

There's bigger, better, faster PCs available than the Go, but I love mine for its form, price and my needs. With the specs improvements I look forward to seeing Go 2 and will decide then if it is worth the cost of upgrading.

These prices are so, SO bad. $630 for the m3 model? It needs to be more in the $500-550 range, while the $400 Pentium is similarly overpriced. The m3 is so close to the Pro 7 that there's no way I would recommend this to anyone. The portability is overblown, at those prices. A Pro just isn't much more of an ask to carry over a Go. I really, REALLY wanted an excuse to buy one of these, and it's just not there. After the keyboard, pen, and taxes, you'll be at $900 for the m3 Go. You're basically paying the price of a base model premium laptop, and you're getting much less for it.

That's the price you pay for the portability. It really makes sense when you look at how this costs vis-a-vis regular laptops and how much those laptops cost vis-a-vis desktops. The more portable and yet technologically advanced, the higher the cost.

Pixel Book Go: Core m3-8100Y 8GB RAM 64GB storage (❗) No inking support (❌) No rear camera (❌) Wi-Fi 5 (❗) BT 4.2 (❗) Worse front camera (2MP not 5MP) (❗) no microSD reader (❌) Runs a "free" OS with phone apps (🤮) $649. How should Microsoft lower the price if Google can't even hit $630 and offer less 🤔🥴

And that is a traditional laptop. It's actually quite impressive they manage to sell Surface Go with its base price. Ideally we want better specs on that base price, but sadly chipset available for it what drives the cost. If they just went something like Snapdragon 7cx, maybe they can hit base price with better performance I presume? Surface Go is really not meant to be a workstation PC to begin with, at best is a companion device while having more powerful PC (laptop or desktop). Or PC for kids, not hardcore gaming (can still game but only those don't require high specs).

Just for fun, I configured a Surface Go 2 with M3 (no LTE), Type Cover and Pen. The price? Well 958,98 € I don't know what Microsoft is smoking :). We won't discuss Chromebook since it's useless but the pricing on the GO 2 is rather outrageous.

I just ordered one and it is definitely not a budget laptop. To me it's a premium ultra-light so the price doesn't bother me. Unlike a "budget laptop," I'll expect excellent build quality and design, a great-looking screen, an excellent keyboard, and super light weight. Those are the sorts of things that I'd expect to compromise on if I just wanted a cheap computer.

Thanks for the overview -- I just ordered mine. My main device is a Surface Book 2 15", which I love. My backup/portable has been a 4 1/2-year-old Surface Pro 3. I also love the SP3 and it's running well, but I'm eager to replace it with an ultraportable size and improved battery life.
Windows Central Newsletter
Thank you for signing up to Windows Central. You will receive a verification email shortly.
There was a problem. Please refresh the page and try again.