Surface Go 2 to feature larger 10.5-inch display and thinner bezels
More power, a larger display, and thinner bezels are top billing for Surface Go 2 this spring.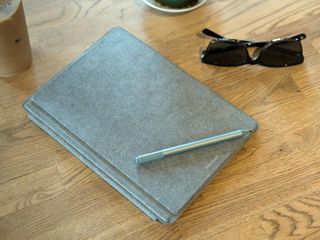 (Image credit: Windows Central)
Microsoft's Surface Go 2 is right around the corner. While nothing is set in stone, I am hearing we could see the product announced sometime in May. Thanks to leaked benchmarks, which I've been able to confirm via my own sources, we already know everything about the CPU, RAM, and storage options inside the Surface Go 2. But what about any external hardware changes?
According to sources familiar with the matter, I'm told that Surface Go 2 will feature a larger 10.5-inch display without increasing the overall size of the device. Its exterior chassis will be identical to the original Surface Go, including dimensions and placement of the ports. That means keyboards and accessories designed for the 2018 Surface Go will work just fine on the Surface Go 2 as well.
The larger display size means Microsoft can make the bezels on the front of the device a little slimmer. Sources say the bezels on Surface Go 2 are an improvement over the first Surface Go, but it's not a drastic reduction in size. The bezels are not as thin as those on the Surface Pro X, for example. Expect the bezels to be more like those on the Surface Laptop 3 instead.
Increasing the display to 10.5-inches will also make using Windows 10 feel a little less cramped, especially when dealing with multiple app windows at a time. Along with the increased display size is a small bump in resolution to 1920 x 1280 which should keep things looking sharp.
What's on the inside?
The Surface Go 2 is expected to start at the same $399 price tag for the entry-level model. This will get you an Intel Pentium GOLD 4425Y, paired with 4GB RAM and 64GB storage. We're also expecting to see support support for Wi-Fi 6. Accessories like the Type Cover and Surface Pen will once again be sold separately, as is usually the case.
The big news for this year is that the higher tier option will feature an Intel Core m3-8100Y processor with significantly more power to boot. This model will be paired with 8GB RAM, 128GB storage, and an optional LTE modem too. We don't yet know exact pricing for this model, but it is expected to be somewhere in the $500 range.
Swipe to scroll horizontally
Category
Surface Go 2
Operating System
Windows 10 Home in S mode
Display
10.5-inches (1920 x 1280)
Processor
Intel Pentium GOLD 4425Y
Intel Core m3-8100Y
Graphics
Intel HD Graphics 615
Intel UHD Graphics 615
Memory
4GB
8GB
Storage
64GB eMMC
128GB SSD
Expandable Storage
microSD
Security
Windows Hello facial recognition
Ports
1x USB-C, 1x audio jack, 1x Surface Connect
Colors
Platinum
Price
$399 (starting)
All the Surface hardware we're expecting to see announced this spring
Surface Go 2 is shaping up to be a modest update over the original, with a larger display, thinner bezels, and a more powerful CPU option for those who need it. I was hoping to see a model powered by an ARM processor, but that doesn't appear to be happening this year. Fingers crossed that happens with the Surface Go 3 instead.
What are your thoughts on the Surface Go 2? Let us know in the comments.
Windows Central Newsletter
Get the best of Windows Central in in your inbox, every day!
Zac Bowden is a Senior Editor at Windows Central. Bringing you exclusive coverage into the world of Windows on PCs, tablets, phones, and more. Also an avid collector of rare Microsoft prototype devices! Keep in touch on Twitter: @zacbowden.
<3 this all sounds like a great update!

sounds like something they'll sell 10 units of. 2 more than previous version.

The expiration date of this joke was past due 10 years ago.

the reason this "joke" still flies is because it's still relevant and there is no proof aginst it because for "10" years we never saw units sold number. try again

Isn't the Surface Go the best sold Surface device?

That is so relative, Einstein would have a pint. Literally means nothing, because you don't have a base for comparison, because you don't have numbers. They can play with words however they want, but until numbers are shown, "best sold" means nothing.

The surface division is doing more than a billion in revenue per quarter, take that for what you will.

We don't know the numbers of units sold but we know that it is a billion dollar business

It really isn't that big when you realize it is a billion dollars for all Surface devices. Sales are fairly low, especially when you look at a single device.

This same argument can be said about Macbooks. I think you are forgetting how big of a business selling laptops is, even if a brand only sell 1% it is still huge in absolute numbers (maybe a bonus profit wise for a behemoth like MS, but it of course has various other positive effects).

@ochhanz This from Daniel Rubino. "Surface is a halo brand, it accounts for <5% of PC sales" Surface in pure numbers only enjoys modest sales. Furthermore, it wouldn't be surprising if the Go achieved more sales due to it being a budget device as opposed to the expensive Surface 2 in 1's.
This isn't a criticism of the sales numbers though. Again from Daniel, " It's not meant to displace HP, Lenovo, Dell, etc. It's meant to a device that drives innovation int he industry, which it does."

Indeed, still a lot in absolute numbers though. It (/laptop market) is just such a big business as a whole.

"We don't know numbers but here's my joke based on numbers". Makes perfect sense.

By that same token there's no proof for it.

oraora Did you catch whatever bug bleached has? #washyourhands

They might be the same... Bleach is an anime and oraora fits the same bill. Uhh. They both try to pick at people so go figure.

I have ever only had this account and don't know what Oroara is.

I am not the same, although I state that bleached is one of the few here sober and brave enough to tell the bitter truth, because he has nothing to gain from it, just like me and all of us in that regard btw, except WC staff

Your idea of bleached unfounded bitter truth is boatload of lies, alternative truth, extreme conjectures and passion to hate anything MSFT.

Yes well, I don't hate anything MSFT, but when I do, I say it

I do have something to gain from it. I want better Microsoft products. All these people are happy with the mediocre crap they have been putting out. I am not.

ARM + 10X for this thing or go home.

Considering the Pro X has issues still... I rather they mature the OS before they make more ARM products. Go 3 might have a chance

My Pro X does not have "issues." It does everything I need it to do very well. Of course, I don't treat every PC as if they should all be used for the same tasks.

Yeah when I said issues I meant app compatibility and (from what I know) slow on emulation. Not that the Surface Go is good for those types of applications anyway but I just don't think it is wise to have more than one ARM device until it can be used with a little less frustration to the average user who won't understand the difference between an ARM or an Intel processor (again based on reviews when the X came out). I went with the Pro 7 over the X because the apps I wanted to use ran better on it. Plus red keyboard. But I digress. I do think the X has its place. Just not ready for primetime yet (but the X is an important step)

I can understand why you chose Pro 7 over X, its a perfectly reasonable decision. A few of the early reviews of the Pro X were laughable, and if Microsoft were as vain as Apple, some of the writers would never be sent review units or invited to launch events again. Dissing the Pro X because it couldn't run some benchmarking apps? I have a high spec Surface Book 2 as my main PC. I edit video and play top flight games on that device, but I've never even wanted to run a benchmarking app. I think it is fair to note that the Pro X can't run certain Adobe CS programs at all and others only in emulation. Pro X is clearly aimed at mobile workers and travelers. (Ironic that we can't do those things just now.) For the needs of those categories of customer, the Pro X is a great choice. I look forward to being able to get back out with it one day. For now, it serves as the PC in our house that gets carried from one room to the other and the back yard for domestic tasks. Surface GO might handle those chores just as well at a fraction of the cost of the Pro X, but GO can't do what the X can do when we get to resume normal activity.

Dude I'm glad it's working out for you! Yeah I agree some of the tests done were dumb. I tend to focus more on drawing and at the time I think Clip Studio ran too slowly (been too long can't remember). But I almost did go Pro X just cause it was beautiful

My Pro X doesn't have app compatibilities. It runs every app I use great. If you have to use a Pro X when you could be using a Pro 7 then it's a User issue not a Hardware issue.

So the "Pro" X isn't really Pro, is that what you are saying? Poor naming by Microsoft. They should have gone with "Pro Lite".

pro is just another word for "you have to pay to play..." I'm happy with my go that can run software such as Autodesk pro... Something the ProX cant even run...

@someoneinwa The main issue with the Pro X is the price. It's utterly absurd for what it offers.

Windows 10 is a very mature OS.

Windows 10X: Not due until end of 2020 (earliest), but very likely pushed into 2021 Windows 10X: Currently, no support for ARM, which is coming later Chances a device that comes out in ~4-6 weeks have ARM + 10X? Zero percent.

Yes, I know. Just saying what suits best the Go.

Irony in that statement is that I am already home, because you know...

Why bother? The Pro-X isn't very battery efficient, but comes with a trade off in compatibility and performance. Using only ARM64/UWP you will be lucky to see 10% or so more than a SP6, but once you start using x86 programs the SP6 ends up having longer battery life. It performs better against a SP7, but nowhere near the advantage that would make me want to give up hardware x86 support. I'd say at a minimum I'd want to see a solid 50% gain in battery life if I'm going to sacrifice and use ARM.

Really cool! But honestly I'm still impatient for keyboard colors. Will they be the same as Pro 7? That splash of color is important to me lol

Slimmer bezels is one of the two upgrades I want. The other is better battery life (at least 8 hours); fingers crossed. Have also been considering an ipad Pro but the price is hard to justify for my use.

I don't have much hopes for battery life since this is Intel and an older architecture at that. We'd have to see if there are improvements in other areas (more efficient screen panel, for instance).

Age of architecture or not, hopefully they engineered more room inside the case for 25%+ more battery life. It's the most obvious issue with day to day usage.

Well the MS has a slighly lower TDP (5 watts versus 6) and the M3 was released Q3 '18 versus the Pentium released Q2 '17. I wonder if the manufacture processor used to make both is improved. Dont' know if that would impact battery life much. We don't know the SSD or internal bus arrangement. We don't know the size of the battery. We don't know the WIFI chip, LTE chip, etc. I use my Go and get about 5 hours of constant use, lower if I am using the LTE modem. So maybe 6 or more hours of use between charges? Does not seem like a huge difference in utility. So I will wait for Surface Go 3. I might upgrade my Surface Pro which is closing in on 3 years.

And the removal of the stupid proprietary connector.

Why is this such a problem for people? You can charge it also with the USB-C port so seems like a useless thing the keep bringing up. And with the more recent improved USB-C versions thunderbolt is getting more niche and niche (nobody is going to want to connect an egpu to a pentium or y core anyway xD).

Ok, include the more recent improved USB-C versions then

I prefer the surface connector.

Oh hell no... The surface three with micro USB was and sill is a nightmare. The moment my Kids yanked the charger out with their foot still makes me cringe. Thankfully I had a warranty. With that being said the magnetic charger will never wear out from constant removal, and I've had my kids walk away with my tablet and forget to pull the charger... uhhh

I really love the formfactor of the Surface GO. With larger screen, smaller bezels, higher screen resolution, more powerful processor what's not to like? With similar or better battery life count me in - that is for the m3 version.

Yeah I really enjoyed the form factor of the Go as well, only found the perf a little underwhelming, and the bezels stuck out a bit too much. Sounds like the Go 2 will address both issues! I would expect the m3 version to perform similar (maybe even slightly better given it is a newer chip) as the 2017 m3 Surface Pro. A search brought up an article from this very site talking about how livable it was for non-intensive tasks (https://www.windowscentral.com/who-should-buy-surface-pro-core-m3). I've been impressed with the capability of my SP 7 i7/16GB for tackling my daily workhorse needs, and would love to have a Go 2 around to share w/ the fam and use for lounging/secondary tasks.

We need a Surface Go X with a 7c and 8c options

7c would be interesting. 8c would be too expensive for a 10 inch tablet. You can also always (most likely) undervolt etc the m/y version.

The m3 CPU is also too expensive but they will have an option for that.

Maybe, the chips are older and not all that popular (compared to Intel u) so it wouldn't surprise me if MS got some discount or such like it got with the pentium cpu's. The m3 can also be very interesting for certain enterprise sectors (considering they often still use some kind of x86 software).
Not sure if 8c is worth it over 7c for a Go-like device, could be wrong though.

I would rather wait for a 10 nm chip. Or a better ARM chip. I would think MSFT is working with Qualcomm and INtel to get lower power systems. MSFT wants Intel to deliver a lower power CISC chip, while MSFT wants Qualcomm to deliver a more powerful RISC chip. But MSFT understands they need a better OS to compete with the iPad/mobile computing world. So 10X is in development. But lets not forget the Azure is the road to riches for MSFT, not Surface/Windows.

Why Windows 10 S? How do you guys think of S? Is it a flavor of Windows like Home or Pro, or is it more like a deployment variation? And is it possible to flip back and forth? I've moved a bunch of devices from S to... Not S, and I can't think of a reason why _I_ would recommend switching back, but given the wide world of Windows, I'm sure there would be a use case. It has just seemed though, that S was one of those duds that seemed like it might be a good idea, but ended up confusing people and is now in sort-of zombie status because no one is making the decision to move on.

I'd be pretty surprised if it really is in S-mode. The article probably listed that just because the first generation Surface Go was. I think Microsoft has largely abandoned S-mode at this point. Regardless, I think it took about 2 seconds to turn it off during the initial set up of my first generation Go. If I recall correctly, it prompted with that option the first time I tried to install something.

S mode is not dead. Surface Go 2 ships with Windows 10 Home with S mode enabled.

the fact that Go 2 will ship with S mode doesn't mean it's not dead. WP was not dead 100 times either, UWP is still not dead right

Its for security. Its perfect if you give one to e.g. your grandma so she cannot mess as much up as with standard W10 (/PEBCAK) and it also extra protects against viruses, spyware and malware iirc (since it can only run Store apps) while still allow someone to run essential stuff.
I would guess this in theory makes it also handy for businesses as long as the required software is compiled for UWP/Store (some companies really have issues with blocking malware etc., S mode makes the device like an Ipad in terms of sandboxing security but with Windows Defender added to it).

> Its perfect if you give one to e.g. your grandma Prepare to explain to your grandma that UWP version of Skype could just close under memory pressure in the middle of the video call (yes, reported to Microsoft, no, there's no resolutions)...

My grandma does not use Skype lol, but okay good point. In that case one can always go out of S mode when grandma asks if she can use skype on it.

"We're also expecting to see support support for Wi-Fi 6." Good, it needs support support. "64GB eMMC" Absurd if true.

Right??? I'd hoped they would ditch the old slower eMMC storage as well, however I'm sure there's a reason they stuck with it. Most likely to keep the cost down?

eMMC is fine for certain use cases. Such as a locked system on the sales/factory floor.

Just how much is a 64GB SSD these days? 256GB SSDs are going for $40 on eBay, new and single quantity. Pretty sure MS can get 64GB for a dollar or so. Windows in 4GB RAM and 64GB of very slow storage sucks badly. 128GB real SSD should be the minimum. This is Windows we are talking about, not iOS. eMMC sucked 7 years ago in the Windows 8.1 tablets. I can't believe eMMC is still around.

Windows is pretty efficient with ram and good enough with storage for such a configuration if it is just used a tablet (if you want to use it for work than you might as well get a model with both the m3 and ssd and possibly the 8 gb ram for a good balance).

unless they somehow double battery life, this isnt an upgrade at all, chances are the m3 model gets even worse battery considering its yet another 14nm intel dualcore with twice the clocks

I don't know. But if you compare the two chips, the M3 and Pentium are similar in performance (M3 a bit better in graphics). However the M3 runs at a lower TDP (5 versus 6) and at a lower clock speed (1.1 ghz versus 1.6). I think MSFT moved away from the M3 on the Surface Pro because few people the i5 for better wanted performance. So the M3 might provide better performance with a lower energy draw. But the overall system (battery, screen, chip set etc. ) will drive battery life)

Interesting point. I also think the m3 will feel much snappier since its burst performance is much higher.

Intel Pentium GOLD 4425Y
Intel HD Graphics 615
4GB - RAM
64GB eMMC
$400 Intel Core m3-8100Y
Intel UHD Graphics 615
8GB-RAM
128GB SSD
$? speculation is it will be $500 So, what will be the Guestimated prices for the following or is the Pentium one fixed as is with no trims. Intel Pentium GOLD 4425Y
Intel HD Graphics 615
8GB
64GB eMMC
A = $? Intel Pentium GOLD 4425Y
Intel HD Graphics 615
8GB
64GB SSD
B = $? Intel Pentium GOLD 4425Y
Intel HD Graphics 615
8GB
128GB SSD
C = $? Intel Pentium GOLD 4425Y
Intel HD Graphics 615
4GB
128GB SSD
D = $?

If they can get A under $300, they would sell a lot to the enterprise. So lets go with A - $249, B - $349, C - $399, D - $299. The Core M will sell at $499.

I truly like your pricing thought process model, Because I don't see the justification of the core M or expanding when you consider SP7 Entry level that folks got with keyboard at $600 (My daughter got this i3 entry level) That 4GB Ram and 64GB eMMC storage should never have happened.

If MSFT is still offering the eMMC options, they are selling them to someone. I am thinking of a retail/factory floor situation, where the system runs only one piece of software, like inventory control. And the user can not do anything to the system but turn it on, login and use the software. How about a "ATM" screen situation. You take a surface go, plug in a screen and connect to the internet. Simple. But I would guess ATM use a secure circuit board hard to hack.

I love my surface go. With that being said, I have no desire to upgrade. Just seems incremental but welcomed changes...

Great stuff. The base model really shouldn't be 64GB though. Windows isn't a Mobile OS.

Debating picking this up to replace my Pro 4 as my digital notebook. Use case would be to use as a digital legal pad of sorts marking up school pdf and onenote use whileusing my Laptop 3 as my main driver

I have owned a Surface Go from when they launched it and absolutely love it! I am able to run Adobe Illustrator 2020, animate with Toon Boom and video edit with Filmora or Premiere Pro. I had to hook up to an external monitor to make it easier to see but a great device. I am glad they are improving the specs even more!

Office 365 requires a subscription on screen sizes larger than 10.1 inches, that was one of the reasons they went with 10" previously. If it's true that they're going with a 10.5" screen on the Go 2, they'll need to change the restriction or this will end up costing a lot more for Office users.

I thought the restriction was 9 inch?
I have been a Surface Go user since the 2018 and I never received free office 365 subscription from Microsoft...

Core editing is available for free on Windows 10 devices with screen sizes of 10.1 inches or less.

Nice updates.
It ticks 2 out of 3 things I would like to see a change on Surface Go! Screen and CPU.
The last thing I would like to see an upgrade is battery life.
By the way, I don't object ARM+Win 10X, but I don't want to see x86 windows 10 Surface Go series to discontinue. This is the perfect device to my needs

If only it also had a USB A port, however, I suppose dongles on the type c would be livable. The slight update in resolution is great, that was one of my biggest gripes of the first GO, compared to the surface 3. At least now, 1080p content can be watched at a native resolution. In all, I think my tired surface 3 might get replaced after all. The little devices are truly great.

Surface 3 I got for my mum still going strong. Did have an issue installing 1909 update because I didn't update it for around 2 years lol. But after a reset, it installed everything fine and runs well for what it is.

I had a similar issue after a reinstall, the installation of windows updates literally took 1-2 days, while the computer seemed unresponsive much of that time. I like the Surface 3, it's just a little too slow for me as a daily driver, watching youtube sometimes gets annoying sound pops if it hasn't been rebooted in a while. An m3 version of the Go 3 sounds really promising, I can't wait for some reviews.

Kind of hoping the future Pro 8 whenever it comes out goes the other way I.e. keeping the same screen size and just reduce the bezels to make it more compact in overall size.

If this thing was with ARM, Win10X, slimmer bezels, thinner, no proprietary connector and a headphone jack I promise I would buy this thing in a heartbeat. Won't even think twice. Just fricking buy it instantly. And buy ones for my family members. It would be a literal perfection. Better than iPad for sure. Sad reality however

I guess we have to wait for surface go 3 or surface go 2 refresh 6 months later :D. I also want it to be with ARM to compete with Ipad.

From the way Zac you describe the change to bezel size, it sounds like they made a conservative change. You need bezels to handle the Go as a tablet. People that don't use their 2-in-1s as a tablet can't come to the table to comment on bezel size. From the description, it sounds like they are still leaving room to handle the Go as a tablet. The M3 processor is really exciting. I can't wait to see Dan's review with benchmarks and battery life. I'm glad they did not go with an ARM processor at this time. I would not buy it with an ARM processor with the state of Windows 10 on ARM. I currently use some x64 only apps on my Go now, plus I have a dongle which I'm not sure would work with ARM.

I agree about bezel size. I use the Go to consume info: read books, listen to music, read website stories, email etc. I do use the keypad if I want to respond to an email etc. I can play a few games, especially while on a plane flight use keyboard and mouse. My surface Pro is more of a take it to office and plug into dock and then home and plug into dock. I use a big screen for accounting etc. I dont like to use the Go or Surface Pro with two windows open. Easier to type on Surface Pro keyboard for more intense communicating.

4GB is laughable. I have been telling everyone I know to look over any Windows machine without at least 8GB.

Depends on use case. 4GB is laughable if you intend to play modern games as they seem to require a minimum 8GB nowadays. For mail, web browsing, office and content consumption 4GB is plenty since MS did a lot to optimise W10 to run on low end hardware. E.g. Our Surface 3 with only 2GB RAM runs surprisingly well for what it is.

4 gb is enough if you use it as a secondary device / tablet however. Eg I use my old Surface Pro with 4 gb ram for notes, browsing, netflix etc and never run into issues with that.

Surface GO is a good device, what I don't understand of your post is why you want to limit it by putting an ARM chip inside. Battery? I wouldn't exchange battery for functionality and performance. Never.

Depends on the user though if it limits functionality & performance. Eg if someone uses Office, mail and browsing etc on it, than an ARM chip will most likely be superior (no translation is needed than). That all being said, I think the m/y core will offer snappy (burst) performance and perhaps even better battery life as some else here already mentioned. :)

I would't buy Anything that doesn't run all my Windows Programs.
Windows Central Newsletter
Thank you for signing up to Windows Central. You will receive a verification email shortly.
There was a problem. Please refresh the page and try again.