Surface Go 2 with a Qualcomm Snapdragon 7c seems even more likely
Low-cost laptops featuring the new Snapdragon 7c suggest an ARM-based Surface Go 2 is entirely plausible.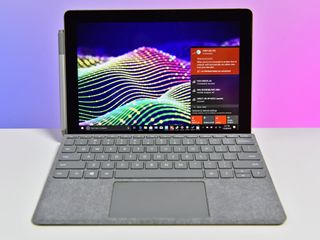 (Image credit: Windows Central)
What you need to know
First Snapdragon 7c laptops are very affordable.
An ARM-based Surface Go 2 could happen in 2020.
A 5G Surface Go could also be possible.
In December 2019, Qualcomm announced two new Snapdragon processors for Windows 10 PCs. The Snapdragon 7c and 8c are positioned for entry-level and mid-range PCs competing against Intel's lackluster Atom and Pentium processors (and even AMD).
At the time, I speculated that a Surface Go 2 could potentially use one of the new chips as Qualcomm hinted at sub-$400 PCs running the Snapdragon 7c chipset (the slightly more powerful 8c is for laptops in the $500-800 range).
Now, we have the first evidence that these chips would let Microsoft hit the $400 price-point for Surface Go 2 if they so choose.
First Snapdragon 7c laptops are very affordable
These two new laptops — the JP.IK Turn T101 ($300), and the Positivo Wise N1212S with inking ($575) — were recently announced along with Microsoft's continued annual push into growing education markets. What makes both laptops unique is they are the first to utilize a Qualcomm Snapdragon 7c processor — which itself is newsworthy.
The news is also our first look at real-world pricing for 7c devices, and $300 is quite low. School laptops tend to have thick bezels, use a lot of hard plastic, lack high-end specs like IPS displays and are generally not attractive. They're meant to take beatings from school kids for years and bought en masse for entire classrooms.
But the ability for Qualcomm to hit that low of a price is noteworthy (and a direct threat to Intel and AMD long term, despite lingering growing pains with ARM on Windows).
Surface Go 2 ♥ ARM?
The original Microsoft Surface Go is high-end by comparison to the JP.IK Turn T101. The Go's 1800 x 1200 IPS display with inking is one of the most expensive parts of the tablet. The same applies to the front-facing speakers, magnesium chassis, hinged kickstand, MicroSD slot, and Windows Hello infrared camera. It's remarkable Microsoft can push Surface Go down to the $400 range even without the extra $100 Surface Go Keyboard.
But with the Snapdragon 7c, the costs of that chip compared to an Intel Pentium Gold or even new AMD Athlon mobile processors seems comparable. That's important if Microsoft is exploring going with ARM for a Surface Go 2.
As we've seen with the Surface Pro X's design by going with ARM Microsoft could keep the Surface Go 2 very thin while efficiently delivering 4G LTE. It remains to be seen if Microsoft goes down this road if they make 4G LTE optional — Qualcomm in the past has resisted this effort, but the Snapdragon 850-powered HoloLens 2 omits such connectivity setting some precedence.
By removing LTE, Microsoft could help keep that $400 entry-level price in check.
Another benefit of using the Snapdragon 7c over Intel or AMD is it's an eight-core chip. Intel's Pentium Gold 4415Y, the newer Pentium Gold 6405U, and AMD's comparable Athlon Gold 3150U are merely dual-core. The benchmark results reveal themselves under multi-core testing.
Geekbench 4.0 (CPU) (Higher is better)
Swipe to scroll horizontally
| Device | CPU | Single core | Multi core |
| --- | --- | --- | --- |
| Surface Go | Pentium | 2,078 | 3,934 |
| Surface 3 | Atom x7 | 1,078 | 2,777 |
| HP Envy x2 (ARM) | SD835 | 2,111 | 6,314 |
| Samsung Galaxy Book2 (ARM) | SD850 | 2,262 | 7,405 |
| Samsung Galaxy Book2 (x86) | SD850 | 1,345 | 4,164 |
| Surface Pro X (ARM) | SQ1 | 3,505 | 11,727 |
| Surface Pro X (x86) | SQ1 | 2,182 | 6,822 |
Intel and AMD are also both 14nm, whereas the Snapdragon 7c is just 8nm — Qualcomm can pack much more on the chip, including Bluetooth 5.1, Wi-Fi 6, GPS, LPDDR4, and UFS 3.0 for storage. All these features add up to a more efficient system. Intel's forthcoming Lakefield offering could easily rival the Snapdragon 7c, but most estimates are putting its price in the range of the higher-end Snapdragon 8cx, not the 7c.
Of course, Microsoft is likely testing various chipsets and scenarios, making Qualcomm hardly a shoo-in for a Surface Go 2. But Surface Go — like those new education laptops — is aimed at similar markets. Microsoft originally spun the Surface Go as the perfect device for "schools, kids, and enterprise".
While the push for ARM-based PCs has mostly focused on business, it is now evident education markets are ripe for them too. That's a lot of overlap with Surface Go, and with the right price, connectivity, and slimmer hardware profile, an ARM-based Surface Go 2 could be a very intriguing device. What's more exciting is Microsoft could even offer a higher-tier 5G Surface Go 2 with the Qualcomm Snapdragon 8c – similar to how Intel has Core i5, and i7 processors.
Hopefully, we'll find out by summer 2020 if Microsoft chooses this path. I'm hoping they do.
Windows Central Newsletter
Get the best of Windows Central in your inbox, every day!
Daniel Rubino is the Editor-in-chief of Windows Central, head reviewer, podcast co-host, and analyst. He has been covering Microsoft since 2007 when this site was called WMExperts (and later Windows Phone Central). His interests include Windows, laptops, next-gen computing, and for some reason, watches. Before all this tech stuff, he worked on a Ph.D. in linguistics, watched people sleep (for medical purposes!), and ran the projectors at movie theaters because it was fun.
Qualcomm can easily make a chip for the education market and simply remove or disable the LTE function entirely. Which would also reduce the cost per chip for Qualcomm or alternatively it can be disabled by IT policy by the schools. I imagine schools will do the latter as it provides the options for inventory tracking over LTE and not just WiFi. I do hope the Surface Go 2 is ARM based with 10X with LTE for the general market (non lte for education sector if they want it) as at that price point most people really need just general computing, some productivity tasks and multimedia consumption. Plus it would tremendously help with battery life - highly skeptical about the reported battery life laptops running chips based on Intels project athena. Especially given how poor the battery life was on the Surface Go especially the LTE variant.

"I do hope the Surface Go 2 is ARM based with 10X with LTE for the general market (non lte for education sector if they want it) as at that price point most people really need just general computing, some productivity tasks and multimedia consumption." Exactly this.

Yup. I like my Surface Go. But the battery life is shockingly bad (I struggle to get 4 hours). My Lenovo Arm device gets 14 hours. So ARM for Surface Go 2? Yes please.

I am not sure how removing LTE from these entry-level chips would help with pricing if the modem itself is integrated into the SoC. It's not like on the Surface Go LTE or Surface Pro 5 LTE where a separate Snapdragon modem had to be shoehorned into an existing x86 system, therefore entailing the addition of a separate component. Is it the antennas? If the design is already "there" from the original Surface Go LTE, why not reuse it? With that said, I, too, look forward to a Surface Go 2 with ARM, although I'll be keeping my original one for a good while still.

Each component has cost to manufacturer be it materials required, time etc. It may be pennies for one SOC but if you are producing alot of SOCs the costs savings can be pretty significant over time. Not to mention, it may also reduce the lead time from manufacture to client thus another cost saving over time.

OK, that makes sense, thanks for the explanation.

Yeah, as mentioned "back in the day" even though the HW was all there for SoC systems it was up to the OEM to pick/choose which features to have enabled. The SW unlock is what they are charged for and was passed on to the customer (see early GPS systems in phones as one example). Even the Tesla Model 3 is like this - all models have the same cameras/hardware for Auto Pilot, but it's a $7,000 software unlock that enables Navigate on Auto-Pilot. So while you're right, the HW is there for 4G LTE, Qualcomm could charge more for the drivers/enabling/licensing of it. I think though they prefer an "all or nothing" model instead though as the value is stronger for them.

I remember when GPS was locked on phones...the dark ages. And yeah, I appreciate the explanation, it makes sense and would incentivize Microsoft to create LTE-less models to hit that budget pricing. Hopefully the price discrepancy between the non-LTE and LTE models won't be huge (like the extra $130 on the Surface Go).

Not sure how I feel about ARM on the Go. And I own a first gen Surface with the Nvidia SoC. I've been reading and watching reviews for the Surface Pro X (with the SQ1 SoC), and the battery life seems to be worse than an x86 Surface Pro 7. Starting to think that Windows 10X is the key to this strategy.

"I've been reading and watching reviews for the Surface Pro X (with the SQ1 SoC), and the battery life seems to be worse than an x86 Surface Pro 7."

100%, categorially false. Surface Pro X is easily 20-30% better battery life than Surface Pro 7. It's not even a debate. Also, Pro 7 has a

larger

battery (43 WHr) vs the Pro X's 38 WHr. Variance in battery life pops up if using Chrome 32-bit vs. ARM64 Edge or Firefox, but even if running just 32-bit emulated apps 100% of the time you're looking at the very least at

comparable

battery life with Surface Pro 7 and you still have LTE on 24/7. When running ARM64/UWP apps you're pushing 10 hours. I'm writing this on the Pro X in the back of a car right now and my battery life estimate on "Recommended" power setting is 15 hours. I'll toss this on my Twitter (@daniel_rubino) right now as proof. Even if think batt estimates are garbage you'll never see a Pro 7 give a nearly 16 hour estimate. Never.

If they did create a Surface Go 2 with ARM, then I for one would be interested in getting one to see whether it can do all I need, I doubt it, but I'd still have a useful tablet afterwards, whereas the Pro X is too expensive.

I also hope that they update the design language on new Surface tablets to be in line with the X. The X is gorgeous.

Oh definitely, I didn't mention that just because it seems so obvious ;) But yeah, thinner bezels and maybe a Slim Pen would be great.

I am looking to get the Pro X and may wait for the GO 2, especially if it is ARM powered. I see Microsoft fixing the tablet gesture issues and developers coming onboard for ARM 64. Light mobile computing is here to stay. And I think that in 10-15 years that we will be able to do just about anything with a device like a Surface GO. How can you not be excited for the future?

My Surface Pro X (with or without emulation) runs absolute circles around my Surface Go, which is saddled with its anemic 1.5Ghz "Pentium Gold" CPU--basically a low power Core i3 chip intentionally hobbled by Intel to remove Turbo Boost to create artificial price stratification. (The ability for a processor to boost above its nominal clock speed for short durations is a huge factor in having these devices feel responsive.) Personally, I can't wait for more Qualcomm (and hopefully AMD) devices to hit this price segment. The weakness of Intel's low-power tablet processors have handicapped Surface and other Windows OEMs for years. A Snapdragon-based Surface Go 2 would be just the ticket.

well said! and agree. Plenty of people who use the Pro X are quite surprised how fast it is - I think the most negative comments come from those who read reviews, but have never actually tried to use the Pro X in real life. The thing about 7c that should be good is support for UFS 3.0, which is very fast for storage, even faster than PCIe NVMe in some cases and support for LPDDR4x - all of that adds up to an overall quick system. Intel's Pentium line is held back, as you mention.

If reviewers have performance issues, why wouldn't normal users who are buying what is labeled a "Pro" Windows machine? If the 8cx reviewed bad due to performance issues, imagine how poorly the 7c is going to do. Hopefully the labeling is better so as not to confuse people.

I suspect months, and months ago Microsoft had settled on the name "Surface Pro X" with the assumption that their new Modern OS would be ready. It was not (...again). I hope that Surface Go 2 will be running Microsoft's new OS.

I would not expect a Surface Go with Windows 10X until 2021 at least (so, Surface Go 3). Windows 10X was never planed for Surface Pro X as Windows 10X does not yet have ARM64 support. They're working on Win32 subsystem and OS first, worrying about running ARM64 code with Win32 emulation later due to the complexity of that task.

Isn't that completely backwards? Surface Pro X is ARM while Windows 10X (light) is Intel only? Either Microsoft doesn't believe in the future of ARM or the future of 10X. Wouldn't you want to build your light OS from the ground up to be ARM based? It seems perfect for those machines while Windows Pro is all Intel for consistency and expected use cases. This strategy will probably doom both WoA and W10X.

@SilverSee Well Said. AMD has released the 1600 AF based on Zen + (I think) a 6 core 12 thread part for a rrp of 85 dollars which is insane. I am so glad AMD is putting the screws to intel at these price points as it puts workstation class CPUs in the hands of the masses enabling people to upskill themselves without shelling out crazy amount of money. Now, here's hoping AMD can do the same in the GPU space as we seriously need something to be done about the premium Nvidia is charging on GPUs.

7c would make it cheaper but overall I think 8c would be much better as a real upgrade for surface go.

Sure, but that's like saying dropping in a Core i3 would be better too. Of course it would, except the battery life would be worse and the price would go up by $200. I'm fine with the 8c option, but they have to hit that $400 entry-level price point. Considering the Go's display, ff speakers, Windows Hello IR, inking support, kickstand/hinge, and mag chassis, that's hard to hit and still make money. One possible way to solve this as I mention at the end is offer 8c as a higher-tier model with 5G. Sure, it'll cost like $800, put 16GB of RAM in it, etc, but then for those who want it all you have the choice. Then keep 7c for entry-level.

If it's to be trapped to use only some apps, I guess intel M cores are more suitable

What trap? Have you run a Pentium Gold native x86-32-bit next to the 8cx 32-bit emulated? They're going to perform roughly the same except you get 6 more cores out of the ARM chip. If you're looking to run Ps or 64-bit CAD apps on Surface Go with Pentium Gold you deserve whatever hellish experience you're going to get. It's time to acknowledge what ALL know already: Surface Go is not powerful laptop that you are running engineering apps on or doing 4K video editing, come on.

Thanks for your answer Daniel, I was not expecting an answer from you! Just hoping the Surface Go 2 will be more powerful than the first edition.

I wonder whether the market is big enough to follow the same formula as the current Pro, i.e. a Surface Go 2 powered by Intel and a Surface Go X powered by Qualcomm? If they want to push hard into the education sector then I suspect that it could be. That would assume that Intell had a chip worth using, of course. Mind you, if they modelled a Go X after the Pro X then it would probably not be rugged enough for schools.

See my answer below. You don't just build a laptop that looks the same but you "drop in" an ARM or x86 processor. These are hugely different HW configurations and would require a complete reengineer.

Quite so, which is why I referenced the current situation with the Surface Pro and Pro X, which are different machines designed to look and feel relatively similar. I was envisioning something similar for a Go and Go X, which is why I mentioned that such a Go X might not be rugged enough for the education sector. Outside of that though, a Go X modelled on the Pro X would be even more like an iPad in physical terms, thus making it more attractive to a wider audience.

Having said that, I'm wondering whether the Neo is really the device for the market I was envisioning for a Go X. The Surface family is proliferating but I don't think that they'd want to flood the market too much. Probably makes sense to keep the Go at the budget end and target other devices at the mid- and high-end markets.

Maybe have the non lte model as an AMD/intel or both & the lte models as a choice of both Qualcomm 7C/8C with a range of prices?

Not possible or efficient. You just don't build out the same boards for both devices and "drop in a chip". Everything from thermals, to battery, ports, size of the SoC, matter. It'd require entirely different engineering. You see this sometimes on lenovo laptops where they have an AMD model. But it's a laptop built for Intel that is then swapped, not giving the AMD quite all the benefits it needs. This is is even more radial of a change between ARM and Intel as those are wildly different boards.

Oof, the JP.IK Turn T101 has the looks that could kill any product.

Not really. Go look at any EDU laptops by Lenovo or Dell. I feel you never looked into $300 EDU laptops before and are looking at this as a consumer who will never see one of these IRL. These things are built to be wrecked by K-6 kids for years. Can't make a Surface for them.

A fair point indeed, jam proof 🙂

Surface Go 2 with ARM, LTE, and 10X is a day one buy for me! I do not lost anything! This configuration have Win32 apps sandboxed and longer battery life. A bonus will be able to purchase a keyboard with the hidden pen slot.

While Windows 10X would be great for a Surface Go 2, unless that device is coming out in 2021 I have no expectations it will happen this year. Instead, Surface Go 3 in late 2021 with Windows 10X is much more likely.

Do you all think there's much of a future with the Go series with Neo coming? Obviously Neo has to actually happen first, but it seems like the two devices are swimming in the same pool of targeted people/productivity tools.

Neo = premium, very expensive, meant for early adopters Go = lowest-cost Surface, meant for schools, enterprise, and consumers who want a small PC

Yes. The Neo when unfolded has a crease down the middle. Not good for watching videos. I love the idea of 9" screen unfolding to a 13" screen, very portable. Until Microsoft get rid of the crease I will stick with the Go. I do not mine the crease on the Duo. It makes more sense on the Duo. You get 2 full size phone screens to work with. I would love to have a Duo if Microsoft can solve the problem of answering calls and managing texts when the Duo is closed.

When will Microsoft learn that Windows just doesn't work on touch devices or ARM, or basically anything different than 100 years old x86/registry/NT/whatever legacy stuff. How many times we have to teach you this lesson old man?

I've had my GO for just over a year now. I really really love the overall size, and the screen! The main problem is it severely under powered for any amount of basic work. I'm really kicking myself for getting the 4 GB RAM version, but here in Canada, it cost me $549 CDN, plus the $149 CDN for the type cover. WAY too much money for the specs. My phone has more RAM. This poor little guy just can't keep up: when I'm working on a Word doc, have Spotify going, listening to music; have my Teams running, and then a few open tabs on Edge. This thing totally red-lines Memory AND CPU. Too bad. It's such a great size, and, again...I love the screen. It's just already so under-powered, and now thinking about going Snapdragon? I don't know...