Surface Go is a 10-inch $399 tablet aimed at schools, kids, and enterprise
By Daniel Rubino last updated
A new, much more affordable Surface PC aims for consumers, education, and enterprise.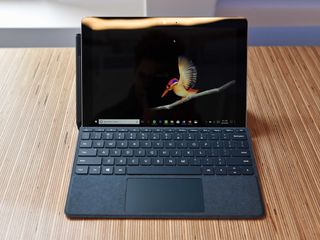 It's been three years since the last non-Pro Surface tablet — the 10.8-inch Surface 3 of 2015. With a $499 price tag, it was one of the most popular Surface tablets for the consumer market, so it makes some sense that Microsoft would revisit the line. It's surprising it took this long.
The new Surface Go, which will be available in early August 2018, features a slightly smaller 10-inch display, but also chops off $100 to bring the starting price to just $399 — aiming right at Apple's budget iPad 9.7.
Combined with an all-new keyboard, a modern Intel Pentium Gold processor, and even USB Type-C, the Surface Go could be Microsoft's most successful Surface model ever. Here is all you need to know about it.
Surface Go design and specifications
Microsoft went back to the drawing board with the Surface Go (an appropriately fun spin on the Pro name) with refreshed hardware and a more modern design that closely mirrors the most prominent features of the more expensive Pro.
Category
Surface Go
OS
Window 10 Home in S-mode
Display
10-inch 3: 2 aspect
1800 x 1200 with touch
216 ppi
Processor
Intel Pentium Gold 4415Y (1.6GHz)
Fanless
Graphics
Intel HD 615
RAM
4GB or 8GB
1866MHz LPDDR3
Storage
64GB eMMC
128GB or 256GB SSD
Security
TPM 2.0
Ports
1x USB-C 3.1 (aux. charge, video out, data), microSD (up to 1TB), Surface Connect, headphone jack
Surface Pen
4,096 levels of pressure, tilt support
Camera
5MP front-facing with Windows Hello
8MP rear auto-focus
Connectivity
Wi-Fi 802.11 a/b/g/n/ac
Bluetooth 4.1
Optional LTE (late 2018)
Audio
Dual front-facing speakers
Dolby Audio Premium
Battery
Up to 9 hours
Dimensions
9.6" x 6.9" x .33" (245mm x 175mm x 8.3mm)
Weight
1.15 lbs (0.52 kg) without keyboard
1.7lbs (0.77 kg) w/keyboard
Colors
Magnesium
Power
24 W power supply
Price
Starts at $399
Keyboard $99 or $129 (Alcantara)
The original Surface 3 shipped with a larger 10.8-inch 1920 x 1280 display, while Surface Go is smaller at 10-inch 1800 x 1200. However, the pixel density of the Surface Go is technically a hair higher at 216 ppi, versus the 214 ppi in Surface 3. It's a smaller display, but just as sharp.
A revised keyboard with an all-new connector will also be available for the Surface Go... as a separate purchase. The keyboard has full-sized chiclet style, but the keys are slightly more curved to help users more easily find them.
More interesting is the giant trackpad, which is the same size as the one for Surface Pro, making it especially delightful to use despite the more cramped design.
For ports, Microsoft is playing it safe by keeping the Surface Connect port for power and the Surface Display Dock (which works here too), a USB Type-C port instead of Type-A, microSD for storage expansion up to 1TB, and a headphone jack.
That Type-C port is the same style as found with Surface Book 2. That means power delivery, auxiliary charging, display and data support. The only thing that is missing is Thunderbolt 3 capabilities, though I don't see that as a problem for the target market.
The cameras are also the same as Surface Pro, including a front-facing 5MP camera tuned for Skype that also supports Windows Hello facial recognition and an 8MP auto-focus world-facing camera on the rear.
Audio remains like Surface Pro, with dual front-facing speakers carved out of the display for a premium, but muted design.
Likewise, the articulating kickstand is the same as Surface Pro's with a smooth 165-degrees of movement and a similar hinge style.
The Surface Go feels very much like a mini-Surface Pro – as it should – but the corners are now even more rounded. The chassis itself is built from the same magnesium components as the more expensive version and has a similarly solid unibody feel.
While the base version of Surface Go comes with 4GB of RAM and 64GB of storage, there will also be an 8GB model with 256GB of storage.
Later this year, consumers can expect a version with an LTE radio as well, mirroring the new Surface Pro with LTE feature set.
Surface Go goes Pentium
While the Surface 3 had an excellent design, its Intel Atom X7- Z8700 processor left a lot to be desired with slow performance and only mediocre battery life.
Surface Go features a newer and more powerful Intel Pentium Gold 4415Y (1.6GHz) CPU, which Microsoft claims has been "finely tuned" for performance.
When it comes to the Intel line of mobile processors they can be grouped from least to highest performing as Atom < Celeron < Pentium < Core-i. Even within Pentium, there are Silver and Gold variants with the latter being used in Surface Go.
Image 1 of 2
Image 2 of 2
Intel Pentium Gold 4415Y is a 6-watt, Kaby Lake-era, dual-core, four-thread 14nm processor introduced in mid-2017 with a base frequency of 1.6GHz.
The Intel 4415Y also supports 1,866MHz LPDDR3 RAM, hyperthreading, and it has more memory bandwidth as well.
Image 1 of 2
Image 2 of 2
For more real-world expectations Microsoft claims the new Surface Go gets double the processing power and 2.5 times the graphics power of the original Surface 3.
In using the device for a few minutes, the performance felt zippy with even Minecraft running full-screen with a very high framerate – an essential achievement since this device is aimed at a younger demographic.
The system is also wholly fanless and thus passively cooled, with battery life at a claimed 9 hours (which is a bit on the low side). However, with fast-charge support, the Surface Go can get to around an 80 percent charge after 60 minutes plugged in.
Microsoft opted to not use Qualcomm's Snapdragon ARM processor due to the 100 percent compatibility needed for legacy apps in business and some schools.
Surface Go target market
At $399 Microsoft sees Surface Go working in a few markets including the general consumer. More specifically, Surface Go is aimed at:
Schools and education markets.
Families and kids.
Business and first-line workers (FLWs).
Anyone who wants a small, easy to carry Surface.
For enterprise markets, there will be a slightly different variant priced a bit higher. That difference in price is because it ships with Windows 10 Pro in S-mode versus Windows 10 Home in S-mode for the regular consumer version.
The K-12 education market is also a big target for Microsoft as the company continues to ride recent gains on Google in the U.S.. The Surface Pro is priced too high and is a bit unwieldy for little kids, whereas Surface Go makes more sense financially and from a usability perspective.
Category
Surface Go
Surface 3
iPad 9.7
OS
Windows 10
Windows 10
iOS 11
Display
10-inch
1800x1200
216 ppi
10.8-inch
1920x1280
214 ppi
9.7-inch
2048x1536
264 ppi
Processor
Intel Pentium
Intel Atom X7
Apple A10
Storage
64/256GB
64/128GB
32/128GB
RAM
4GB or 8GB
2GB or 4GB
2GB
LTE
Yes (coming)
Yes
Yes
microSD
Yes
Yes
No
Front camera
5MP
3.5MP
5MP
Rear camera
8MP AF
8MP
12MP
Dimensions
9.6 x 6.9 x 0.33 in
(245 x 175 x 8.3 mm)
10.52 x 7.36 x 0.34 in
(267 x 187 x 8.7 mm)
9.4 x 6.6 x 0.29 in
(240 x 170 x 7.5 mm)
Weight
1.15 lbs (522 g)
1.37 lbs (622 g)
1.03 lbs (469 g)
Wi-Fi
Yes
Yes
Yes
Bluetooth
4.1
4.0
4.2
Speakers
Dual
Dual
Dual
Ports
USB-C 3.1, 3.5mm headset, Surface Connect
USB-A 3.0, Mini DP, micro-USB, 3.5mm headset
Lightning port, 3.5mm headset
Pen
Yes ($99 extra)
Yes ($59 extra)
Yes ($99 extra)
Keyboard
Yes ($99-129 extra)
Yes ($129 extra)
Yes ($99 extra)
Price
from $399
from $499 (orig.)
from $329
At $399, Surface Go is not as inexpensive as Apple's 9.7-inch iPad, which starts at $329 (32GB). But with double the internal storage, microSD expansion, Windows Hello authentication, a USB Type-C port, and being a real PC, the Surface Go has some advantages of its own.
New Surface Go keyboard and accessories
Like Surfaces before it, the Go does not come with a keyboard included at the base price. If you want one, the basic black one will be $99, or you can opt for one of three Alcantara colors (gray, cobalt, or burgundy) at $129.
The new Surface Go keyboard features a massive Precision touchpad, backlit keyboard, and a newly designed connector to keep the design slim and small the Surface Go keyboard appears to continue Microsoft's prowess in this field.
So if you want a keyboard with your Surface Go, it's going to bring the cost to at least $500. A similar iPad 9.7-inch with a Logitech Slim Folio Case with Integrated Bluetooth Keyboard is a bit cheaper at $460.
Likewise, the Surface Pen works as expected with Surface Go and that too is an extra $99 – unless you opt for one of the many lower-priced Surface Pen alternatives.
Microsoft is also updating its favorite Designer Bluetooth Mouse series with a Surface spin, including colors to match those new keyboards.
Microsoft also noted that many third-party accessory manufacturers are already hard at work making rugged accessories like Surface Go cases and shells for schools and business looking for extra protection or pen lanyards to prevent accidental loss.
Available in 35 markets by October
Microsoft is taking pre-orders for the Surface Go starting July 10 in 25 countries, including:
US
Canada
Australia
New Zealand
Hong Kong
UK
Ireland
France
Germany
Austria
Belgium
Luxembourg
Netherlands
Switzerland
Denmark
Finland
Norway
Sweden
Poland
Taiwan
Italy
Portugal
Spain
Malaysia
Thailand
Surface Go will be available for pre-order in Japan beginning July 11, in Singapore and Korea on August 2, and in China on August 8.
Later on September 12th, Surface Go will be available for pre-order in additional the Middle East:
Qatar
Saudi Arabia
UAE
Oman
Kuwait
Bahrain
Finally, even India gets in on the action starting October 2.
Surface Go first impressions and analysis
Our full review for Surface Go will be available later when this latest Microsoft creation goes on sale in early August. For now, here are some initial thoughts:
Surface Go is a good name that suggests being 'fun' for once.
It feels just like a mini Surface Pro with excellent quality.
The kickstand, keyboard, cameras, and display look excellent.
At $100 cheaper than Surface 3, the Surface Go is priced appropriately.
Aiming for schools, kids (families), and small businesses is a great idea.
The keyboard is a bit cramped to type on but still enjoyable.
Performance feels much better than Surface 3.
Of course, more time will be needed for final evaluation, but Microsoft seems to be addressing many of the lingering complaints of 2015's Surface 3. It's unclear what took the company so long to bring this to market, but the timing seems right for schools, and it should let Microsoft ramp up production for the holiday season in more markets versus a later announcement in the fall.
Image 1 of 2
Image 2 of 2
While I would have personally preferred a Surface Go running Windows 10 on ARM the timing is just off. Qualcomm's Snapdragon 835 is soon being supplanted by the more powerful Snapdragon 850, but that launch won't be until the end of 2018 (expected), possibly five months after Surface Go hits store shelves. Moreover, the Surface team is very conservative with its products, and Intel Pentium is a safe-bet for schools and businesses who are not yet ready for a pure Microsoft Store app world.
Parity in pricing with Apple's iPad 9.7 would be ideal, but the cost difference could be justified with the Surface Go's kickstand, being a "real" PC, microSD expansion, double the internal storage, and standardized USB Type-C port.
Finally, I love the name. Surface Go is a clever spin of Surface Pro, and it suggests a fun, nimble device for regular consumers who need light computing and inking experience. It'll be interesting to see just how well it sells and if it resonates with regular folks.
Stay tuned for further coverage of Surface Go, availability, review, comparison to the iPad 9.7, and accessories in the coming weeks and months.
Daniel Rubino is the Executive Editor of Windows Central, head reviewer, podcast co-host, and analyst. He has been covering Microsoft here since 2007, back when this site was called WMExperts (and later Windows Phone Central). His interests include Windows, Microsoft Surface, laptops, next-gen computing, and arguing with people on the internet.
With the screen size being 10", will Office be free?

The mobile apps should be free with editing capabilities. The full office apps will still cost money. We'll see if they stick to that though. They could always retract that deal, albeit with bad PR.

The deal was not the mobile apps. It was the full office apps.

Really? I remember the mobile Office apps being free with full features. On larger devices, you need a license even for them. They would make sense on a device like this too.

Full Office 365 was free and included with a Surface RT.

And I also had the full desktop versions on my 10" Chuwi tablet from last year. I wonder now as I just saw on Best Buy Canada that Office is a 30 day trial, I hope it's only a Best Buy error.

What deal was this. The mobile apps were always free. You needed an Office 365 subscription to make full use of them in some cases. The store version of Office is also free to download, but you need an O365 subscription to make use of them.

What is free but need office 365?
Office is not free even on 950xl, why would anyone think it will be free here.

They're saying it's free because the Surface Go is a tablet under 10-inches which is under Microsofts 10.1-inch limit for being able to use the Office apps without a 365 sub.
This was widely covered a few years ago, here's the blog post from microsoft about it and the article wc made. https://www.windowscentral.com/e?link=https%3A%2F%2Fclick.linksynergy.co...
https://www.windowscentral.com/office-windows-10-free-phone-and-small-ta...

"This was widely covered a few years ago.."
I know, I was here.
I have a 950 and XL, I have to pay 365 to use mobile office.
So either microsoft back tracked or they lied.

A simplified version of MS Office on mobiles like Lumia 950XL is free to use, and you can view, save and edit documents just fine. You only need an office 365 subscription if you want to unlock some advanced editing features.

@Hiswona, he's right. Perhaps the difference is the subjectivity of what's an "advanced feature." Anyone without Office 365 can use the online versions of Word, Excel, Outlook. etc. completely free. Similarly, on small screens, the mobile app editions (not web-based) are also free.

keep in mind if its targeted towards education, students get Office 365 for free.

I use a Surface Pro, which is on sale at microcenter for $699 (i5,8 GB,128 GB). But I also have an office 365 account, which lets me install on 5 devices (my PC, my Surface Pro, my HP laptop, my 950 (i guess, but I never use office on my 950 the screen is way too small)) So now I can add my surface Go.

Office came free with the RT range

I think slbailey1's not talking about the mobile version.
https://www.pcworld.com/article/2900830/microsoft-office-will-be-free-fo...

Should be the wording hasn't changed

Yes office apps are free 10.1 an smaller.

You've said this several times here. I have certainly set up users with these for free. I think the divergence between interpretations must be based on what is included. What were you not able to do on your 950XL without paying?

You can pay for premium features. But honestly I've not ONCE used these premium features at home. Granted I might use them at work, but even there rarely. In fact I cant name one single premium feature that's an absolute must have. So for all intents and purposes Yes! They are free.

You all know you can buy packs to add to excel to add various abilities, which are basically apps triggered by a button on your ribbon to simplify frequent tasks you may do specific to your industry.

anon: I *was* 10.1 and smaller, but they've recently change it to: smaller than 10.1.
Probably too many 10.1 tablets out there, just check sites like Banggood.

30 times better than an iPad

Worked last time. Did'nt this time. Just as funny though.

But the iPad is cheaper, with better battery life, instant on and better screen.
The surface has full Windows and the awesome kickstand.

If Office is not free on the Surface Go most of its hotness disappear... No point in buying then.

I thought this was being announced tmrw? Was hoping Panos Panay would tell me why I need this :(

It is tomorrow here in Europe :)

Is it me, or does anyone else hear a bit of 'meh' in Daniel's voice? If Surface is now just a 10" Intel Pentium chip tablet with LTE "sometime later this year", then is the Surface brand still special or interesting?

Well, it is still a pretty premium bit of hardware. The only thing a bit unSurface-like to me would be the processor. Pentium just sounds antique. Not sure what that will perform like. Might be as good or better than the low end M3 Surface models. Surely better than my Atom powered Surface 3 (which I am writing this on). With the Surface Connector, and all that allows, plus USB-C, a microSD slot, full range kickstand, and Hello, it seems a compelling device if you are looking for small.

Not sure I heard that in Dan's voice, but kinda feel it myself. Sure, this is the perfectly **sensible** thing to do here. Had to respond to a $329 iPad somehow. But I'm holding out for the HP Envy x2 with an 850 myself. That pops! This feels more like a device I'd get for my 3rd grader. I don't know maybe I'd be more cheerleader about it if there were a 6th and final device in the line up? But there's not. And with these risk averse, milk toast, play it safes in Redmond it's kinda hard to believe there ever will be.

It's kind of going the recent tradition though, I mean, the Surface Laptop is kind of a nothing device and doesn't really need to exist to be fair. In fact, I think this wouldn't feel so "meh" if the Laptop wasn't a thing, as it wouldn't feel quite as saturated and each device Go/Pro/Book has a clear purpose.

This has more elements of surface than the original surface so what do you mean? Or are you not thinking?

What does that even mean?

This has every element of the original surface. Do you need me to explain that or just the more part? I'll just do the more... Full tilt support up to 165 degrees, not just the one stop of the original surface, windows hello authentication, better keyboard (many improvements. Remember the original's keyboard didn't even angle by attaching to the bottom of the surface), fanless, better pen (enhancements through screen tech, not just pen hardware). So when someone says "still special" as if it's less than the original when it's clearly more special than the original in EVERY WAY, it's bafflingly asinine

I was referencing the use of the term "element's of surface" nothing that you have listed are distinctly "elements of surface" the thing that differentiates the Surface from everything else (in the present) is the looks, and in the past it was that each device hanged the game for a market. The Go doesn't really do that, it's a minor revision to what we already have, not a drastic game changer like say the Studio, Book, or original Surface.

That's a great spec for the price. When in India? Ppl here Go crazy for Surface already and now a budget Surface, you don't say...

yeah we said it. What are you going to about it?

October 2. Right in time for Gandhi's birthday.

Love the price and specs. Very smart move going with PCIe storage and glad to see the processor is not what as reported. Surface GO is indeed a catchy marketing name and my 7 yr old daughter lights lit up when Daniel mentioned it does play Minecraft. Now I can get my kids off my desktop computer. lol I might need to pick up two since i'd like one to take with me on the road.

Make no mistake, the base 64gb is emmc

Desperate fanboys do not know what emmc is.

More or less the same memory used on an SD card, very slow. It may seem fast when storing photos from the camera on it, but for a computer reading and writing to it, certainly with Windows and it swap file, it will be so slow.

It's slower than an Evo 970, but still much better than traditional hard drives, especially for random access, which is the facet of the storage that determines how fast it feels in regular usage.

Just get your daughter an iPad. It is much cheaper, better performing, and has all the software she is going to want including Minecraft.

Go with Kindle Fire for kids. Half the iPad price & comes with a 2 year warranty that covers everything, including if your kid steps on or smahes it or whatever.

Go with Nintendo switch bc duh!

Go with a hilary exercise book and bic pen, one hundredth of the price of the kindle fire...ha ha ha ha!

Could this really be true, Microsoft Marketing came up with a great name!! Seriously though, we will consider this for our school if they could only nail warranty, ADP and servicing (which we prefer to do inhouse or onsite, not shipping away for weeks)..

Just buy from your local Microsoft Store they do all the above and more.

My daughter just told me she wanted a Surface (she borrows mine a lot for YouTube and mine craft) looks just right for an 11year old starting middle school.

My 13 and 7 year old daughters would be using it for YouTube and Minecraft too. They already try to invade my desktop pc

"Microsoft opted to not use Qualcomm's Snapdragon ARM processor due to the 100 percent compatibility needed for legacy apps in business and some schools." Qualcomm doesn't do non-LTE devices anyway. I would imagine cost might be an issue also.

Yea, you are probably talking $100-$130 tacked on to that $399. Might make that 'starting at' price too high. Good point.

Really would've liked a USB-A along with a USB-C (or even just USB-A), but it's forgivable for a small device (at least Microsoft wasn't stupid enough to expect people to charge exclusively with it). "Playing it safe" with ports is also "playing it smart" for this device.

Yes. It's thinner than the minimum a USB A could be. They said the reason they stopped at 9mm thickness for Surface Pro 4 and Surface Pro 2017 was because they wanted to keep the USB port.
This device is 8mm.

Again, I think it's excusable for the Surface Go, but I'd be extremely disappointed if the down-the-line Surface Pro models (especially in their current dimensions) sacrificed USB-A for 1 mm of thickness. I'm hoping MS keeps that in consideration--I have nothing against the next Surface Pro, or the one after that, having USB-C as well as USB-A (I'd be annoyed if they sacrificed the Mini DisplayPort out for it though), but DON'T drop the full-sized USB. It's a huge advantage for that line of devices.

Same here... You'd be surprised how many still use a USB key... The first thing that came in my mind was "dongle" 🤔

Then you get a USB-c key or a little adapter. They don't even make your key much bigger.

Given that the Surface 3 had USB-A and Micro-USB, I expected USB-A and USB-C on this. I guess the Surface Connect port may be a good move if they're targeting enterprises that may want to use the Surface Dock, although I would think that anyone with a Surface Dock already wouldn't want to downgrade to this device from a more powerful Surface and anyone buying new equipment could have used a USB-C dock. Maybe they just really wanted to make a thinner device.

Very nice device. With proper marketing and reliability they could take a bite of Apple's market share. Do you agree?

Not a chance that the Surface Go dents the iPad market share. People will use these to replace business 1st and 2nd gen Surface devices that are EOL. Retailers, Service Workers, Manufacturing. Schools are not going to buy those flimsy keyboards and would rather have Chromebooks with GAFE then deal with Windows Management. iPad and Android tablets are by and large consumable entertainment devices. The fact that I still can't play Amazon Prime offline amongst so many other mobile based consumable apps that aren't supported on Windows 10 put it at a disadvantage.

The keyboards are fragile? I bet whole iPads break a lot more often than these keyboards would. They break a lot of them in schools, I've read.

I dunno, I feel like this may be the one that does. I don't know why anybody would take an ipad seriously to class to be honest.

Not a chance. This is a 2in 1, not a tablet. What can you do with it as a tablet besides inking? Apps? :)) please be serious. Windows 10 still has the same mediocre touch experience all over.

people say that. My kids went to school that used mac book airs. They never use touch, except on their iphone. I use touch all the timeon my surface pro. Plus some amount of inking.

It's a good name, but Surface Go would have made so much more sense for the Andromeda device. RIP :-(

Surface Flip for Andromeda?

Surface Phoenix - if it is released.

HA ha ha. That may be what it does "IF RELEASED". Who knows. I do know it's not some game chaning device category that's for sure.

Xbox One, OneNote, OneDrive... Surface One?

With 2 screens it would have to be a Surface Two, no? :) SurfaceX2? I still like Surface Folio

Am not sure it's dead, I wonder if the twitter was half teaser for this and half sentiment tracking the Andromeda. Given the latest news they knew the hype would be around the Andromeda, now they have hundreds if not thousands of tweets to sentiment check to see what consumers think of the concept

I don't think it's dead but having released this one now, they will take some time to announce and release Andromeda. Otherwise they'd be saturating the market and eating into their own sales.

They wouldn't eat their own sales. Two different price points. Plus Ms wouldn't complain about someone spending MORE money buying Andromeda over go

Well chosen name IMO. Good price and specs too. Gonna compare it to my S3 when it hits the stores here in Chicagoland.

Waiting for the LTE version but I will have one of these.

I'm waiting for the LTE version, too.

Again, Brazil was left out.

That's because you need to get your sh*t together first. Currently it's extremely expensive to ship things to Brasil, you have way too many taxes on imports and companies simply aren't going to start opening plants left and right to manufacture things there to avoid the taxes.
The market of people capable of paying for these products is way too small to justify the very high costs of distribution. It sucks for Brazilians, I know, but you're the ones voting ;)
And hey, if it serves as a consolation, Microsoft is an a*se towards most countries that aren't the US anyway. We always get deprived of one or two or ten of their products, even without all those taxes.

We know all that very well, living here is a pain.
We are the ones voting, that's a fact, but what are our options? All candidates laugh in front of us, corruption everywhere, there's no choice. Many of us give a null vote, but this doesn't fix things up. In fact, it's a loop: the politicians we have today do **** and make corruption be like a virus on the government. As an effect, this generation give a **** about politics because everything is already messed out and every day we have bad news to read out, so they will never turn out to be candidates with true management knowledge to break this cycle and make our country evolve. You can ask any Brazilian where he imagines himself in the future and there will be a whole 90% of chance to get a reply like "very far from here." It's hard to be a tech fan living here.

Fix your country, or skill up and move up.

It's funny because this sort of thing seems to happen a lot with Brazil. Gaga cancelled her concert due to pain and Brazil Twitter went crazy. Brazil Twitter also spammed Drake about bringing something to Brazil iirc.

Ever since I invested in a desktop to work my online masters (multitasking, screen real estate, etc) my pro 4 has really taken to the back burner. This is exactly the kind of device that I can just "play around with" as a consumer: Netflix, spotify, movies etc (especially if MA is in the works!), like office work...but mostly, this is my OneNote/Whiteboard/Windows Ink DREAM. Looking forward to this!

Absolutely interested in this. I was going to get a surface (my last was the original RT, still goes great) but this price is just right and the specs are fine for what I'd be doing.

A new Surface Pro at MicroCenter is on sale for $699 (i5, 8 GB, 128 GB) model. I use the same model but with 256 GB storage. great price. Plus on Microsoft store, all surface's discounted $300. Seems like a major refresh is coming in the fall. I don't need to replace my current Surface pro with a 8th gen i5. But they can offer the Surface Pro without the discount and add in the new 8th gen i Core processor.

Dan, in the video you said the processor is Intel Pentium Gold 4415u, but the write up say Intel Pentium Gold 4415Y. Which is it 4415u or 4415Y?

Thanks for clearing that up.

I think the Y has a lower TDP than the U.

I'm going to completely disregard the price because I'm pretty sure those $399 will jump to 500€ or more when it reaches Europe, as usual, so what I'll say applies only to a straight conversion of $399 to euros (which would be around 340€) At 340€ - and after one ditches the useless "S Mode" and puts it in full Home/Pro mode - this becomes a REALLY compelling device for education.
It's powerful enough for what a student needs (yes, for students Pentium is good enough), small enough to not be a burden and it can run the browser everyone uses - Chrome. It sure is far more likely to be successful with the education market than the pointless Surface Laptop ever was.
I might get one sent from the US (unless by some miracle Microsoft sells it for 399€ tops here).

Try being in the uk 399 usd always equates to alot less here but garenteed it would be 399 pounds here witch equates back to 530 dollars

Most European countries have 16-24 percent VAT, so close to 500€ is pretty close to what I would expect it to be. Honestly, it looks like a decently priced alternative and I would understand people / organizations purchasing these. Personally, I would still go with a laptop (whether for myself or for a school kid).

Yeah, VAT is always the lame excuse.
Except if VAT was the problem, they'd convert from dollars to Euros first and then apply VAT.
So, if for example VAT was 23%, 340€ would turn into 418€. Even in the country with the highest VAT (27% in Hungary) the price would be 431€.
Never anywhere near 500€.

Surprisingly the UK price has come out at £379. A straight conversion from dollars with VAT then added, came to £363, so not too bad after all.

It's all going to come down to one thing for me (and I've reached out to Mr Rubino to ask), whether or not it supports the Surface Dial. If it does, I'm most likely getting it. If not, I'm just gonna stick with my Dell Venue 11 Pro.

Here is the link to the promo video for the Surface Go. It shows the Surface Dial changing the price on the Surface Go from $999 to $399. I do not know if this proves the Surface Go can use the Surface Dial, but it looks like it can. https://www.youtube.com/watch?v=krRRskzHWFE

Thanks. I saw that. It shows the dial at the side though, not on the screen. So jury's still out on whether or not it will work on the screen (some older Surface devices support it but not applied directly to the screen to overlay the dial stuff where the dial is.)

At the size, I don't think the dial on the screen would be very practical. It takes up a lot of room on my Surface Pro. Off to the side it still pops up the on screen selection ring. I think the studio in drafting mode is the only thing that sticking the dial on screen makes sense.

Not so much about practicality as possibility. It might not always be the practical thing to do, but having the option (especially if I'm on the bus, where there's no table to put it on, or on a train with no tables and yes they exist here) is what I want. I get that I'm very much an edge case but still, it's something I would benefit from.

Remember Dell's totems? They had small and large ones. The current Surface Dial looks massive compared to the Surface Go. They should reduce the size of the 2nd Gen Dial or at least release them in various sizes.

Well I just checked the website. Works with Surface Dial off screen interaction. I was so close to having it be such a brilliant device for me. Wallet closed.

Only one came out. They canned the 2nd before the production version of the canvas went on sale

128GB SSD should been minimum. Its time to get away from 64GB eMMC.

I dont know why people say emmc is slow my pc is really fast on emmc

Think of a retail/warehouse worker. The Go would run one "cloud" based app to provide services to the customer. Thus the eMMC is sufficent to run the software for many enterprise front line workers.

It has that option though...

But they should only make stuff I want!

Any idea how performance will compare to SP4 M3 4gigs?

I'm in. I'll be watching the Microsoft Store here in Canada to grab a 256gb model ❤️

Argh! No GPS until the LTE version and has no one at Microsoft ever looked at Apple's online store? Once I added my Surface Go to my order they don't even offer me accessories, they make me go look for them. And it seems the keyboard covers aren't yet in Canada. Perhaps they'll arrive with the LTE model. Cancel😢

Meanwhile in Taiwan it's the Surface Woo! And in Thailand the Surface Ha!

If they don't call Andromeda the Surface Hoo in Taiwan (I'm well aware that Woo is probably Taiwanese for go) I will be so very disappointed.

They will not, cuz Woo is not Taiwanese for go. I'm Taiwanese. It should be Surface Chiba

What do you think, streaming Xbox will run pretty speedy or will it be a problem?

The surface 3 did it good streaming. so I don't see any problem

At $600 all in with Pen and Keyboard, I don't see this being a big seller. I'd rather get an i3 Pro if I really want to do work, and there is an app gap when it comes to offline usage for travelers. I bought the new iPad about a month ago and it points out the glaring issues with Win 10 in tablet mode. App gap between the Windows store and Apple Store is real.

I keep buying accessories before I can afford the machine so I already spent that money...

For $399 more you can get a premium device... the HP Envy x2 with LTE, all day battery life, 128 GB, instant on, Active Pen or for just $299 more the slightly less premium, but solid, Lenovo Miix 630 with all those things too. Both of those seem like devices for grown ups.

IOW for twice the price you can get a better machine -- wouldn't you expect that?

I guess what I'm saying is that the Surace Go with keyboard (which c'mon you HAVE to have) and pen is already $600 or $629 in Alcantera with color (which every 11 year old girl is going to want - and which is apparently the market MS is going after here). So if youre not an 11 year old why not just spend $999 on a premium machine like HP Envy X2? Or $899 on a solid machine like Lenovo Miix 630?

WoA is for play, that is why this isn't running WoA. The performance and compatibility isn't there when you need to get work done. Either way, this should have a WoA version available. Not having one really questions Microsoft's dedication to ARM.

So a slow breakable premium product for schools, kids and enterprise. Yeah sure...

slow breakable premium product? What are you talking about

I'm guessing he means a premium (expensive) product that's slow (underpowered) and is breakable (flimsy considering the target audience)... Just a guess...

And since this machine is none of those things, what's the point of making such a statement?

Slow CPU, glued together glass display stack in a metal unserviceable chassis and a price that is premium in its segment. But please tell me more about how it is none of those things. Put 20 of these in a classroom of 10 year old's and you'll be repair cross shipping them all day long.

Can't see myself or any knowledgable consumer investing in the low end model. I'm going for the 8GB RAM w/ 128GB SSD option. My usage case is to use it as a consumption device (I like to watch the tablet in bed at night and read my manga. It should also allow me to do simple photo edits when clients want a minor change done.

So how come an iPad or any number of android tablets aren't better suited to your needs at a lower cost?

Interoperability with Windows or windows preference is my guess

The first option doesn't fit his stated use case. The second option is plausible if a bit pointless, again considering the use case.

The first option doesn't fit his stated use case. The second option is plausible if a bit pointless, again considering the use case.

Low end is fine for kids or baby sitting use. If I had small children, I would get the base model for them.

Manga takes 8GB of RAM? Should try reading a regular book instead ;-)

You can probably import quite a few volumes with the price of the 8GB + 128GB.

Looks great! I'll wait for the Andromeda (HOPEFULLY). A smaller surface with telephony and a great camera is everything my Microsoft heart could ask for.

I've been waiting for this 😍

The ONLY issue, is that the Surface (running Windows 10) is horrid as a tablet. Unless Windows 10S has some crazy tablet mode that doesn't exist in regular Windows it's going to struggle to supplant the iPad for consumers, Chromebooks and stuff maybe, and definitely a godsend for dedicated restaurant/business use, but yeah, probably not the iPad crowd (which to be fair is kind of dwindling anyway.

Windows 10 in tablet mode Is aligned with the desktop Start menu If you customize your start menu you can get a really good experience In tablet mode especially at this screen size device.
personalization/start: show more tiles on start than. then the right combination of the tile sizes like I like to use the majority large/ and medium

Ah, ok. I've never looked into that, might make when I'm randomly doing stuff on my tablet on the couch a bit easier.

Tablet mode is not all about the start menu only. What about the entire OS interface that is NOT built for touch? apps that do not exist built for touch?

Did you really just say the tablet UI for apps that don't exist are poorly optimized for touch?

I hear this a lot...
I often use my SP4 in tablet mode, and aside from multi-window functionality, which is an issue on all tablets regardless of OS, I can't see the problem?
Could you perhaps spend a minute or two to explain what irritates you?

Mainly the notification panel and the start bar being too small (imo), it is also a bit finicky with switching automatically between tablet and desktop and vice versa. Also I tend to use a tablet in portrait mode, unless I am watching a video/playing a game, and last time I had it in portrait mode it didn't really translate well in terms of interface control. Lastly the onscreen keyboard is just flat out horrible. Sorry, forgot one, File Explorer. Granted I haven't used tablet mode in a few revisions so maybe my issues have been alleviated. Also trialling what Marty said could help out as well.

on screen keyboard has quite a few configurable options, and more recent Insider builds include swyping.

Swype (or whatever Microsoft's version is called, SwiftKey?) would fix everything wrong with the keyboard (at least for me).

It is still bad, but the keyboard is getting better.

on the start menu bar being too small you can increase its size by unlocking the taskbar in desktop mode and increase it size.

But I don't need a larger taskbar in desktop mode, unless it has independent sizing controls in that menu, I'll have a look when I get home.

No it's not independent But some worth feedback though. You can always scale it back down when existing out of tablet mode.
and does allow you to see way more applications
in the taskbar For that bit of space.

Hate to be Debbie Downer here, and first off... this is a perfectly **fine** device. I'm happy for it. But where are you Andromeda? The premium, ground breaking, device of all phones future? As much as I want to be happy for this... and I am... to an extent... in the way a kid is **happy** about getting jeans for a gift when he really wanted a BMX bike... but I just can't bring myself to believe that a 10 inch device is going to save UWP. It isn't going to do much for PWA either. Those two platforms shine on small, truly mobile, devices. And 10" is just not a **mobile** device. But yay! We have yet another laptop-like device! Yay!

Microsoft reportedly decided it wasn't ground breaking enough and went back to the drawing board.

Andromeda is a much heavier lift for the software and hardware engineers. I assume they are working to get these tied together more tightly. Plus Windows 10 is still working on Core and Cshell. Windows 10 in 2 years is going to be quite different, although most people won't notice the difference. There is also the whole eSIM issues with data plans. Be patient. If we can wait 3 years between Surface 3 and Surface Go, we will probably have to wait 3 years between the Microsoft 950 and Andromeda.

I loved my Surface 3 but found it too small and too slow. This will probably be the same - which is fine because I love my Surface Pro. The author is clearly on the mark - this is about education and front-line workers. But strange as it may seem, I can see this as complementing my Surface Pro as a reader with pen input and instant OneDrive syncing. I wouldn't need a second pen or a second keyboard...

but what I have noticed is that using a surface pro on a plane is not so good. I would rather use the Surface Go to read my book or play Civ III.

This all sounds awesome. I hope Microsoft can really deliver on this. I just sold my Surface 3 even though I loved the smaller form factor because it just wasn't in the same league as my m3 Pro 4. With the updated design and internal, this could be the perfect dedicated Windows tablet I've been looking for. The price point is awesome too, way better than I could hoped for.

Ok.. I'm going to get one. But I really, really want the LTE model. I wish they'd released it at the same time. Now I have to wait even longer.

I thought this was the "Andromeda" device before clicking the link... Will "Andromeda" be a reality... :(

How is the RAM of the iPad "unknown"? A cursory internet search will tell you that it is 2GB.

Says 2GB in the article, not sure what you're on about.

Initially the article said "unknown" for the ipad RAM section.

Not sure what I am on about? Condescend much? It said "unknown" at the time of my original comment. Do you think I imagined that?

Finally!!!!! An affordable (under $500) windows tablet that looks to actually be good!!

Good about what? EMMC storage? Same mediocre touch experience? Same buggy OS? Design wise yes, it is nice, but the rest is...Microsoft.

So, you simply don't like Windows... So tell us, why are you here on Windows Central?

Hopefully Andromeda will be properly announced on the date teased 😊

I think you're going to be very disappointed. There's no grand launch event happening. You've got it right here

Hell yeah, seems like a great product! 👌

No Africa, yeah ok i still wouldn't buy it anyway over say an Asus equivalent.
1. Looks to thick on the side.
2. Hard drive will suit apple people.
3. That MS logo is huge, proportionally it doesn't work. The smaller the logo the bigger the device would feel. Also move it to the side.
4. Keyboard and pen costs half the device. Wtf
5. USB-C really.. Only one too
6. Lte later.... Coming soon Microsoft😃
7. Will think of something else not to like...

One third of an inch is too thick!? Didn't have to read further than that, haters gotta hate...

These are the kind of bullet points I expect from someone aged...14.

We might think they are comments from a 14 year old but design counts for something.
Even to a 14 year old. Ironically you say in the article it's aimed for school kids. So I'm definately commenting in the right article. Design was partly one of the reasons why the 950 series was a fail. You Dan even said so.
The design of this tablet isn't all that great. I mentioned the logo is too large and randomly placed in the middle. Thats an issue...why? aside from the fact that it looks horrible, positioning and size was taken straight from apple. No inventiveness from MS once again. 128GB harddrive, really? for a macbook thats acceptable. For windows no no, not in 2018.

I think you'll find most MacBook owners couldn't live with 128GB. Windows users can manage just fine with that. Unless you *need* more storage, but that becomes a personal preference. On a device like this I could easily manage with 128GB. And when a logo is the middle it's not usually random. And in the case of this device the logo is very deliberately placed by a team of designers.

You will be glad to know you can add an SD micro chip to the Surface Go. This is a great place to put your pictures. Nice how MSFT and the windows ecosystem is more open to greater utility. Apple loves to sell you a device that can not be upgraded. The whole reason people kept updating their iPhone was that they needed more memory for pictures. I also think the iPad is 1 MM thinner than the GO. Keyboard and pen for the Apple costa half as much as an iPad. What is your point?

Hiswona is right on two fronts - (1) nearly "essential" accessories cost $200 minimum ($230 if you want the better keyboard) which makes the real cost of ownership 150% more, and (2) WHY does LTE always have to lag so far behind non-LTE models in everything Microsoft deploys? I know some will quarrel with observation one, but look me in the eye and really tell me any Windows device is useful without a keyboard, and smaller devices sold as note taking/annotation devices are valid without a pen.

The only legit complaint there is number 4, everything else is poor at best.

True, but LTE is coming, and it's understandable to keep it off to get the excitement over the price out of the way.

That is not even legit. Buying a keyboard and pen for an iPad is half the cost of an iPad.

In terms of being marketed for education, either the pen, or keyboard (in many situation, both), is 100% required.

Asus? Don't you want your device to last longer than three months? At least you know the surface is built to last, not built to crash like asus.

The battery in a Surface lasts for two years, then you can pay another $200 to get it replaced. For an Asus notebook you can just get a replacement battery on Amazon for $30.

Agree with #4. How can a keyboard and a pen cost 1/2 the price of the device? I get it, they've got to make their money somewhere. But ugh. It feels like buying popcorn at the theatre!

I'm reading this article on a new ASUS Chromebook, which cost me $250 Canadian on AMAZON. The Surface Go with keyboard will cost double that price here in Canada. Not sure how it's going to appeal to schools...

Because the education market is like the consumer market. It has sub-$300 devices and above $300-categories too. How does iPad compete at sub-$300? It doesn't. Maybe doesn't need to, either. Surface Go doesn't need to "win" at sub-$300. It's a Windows 10 device. It just needs to drive Windows 10 with Microsoft's partners picking up the slack - and they are. Last two quarters have seen net growth in U.S. education (RoW, Microsoft is 60+% already).

Dan, Did you get the pen pricing mixed up? The pen for the go is 99 and the pen for the regular surface is 59? I thought they were trying to make the pricing for accessories cheaper for the Go.? Looks like a great device though.

The old style Surface Pen was 59, but the newer Pen with tilt sensing that's replaced it is 99. There's no special pen for the Surface Go.

Thanks for clearing that uP!

Will the old pen work with the Go?

Don't forget that the original Surface Pen will still work. If this was an Apple product then expect new keyboard AND Pen being a requirement.

I don't think that's true. The pen from surface pro 3 and up

Didn't the original Surface use different tech for its digitiser?

The new Surface Go will fail. It will not make any inroads into the Education market. Here is why:
(Disclaimer: before I get started, I must admit, that as a LONG time Microsoft enthusiast, I am still deeply hurt and in mourning due to the demise of Windows phones (and Groove Music). I was the only staff member using Windows phones over the past 4 years or so, and was constantly the butt of jokes about the platform, and kept sticking up for it up until the very end. My 950 XL sits at the end of my counter, the source of fond memories, and a reminder of 'what could have been….)
I teach in a Middle School. Our Technology hardware (and software) has mostly been an even balance of Microsoft/Windows, Apple/iPads, and Android tablets. Over the past 8 years, to my dismay, our Tech Ed Team has been moving us away from PC/Android and more towards Apple/iPads (which are expensive and overprices). Although all our students and staff use Office 365, the PC and Android hardware is movin' on out.
If I approach our IT Admin and pitch the new Surface Go, what convincing argument do I have? In Canada, the new cheapest model Go sells for $529 CDN. Add in the $159 type cover, and we're up to $689 CDN. This is WAY too expensive. It's what we pay for our iPads (along with the clumsy Belkin keyboards). So…for the same price, I tell them we'll get a great machine…but NO APPS? At the Middle School level, our Tech Ed leader is preaching 'It's all about the apps' mantra as we get more and more iPads. For Gr 6 – 8 students, it's 'all about the apps' for their assignments and projects. What apps come with the Surface Go? For the same price, and no apps, there's no way the Go is going anywhere in our school.
When students aren't doing iPad app-specific tasks, they're doing research and collecting their results in their OneNote folders, creating Word docs, Excel projects, Sway etc…all of this using their Office 365 apps. Android tablets, and more recently - Chromebooks, cheaply fill this need. They are super inexpensive, and getting better all the time. I just picked up an ASUS Chromebook, with rubberized edges and back for durability and strength (kids drop stuff…), for $279 CDN. I installed Word and Excel, and can access all my Office 365 web apps; the kids can access their OneNote folders, and print from this device….for basically 1/3rd the price of the Surface Go.
So…the Go is the same price as our iPads, but doesn't have any apps, and it's almost triple the cost of a Chromebook. Why would our IT Ed team even consider this new device? How would/could I convince them to purchase these? What is their 'selling point'? (don't say 'pen support'…trying to keep track of these while having hundreds of 11/12 year-olds using/LOOSING these pens…ah, no).

Someone keeps deleting my posts....

Yea until this sh*t comes with rebuilt from scratch touch first File Explorer and not this tiny Win95 controls one, I'm out

I believe Ms is working on that

But if Microsoft dared to touch people's precious File Explorer there would be riots. Seriously, sometimes I feel like some software is Heritage listed the way people are so ridiculously averse to change.

Depends on whether they make the desktop experience worse or not, I would guess.

I'll take 2 thanks. Christmas for the kids, sorted :)

Pleease somebody tell me what the stand by time is. That is the most worrying thing I have in mind about Intel processors on tablets. For example, if I leave it for 2 weeks without doing anything, will it still have most of the battery?

We haven't had one for two weeks yet

EMMC? :))) wow! The same mediocre tablet mode in a crippled spec device...now the fanboys can jerk off while buying this.

Stop acting like a petulant child. Such whiners and neckbeards...

The eMMC storage in the base SKU is a major issue. They make the device perform awful for any I/O task. You don't realize how often your device hits the storage medium until you're stuck with eMMC. There's a reason why many people with those older Windows Tablets got better performance installing the entire OS on an SD Card, as opposed to the eMMC storage (which is probably the cheapest they could get their hands on, to keep profit margins as high as possible ;-) There are SD Cards/Controllers that literally outperform eMMC internal storage, and this is fairly routine in 2018. eMMC performs like a USB 2.0 Thumb Drive (probably worse, these days). this is like going from an SSD in 2018, to a 1996-era HDD in I/O performance. That's a bad way to cut costs, IMO. Should have just put worse cameras on the lower SKU (or no back camera). Calling out the cheap storage isn't whining. It's truth. Fighting fire with fire makes you look just as petulantly childish as mmgn, though ;-) Not a good look... The part about fanboys that he wrote was out of line and warrants some type of warning or suspension.

Only on base version. Pcie SSD is available

Does the included charger uses the USB-C or the Surface Connect port?

Surface connect. What I don't know is if you can transfer data over the surface connect.

Assuming the Surface Dock works with it (I can't imagine why it wouldn't) then it should be fine.

Noob question...can a non-S version of Windows be run on this tablet? Would only buy it if I can download non-Windows-Store apps.

S Mode can be upgraded to the version you seek, yes :)

When is it coming to INDIA?!!!!!!

Why not N5000??????? n4410 is very slow

Why not Core i9!? Everything is there for a reason. The chip will be a balance of performance and importantly here, price.

Must be a benchmark boy. These people drive me nuts, this computer is .00008% slower in benchmarks so its crap.

To be fair, the N5000 is a quad core processor, which would have made a difference in anything supporting multiple cores. Pairing it against the 8GB model would make certain applications much more viable on the tablet thus extending the reach of who the device could be catered for in the professional sector. It wouldn't need to be in both variants, but having the higher spec device with a slightly faster processor (which they do with every other Surface product) would make it that little bit more desirable, while still maintaining the low starting price point.

The n5000 is quad core with no hyper threading thus it processes 4 threads at a base frequency of 1.1 GHz while the 4415y is a dual core WITH hyper threading which will process 4 threads at a base frequency of 1.6 GHz. The n5000 does have turbo boost up to 2.7 GHz, but I don't think you'd be able to tell a great deal of difference between the two. https://ark.intel.com/products/128990/Intel-Pentium-Silver-N5000-Process... https://ark.intel.com/products/122697/Intel-Pentium-Processor-4415Y-2M-C...

Based on Dan and Brad Sams have said, it sounds like the build quality is what you expect from Surface. I am waiting for the LTE version. On the MS video they said it is the same modem as the SP LTE. I think this will be a good reading device for me on the go, say on a train. Reading on a smartphone just sucks, and my SB2 15" is way too big to take out on a subway. The res is bit low, but I will reserve judgment until I see the screen in person. I have a ipad mini as a gift, which I use at home to order food online. I hate using it. The interface sucks and it is so slow.

The modem is a Qualcomm XM16

So why would anyone pick this over a chromebook / chrome tablet. Just think of all the apps you'll miss out on

Because some people like to get real work done not mess about with Android apps on a laptop?!

To be fair the "real work" people would need to do wouldn't be likely on this thing either due to the low end specs.

I do real work daily on my Surface 3 and this is more powerful. I'm looking to upgrade. Love the size.

It's aimed at frontline workers and younger students. So support for full Windows is actually important. Highschools that use Java for programming classes, full Office, custom line of business apps, etc. And of course it runs Minecraft, so Minecraft for Education too. And then there's the high end inking support, which Chromebooks can't compete with, so lots of advantages with OneNote, which also has serious education features.

1: lower weight and arguably better quality and screen.
2: not Google with its ads & trackers monopoly keeping track of everything you do.
3: way more desktop programs, the intel Pentium Gold 4415Y is of course not nearly as fast the core I procs but still fast enough for many applications and indie & older games.
4: being able to access your GOG/Steam library.
5: lots of options for good browsers and extensions.
6: for companies the fact that there is a fully fledged Windows OS on this device can be really important.
7: Windows offers updates for a long time.
8: great inking/drawing support.

1. lower weight lower battery life most chrome books are over 11 hrs i'd say there is not much in it for screen quality
2. do you think Microsoft is not tracking you?
3 chrome is lightweight and really fast, does windows need faster specs?
4. yeah chrome isn't great for gaming as yet
5. personal choice im happy with chrome, edge just doesn't cut it
6. a lot of companys use android devices for fls, schools are growing in the use of chrome over windows
7.at least 7 years of updates with chrome
8.all my devices are touch screen just haven't tried using inking

Podster, It can run android apps in emulation. I run bluestacks (again), and actually have android apps pinned to my start menu now. They all work as they should.

I have bluestack but don't use it much the chromebook experience with android apps is much better

It the computing experience is much better in windows than chrome book. I know, I own them. I will take the less than stellar android experience for the superior computing experience.

so still need to buy a keyboard that is only slightly better than the the one that came with the ZX81 for $99 and no doubt that will be in pounds when it comes to the UK and a pen.
So much for the low cost, I think I will pass, not that I was ever interesting a MS surface machine anyway.,

Except the iPad is available in every country

They really want to take on the iPad with this underpowered device? Good luck Microsoft! Even the low-end iPad has 50% higher performance than this and any Snapdragon 845 has roughly double the performance.
We have 2018 Microsoft!

That performance isn't worth a damn thing. You can't do anything on that low end iPad with it's 2 gigs of ram that's gonna be computationally expensive in the first place. The ram is actually a bigger limiting factor for use.

I don't think you can directly compare ARM and x86 procs and there are hardly any benchmarks with the intel Pentium Gold 4415Y in it in general, let alone which compare it to ARM procs.

Cruncher, Only enthusiasts care about that stuff. Consumers (real consumers), and education purchasers look at 2 things. Storage and price. Thats it. It clearly is more appealing than the ipad. I own one. That being said, The ipad does have a polished app catalog which I use a lot of. I also use edge on ipad a lot too. SO really, it's a wash and even more so with bluestacks installed running android apps in emulation.

What you are saying is, that consumers like to get cheated? You might have a point about education but not about the consumer space. You get the performance of a mid-range smartphone in a tablet form factor?
And then of course, are you really expecting to get the instant-on capabilities with weeks of standby as usual with the iPad with this device? Nope - this device would have to hibernate to get any reasonable standby time.

This isn't targeting general consumers it's targeting education and front line workers. Front line workers need access to custom line of business apps and easy integration with IT infrastructure, which Apple isn't very good at. Both markets benefit a lot from the form factor and solid inking support too. So not having a response to a cheaper iPad could've created an opening for Apple. It being Windows is actually worth a premium over an iPad in those markets as well. Though the option to have 8 gigs of ram is a really big deal too.

No. I am saying the normal consumer that walks into best buy, looking for a portable device does not care that the processor is 10 percent slower than another machine. The ram and storage space are the main factors that REGULAR CONSUMERS look at. Now geeks, different story. If it does not benchmark better than something else, they get their "whatever colored panties in a bunch.

it's always the app gap, this is why chromebooks are gaining in popularity , the MS store is rubbish

Yet you forget that this has the potential to run x86 applications not just those from the Store, unlike Chromebooks.

I think this is going to kill it!!!

Looks neat. My main curiosity is the battery. Do they count battery hours just like on the Surface Pro 4 (I think that was listed as 9 hours, and in practice gave me somewhere between 1 and 5 hours). The battery life was the main reason why I switched to the Surface Book 2 -- I am very happy with the battery life of this laptop (typically 10-12 hours of "normal use"). Regarding LTE... LTE would be fantastic, as soon as unlimited subscription plans become widely available: storing files in the cloud doesn't work well with wi-fi for those who need to depend on wi-fi in the public/cafes, etc. Yes, cloud storage probably work fine if you are an Microsoft employee with perfect wireless network, but I've had enough of experiences with networks where the bitrate cannot cope with my touch typing speed... :-( … and that does not imply that I am a monster typist... :-(.

Batterylife should be decent in theory, because the resolution is not absurdly high and the proc uses less than those of the Surface Pro's. But wait for the reviews to be sure.

Lol!!! 1 to 5 hours!!! I'm crying 🤣😂
Fully charged sp4 depleted in one hour!!!

I am wondering if Surface Go will support the mobile docks for continuum on phones… That would be awesome.

Wait, does it come with Windows S as default?

No, Windows Home in S-mode, do keep up 😉

Not quite sure where Microsoft are going with this device as I thought they had ditched the non Pro version of Surface altogether with the Surface 3!!?!

Still think my Yoga Book is better and was probably cheaper than this. Will wait for Yoga Book 2.

The windows version of the Yoga Book was more expensive than this (entry wise atleast) and used an Atom. The Surface Go weight is also lower. Also I think I would prefer the keyboard of the Surface devices in contrary to the flat keyboard that is on the Yoga Book, which is probably more useful to people who want to make notes on physical paper (/ontop of the wacom(?) keyboard thingy).

Given the device size, the thick bezels ruins the "surface" look. It stands out and that is something I find not very aesthetic especially when the device language of smaller devices is about going bezel less.

It's a tablet, it's meant to be held in one hand while used with the other. It's very hard to maintain usability if you get rid of the bezel. There's a MS patent for a way to make the screen create a fake bezel when it detects that it's being held like that, so maybe in another generation or two of this that'll be the solution. It's clearly not ready or viable at this price point yet though.

The tablet also needs the bezel for the keyboard to attach to magnetically. Ppl complain about things before thinking. Brain for what? Total waste

My Surface Pro 4 has "thick bezels" for the screen size but as has been mentioned that is so you can hold it like a tablet. Also the bezels on this are about the same thickness as the ones on a Surface 3.

"Precision touchpad, backlit keyboard, and a newly designed connector" What advantage does the new connector have? I surmise that it makes the Surface 3 Keyboard incompatible with the Go? bummer!

The Go is a different size too, so even if it were compatible it'd sit weird.

What about on - screen Surface Dial support. Is it in there?

Not sure about on screen though the screen is bit small for it. On their video they used the dial with it so at least it can support it off screen.

Yep would love one and can see many uses but they're going for $599 here in Australia which is a rip. $839 for 128GB model. Spend a couple hundred more and I get a Surface Pro. Fail.

$400, really $500 (kids need a keyboard) is not budget for most parents.
$300 plus $100 for the keyboard is way more plausible and would have been aggressive enough to maybe win the market. I forsee, so so sales at best.

Still has that awful huge power connector

The power block is smaller

This could be a sleeper hit. There has not been much action in the market for 10in tablets. The basic iPad 9.7 and Android 10in tablets haven't been updated in years and therefore they haven't sold. A Samsung Tab 3S is also damn expensive for what it is; and Amazon Fire 10in is still a bit slow and limited though super cheap. We are missing something in that middle range - a few hundred bucks. I think there is a big replacement market here. My sister has an older HP laptop (i3) and an older Samsung Android tablet; she has pretty much stopped using the tablet now. But this might be the perfect device for her, she can combine both into a single device and have the familiarty of using Windows as well. She'd have to get the better of the two options. I also had an old Atom-based 10in tablet but it was just a bit too poor in performance; I think this one should be quite a bit better. I'd prefer to see that better option with the SSD be a bit cheaper though; make that less than 5, you've got a winner.

Now, we need a 10 inch $500 Surface GoPro with faster CPU and NVMe PCIe storage...

No need, that's what the Surface Pro is for and I think Microsoft would have a hard time with the "GoPro" name anyway.

Does anyone know if the Go supports pen tilt detection? I ask because this feature in the 2017 Surface Pro and Pen has caused inaccuracy problems for many users, me included. I hope the Surface Go offers new and improved pen tilt detection (i.e. without inaccuracy problems), or forgoes the tilt feature altogether.

Thought I read about tilt function somewhere. Should be supported.

They only "ditched" it because it was a couple of years old and needed a refresh....Here's the refresh. The only thing I wish MS kept was the surface 3 style dock for your desk. I loved mine.

Yet they didn't need to ditch it as this could have been released as the Surface 4 alongside the Surface Pro 4.

This is so close. If this had been an Always Connected device on ARM, this would have been a winner, for me.

Nice tablet certainly in compairison with Apple, but EXPENSIVE .....tablet 399 + keyboard 99 + upgrade for pro 99 = nearly 600 . You can buy a reasonable laptop for that price

You can buy a lot of things for $600 that is not this, including laptops, yes. This is for people who want a tablet. People who want laptops already have plenty of options.

True, but those laptops have other parts inferior to the Surface Go (such as most likely the screen, the touchpad, pen support etc, besides the completely different form factor / lower weight). And not many would upgrade this to windows pro I reckon, since the versions sold to businesses already have Windows Pro apparently.
And it is debatable whether the official keyboard is needed for everyone, since there are many compact bluetooth keyboards (some of them cheap) that can also do the trick and third party covers (even with an attached bluetooth keyboard) will undoubtedly be coming just like it did for the Surface Pro's and those can be quite cheap. However I do think the option with 8gb memory and the 128 gb storage is better for most people than the 400 entry one, since the one with the 128 gb has a ssd instead of the slower emmc storage.

No love for Latin America? That's pathetic Microsoft, what have we done to you.

It starts off with eMMC storage, which is like using a USB 2.0 Thumb Drive. I would never spend money on that, so that means that you are basically starting off with the SSD variants, which start at $549. Also, 4GB RAM doesn't cut it for a machine running Windows 10, IMHO. It's as usable as 4GB was in the MacBook Air (which Apple was forced to up to 8GB in the base SKUs). The upgraded storage does come with an upgrade in RAM, though, in typical Microsoft/Apple fashion (bundling upgrades together with very little granular choice to increase profit margins). I'd get the iPad over this, though. Better Pencil, Better Ecosystem of Apps for the Tablet Form Factor. Better Privacy, and less issues with Software/Updates, etc. I think for The low end market, this is badly priced and badly specced. The eMMC storage is dog slow which will affect performance in I/O bound apps (Image and Video Editors, for example). The upgrades are quite expensive... and I still don't understand why they don't give the keyboard with the device. Windows 10 is unusable without a KB and Mouse. Unusable. This should not be an optional component; especially at this price sensitive and quite specific niche of the market. I'm still not seeing a reason why schools would waste money on this, when they can get Chromebook for cheaper costs. Forget the iPad. Most consumers wouldn't bother with this because the iPad offers things that are impossible with this device (including integration/slotting into an Apple-centric ecosystem at home and on the go (AirPlay, AirDrop, Continuity, HandOff, SMS/MMS Relay, FaceTime & iMessage, Apps that run across iPhone and iPad or Sync Data to iCloud - and aren't available for Windows 10, etc.). For most people buying iPads, cost is not the primary reason why. They were stupendously expensive and got Apple to where they are today. It's only fairly recently that they started producing lower-cost models. The main "battleground" is in Education, which is a fairly cash strapped market and this is not going to sway much at all. I also don't see why an Enterprise would bulk up on these, when they can get more durable Laptops on the cheap from OEMs like Dell and HP. Are they giving you the Upgrade to Windows Home with this, or is that "for pay" as well? If you have to pay for that, then I don't see why anyone in the "Consumer Market" would use this, and I certainly don't see why Education would be interested given the utter lack of Education-Specific Windows UWP applications out there (and how awful Win32 Apps tend to be on small HiDPI displays).

The privacy issues are not better with Apple, at least in Windows you can turn it off completely with tools like OhShutUp10 or the registry. Same goes for the driver updates that can give conflicts for older pc's.
The better app ecosystem goes at the lost of access to the vast library of x86 apps, some Windows Store apps (enough for a good inking+notes & office experience) and of course a huge pile of awesome indie/older games on GOG and Steam.
That being said, the 2017/2018 budget Ipads are a great deal and I think the Surface Go can also be a great deal (for slightly different needs and OS differences).

I disagree with the premise of the title - this little devil is shooting straight at corporate America. As much as we like to think of this as the Surface Air for school, family, and friends, looking at the SKU's and advertising seems clear to me that it is aimed at the intrusion of iPad's into the workplace. This can do the frontline work, while still being that tablet to accessorize your big iron with. Forbes got this one right.

I love the idea of this machine, but it seems a year too late, using such a relatively old/out-dated CPU. I'd also be weary of the cooling capabilities of this thing. Many systems using Core m series CPUs (4.5 watts, typically) have throttling issues, and the 4415Y is natively a 6 watt part.

MJ Foley said she asked MS what is the education market they are targeting and they said the sweet spot is grades 3 to 6.

"aimed at schools, kids, and enterprise" Personally I don't 'care' what the marketing states for item x, or y, if I want it I'll buy it. I'm not a child, not in School and won't use it in work other than e-mail. ...Which means that it's for ANYONE that wants one.

The new Surface Go will fail. It will not make any inroads into the Education market. Here is why:
(Disclaimer: before I get started, I must admit, that as a LONG time Microsoft enthusiast, I am still deeply hurt and in mourning due to the demise of Windows phones (and Groove Music). I was the only staff member using Windows phones over the past 4 years or so, and was constantly the butt of jokes about the platform, and kept sticking up for it up until the very end. My 950 XL sits at the end of my counter, the source of fond memories, and a reminder of 'what could have been….) I teach in a Middle School. Our Technology hardware (and software) has mostly been an even balance of Microsoft/Windows, Apple/iPads, and Android tablets. Over the past 8 years, to my dismay, our Tech Ed Team has been moving us away from PC/Android and more towards Apple/iPads (which are expensive and overprices). Although all our students and staff use Office 365, the PC and Android hardware is movin' on out.
If I approach our IT Admin and pitch the new Surface Go, what convincing argument do I have? In Canada, the new cheapest model Go sells for $529 CDN. Add in the $159 type cover, and we're up to $689 CDN. This is WAY too expensive. It's what we pay for our iPads (along with the clumsy Belkin keyboards). So…for the same price, I tell them we'll get a great machine…but NO APPS? At the Middle School level, our Tech Ed leader is preaching 'It's all about the apps' mantra as we get more and more iPads. For Gr 6 – 8 students, it's 'all about the apps' for their assignments and projects. What apps come with the Surface Go? For the same price, and no apps, there's no way the Go is going anywhere in our school.
When students aren't doing iPad app-specific tasks, they're doing research and collecting their results in their OneNote folders, creating Word docs, Excel projects, Sway etc…all of this using their Office 365 apps. Android tablets, and more recently - Chromebooks, cheaply fill this need. They are super inexpensive, and getting better all the time. I just picked up an ASUS Chromebook, with rubberized edges and back for durability and strength (kids drop stuff…), for $269 CDN. I installed Word and Excel, and can access all my Office 365 web apps; the kids can access their OneNote folders, and print from this device….for basically 1/3rd the price of the Surface Go.
So…the Go is the same price as our iPads, but doesn't have any apps, and it's almost triple the cost of a Chromebook. Why would our IT Ed team even consider this new device? How would/could I convince them to purchase these? What is their 'selling point'? (don't say 'pen support'…trying to keep track of these while having hundreds of 11/12 year-olds using/loosing these pens…ah, no)

Why do you need consumer apps for education lol? (besides the draw apps that are on the window store) Probably the price they offer in bulk to schools etc is lower than what you pay as consumer, though could be wrong at that. But I agree that a rubberized convertible is better for education for young children than a not so well protected tablet, though technically schools can put thick covers around their tablets for a few bucks. One advantage of a tablet would be for outdoor lessons cause they are not so heavy compared to a convertible though. I think the Surface Go is more interesting to high schools children and some students (besides other markets like consumers and enterprise of course).

Why does the screen look so dim in every picture?

I agree the Surface Go is targeted at education. Its a tough sell at $399 without a keyboard when you can buy a Chromebook at under $300 with one. Not many in education will probably feel a tablet is as durable as a plastic case Chromebook. I agree, the Surface Go looks greats, but how many in education feel this is important? My wife a teacher just got a new notebook and it is a rather stripped down HP costing around $350. The same reason LA County schools dumped the iPads will be the same reason education won't buy into the Surface Go. They may want a Windows device, but their needs are more practical.

The fact they included some MIL spec options makes it aimed at field workers as well which is an important distinction as well.

The actual pricing is $750. That's what you pay for the package that actually makes sense in education. For that money you can get a very decent laptop and still have $200 left. The Surface Go is missing every target group. For most of them it's just too expensive, for the others it's just not powerful enough and most of all the screen is too small to do real work. The 13" of a Pro are already too small. Go might be the Surface that kills the whole division (since neither Surfacebook, nor Surface Studio, nor Surface Laptop, nor the latest Surface Pro managed to actually grow the division from where it was with SP3/4).

I have been looking to replace my older iPad, and Go checks all my boxes, so I'm going to try it. Preordered it this morning. Looking forward to following this product on Windows Central. thanks Dan & team

Great post. Thanks for sharing it here.

Anyone go see the Surface Go in person yet?

Nicely detailed review. Thanks for taking the time to review properly. If I didn't have an SB, I would jump in this. I did like my Surface 3, it was just a bit too pokey.

MS dropped they phones and pushed Android. So where is the comparison to Android tablets like the Galazy Tab S3, Google Pixel C, the Asus Zenpad? The Surface Go - it looks good! Still using my W10 phone. I want to go this route, but hoping to hear some feed back from others about the Android side of things. Thanks, Mr. V
Windows Central Newsletter
Get the best of Windows Central in in your inbox, every day!
Thank you for signing up to Windows Central. You will receive a verification email shortly.
There was a problem. Please refresh the page and try again.