Surface Go 64GB vs. 128GB: Which model should you buy?
There's a big decision to make when buying a Surface Go.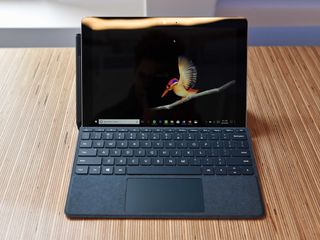 Microsoft's new Surface Go is expected to launch August 2, 2018, when it will be available in two different configurations (with more expected to be released in the future). Though both launch models have the same Intel Pentium Gold 4415Y processor (CPU), one of the main differences has to do with storage. The cheaper model has inside 64GB of embedded multimedia card (eMMC) storage, while the pricier model has a 128GB solid-state drive (SSD).
Wondering which model you should buy? Let's break things down to help you make a final decision.
See at Microsoft Store (opens in new tab)
How much storage do you actually get in a Surface Go?
Before we begin talking about storage numbers, it's best to get an idea of how much free space you'll actually have the first time you turn on your Surface Go. Models come with Windows 10 S installed, and visiting the Surface Storage page at Microsoft (opens in new tab) gives you an idea of what to expect. It hasn't yet been updated to include the Go, but by looking at other Surface devices it's evident that you can knock off between about 20GB and 30GB for the OS and pre-installed apps.
Instead of having 64GB or 128GB of useable space, you'll instead likely have about 40GB or 100GB of space. Keep this in mind as we explore further the Surface Go.
eMMC vs. SSD storage
Not only will you have less storage with the 64GB model, you'll also be dealing with eMMC storage. This type of storage is usually soldered right onto the motherboard, and will usually operate with less memory gates than an SSD. It might deliver data at the same speed, but it simply won't be able to deliver as much data at the same speed.
The 128GB SSD uses a non-volatile memory (NVMe) protocol, opening it up to a far larger volume of data transferred at once. If you're going to be working with large files, you'll no doubt want to stick with the SSD rather than eMMC storage. Think of it like a highway — with the SSD using multiple lanes both ways and eMMC only using one lane in each direction — for a better idea of what you're dealing with.
Related: eMMC vs. SSD: Know the difference before buying a laptop
How will you use your Surface Go?
How you plan on using your Surface Go will help determine which storage you should check out with. While all models are indeed quite mobile, there are a couple of things to keep in mind.
Who should buy the 64GB Surface Go?
Starting at about $400 (opens in new tab), the 64GB Surface Go is more geared toward anyone who doesn't mind relying heavily on cloud storage and who doesn't plan on getting into any intensive tasks.
Beginner's guide to Microsoft OneDrive on Windows 10
Considering it has 4GB of RAM, it will be able to tackle light productivity tasks — word processing, web browsing, video watching — but don't expect it to replace your desktop. Though it's mobile, you can always keep an external hard drive nearby for your larger files.
See at Microsoft Store (opens in new tab)
Who should buy the 128GB Surface Go?
Starting at about $549 (opens in new tab), the 128GB Surface Go likewise has its RAM bumped up to 8GB for a bit of extra power. You'll no doubt notice less slowdown with multiple browser windows open, and as long as the CPU can keep up, you should be able to get in a bit more multitasking.
Despite the extra storage space, you might still arrive at a point where you need some additional cloud storage, especially if your Surface Go becomes a daily driver. Still, the SSD will serve you better when dealing with larger files and you won't be reaching for an external drive quite as quickly.
See at Microsoft Store (opens in new tab)
How to increase the storage in your Surface Go
Thanks to a microSD card reader that supports up to 1TB of extra storage, you can quickly add some space to your Surface Go for relatively cheap. We've rounded up some of the best cards for Surface Book 2, which should translate over to the Go.
Best microSD expansion cards for Surface Book 2
For those looking at cloud storage solutions, you'll get 5GB of free OneDrive storage with your account, which can be upgraded to 50GB for about $2 a month. From there, you can look into Office 365 subscriptions that include 1TB of cloud storage space for each user.
As always, don't forget about checking out our roundup of the best external drives on the market if you'd like to add some relatively bulky (but cheap) physical storage.
Best external hard drives of 2018
Which Surface Go will you choose?
Have you already preordered a Surface Go? Which configuration did you ultimately choose? Can you get by with 64GB, or do you absolutely need 128GB? Don't forget, there's expected to be a 256GB configuration coming sometime later this year as well. In any case, be sure to let us know in the comments section what you prefer!
Windows Central Newsletter
Get the best of Windows Central in your inbox, every day!
Senior Editor, Laptop Reviews
Cale Hunt is formerly a Senior Editor at Windows Central. He focuses mainly on laptop reviews, news, and accessory coverage. He's been reviewing laptops and accessories full-time since 2016, with hundreds of reviews published for Windows Central. He is an avid PC gamer and multi-platform user, and spends most of his time either tinkering with or writing about tech.
Personally, I would need at least 256gb. However, I did use a surface3 64gb/4gb for a year. I did however have a 2 tb drive in the dock, so most of the time, I had access to that. If all the person is doing is basic work, like school work and what not, they could make due with 64.

It's not a matter of space,it's a matter of performance...4GB of RAM and emmc storage it's not enough for windows 10 anymore.
Even a tablet with an Intel m3 struggles with 4GB...so the option with the 128 SSD NVME and the 8GB it's the best solution to help it's weak CPU to co-op with everyday tasks.

Please explain how 4GB is 'not enough' and how a CPU 'struggles' with 4GB RAM.

Yup, it's ridiculous. I think people just spout whatever they've heard without doing any actual research themselves. I ran the original Surface Pro (i5/4Gb) for 4 years and it never broke a sweat (apart from viewing very high resolution video Last year it was time for an upgrade, so I bought the 2017 Surface Pro, and decided to opt for the i5/4Gb option again. Definitely haven't been disappointing :) the most 'intense' work I do is photo editing, music production and DJing. No problems...

Nonsense, I rocked a Surface 3 with 4 GB of Ram for 2 years. Used it st home and work and it worked like a champ. It's awesome that they start st 4GB, the 2GB version on the Surface 3 would be unacceptable in today's world. I think 8GB is the sweet spot.

Depends on what you mean by "everyday tasks" I use an HP Envy Note 7, which has 2GB of ram and an atom quite often with no issue on the current Windows build. When I need something beefier, I hit my Surface Pro 2 (yes, old, but 8GB and 256 storage) When I need to pull out the big guns, it's to my desktop. I use each one for "everyday tasks" but use the right one for the right task. There have been times where I used the weaker device to do something out of being impatient (stitching 24-48 raw images into a panoramic) but that was my call and NOT something I would normally and NOT a reason I would buy a weak device for.

With cloud storage, people can get by with 64GB storage. However the question is how fast is the eMMC? I.e. is the 64GB a LOT slower than the 128GB? Only when units are benchmarked will we know. Some modern eMMC tablets get pretty good performance, close to a SATA SSD (not PCIe SSD). But looking forward to seeing performance benchmarks all around when these are close to shipping and reviewers get units.

I definitely want a Surface Go as a backup, but I learned a long time ago that 128GB is the more functional minimum for storage.

Most people in the target market for this will be fine with 64 GB of storage since they will be likely using on line services. The issue is the type of storage. The SSD is much faster. Also the machine will perform much better with 8GB RAM.

I all reday ordered 128 GB with 8 Gb Ram, Microsoft Denmark says 28-08-2018 :-)

RAM is the case. 4Gb cant handle proper multitasking, so 8gb is the only way to go.

Depends on what you're multitasking.

I ordered the 8gb model, for whatever performance gain I could get. The disk size is not important as I'll use OneDrive to sync whatever files I need from my desktop system, but the performance is.

Did windowscentral forgot about the microSD slot? I think it comes down then about memory and storage speed and not so much space since it's relatively cheap to expand that.

Did you forgot to read all the article?

It wasn't there when I searched for MicroSD.... Ok I stand corrected:-). But this sentence is bit confusing that it mentions cloud storage only: "Despite the extra storage space, you might still arrive at a point where you need some additional cloud storage"

Just wondering if this will be powerful enough for the kids main priority: Minecraft?

Yes, Minecraft @ 60 fps according to the video.

Would rather have a 256GB option, but I can work with 8GB ram. 128GB storage easily. Hate it when manufacturers give you tiny amounts of storage and want you to use the cloud.

Or add 128GB microSD card. Around $25 or so. Cloud seems only useful if you don't need all data to be on the device.

Not enough storage for me. I will purchase the LTE version with more storage only.

Or add microSD card as additional storage? Win10 supports additional storage for new apps/data/docs.

In 2018 64GB emmc shouldn't even exist. 128GB SSD should be minimum for the price of $400.

Funny how that isn't the case for 400 for phones. Better than starting model for iPad and Chromebooks. And yes I recognize W10 takes more room on the drive

Since the RAM and Storage are linked in current configurations, I went with the 8/128. The extra RAM will give the lower processor some breathing room and the SSD will cut down on load times.

I'm getting the 8GB/128 storage option. I'll mainly use it for my daughter for school work and as an entertainment device. I'll be keeping W10S and make heavy use of the pen for coloring and drawing.

what i d like to know is if the motherboard of the 64gb version have the empty m.2 ssd socket or not which would allow to install one along with the emmc

If it does have the slot (which I doubt it will), don't expect to be able to get to it. Surfaces are notoriously difficult to get into, with lots of disassembly and glue breaking.