Surface Go: The netbook, perfected
This is it. This is exactly the computer I have wanted for over a decade.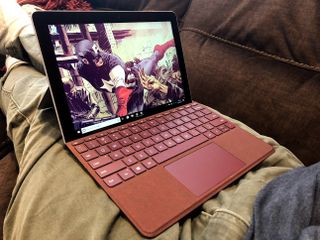 After months of research, in July of 2008 I picked up an Acer Aspire One from Best Buy. I was a server admin at the time, and wanted a computer small enough for me to always have it when something went wrong. I lives 30 minutes from the office, so if something went wrong I wanted to be able to solve it right then and there. Netbooks seemed like the perfect answer for me, not really powerful enough to be my daily driver but small enough to travel everywhere I went.
I hated every minute of owning that stupid piece of crap. Most of my apps handled the resolution of the display poorly, the battery life was terrible even with the extended battery I shelled out for, and it got hot fast even when I wasn't doing much. I tried a few more netbooks in the years that followed, moved to a MacBook Air for a bit, and tried the new ultralight Always Connected PCs that have come out recently when my iPad Pro frustrated me for the last time. Nothing really checked all of the boxes for me, so back in the box they go. Even now, as a writer full time for the last eight years, I'm still chasing the promise netbooks failed to deliver so long ago.
Recently I picked up a Surface Go, and I can finally say with some certainty that my search is over. Microsoft has delivered the exact experience I have wanted for so long, and my last couple of weeks with this computer have been a dream.
Best modern netbook
(opens in new tab)
Microsoft's latest Surface is compact, capable, and genuinely fun to use everywhere.
Microsoft has a genuine hit on its hands here.
Delivering my every want
My needs have evolved over the last decade, but not by a ton when I really think about it. I wanted something small enough to come with me no matter where I went, had enough battery to get me through a day, and was actually enjoyable to use. In recent years, things like USB-C and a comfortable keyboard have become things I look for in any computer. And on some level, I needed this computer to be fun to use. It was going to live by my side after all, so it might as well be something I actually want to reach for.
Having used every Surface Microsoft has released so far, I wasn't holding out a ton of hope for the Go. I didn't much care for the Surface Laptop, though my daughter absolutely adores it. The Surface Book is not quite powerful enough to be a full desktop replacement for me, and the Surface 4 is a little too big for me to carry around without a proper laptop bag. I was eager to see what a "cheap" Surface looked and felt like though, especially when the price point for the entry level model is so clearly geared to compete with Chromebooks and iPads. The bad news is these machines are not at all competing with Google's cheap classroom PCs. The good news is they're absolutely perfect me.
But I found myself surprised by how often I reached for the Surface Go to get things done. It is the perfect size to sit on the couch and quickly get something done. It's light and thin enough for me to want to toss into the passenger seat of my car and use wherever I am. And it's sturdy enough for me to not worry about it being occasionally bumped around when my kids use it on longer drives. The battery lasts me through several hours of work, the USB-C port means I can do everything from mount an SD card from my camera to attaching a second monitor when I'm multitasking, and with Cuphead installed through Xbox Play Anywhere I can prove that I suck at this game no matter how I am playing it.
Best of all, I'm running the base model Surface Go and getting all of these experiences. There are performance thresholds where I know the extra RAM would come in handy with the upgraded model, especially when using Lightroom or working with 12 browser tabs open because I'm deep in research, but even then all that really happens is the computer slows down a bit until those resource intensive tasks are finished. I don't have to worry about an app flat out crashing and eating the last thing I was working on like I did with my iPad, and all of the apps are actual full Desktop apps, so there's no concern for the app not having the feature I want because its limited somehow.
Being smaller does not limit this Surface in any meaningful way for me, which is the biggest thing for me. The Surface keyboard is plenty comfortable to type on, and that's coming from a keyboard snob with two mechanical boards sitting on his desk right now. The smaller size also makes it easier to use in my lap, something critics regularly pan the Surface line for being fully capable of comfortably doing. Windows 10 scales everything to the size and resolution of this display beautifully as well, I haven't had a single app misbehave whether it came from the Windows Store or elsewhere. This is it, this is what I wanted from netbooks a decade ago, and it finally feels like the right combination of hardware and software exists for my needs.
I'm not always the target market, and that's okay.
Some assembly required
I am thoroughly enjoying the Surface Go, but it's not exactly ready to deliver the experience I am currently enjoying out of the box. For starters, having to buy my keyboard separately if I want the full Surface experience is still kind of weird. I'm happy I was able to choose the backlit Signature Type Cover (opens in new tab) though, instead of the machine shipping with one of the base model keyboards out of the box, so I'm willing to admit that weird feeling is on me. By offering options, I was able to build my own experience, which I greatly appreciated. It also meant I was able to pick up an Arc Mouse in a matching color, which is a cool bonus.
The bigger starting change I had to make was upgrading to Windows 10 Home from the lesser Windows 10 in S Mode. Microsoft's reasoning for offering Windows 10 in S Mode on some of its products as a means of offering security and performance through software it exclusively curates and controls makes a lot of sense. But every time I try to use it I get about 36 hours in before I want to never use that computer again. Microsoft makes it incredibly easy to to the upgrade now, easier by far than it initially was on the Surface Laptop, but for me this is still an unnecessary hurdle. The ease with which this upgrade is made suggests it could be offered when the Surface Go boots for the first time, which would be preferable for me but probably not something we'll see anytime soon.
Hilariously, my final gripe with this laptop is one of my own creation. Now that I have the ultraportable machine of my dreams, my existing laptop carrying gear is way too big. The laptop slot in the backpack I use for day trips is actually so big I thought I'd lost my Surface Go for a few minutes, because it rotated in the slot during travel and I didn't feel it when I blindly reached in for it on the train. My shoulder sling backpack is several times heavier than the Surface Go itself, which mostly removes the convenience of having something light enough I can just grab it and go. I am usually fine just walking out of the house carrying only the Surface Go, but on the off chance I want to also carry a backup battery or my Surface Arc Mouse (opens in new tab), I wanted a smaller carrying bag. There are some great recommendations here on Windows Central already, but I found a handmade suede bag with a map of Middle Earth on the inside and outside at a local nerd convention, and the Tolkein fan in me couldn't let that pass.
If you're on the fence when it comes to a Surface Go, I'd suggest taking some time to go actually use one in a store. I wouldn't fuss with spec sheets, just go use one. I think you'll be pleasantly surprised by the overall quality of this machine. The one sitting on my lap right now is going to continue to be my main laptop for quite a while. It's the only computer I have reached for when not at my desk ever since I took it out of the box, and that's not going to change anytime soon.
See at Microsoft (opens in new tab)
Windows Central Newsletter
Get the best of Windows Central in your inbox, every day!
Russell is a tech nerd who chases the best of everything, from phones to game consoles to laptops and everything glowing or beeping. He's the Managing Editor of gaming content for Mobile Nations and can be found contributing to all of the Mobile Nations sites. Reach out on Twitter!
Thanks for your insight. I'm sure I will feel the same when I get my hands on one. I'm holding out for LTE; hoping it doesn't add too much to the price...

Hi, when you switch out of Windows S mode how did you find the computer speed? I have a Go and really love it but I left it in S mode.

We've written a LOT on this. There is ZERO difference between S-Mode and non-S-mode except in the latter you can install any apps. Just because you switch out of S-mode doesn't mean you lose battery life or it gets slower. Literally, NOTHING is added or installed to the OS - it's a switch. The ONLY way your Surface Go slows down is IF you install .exe apps that then run in the background, or on startup that take up resources e.g. Chrome, Steam, Battle.net, etc. If you don't do that then there is no difference.

I just don't get anyone wanting to install Chrome anymore. Sure, Edge was super buggy when it first came out, and unfortunately I know for most people first impressions last a lifetime, but I'm not that way. Edge is absolutely great now. I use it daily and love it. It's lighter "resource wise", thus less of a battery drain. It's clean, simple, and in every way just feels faster to me. It's everything Chrome USED to be. Anyway, rant aside, here's absolutely no way in h-e-doubletoothpicks I'd upgrade from Windows-S just to have the bloated resource hogging Chrome again.

You have to be lucky. It works very well on one of my machine, but still super buggy on other 2, which ironically are surface book and surface pro 4.

You should try a Repair, or if that fails, a Reset to the Edge app in Settings. It's very likely that your issues will be resolved. Also, Google ads slow down Edge way more than Chrome. This could be due to JavaScript incompatibilities and lack of testing by the ad networks, or it could be something nefarious on Google's part, but either way, use of a content blocker with Edge is essential for the best experience, I have found.

I hear ya on not wanting Chrome , I had it on my Surface Pro (2017) for a while and I noticed that it was eating up a good amount of battery compared to Edge and IE(11). Edge to me I a very capable browser now and it does everything I need it to do. also I have IE already pre installed on the PC in case I need a second browser anyway. So Personally I see no reason to need chrome or Firefox anymore , unless your a power user or you rely on Google services for everything.

Sure Daniel, But IF you're switching out of S mode, then you probably ARE installing .exe or .net or other stuff that will do exactly that.

Nice read. Is there any way to use The go with MS continuum dock? Would be awesome if it could be used in current setups connecting through usb c

"If you're on the fence when it comes to a Surface Go, I'd suggest taking some time to go actually use one in a store." I did. It is slow as a hell and laggy :(

Surface Go is for the average user that is going to mainly do web browsing, watching videos, and writing a document once in a while.
.
For me, I prefer using an Alienware R3 for my work as a web developer but again this device is very niche for the market. Everyone has a device that suits them and maybe @RayAdams the Surface Pro (2017) might be suited for your use while for others it would be too costly and too powerful.
.

So can't I do web browsing, watching videos and writing a document once in a while on a perfectly polished iPad with amazing content driven App Store and light crafted hardware?

You are aware not everyone enjoys or finds productive a mobile OS on a tablet, right? It is a preference. People exist in this world who prefer Windows 10. Some do prefer full Microsoft Office (iPad's is gimped due to the UI/UX limitations of a touch-only OS), some prefer a mini-laptop more than a tablet + mediocre KB without mouse/trackpad support.

You can do what you like, but I have to do real work, so that involves Visual Studio, SQL Server and proper full Office apps, all of which require a real keyboard too. The revelation about the Go is that it is a fully usable computer, in an iPad like form, I'm not sure where the slow as hell and laggy comment earlier came from, because that's not my experience, and I'm doing a lot more on mine, than you could ever achieve in a store, perhaps an Apple employee has sneaked in and installed iTunes. Like the author of this article I've been through a long list of machines promising what the Go delivers. I'm very happy with mine.

Are you saying that you're running full Visual Studio on the Go? I was curious about that. Like the author, I like a computer with me at all times "just in case". Right now I have the Surface Pro 4, but I wondered if the Go might do the trick. I would be holding out for an LTE version, but if you (or anyone) can tell me what it's like to run VS (VS Pro 2017?) and SSMS simultaneously that would help me a lot with my plans for a new device. :)

Good Point. I have the old Surface 3 with 4 GB of RAM-- I used it for 2 years extensively for work. It still is my favorite device I've owned... It was only replaced when my company got me a Surface Pro. The Surface go is a dramatic upgrade from the S3 so I can only imagine good things. Though my one complaint after using for 5 minutes at best buy is the keyboard is tight-- tighter than the Surface 3 IMO. It would take some getting used
to IMO.

jlwatersll, your are running Visual Studio 2017 and SQL Server Developer on the Surface Go? How do it perform? I am talking myself out of loading VS 2017 on the Surface Go LTE every other day.

What is your spec of your Go? Is it 4 or 8 GB ? I'm looking to get mine with 4 GB. I plan to use Visual Studio, Notepad++, and other programs.

I did too and found it to be perfectly fine for what I planned to do with it. The display models tend to be the lower end, 4G slow storage models and even that was fine. I bought the higher end. Store WiFi can really affect the impression, as most people will go right to the web to check things out. There aren't typically big docs to spell check, spreadsheets to sort/re-calc, directories of pics to compile into a movie, etc

Not my experience at all. As I am contemplating a replacement for my IPad I went and tried one out at my local Best Buy and was pleasantly surprised. I loved the feel of it and it was very quick and responsive. Sorry to hear that you had a different experience.

I think you have unreasonably high expectation on such a device where portability, instead of high performance, is of greatest concern. Yes, Surface Go is slower than those i5/i7 devices but the difference is not too noticeable. I am certainly willing to sacrifice a little bit performance in exchange of a highly portable device with gorgeous build quality. I expect such a portable device to have about 80% efficiency as a more powerful laptop/desktop. Surely Surface Go has already fulfilled my expectation. Your description "slow as a hell" is somewhat exaggerated and misleading. Surface Go would run very slowly only when you have opened unreasonably many resource demanding apps, which the device is not supposed to handle.

Netbooks actually had one thing the Surface Go doesn't have: price. Netbooks could almost be bought with pocket change. This Surface Go when adding the keyboard is close to the price of 3 netbooks. I had an Aspire One which came with Windows XP that I upgraded to Windows 7 and I loved it at the time. I had paid back then 300$ CAD. Surface Go in Canada is at least 700$ CAD for base model plus keyboard which makes it about 850$ CAD which is almost 3 times the netbook price. Surface Go is more powerful of course, but that's just the way technology goes.

I'd also throw in build quality. Acer vs Surface is no competition there so you get what you pay for. Also, 99% sRGB touch display with 4,096 pressure levels, dual-front facing speakers, Windows Hello IR, eMMC or SSD storage, magnesium chassis, Precision touchpad, and very good rear and front-facing cameras - no Netbook even came close to that spec sheet.

That's what I meant with "that's just the way technology goes". Today's device are more powerful but price justification isn't there as most electronics are cheaper than 10 years ago. I would consider the Surface Go price fair if the keyboard at least was included and very good if the pen was also included, but just the tablet without keyboard is overpriced, doesn't matter build quality, you're paying for the name.

I wanna push back a bit on "overpriced". Is there a comparable PC that has all of those features for less than $399 (or $500/530 with KB)? I don't mean just some cheap laptop with an i5 or something, I mean these specific features - touch, pen support, Precision, sRGB display, stereo speakers, Windows Hello IR, weighs 1.15lbs, Intel HD 615, etc? I'm not aware of one, but I also don't spend a lot of time looking at sub-$500 PCs. The ones I have used from HP, Chuwi, etc. can have more powerful processors (thouh usually Celeron) and they don't have half these features.

That's a good point about those specific features. They are often overlooked and undervalued.

It's the thing that drives me nuts in reviews that say "just grab a $500 laptop with a Core i5" - those dudes never even touched one of those let alone review 'em. Those devices get the job done for some, but they are not the same as Surface Go. It's all these little features on Go that make it what it is. You just can't dismiss the awesome pen support, brilliant display, speakers, or even those cameras can call it even.

No, you can't, but MS should have made it $500 (or rather $499) WITH the keyboard and pen. It's a small difference, but it makes a lot in peoples minds to know that they won't need to plunk out more money than the regular sticker price to get the Laptop/Tablet/ Touch/Pen experience that MS is touting.

That what Surface Laptop or NBs from OEMs are for right? I prefer Pro, Go to sell Pen and Type Cover separately, you don't need to "re-buy" those when you upgrade, and you can get hose free from campaigns.

It's not quite a Surface, but for less than $400 the ASUS Transformer Mini T103HA, which includes a keyboard and pen, gives it some competition for value. I still love my T102 too much to upgrade at this point. Like the Surface Go in this article, it doesn't look like much on paper, but it works very well. (Hint: don't touch Windows products with only 2GB of RAM--Run!)

Yeah, that one is kinda close. The difference there is the Atom vs. Pentium, which is going to be substantial.

I bought one of the first Transformer 2-in-1s, the T100, running Windows 8.1 with 2 gbs RAM and 64 gbs storage (I think it is eMMC). What was especially appealing to me is that it was one of the last computers to come with MS Office already installed, as Microsoft was in the transition of moving to SAAS and Windows 365. For a long time, it was my secondary / portable / on the go computer and for what I needed it to do, it was perfect.

I have started with the same prejudice, but after spending a week with Lenovo IdeaPad 110s, I have to say that it performed way better than I thought thought possible with 2GB of RAM. I have used it for remote access (OpenVPN or TeamViewer) with Spotify playing on the background and using Signal Messenger to talk to other people. Obviously, everybody's use case is different.

This is as close as it gets, the Celeron sucks, but the keyboard and pen are nice.
https://www.windowscentral.com/e?link=https2F2Fc%...

How on earth can you list eMMC as an advantage? Seriously?? :)))

Tablets and smartphones use eMMC. It's not some new thing - it's extremely common in sub-$600 PCs. I feel like some of you are just now realizing that eMMC exists. It's also nearly 2x the read speeds and 4.5x the write speeds of Surface 3's eMMC - that's a substantial improvement.

Surface go in canada is 530 cad if u compare it to usd its even cheaper then u buy it from the USA

This is a premium device with all kinds of premium features like metal and glass build, touch screen, Active Pixel, stylus enabled, IR cam, HD display, etc. With all of the features, not sure what you are comparing it to.

Yeah, so it isn't the price of 3, it's the price of 3 **** netbooks that equal not even one Surface Go, so....really it's cheap.

The original retail price in the US for the Aspire 0ne, was $329 in 2008 with Linux, which allowing for inflation is equivalent to $394, the longer life batter added $50 to that, or $60 in today's money. I think it got quickly reduced, because it simply wasn't up to the job, whereas I can't see the Go getting reduced by much.

The base model (4GB RAM / 64GB eMMC) is 529CAD actually, it is 8GB / 128 SSD model which cost 700.
If you have children starting from kindergarten up to post-secondary, you can get a student discount (approx. 4-5%) through a MS Store or their website.

Great review. Absolutely correct. This is what netbooks should have been. Useful, not your desktop replacement, but a companion that not crippled in any real way. It would be nice if the Surface included the keyboard or the pen, like in the old days, but that doesn't stop this from being my daily companion device.
For the record, I have the 128GB model and the Burgundy Surface keyboard cover bought at the same time on day one (August 3rd at Best Buy). I ordered and found the closest to a Burgundy bag I could find on Amazon (VICUNA POLO Shoulder Bag - dark brown version).
I ordered the Burgundy Surface Pen from ebay, then got the Burgundy Arc Mouse from Rakuten.
Overall, outside of a crashing store app or two (edjing..), its been a great experience.
I even installed Visual Studio 2017 Community edition with no issues and built a console app which ran with no issues.

"It would be nice if the Surface included the keyboard or the pen."
No it wouldn't. Everyone who says that assumes it would happen at no cost. It wouldn't. Even if MS built in some bundling you are still adding $230+ retail worth of gear. Say it added $170-$200 to the cost, then you'd get all the flak from those that don't want the pen, or don't want the black keyboard, or don't want the keyboard at all, 'because I can buy a BT one for $20 on eBay". That happened when they did bundle both with the original Surface. The author even notes, "I'm happy I was able to choose the backlit Signature Type Cover though, instead of the machine shipping with one of the base model keyboards out of the box." regardless of feeling weird about having to do so.

All great points. The whole color mixing/matching thing would be gone if it was all bundled. They're not going to make 36 SKUs just to make the right combo for you. At the end of the day, you always pay. Even for that Home license for Windows.

You don't need 20+ SKUs to create a bundle. Just go to the MS store, or MS store online, or even best buy and put al three parts of your choice in the shopping cart and make the whole thing $499

Unlikely I'll ever buy the keyboard and questionable if I'd invest in the pen. I'm for a la carte thanks. A customer damaged the keyboard for my VivoTab RT (horrible connector design) and I never really missed it. And with SwiftKey coming to Windows 10 😍

When the Go is connected to an external display what res does it output?

Great review! Still on the fence though. ugh!

Same here. I want to give SD1000 WoA machine a chance. The Instant On and long battery life are attractive features for me. Will there be a Surface Go ARM coming?

While I see no reason why it wouldn't, has anybody tried the HP Lap Dock from the Elite X3 with the Surface Go? While the Xiaomi Mi Pad 2 I have doesn't work; my HP Spectre x360 lets me use it as an additional portable display keyboard and mouse. I frequently need two monitors but I like to work in multiple places and could see this doing the job better for my needs. Really interested in the LTE models when they are released.

"I don't have to worry about an app flat out crashing and eating the last thing I was working on like I did with my iPad, and all of the apps are actual full Desktop apps, so there's no concern for the app not having the feature I want because its limited somehow." Do I take it then that you don't use Store apps? I use them a lot. I find some of them as reliable as Win32 apps, but there are others that follow the sickening pattern of phone and tablet apps, ie die too often, never leaving an error message. People have been conditioned to find this tolerable on a phone for some reason, but won't stomach it on a laptop where they do lengthy serious text input etc.

It's actually surprising how few the selection there are for 10-inches laptop or convertible. Personally, I don't want to carry 12-inches around, so I have been looking on this market. While we have many excellent choices in 12-inches market, 10-inches were very limited and most of them is Atom. The only Core M in this category is Samsung Galaxy Book 10, which seems to miss a refresh this year and only came with 4GB of RAM option (I'll be all over it for 8GB/128GB option). Other than that, some Atom like YogaBook is actually not bad. I ended up with YogaBook, while some time could get pretty slow, it got great build quality and display, possibly the most premium Atom at the moment. I missed a decent keyboard though... Which then comes the Surface Go. A device that exactly perfect for my needs. They also finally put an 8GB option that actually is still quite affordable, I hope this can be the norm going forward. :) Great display, pen input, 8GB RAM, 128GB SSD and USB-C. Of course if it comes with Core M, I'll be willing to pay the premium, but this is good enough. Anyway, I'm a web developer which can be comfortably working out of a 2015 12" Macbook. Even I could squeeze plenty of work out of YogaBook, so Surface Go should be adequate for me. Mine is still on the way though. I hope the Surface Go can become a success and resurrect this dying market once again. The lack of 10-inches is again, surprising. Even with Windows on ARM thing, it's weird they didn't squeeze that power efficient chip on smaller body.

Thanks for the article Russell. It's nice to read. Very personal experience which I like to read from consumer perspective.

The smaller form factor (compared to the Surface 3) took a little getting used to, but, I'm enjoying my new Go. Based on my experience with an Insignia NS-P08W7100 tablet, I'm a little leery about the life of the Go's battery. I could eek out 7 or 8 hours starting with a full charge on the Insignia. After a little more than a year, the battery...Intel branded...was effectively dead. 😟 Hoping the Go's battery fares better. ☺ Side comment. The review mentions a "Surface 4". Can a picture of the device be posted? I've never seen one. I have seen the Surface Pro 4. 😉

Great review and fair point of view, unlike one terrible, 'review' I saw lately.

Man I can't wait until 5 or 6 years from now when used ones pop up on ebay I'll be able to afford

I would gladly move myself to a surface go with LTE and forward my ipad LTE to my wife, if the go had access to texture magazine app. I use my ipad for that ALOT. But everything else I do with my ipad can easily be done on the go.

Is reading on Windows tablets not a thing at all? I do not remember it coming up in any discussion WRT Surface Go on this site and, for 10" 3x2 device this would be something I, personally, would look for.

This echo's my feelings about my Go...I love it!

There no such thing as a Perfect Netbook.....

I want to sing the praises about my surface go anytime I can. Me taking it almost everywhere I go kinda says it all

I love my netbook eeePC901 XP. It does everything I want. Maybe it's a bit slow, but I'm used to it.
Now, Surface Go is on the track with the unknown (for me) Windows 10 Home, and it's only 1.5 cm. wider and deeper than I'm used to, so it's great.
I'm excited.

I like my model specs, 128/8gb with type cover, pen and mouse. Only I find that the unit becomes unusually hot (concerning warm) and my battery lasts no more than 5 hours. With backup, Cortana, location services, background apps mostly turned off, is this normal?