Surface Go: Specs, price, and features
Microsoft unveiled the Surface Go this week, making it the most affordable Surface yet, but what are the compromises?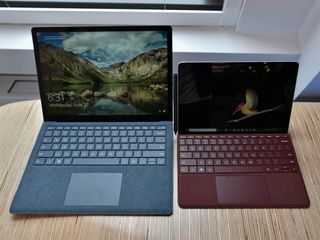 Microsoft revealed the Surface Go this week, targeting the rise of Chromebooks and cheap iPads for consumers and education services. The Surface Go starts at just $399, making it the cheapest Surface available today, and it will launch in 35 countries by the end of 2018. But what exactly is powering this thing?
See at Microsoft Store (opens in new tab)
Surface Go overview
The Surface Go is a small 10-inch tablet which comes with Windows 10 in S mode, locking it to the safety of approved Microsoft Store apps. Users can upgrade to Home to free, or Pro for business customers, granting it full access to the Windows app ecosystem.
The Surface Go uses a fanless Pentium Gold CPU, which is more than twice as powerful as the Surface 3 (non-Pro) of yesteryear. This isn't built to be a graphics editing, gaming powerhouse. Instead, it's intended for casual note-taking, Microsoft Office, web browsing, research, and media consumption. Despite that, you most likely could run some less intensive, older games from Steam on this device, and enjoy some casual graphics and drawing apps, such as Sketchable in the Microsoft Store.
The Go starts at $399, without a keyboard or pen, both of which are available starting at $99.
Surface Go specs
Swipe to scroll horizontally
Category
Surface Go
OS
Window 10 Home in S-mode
Display
10-inch 3: 2 aspect
1800 x 1200 with touch
216 ppi
Processor
Intel Pentium Gold 4415Y (1.6GHz)
Fanless
Graphics
Intel HD 615
RAM
4GB or 8GB
1866MHz LPDDR3
Storage
64GB eMMC
128GB or 256GB SSD
Security
TPM 2.0
Ports
1x USB-C 3.1 (aux. charge, video out, data), microSD (up to 1TB), Surface Connect, headphone jack
Surface Pen
4,096 levels of pressure, tilt suppport
Camera
5MP front-facing with Windows Hello
8MP rear auto-focus
Connectivity
Wi-Fi 802.11 a/b/g/n/ac
Bluetooth 4.1
Optional LTE (late 2018)
Audio
Dual front-facing speakers
Dolby Audio Premium
Battery
Up to 9 hours
Dimensions
9.6" x 6.9" x .33" (245mm x 175mm x 8.3mm)
Weight
1.15 lbs (0.52 kg) without keyboard
1.7lbs (0.77 kg) w/keyboard
Colors
Magnesium
Power
24 W power supply
Price
Starts at $399
Keyboard $99 or $129 (Alcantara)
More information
For more information on the Surface Go, such as pre-order availability, our hands on impressions, and more, hit the links below. Let us know in the comments if you intend to buy!
See at Microsoft Store (opens in new tab)
Windows Central Newsletter
Get the best of Windows Central in in your inbox, every day!
Jez Corden a Managing Editor at Windows Central, focusing primarily on all things Xbox and gaming. Jez is known for breaking exclusive news and analysis as relates to the Microsoft ecosystem while being powered by caffeine. Follow on Twitter @JezCorden and listen to his Xbox Two podcast, all about, you guessed it, Xbox!
I don't know much about computer specs these days. Does anyone know how this would compare to the Surface Pro 4 Core m3 performance wise? Thank you!

I seem to recall Mr. Rubino saying the Go's performance is akin to the Core i3? Should beat the m3, then.

Pentium Gold 4415Y similar to Core i3 performance = core M7 U-series or core M Y-series CPUs. At least that is what I remember from all the confusing nomenclatures that Intel uses.

Wrong, the Pentium Gold 4415Y is by todays standards a very slow SoC because it is limited to 2 core @ 1.6GHz. CoreM Y-series clock at 3GHz+ and the U-series is even faster due to 15W TDP. Not the slightest chance that this is coming even close to Core M3 - not to mention i3.
I am surprised that Microsoft even dares to release this *** in 2018.

I have a Pro 4 core m3 and it starts at 900mhz all the way to a 2.39mhz and it's a 2 core 4 thread processor. This one is at 1.6mhz dual core, multi thread and reaches 2.3mhz. So yeah a little more closer to the i3 core version. But you could still be right because twice the power for a 3 year old X7 processor is really nothing but the hd graphics 610 will be pulling the punches mostly.

The 4415Y has no turbo at all, it stays at 1.6 GHz maximum.

Yes, probably size means less power, less power means slower CPU for the same lifespan. Easy as that.

MSPowerUser wrote that it also have NFC built-in ? Can you confirm ?

That would make the surface go even more awesome.

This Microsoft video says it does. https://www.youtube.com/watch?v=hBxylZI4zl4

Yeah, this is a huge addition for any kind of retail use and needs to be advertised more.

Can the S-mode be turned off for Home?

I find it very similar to the Acer Switch 3 that I've been using for a year.

Why do you list a 256GB version when there is no such option on the Surface Go pre-order page?

Yeah, I've seen that on a few sites, they are showing a 256GB option in the spec sheet but then no discussion outside of that. Maybe it's an error? Or potentially (hopefully) an unannounced as yet model.

Hopefully it will be announced later... 😶

Now, we need a 10 inch $500 Surface GoPro with faster CPU and NVMe PCIe storage...

The 128GB version is NVME, the 64GB one is eMMC.

"The 128GB version is NVME"
That's what she said in the video but website only says SSD!

NVME is considered SSD.
eMMC is what you want to avoid.

SATA is also considered SSD for your info....a lot slower interface!

Erm no, Sata is the interface that mechanical hdds and 2.5" ssds connect with - via the sata bus. Nvme drives are also ssds but uses m.2 via pci express.

Erm no, m.2 can be PCIE but not NVME. Here's an article that might clear things up for you: http://tomshardware.com/answers/id-2776112/clarification-terminology-ssd...

Thanks Dan! After watching your video I'm slowly but surely making a solid case for Surface Go should my friends and family ask me for advice: 1) Alcantera keyboard - with back lit keys
2) Windows Hello
3) Windows S "mode" - so super easy to switch to full
4) Surface Go is more kid friendly because of MS Family parental controls - which are best in class, and super easy to remotely manage
5) 3:2 aspect ratio - which I had overlooked at first - but that's a BIG plus on a small device
6) $499 - Let's face it, most people won't need the pen
7) Free Office apps! - Best in class productivity. Thanks again. I think I can in good faith recommend this. You won me over. BTW trying to not let my Andromeda grief cloud my vision. But they still NEED that 6th and final device to complete the line-up IMO. And apparently in the opinion of the 13.5K and counting who signed the change.org petition for it too, including I assume Paul Thurrott!

Isn't it closer to $550 or so for all of those items? Until a true ecosystem can be built with developer support, I never see the Andromeda device coming. I think MS keeps expecting more developers to jump on board as they release more devices but it doesn't seem to be happening. I know there is always "enterprise" but that didn't work for the 950. I don't see Andromeda ever being released but I guess it always gives us something to look forward to. I just don't see them gaining any ground with the release of such device. It'll be "here we go again" no matter what they name it.

If I got my math right it's: $399 - Surface Go with 4GB/64GB
+$99 - Surface Keyboard
-----
$498 - The price for most people
+$99 - Surface Pen
-----
$597 - The price for some As for developers. I think the main problem, at least for me, is Microsoft's perceived lack of commitment to its own ecosystem. A Surface branded pocketable form factor would go a long way to allay that perception. Evangelizing the shorts off of PWA would also. But again PWA really shines on a pocketable phone-like form factor... doesn't really do much for laptop-like devices. That's why I believe the Surface line-up will always have a missing tooth without Andromeda.

Oh, okay. I was under the impression the Alcantera keyboard was closer to $150. I am thinking about replacing my Surface RT with a Surface Go and I am surprised at the similarities in dimensions. They are nearly identical - for better or worse. This also seems like it would be snappier than my Surface Pro 4 Core m3. I think they hit a good price point with this. I hear what you are saying regarding Microsoft's commitment to the Surface lineup and hopefully it does attract the right kind of developers. Or, more importantly, MS releases their best available offerings on all of their lines of products.

Looks like the Alcantera typecover is $129. So $528 total. Pretty sure most everyone will want Alcantera. I know my kid would.

Personally I might even skip the keyboard. It's small enough to be properly used as a tablet, windows has excellent and ever advancing scripting support, and the stylus can act as mouse over for non-touch friendly apps. If one was to simply use it as a tablet, at least, rather than as a laptop, the keyboard could be pretty optional. - especially as the hinge is built in, meaning that one can use any keyboard or mouse, and one can do consumption without a stand.

I would recommend an iPad over the Surface Go, but that's just me. Microsoft doesn't have best in class "productivity" anymore. Have you tried using the Google sheets/docs apps? It does everything and more the average home user could possibly ask for. Couple that with the fact that both iOS and Android/Chome OS have a better tablet ecosystem, there's little reason to own a Surface as a tablet alone. I use my Surface as a laptop that occasionally sees tablet use. Not the other way around. Without a typecover, the device would be useless to me.

Chrome I could make a case for. It's getting Linux support. But still running android apps is a poor experience on chrome with a mouse and keyboard. There's no trackpad on an ipad, and neither android or ios multi-task well. Google docs is very basic, and no real world company uses it. iPads are good for tablet only use. Best touch ecosystem for the form factor, but they don't have the power of things like desktop browsers or media players, that on that size of device, casual users still benefit from. Honestly whilst chrome tablets, and ios tablets are great, I don't think anyone can fairly claim they are "better at everything", or indeed that any form of tablet is better at anything. Windows is excellent in certain areas - such as pen use, multi-tasking, the productivity ecosystem, power software, and for casual users desktop versions of basic use software like browsers, media consumption, streaming and so on, gaming (non-touch primarily, although it's still probably better than android for quality in touch). iOS and chrome on tablets are also good for particular applications - touch gaming on an ipad is unrivalled, and the general size of it's touch based, tablet scaled ecosystem. Chrome has linux support for some desktop power incoming, as well as proper desktop UI, and both chrome and android support, making it pretty good as an inbetweener. One OS however I would not pick is android - it's ecosystem is not tuned for tablets, but rather smartphones. The level of quality of software is also lower, mostly freemium, which is even more annoying on a bigger screen. It's also the fastest shrinking segment of tablets, and wildly unsuccessful in the hybrid space. Which is why google is shifting to chrome on tablets. And also why it's aiming to co-occupy the same hardware space as windows on arm., and bringing Linux support. I know my tablets pretty well, and while I'd happily endorse buying either a windows tablet with a proper stylus OR type cover (you kind of need this for the few areas that aren't touch friendly - you don't actually NEED these areas to say watch Netflix or browse, but the power to play desktop tier games, creativity software or obscure business apps or whatever, is part of the point of going windows), or an ipad - I wouldn't actually recommend buying an android tablet, and I am 99.5 percent sure google intends to phase them out. I'd put it like this - have very basic needs or love touch games? Get an ipad. Want something with a little power, like a fully browser and a linux app or two? Get a chrome hybrid (there's only one right now, but there will be loads next year). Want a little more power, and the ability to go full PC software or games? Go windows. If you scale it, and only use UWPs, it's plenty touch freindly, you only run into occasional roundblocks when you do desktop type stuff. When that happens, you have the stylus or trackpad. Basically on a scale of 1) duh what's an mp3, to 10) can I run a linux shell, whether you should pick ipad, chrome tablet, or windows tablet is somewhere between 1-4. It's not really a prosumer or power user thing to get use out of windows as a tablet, but it's not something everyone will appreciate either. It's also a bit generational. Boomers tend to be more familiar with windows, gen x's with either windows or mobile oses (depending on if they are techy or not), and millenials and z's usually both (they are the most digital native). Whatever they know already will be easier for them to adopt. Indeed the whole reason ios and android had any success in the first place was due to similarity to the desktop GUI. In that I'd add to my criteria for suggestions - what do you feel most comfortable using...
Another point I'd note is that the regular surface is too big to get much use out of as a tablet. This is literally the first surface line tablet I'd consider hand friendly. 8.9 inches is the biggest you can easily use in one hand, and around 10 the biggest in two hands. People never use typical hybrids as a tablet, because they are too damned unwieldy as tablets. Try using an ipad mini, or a 9.7 inch windows tablet, and then come back. You're experience with a surface will at least partly be that it's simply sized wrong for primarily tablet use.
Add to that actually using apps from the windows store (which few users do), scaling the screen for touch, and the experience changes quite a bit. When you get into full desktop software that runs touch, like adobe illustrator, fruity loops, or desktop games like witcher 3, or the level of inbuilt scripting support, or multi-tasking on say, an affice database, you start to see that there are areas, touch only where windows tablets stand head and shoulders above the pack. And of course, the regular joe may not care to play trine 3 using touch controls, and be happy with fruit ninja, or have any desire to illustrate or write music on the go - but to suggest there is no place, even amongst the average consumer for a windows tablet, IMO is wrongminded. I've met some very everyday folk with a deep attachment to browser extensions, or collections of personal media for example, and other things which are much easier to deal with in windows.

No always connected ARM based CPU? No fantastic ARM battery life? What gives? Is Microsoft losing interest in Windows on ARM? This would seem the ideal candidate for WoA and the new Always Connected mantra, but instead we have a high power draw device with 4G only coming later (prolly just for the US) so in need of wifi constantly. I'm pretty surprised at MS, unless the mad axe-man is at it again of course...

There are no ARM alternatives in the same price range, especially with the features you are asking for. Always connected, meaning you want LTE from an ARM processor. Pretty sure if you were challenged to point out a device (cell or tablet) that offers that while being $500.... you couldn't. Making your whole comment pointless.

In the Android world these things are available, but that's beside the point. I know these are not available for Windows, that was the whole point of the new WoA platform. Which is why such ideally suited devices from MS themselves might have been expected to take advantage of it. What I don't understand is how the MS folks thought going the old route was a bang up idea with a small tablet? So it's ARM for laptops and x86/64 for tablets now? Seems back to front to me.

10 inches isn't "small" for a tablet. The ipad is smaller. It's small for a hybrid, it's large for a tablet. And that, seems to be part of the point to me - here's a device you'd actually use primarily as a tablet, not just as a flexible laptop. Which also makes it more portable. That, and it's both premium and affordable. I've never had the slightest bit of interest in the surface range because at that size, you may as well have a laptop or 360. It's basically just a slightly more portable laptop with an worse keyboard and touch. This on the other hand, you could actually use it, primarily as a tablet, it's affordable, it's built in hinge is great for consumption and it's packed with pen user features and a great pen accessory. I probably wouldn't even bother with the keyboard 95 percent of the time. You'd be hard pressed to find a single surface pro user who even slightly resembled a typical tablet user in the way they use their device.

I think for me I'm willing to pay a little bit more for the Envy x2 on ARM with LTE and all day (and then some) battery life, at least when the 850 version comes out. That said, I think I'd recommend this device to friends and family that aren't naturally as enthusiastic about MS products as I am, especially ones on a more limited budget. And, as a father, I'll probably get this for my kid. The MS Family parental management is far and above better than anything on iOS because of being able to manage things remotely via your MS account and family controls basically don't exist on Android anymore, outside easily worked around 3rd party apps, after Google having killed it last fall. Also the 3:2 aspect ratio will make viewing the web and writing papers easier.

Indeed, missed opportunity as this would be just perfect. On the other hand i could imagine a Snapdragon device would be a bit more expensive than $399.

I can't see why. ARM CPUs are not exactly a massive price compared to x86/64 CPUs from my understanding? Yes, the laptops with ARM will be pricy as they will have a limited market, but small tablets are what this stuff suits best and so should attract a bigger market. Certainly Android ARM tablets come in very cheaply so the CPU doesn't seem to be a big price issue.

Qualcomm charges a license that depends on retail price. The more premium the device, the higher their fee. In addition, the 835 is still new. In 3 years, yes you'll be able to make a cheap windows on arm device. Right now, no, it has to cost what a flagship phone does at a minimum.

Snapdragon is only starting on windows on arm. Give it a year or two, when the chipsets are both faster, and some cheaper.

Are you sure about the 256gb version? It's not listed on the Pre order page.

higher end sku typically are not available to order on day 1. I'm waiting for LTE version.

The 256GB should come with Windows 10 Pro
128GB should come with Windows 10 Home
64GB should come with Windows 10 S with no option to upgrade to Windows 10 Home (why? because the hard drive is eMMC, meaning it will be slow for upgrading OS and slow for virus scanning. ) Hopefully Microsoft realizes nobody is purchasing the low end model and decides to cancel the relase of this device with slow storage speeds.
Why is the 64GB not coming with SSD Microsoft? This will probably cause a bad end user experience.

eMMC is actually fine for the lower end model as the average cannot tell the difference. Us techies can but we're a small bunch in the grand scheme of things.

How does the 4415y compare to the i5 4300u found in the Surface Pro 3?

It's equivalent to i3 performance apparently.

Sort of surprised the Surface Go didn't go with a Quad core Celeron 3160, Yeah the Pentium sounds better maybe a tic better on power. Personally, would rather have more cores then hyper threading. Definitely agree this is targeted at educational markets, small screen, relatively cheap and makes sense given that Microsoft is obsessed over losing so much educational market in US to Chromebooks. I don't even see this as a iPad killer as much as a Chromebook one.

ipad is more popular in education globally than chrome. So they occupy an overlapping space.

I will have to wait for the LTE model. I want GPS. I can download maps, then hopefully navigate anywhere in the world while not connected to a network. Hopefully, the GPS on the XM16 modem will work without having to be connected to a network.

I pre- ordered one yesterday, despite having an SP4. Will be testing it in a production environment to see how well it performs.

So who is this for if convertibles with similar specs and a keyboard included go for $299?

Exactly SashaDr; very good question. In Canada, this GO device and keyboard total $700. This is way too expensive to compete with Chromebooks and iPads. It's the same price as iPads, and it offers no app ecosystem, so why buy it for educational use. It's almost 3 times more expensive than Chromebooks. I just picked up a ASUS Chromebook for $279 CDN, one with extra rubber edges and back for school use durability. I can install WORD and EXCEL, and access all of my Office 365 web apps. Not sure who is going to by this Surface Go for the education market...

The educational app ecosystem in windows is actually one of it's strongest areas. It's not lacking there. There's only one chromebook hybrid, it's expensive, and ipads are terrible at being laptops. Chrome OS isn't touch or pen optimised, and ios not mouse optimised. iOS is also bad at multi-tasking. Neither can run specialised software used in industry or universities (like science software for example), and neither of them support any real creativity software for art, sound or music. For example - adobe illustrator runs in touch only mode in windows. People actually use office in the workplace, not google docs (and not the mobile apps, the full desktop affair). For education, the ipad and the chrome book have been kind of terrible decisions ( although this will change somewhat - a tiny bit for chrome OS with Linux emulation incoming - but all the same, no one uses GIMP in industry either) - school boards being wowed by market technology trends are preparing their kids for a future that is speculative and probably will never happen - people need to learn the actual software that professionals, engineers and academics actually use, not consumer devices designed for amatuers and people on shoestring budgets. Universities are still using commandline applications written for dos. The same is true of industry - many core applications are still using terminals. These types of software are expensive to write, and there is no way they will simply disappear. Final cut pro is unchallenged in media (mac). This makes your chrome book, and your ipad, pretty much a toy in the real world- anything useful you learn from it, will only because it resembles the actual thing people are using. Mobile OSes are a supplement to core business and science. There is no obvious economic reason either would ever engage in the expense of abandoning desktop OSes, let alone any powerful feature that would make them want to. For pure flexibility, there is no comparison. Europe has done the correct thing and raised their kids on windows. ipads do have some limited place in industry, and chromeOS to a lesser degree, but it's use scope is quite small compared to windows. You should certainly know how to use android, and probably chrome (as it looks likely to replace android). But they occupy a far greater place in secondary education than their use outside of that justifies. The moment you get to your uni, or your job, you'll have to start unlearning all your habits, which is a waste of everyones time. For me the question, is are there any windows hybrids of similar size and quality - ie with good pens and good construction? Could be yes, could be no, I haven't looked into it. Perhaps it's partially to promote more uptake in global education rather than intended as an end solution - ie the point is leadership, not sales. IDK for markets, I think this is a tick many boxes choice. There's not a lot of actually tablet sized tablets for windows, and certainly very few with great pens. They all tend to be too big to actually depend on as tablets. That serves a lot more than education. On the education side, there's few tablets of high enough quality, yet low enough price that risk averse school boards would jump on it. Between counting their pennies and praying for rain, they can make some pretty odd choices, aiming for an impossible bridge of very high quality and cheapness. That sort of weirdness is what leads to being confused whether to invest in high end macs for media studies, and easy to administer chromebooks for notetaking. And perhaps in part, this product is designed to ring that weird malshapen bell. Certainly this seems like a good choice for schools - affordable enough for students and schools, long service contracts for risk aversion, higher quality for a low rate of return and good student experience, and the flexibility to run educational software no other OS can approach. For particular classes at minimum, it's got a use case. For the average student, a cheapo thin laptop would probably do the trick. I got one for my mum for about 200 USD that's decent quality (4gb ram, metal casing, great backlit keyboard - chuwi lapbook air), windows laptops these days are cheap as chips, and the kaby lakes etc do fine for most purposes. Chuwi and Xiaomi are two Chinese brands that leave western ones in the dirt for price on tablets and laptops, and still come out great quality. Unless one is worried about ongoing support like an organisation is, there's no real point in going for a chromebook for price IMO. Just spend your 120-250 on a windows laptop from one of those two instead and get more software power. I personally wouldn't buy from a brand like ASUS, unless I wanted something high end, like a gaming laptop. They overcharge for cheaper models.

Shame, uses a ****** and wimpy dual core Intel Processor. It would just be better to use a high end snapdragon phone; it will do everything and much more than the Surface Go with much better performance, just not real estate (screen size). a $600 oneplus 6=Highend snapdragon DSP, octocore cpu @2.8ghz (for 4 big cores), high end GPU, a much better display, albeiet smaller, very decent cameras, much faster storage (UFS 2.1, SSD), much faster ram (LDDR3 is half as efficient and half as fast as LPDDR4X (over 2x faster and uses less than half energy), and highly customizable software that'll alllow it do much more than the Go, on top of MUCH BETTER BATTERY W/DASH CHARGING. The surface go's price deserves to be $100 with it's low end yester generation for RAM, low end storage, and laughable performance. And don't forget, the snapdragon has actual LTE support, HIGH end Wireless Modem supporting gigabit speeds (wifi AD)
Windows Central Newsletter
Thank you for signing up to Windows Central. You will receive a verification email shortly.
There was a problem. Please refresh the page and try again.