Surface Go as a tablet review: Is it any good without a keyboard?
Is the Surface Go as good a tablet as it is a laptop? Let's review the Surface Go without a Type Cover.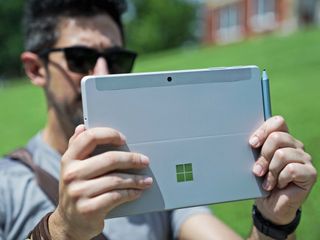 The Surface Go is pretty good, but most reviews have focused on having both the tablet and a type cover for the best experience. The Surface Go is a tablet, however, meaning you can buy one without the Type Cover, but should you? In this short review, I've been using the Surface Go without a Type Cover for a few weeks. Here are my thoughts.
Starts at $399Bottom line: Great hardware let down by a mediocre software experience for tablets.
For
Modern design.
Premium device.
Good size.
Against
Windows 10 is not very good on tablets.
Windows Hello can be slow.
What you'll love about the Surface Go as a tablet
Let's start with what's great about the Surface Go when being used as a tablet. Firstly, the hardware is exceptional. For $399, you're getting a very well built tablet, featuring a magnesium chassis with a high-quality 10-inch IPS display on the front. If you've ever used Surface before, you'll know that Surface devices are the best of the best when it comes to premium design, and the same goes for the Surface Go even at its low starting price point.
Swipe to scroll horizontally
| Category | Spec |
| --- | --- |
| Dimensions | 9.65" x 6.9" x 0.33" (245 mm x 175 mm x 8.3 mm) |
| Display Size | 10" PixelSense™ Display 3:2 Aspect Ratio |
| Resolution | 1800 x 1200 (217 PPI) resolution |
| Processor | Intel® Pentium® Gold Processor 4415Y |
| Graphics | Intel® HD Graphics 615 |
| RAM | 4GB or 8GB RAM |
| Storage | 64GB eMMC or 128GB SSD |
| Weight | 522 g |
The built-in kickstand sits flush with the chassis when closed, meaning you won't notice it when holding the device in your hand. The kickstand itself can be adjusted to any angle, unlike the Surface Go's predecessor, which was limited to just three positions. This means you can set the Surface Go at any angle, for watching movies or typing on the on-screen keyboard.
You've also got the addition of Windows Hello, which allows you to login to the Surface Go with your face. It's great to see facial recognition on even the cheapest available option, as Windows Hello has become a feature only present in high-end, expensive devices.
I'm also a huge fan of the inclusion of USB-C port on the Surface Go. This means I can use any USB-C charger (that's powerful enough) to charge my Surface Go, instead of relying entirely on the Surface Connect charger that comes in the box. Yes, the Surface Connect port is also still present, which I also really appreciate. I much prefer the magnetic port on the Surface Connect over the USB-C port.
Finally, the Intel Pentium GOLD processor inside the Surface Go, while not the most powerful chip in the world, is still a competent performer for tablet experiences. It's excellent for running Microsoft Store apps, browsing the Web, checking email, and watching Netflix. Everything you'd want to do on a tablet for casual use, the Surface Go can pretty much do it with no real issues.
I also think it's worth getting the Surface Pen if you're planning to use the Surface Go as a tablet. The pen experience is fantastic, especially in apps like OneNote. Overall, the Surface Go is a great tablet when it comes to the hardware. For $399, you're getting a very high-quality Windows tablet. But, there's more to a tablet experience than just the hardware; how is the software?
What you'll hate about the Surface Go as a tablet
It's no secret that I'm not a huge fan of the tablet experience on Windows 10. Microsoft has a dedicated "tablet mode" built into Windows 10 which users can enable, and makes Windows behave like a tablet OS. Apps run in full screen (more or less,) the Start menu goes full screen, live tiles get bigger which make them better for touch, but that's pretty much it.
The tablet mode experience is the bare minimum Microsoft could be doing for a tablet experience on Windows 10. It changes the behavior of a couple of things, but other than that it's still Windows 10. Apps like Edge don't have any dedicated tablet UI, meaning the chrome is always present at the top of the screen. On any other tablet platform, browsers usually hide the address bar and buttons when you're scrolling down a webpage to give you more content on the screen.
And then there's the animations and gestures; the OS is bare of any. One of the reasons why the iPad is so successful is because the OS experience is a pleasure to use. Animations lead you in and out of apps and experiences, but on Windows 10, there's very little of that actually happening. There are also not many first-party apps on Windows 10, which means if you want to watch videos on YouTube or browse Reddit, you'll have to use a Web browser or download a third-party client.
I will admit, Windows 10 has some of the best third-party apps for YouTube and Reddit on any platform. myTube and Readit are fantastic apps which I'd argue are even better than the official apps on other platforms. Of course, you may not want to use third-party apps, but I definitely recommend you give them a try first.
I've also noticed that Windows Hello on the Surface Go is somewhat slower than Windows Hello on other devices. Perhaps that's because of the processor inside, or the sensor itself, but it's definitely slower to wake-up and recognize you. I also
Should you buy the Surface Go without a Type Cover?
I'm really on the fence about whether or not the Surface Go is a good tablet. The hardware is exceptional, but it's let down by a mediocre tablet OS experience that isn't a pleasure to use. Even if it had the apps, the OS itself just isn't as fluid or well designed for touch-first experiences, and there's no sign of Microsoft improving this any time soon.
I think you should try out tablet mode first. If you're okay with it, then get a Surface Go. I use the Surface Go as a tablet around the house, and I've forced myself to be okay with the OS experience. I love the third-party apps for things like Reddit, and there are also plenty of first-party apps too for services like Twitter, Facebook, and Instagram.
I think the Surface Go is a better device if you've got the Type Cover with it, but not everyone wants to use their tablet as a laptop. So, it's important to make sure you're happy with the experience without the Type Cover.
Get the Windows Central Newsletter
All the latest news, reviews, and guides for Windows and Xbox diehards.