How Microsoft's Surface Go could buck the declining tablet trend
Tablet sales have been declining for years, but Microsoft's Surface Go may bring the right mix of portability, productivity, and leisure to meet current market needs.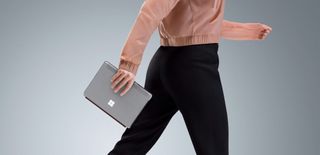 Microsoft's 1999 foray into tablets with partner devices built to Microsoft Tablet PC specifications, and early efforts that followed, had little success. But when Apple introduced iOS-powered iPads in 2010, the iPhone-like tablets were a hit. Apple's category-defining slate tablets were swiftly joined by an army of Android tablets, some of which were also successes.
Microsoft's tablet-friendly OS, Windows 8, and its Surface Pro 2-in-1, didn't arrive until 2012. And two years after iPads and Android tablets conquered the market, affordable Windows slate tablets began joining the fray. Sadly, Windows 8's highly-criticized desktop and mobile duality drove Microsoft to sacrifice its mobile-friendly aspects to return to a familiar desktop-centric OS with Windows 10, which has a tablet mode that is far from optimal.
After their meteoric rise, slate tablets have been in perpetual decline. So why would Microsoft position Surface Go in a failing market category? The answer? It's not.
See Surface Go at Microsoft (opens in new tab)
Slate tablets vs. 2-in-1s
IDC provides data on market performance and gives predictions for device categories. As such, it assesses "slate-shaped tablets" and "detachables" as distinct tablet categories that are performing differently in the market. It is slate tablets, like iPads, that have been declining since 2014 and that IDC predicts will continue this trend.
IDC attributes this decline to users spending more time on their other slate-shaped devices, smartphones that are approaching mini-tablet dimensions. Modern six-inch-plus smartphones dwarf the 5.3-inch Samsung Galaxy Note and 4.7-inch HTC Titan that made headlines for their "gargantuan" proportions in 2011.
Apple's 13.9-percent drop in iPad shipments capped 13 consecutive quarters of declining shipments as smartphones have gotten bigger and more powerful, according to IDC. Ironically, China-based Huawei's tablets grew 31-percent, which IDC attributes to the company's tablets' ability to plug into a "keyboard and mimic laptop-like functionality." This is consistent with IDC's findings that detachable tablets, or 2-in-1s, grew while slate tablets and traditional PCs fell.
This phenomenon may indicate consumer desire for devices that provide both laptop productivity and tablet portability and leisure options. Microsoft's positioning of Surface Go may reflect a realization of that reality.
Go Surface Go
Microsoft's Surface Go brings the productivity attributes, premiere build quality and context-conforming ideology of Surface Pro to a smaller more portable form factor. Microsoft is calling it the most mobile Surface yet. And though it's virtually a smaller Surface Pro, which Microsoft calls its most versatile laptop, this less powerful Surface's positioning, TypeCover and all, is more dubious.
Microsoft categorically calls it a "Surface" with the "performance of a laptop and portability of a tablet" without locking it into either category. This is likely deliberate so that individual usage will define the device, rather than Microsoft imposing a category and risk marginalizing potential users, particularly since it claims Surface Go is for everyone.
Microsoft's pushing of usage scenarios such as watching Netflix, listening to music, and web surfing (without keyboard) hammer home that Microsoft is targeting slate-tablet and leisure smartphone usage with Surface Go. Still, this device is also positioned as a productivity beast.
Surface portability, leisure and productivity
Image 1 of 5
Microsoft recognizes leisure activities enjoyed on devices like iPads and large-screen smartphones are important to users. It also knows PC productivity is key to users getting things done. Furthermore, Surface Go, particularly the LTE version, is being pushed as a device that is always by a user's side and fits comfortably into a small bag. Fielding smartphone notifications through iOS and Android Windows 10 integration is an important part of this strategy.
The combination of leisure, extreme portability and productivity is arguably not something declining slate tablets like iPads do very well, though they excel as leisure devices. That's why many people who carry tablets also carry a laptop.
Though there are no guarantees, Surface Go's lightweight, thin design, productivity attributes, and iOS and Android integration may help Surface Go achieve that, "always by your side," position in users' daily lives, thus defying the declining tablet trend.
See Surface Go at Microsoft (opens in new tab)
Jason L Ward is a columnist at Windows Central. He provides unique big picture analysis of the complex world of Microsoft. Jason takes the small clues and gives you an insightful big picture perspective through storytelling that you won't find *anywhere* else. Seriously, this dude thinks outside the box. Follow him on Twitter at @JLTechWord. He's doing the "write" thing!
Just left the Microsoft
Store, played with a surface go
For abou