Microsoft's Surface Pro is a laptop no matter what anyone says
Microsoft claims that Surface Pro is a laptop. I agree. Windows Central Senior Editor Zac Bowden does not.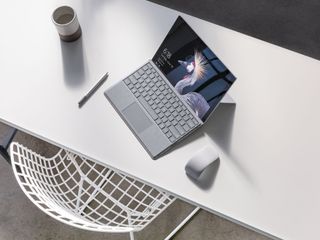 Five years ago Microsoft launched Surface Pro as "the tablet that can replace your laptop." That tagline and product positioning were relevant and strategically necessary for Microsoft during that time.
In 2013 slate tablets were still very popular and were even predicted as eventual laptop replacements. With Surface Microsoft was playing catchup with iPads and Android tablets.
Additionally, that catchy tagline was Microsoft's way of emphasizing Surface's desktop productivity strength (laptop) while avoiding its app-related weaknesses as a tablet. It is this foundation that sets the context for the Surface "being" a laptop, albeit a uniquely designed, packaged and marketed one. Let's take a closer look.
Zac Bowden: No matter what Microsoft says Surface Pro is not a laptop - it's a tablet
See Surface Pro at Microsoft (opens in new tab)
Marketing Surface on Microsoft's strengths
Positioning Surface Pro was a unique challenge for Microsoft. It needed slate-shaped hardware to compete in the then vibrant tablet space. Unfortunately, though the word "tablet" accurately characterizes the device's hardware shape, a hardware-software synergy defined consumer's "tablet" experience and the business models of market leaders. Simply put, consumers were accustomed to tablet experiences inextricably tied to mobile OSes and vibrant app ecosystems.
Consequently, it would have been strategically foolish for Microsoft to wholly rest the Surface's messaging on its tablet experience. Microsoft didn't have a successful mobile OS or robust touch-centric app ecosystem, but it had Windows, the world's most popular and productive desktop OS.
Thus, "Surface as the tablet (slate hardware) that can replace your laptop (Windows PC)", was a juggling act of positioning needed slate-shaped hardware in the tablet space, while downplaying OS and app weaknesses as a tablet, by emphasizing its Windows PC strength as a laptop. Surface creator Panos Panay's comparisons of Surface Pro to Macbook, buttressed by a statement that he wouldn't compare it to a tablet because there was no tablet in its class, emphasizes Surface's laptop focus.
Surface is a modular laptop Zac, not a tablet
Image 1 of 3
My colleague Zac Bowden expressed strong feelings about Microsoft's new, "Surface Pro is the most versatile laptop", tagline. His arguments rest primarily on the devices "tablet" form factor when no keyboard's attached, its packaging without a keyboard and the Surface family's lack of diversity if Surface Pro, like Surface Book and Surface Laptop, is also a laptop.
Bowden's strongest argument is that since the device isn't packaged with the Type Cover then it's a tablet. The laptop experience (like the tablet experience), however, is the result of both a hardware and software synergy. The Surface with or without a keyboard is running software optimized for a laptop experience (opposite its rivals). Microsoft knows this, and that's, in part, why it pushed the "tablet that can replace your laptop" tagline. Combined with Microsoft's marketing and consumer's familiarity with Windows as a desktop OS most would see Surface Pro as a uniquely designed PC. Thus, the keyboard, even if not included would be perceived as a necessary component of this modular PC that would be used mostly as a laptop.
Windows Central writers are known for our analysis on how evolving technology often leads to the redefining of traditional form factors. The Surface Pro's modular design may therefore be a redefining of the laptop category not bound by the traditional parameters Bowden enforces.
How Microsoft changed Surface Pro conversation from tablet to laptop focus
Separate packaging, maximum profits
For better or worse Microsoft took advantage of an opportunity to profit on the Surface's modular design by selling the keyboard separately. Business is business.
Surface Pro as a modular laptop introduced a new distribution, packaging and business model that traditional laptops didn't have. In fact, Bowden concedes that if the keyboard came packaged with the main device, he would let the new slogan slide.
Since Microsoft is currently offering bundles to that effect, perhaps Bowden would now agree Surface Pro is a laptop.
How Surface changed Microsoft forever
All in the Surface family
Image credit Microsoft (opens in new tab)
Bowden argues that three laptops – the Surface Pro, Surface Laptop and Surface Book – and a desktop, the Studio, confuses what the Surface family has to offer. He argued Microsoft can reach a wider audience if it marketed the:
Surface Pro: as a tablet that can be a laptop.
Surface Laptop: as a pure laptop.
Surface Book: as a 2-in-1 that's a pretty good laptop.
Ironically, Bowden's proposed marketing plan focuses on these devices as laptops just like Microsoft's does. It's difficult getting away from the software side of the Surface Pro, Windows, that drives it toward a predominantly laptop usage pattern regardless of the form factor.
Anecdotally, I use my Surface Pro very much like I've used my laptops in the past. I prop it on a desk, table, or on my lap when sitting on the couch, in the car or in bed, just as I did my laptops. The device is quite "lapable." Furthermore, I purchased it as a tool for writing and running my business using Office and other productivity software, just as I would a laptop.
And though I am also using my Surface for art and consumption, most Surface buyers are likely like me – we wanted a Windows PC for Windows PC stuff. The tablet aspects are certainly wanted (otherwise we could've opted for a traditional laptop) but are secondary characteristics of this "most versatile laptop."
Why Microsoft Store wouldn't sell this enthusiast a Surface Pro bundle
More accurate marketing
Microsoft calling Surface Pro the most versatile laptop, given its shortcomings as a tablet and strengths as a laptop, is likely a more accurate tagline than the "tablet that can replace your laptop." That tagline put it's less capable tablet positioning at the forefront. The new slogan reverses that by placing the more formidable laptop qualities and common usage first and foremost.
This unique laptop with a detached keyboard tablet mode and "drafting table-like" Studio mode is indeed a versatile laptop.
So who do you agree with, yours truly Jason L Ward or Zac Bowden? Let us know in comments.
See Surface Pro at Microsoft (opens in new tab)