Surface Laptop vs. Google PixelBook
By Russell Holly last updated
Google has clearly started to figure out design, but how's that "cloud OS" thing working out?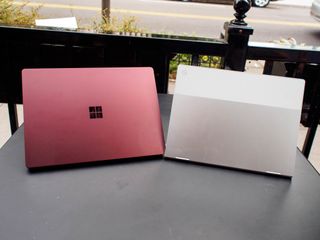 With its $999 entry price, optional stylus, and virtual assistant software included in every level of the operating system, forgive me for hearing a couple of people talking about Google's latest laptop and mistaking it for a conversation about Microsoft's Surface Laptop. This ultra-light, super stylish laptop from Google is aimed at people who are alright with spending a little more for some flash to go with all of the power under the hood, but how does Google's experience actually stack up against the best little laptop Microsoft has ever made?
Glad you asked, because we took a look at them side by side to find out.
Check out the full PixelBook Review over on Android Central!
Speeds and Feeds
There's a lot more to a computer than the silicone within, but here's how these machines stack up on paper.
Category
Surface Laptop
Google PixelBook
Display
13.5-inch Pixel Sense display
10 point multi-touch
12.3-inch NTSC color LCD
Display resolution
2256 x 1504 (201ppi)
Aspect Ratio: 3:2
2400x1600 (235 ppi)
Aspect Ratio: 3:2
Software
Windows 10 S (Upgradable to Pro)
Chrome OS
Processor
Seventh-gen Intel Core i5-7200U or i7-76660U
Seventh-gen Intel Core i5 processor (Kaby Lake)
Storage
128GB, 256GB, 512GB Solid State Drive (SSD)
128GB, 256GB Solid State Drive (SSD)
Memory
4GB, 8GB or 16GB LPDDR3 RAM
8GB, 16GB
Graphics
i5: Intel HD graphics 620
i7: Intel Iris Plus Graphics 640
Intel HD 630
Rear camera
None
None
Front camera
720p
Windows Hello facial authentication
720p @ 60FPS
Ports
One full-size USB 3.0, Mini DisplayPort, headset jack, and Surface Connect
Two USB-C ports, headset jack
Sensors
Ambient light sensor
Ambient Light Sensor
Keyboard
Full-sized, backlit, soft-touch
1.5mm travel
Full-sized, backlit, soft-touch
0.8 millimeter travel
Battery life
14.5 hours of use (rated by Microsoft)
10 hours of use (rated by Google)
Pen
Surface Pen (not included)
PixelBook Pen (not included)
Weight
2.76 lbs
2.4 lbs
Dimensions
12.13 inches (308.02 mm) x 8.78 inches (223.2mm) x 0.57 inches (14.47 mm)
11.4 inches (290.4 mm) x 8.7 inches (220.8 mm) x 0.4 inches (10.3 mm)
As you can see, these two machines actually have quite a bit in common. The biggest differences, aside from the color obviously (everything should be this shade of red) come in the available ports and the keyboard. Google has made the shift to all USB-C ports, while the Surface Laptop continues to offer full USB-A ports and a a mini Display Port. Which is better comes down to personal preference and what accessories you already own for the most part, but the same can not be said of the keyboard.
While both keyboards are rocking soft-touch plastic on the keys and Google's wrist rests have a nice cushiony rubber instead of that lovely Alcantara, key travel is noticeably better on the Surface Laptop. The PixelBook isn't as bad as a new MacBook by any means, but those of us who enjoy key travel will be much more comfortable on the Surface Laptop.
The other interesting thing to note here is the PixelBook hinge, which is a lot more in concept like the Surface Book in how you'd actually use it. Nothing detaches here, of course, but the fully flexible laptop Google has made allows you to enjoy tablet mode and tent mode, something you can't do on a Surface Laptop. The trade-off here? Google's speakers are abysmal in every position but tablet mode, unlike the surprisingly good speakers on the Surface Laptop.
Chrome OS is still a thing, apparently
Google's self-contained Chrome OS is still a very different experience from Windows 10, which means if you're a big fan of what is happening in the Windows world right now you will likely not enjoy Chrome OS. If you live in a browser or in apps on your phone, there's a lot to like about using an OS built specifically to highlight those things.
If you enjoy a PC for gaming or you lean on GPU-intensive tasks like Photoshop and Lightroom, things are less enjoyable for the time being. Google and Adobe have promised some new things to make that better in the future, but for now the experience is primarily limited to what you can basically do on your phone. In a weird way, Google's laptop is probably the best Android tablet you can buy right now.
Is this thing for you?
That may not be for everyone, but it's important to remember where Google has found major inroads with Chrome OS. Schools buy the cheaper Chrome OS laptops by the hundreds, such that Windows is usually only experiences by the teacher in a lot of these rooms.
It's not unreasonable to think Google made this high-end Chromebook to approach those teachers who hadn't been quite ready to fully ditch Windows yet. It's not clear what is being done in the software to help realize this dream right now, which is an opportunity or Microsoft, but there's no denying Google's done some impressive things with the hardware here.
Russell is a tech nerd who chases the best of everything, from phones to game consoles to laptops and everything glowing or beeping. He's the Managing Editor of gaming content for Mobile Nations and can be found contributing to all of the Mobile Nations sites. Reach out on Twitter!
Surface Book... End of story.
Surface is where it's at.

I still do not understand the purpose of these 'cloud-based' OSes and machines that cost just as much as the regular 'local' OS. Surface laptop/book/Pro all the way, or a Linux box, or heck I'll even take a MacBook over the Pixel book any day. Why run your apps on the cloud when you can have a reliable local copy and STILL have cloud access if you absolutely need it???

Let's be honest, most people spend their time today in the Chrome browser, Gmail, or apps from the Google Play store. This is a great option for 90+% of the people and definitely consumers.
.
Plus, Google has stuck to Chromebooks, and didn't just quit and abandoned customers when they see "taillights". Google sees taillights as challenge.

I don't know about 'most people'. I certainly spend much more of my time in my actual design apps (I design microchips), working with code in matlab/C++ etc., or running all sorts of simulations in various industrial grade tools. I guess maybe 'most' people only use facebook and youtube now lol, but I'm pretty sure the 'real world' that makes all these toys possible use heavyweight tools, including the designers of the Chromebook itself (they certainly didn't design it with an app from the playstore!). It amazes me when people generalize because of the apparent 'popularity' in mobile. Industrial grade OSes, (Windows, Linux) are not going anywhere anytime soon, except you want to design the next Boeing jet on your phone or something, and these are the tools that keep the modern world running.

It's not just professional, it's also people who are thinking about a future career, which is why it's so important to put windows in the hands of kids and not chrome os.

True enough.
Are you teaching your kid to do music production, design, fashion, panting, programming on iOS or Android?
Consoles games, mobile apps, etc are all build using Windows. I'm a main game programmer in a 4xxx employees studio. We use Windows and MS Office, various MS business solutions and other Windows applications. You can do writing, web surfing, YouTube watching, banking on any device...

"True enough.
Are you teaching your kid to do music production, design, fashion, panting, programming on iOS or Android?
Consoles games, mobile apps, etc are all build using Windows. I'm a main game programmer in a 4xxx employees studio. We use Windows and MS Office, various MS business solutions and other Windows applications. You can do writing, web surfing, YouTube watching, banking on any device..." There are bands who only play on iPads and kids who have recorded albums using their iPhone so its not unreasonable. You use what you use because someone made that decision for you. The bias is natural on a Windows site. However you can use all of the apps you described in VDI or increasingly more in the browser.

Trust me, whoever is using an iPhone or an iPad for anything other than wasting time has also had the decision made for them. That doesn't make them better for anything. It's just marketing.

There are cars to get you from A-B and then there are Luxury, Premium and Specialty. They all get you from A-B. Its just your experience in getting there. Technically you could use a PixelBook and do all of your work in a VDI session. Hospital workers and Oil Rig workers do this all of the time. Most people aren't engineers, coders and vloggers that need high end video editing. Its why $500 crappy Windows laptops are so popular. The PixelBook is a reference device just like the Surface Laptop (a much more accurate comparison vs. a SurfaceBook). The average consumer can pay bills, use social media, stream content and do light photo/video editing with this device. The average sales rep who only needs access to Salesforce.com, PDF reader, and some light Word/Excel/Powerpoint would be fine and its stylish to pull out in front of a client.

Sure, you can do some light work on those mobile OSes... Can you show me the alternatives to Havok lib, VisualStudio, Adobe, 3dsMax, Unreal, Unity, Office with full functionality, Ableton, Cubase, Reason, browser extensions, svn, git, file system on Android or iOS?
Can I go pointing-device-free with most of'em including OS (cxcept graphical applications)?

Hirox K, You don't need alternatives, you can just use a Virtual Desktop (Citrix and Horizon are supported on ChromeOS) or RDP to a workstation. You also have a lot of generalizations here without describing the use cases. For example, you say Office with full functionality. Is that Word, Excel, or Powerpoint? What features are you looking for? Browser extensions work for Chrome, there is a File System on ChromeOS, and again what Adobe products? Not perfect for everyone but has a lot of use cases: Development on Chromebooks has been doable for years including git: https://www.techrepublic.com/article/so-you-want-to-develop-on-a-chromeb... https://blog.lessonslearned.org/building-a-more-secure-development-chrom... You can even install Crouton and work in Developer mode.

Yes! That is why all reviewers bashed on Windows 10 S and advised everyone to upgrade to Windows 10 Pro. Same goes (not) to Chrome OS apparently. People are so hypocrite I swear!

I don't recommend my parents or little kids (not tech savvy) to go Pro, *.exe has its risks, they also don't need those for productivity (for kits -> yet) or those dodgy background-services. Most of their needs can be fulfilled with uwp (sandboxed, don't write rubbish into your reg, clean install / uninstall).

Wrong @b_hawk. Chorme has all android apps to draw from where as 10S has crappy 3rd party apps or non existant apps to draw from. So, YES. windows 10 home/pro over 10S in EVERY circumstance. Where as chrome has LOTS of software whether it be chrome apps (which many can be used off line now), or android apps. All about choice. But logical choices!

Exactly my point. The huge, ruthless cultural bias against Microsoft is getting really obvious and annoying.
Of course that it has a reason: competitors benefit from it and fuel it. Microsoft is the rival to beat, it's the giant that will end up killing them.

Microsoft has similarly stuck with surface devices, which is what's being compared. What's your point?

it isn't 2013 anymore. Chrome os saves local copies

I mean a local copy of the app itself, not your document or file

https://chrome.google.com/webstore/category/collection/offline_enabled

exactly @sweatshopking. Most Chome apps are Offline available now too!

Oooooo fanpanzy truth downvotes.....forgot how awesome they are to get....crybaby!

Chrome Os can boot Ubuntu desktop, with Crouton, unfortunately Ubuntu doesn't support Office so you need to Switch between 1 os and other which is not productive. Chrome OS is good only for professionals that can do their job with Office Mobile

Chrome OS aims for consumers. Google made it with phones. Ditched MS from this space thanks to MS stupidity and ignorance towards consumers. Now the same will happen in PC space. Kids will experience chrome books early at school. They need easy stuff to do so it will suffice. Some light weight games are there. Proper gaming will move to PS. Professionals will move to Mac books. All that because of MS ignored consumers in the long shot. I will give chrome book a shot. I am a tester so I need to be familiar with each platform / device. I still love my SB. And will keep using MS products. But this company does everything to fail miserably on the long run...

I'm a main programmer in a 4xxx employees game studio. Most of my friends... think Apple should stop making Macs... I for one, cannot use Mac.
1) kb-user-unfriendly == inefficient
2) no menu key
3) inconsistent UI/UX if you know where to look

Unfortunately, most of your friends and you do not represent the majority of the people. I work at the Cybersecurity department, we enjoy pretty much Macs, Linux and any Unix derived OS because the most effective security tools are developed for those OSs. Systems made with MS languages can be counted with only two hands, the other ones are made with Java. True is that people have to use what they need, not what most of your friends think that it has to be used. What works for you, does not work for me. My main OS is Ubuntu, my secondary one is Windows Server 2012/2016 because it doesn't have UWP and is more lightweight than any Windows 10 available.

Different area different tools. I get that, you don't use the tools / software we use.
* We use things like Havok lib, VisualStudio, Adobe, 3dsMax, Unreal, Unity, Office with full functionality, Ableton, Cubase, Reason, svn / git. But no menu key, kb-user-unfriendly == inefficient is a fact.
Weird UI/UX (especially if you try to do it kb-only way) is still there.
Resize-window-from-any-corner on Mac was implemented in 2017... don't know who made the decision but that's... not right. Try this on your Mac.
Type "aple" then hit space, aple is underlined.
How do you fix it?
a) Move you cursor from the other side of the screen to the word > right click > move to the top of the context menu > left click
b) press left > press menu key > press enter When I first join the company, we have to setup our PC, log into different services, tools, etc. Instructions were written in Office Word. I was much much faster than all others. People are moving cursor here and there, trying to copy & paste... when I'm done... most are only half way through.
In workplace, people surprised. I also teach people how to utilize their keyboard. It's faster this way. bonus: how do you move / resize your window with shortcuts? maximize? restore? move to right? move to top left?

AGREED 10000000000000% @hirox K. MacOS is TERRIBLE!

4. Finder is the _worst_ file manager since file managers were invented.

Yeah not sure why anyone would spend the money unless their rich. A nice piece of hardware and a browser disguised as an OS

Just looking at the $999 model I think its a solid value for home use. Looks good, will do most of what people do at home (Bills, Social, Streaming). Not perfect, but what is?

waits for the Bleached spin....

LOL In a weird way everything everyone else - anyone else - is doing is better than what Microsoft does in his view...but he claims he is still a fan.

I am a fan of Windows 10. I keep all my devices on the newest version and look forward to useful updates. I can't wait for tablet Explorer. I am quite critical of their mobile strategy and most of their services though. They just seem to do the exact opposite of what they need to do and make rediculous decisions. They are so far behind now, I don't see them catching up without a total overhaul and makeover of everything.

What spin? I don't need either in my personal life. I would and did get a Surface Pro for work. I wouldn't get the laptop though. It is kinda big and clunky. XPS 13 would be my go to if I wanted an actual laptop.

I would definitely go SL for this price.

At least with it, you have the option to access Pro...

given that Windows as a platform and ecosystem is in serious decline while android/chromeos is growing at a staggering pace, forgive me if I'm skeptical. my kids will now go through the entire public school system, at every school in the province without using Windows or office at all. Sure, today and for the next three years Windows will be ok, but the writing is on the wall. Microsoft has blown their staggering lead repeatedly with consumers and education and now has little to offer that anyone will buy. Windows S is doa. No school wants it. If no school wants it then no business will want it in 10 years, which means it's done. Microsoft execs themselves stated on twitter they mostly use chrome as a browser. The company has disastrous leadership and direction. GG ms, surface will be running android or shut down in a few years.

it all depends on what software your kids need on a desktop Os, most Android apps are designed for phones so the experience on the desktop for these apps will be buggy and will have, glitches. the only 2 good things on ChromeOS are Office Mobile and Chrome browser

Sure, they are designed for phones today. Give it a few years. We already know android and chrome are just starting to merge.

It's a 5 year OS that is really just a year into the Android compatibility. Look how long UWP development has been going with no significant progress as a standard. I think Google made a good strategic move to leverage the Android dev community for App delivery versus trying to force ChromeOS and NaCL down peoples throats. If Offce 365 gets better on ChromeOS, watch out.

My kids schools have all moved to Chromebooks as well. I love them for the kids as they are maintenance free. They are learning to code, do presentations, papers all on web based apps. Device management is just so much versus the bogged down legacy Windows world. MS needs to simplify to win back schools.

I think chromeOS is actually not that bad but doesn't fit for an expensive device.

If Microsoft was Google, Chrome OS does not exist today. Nadella would say "I dont think the need for a 3rd Desktop OS platform" :P

"Schools buy the cheaper Chrome OS laptops by the hundreds" IN. THE. US. It's extremely important to always remember this. And American reviewers have this annoying tendency to think their little country represents the entire world. Yes, Chromebooks might be a menace to Windows laptops in the USA, but that's it. They're a complete joke everywhere else. As long as Microsoft doesn't mess up outside the USA, Chromebooks - just like Macbooks - won't go anywhere and will remain a niche option (and even the Macbooks have a lot more relevance than Chromebooks despite their extremely reduced marketshare outside 'murica). That said, I'm not even sure we chould compare the iPixelbook with the Surface Laptop. It's build in a way that probably matches the Surface Book more seeing as - acording to Jerry over at AC - it's built with being a tablet in mind, something the Surface Laptop most definitely isn't.

They're a joke in the US as well. Schools purchase these and students don't use them and parents only buy these for their kids because they thought they were getting a cheap Windows machine.

This simply isn't true. Google has long term exclusivity agreements in Canada with entire provinces where microsoft software isn't used at all, outside of the actual administration. UK is also starting to look at them. Schools are tempted by "free" and google is considered hip and innovative, while microsoft isn't by the general public. The school boards make the calls, and they need to appear like they're taking tech seriously. saying "we're switching from old microsoft to fancy new google stuff!!" sounds like a good idea to a lot of the parents, regardless of whether it is true or not.

Looking at them and actually buying them are two different things, the world runs on Windows and Linux and schools in the UK know this but some of them will still switch and then replace them after a year because they don't run Windows applications.

No they won't. They'll be paid to keep them by google and the parents who want something new and flashy will make noise to keep new less useful stuff around. In 5 years you'll be shaking your head wondering why it is as i said it would be.

I have to disagree, when schools find out that Chrome OS renders almost all their existing peripherals and software useless, then it won't matter how many millions Google pay them they still won't keep them. The point is that schools, just like businesses, want devices that integrate with their existing infrastructure and applications not replace them completely.

the only problem with your idea is that it simply isn't true. Chrome works with printers, scanners, projectors, etc. Schools HAVE BEEN using Chrome for years and stuck with it. let me be clear: I hate Chromeos. I'm annoyed they're using it in schools, but I get why they're using it in schools. I think it is a disservice to the students, but it isn't going away.

Do you think that IT dept in schools do not realize this....Like your some kind of brainiac? They know EXACTLY what they are getting and thats why they are all moving to them. Kids everywhere are now using chromebooks as they are lightweight, inexpensive and work awesome.

So, if using a Windows machine with the Chrome browser....is there anything that a Chromebook can do better?

Apparently the PixelBook can do Image Search using the Pen better.

it is like copare BMW with old bike.... it is better for scroogle to sell user data and earn money!

Yes...or you can use windows and Microsoft can sell your data and earm money. LAME ATTEMPT Mani. They all do it. WTF do you think MS bought linkedIn for a wacky amount of money? Not to be business savy with it's users. It's to make money off it's users.

This review didn't even compare prices.

Hardware feature wise, I think the Pixelbook is actually better than the Surface Laptop. The latter sucks with a stylus and you can't use it as a tablet. The closest thing is the Surface Pro which is 50% more expensive for an almost equivalent configuration. Sure, the Surface Pro (still not counting the SL) might be able to run professional applications, but most people only read the occational mail, surf the web, listen to some music and watch some movies. The Pixelbook can also run Android apps in without any stuttering. It should suffice for most people. There's always RDP and Crouton (run Linux along side Chrome OS, no dual boot required) if required. Considering how fast Microsoft drops support for stuff which does sell fast enough for them, I'd actually go for the Pixelbook (if it's ever released where I live). I work as a Linux developer, so I really don't need Windows. I just found Windows 10 to be a quite nice OS compared to the previous ones. ChromeOS almost looks and works the same these days.

exactly @blomstemisse. Who cares if its "cloud based" or loaded on your device. That is irrelevant at this point. Everything is done online. And what needs to be done off line, can be done on chome OS now as well. Moot points by the MS fanbabies here. Close minded individuals who look at everything else as crap. They are just as bad as Apple lemmings at this point.

You can't really compare a device with full Windows 10 to one with "Chrome OS". Let's be realistic. It's the same criticism that made the original Surface fail. So why would this one succeed instead? Almost 2018 and Google still doesn't have an OS.
Windows Central Newsletter
Get the best of Windows Central in in your inbox, every day!
Thank you for signing up to Windows Central. You will receive a verification email shortly.
There was a problem. Please refresh the page and try again.