Surface Laptop vs. Google PixelBook
Google has clearly started to figure out design, but how's that "cloud OS" thing working out?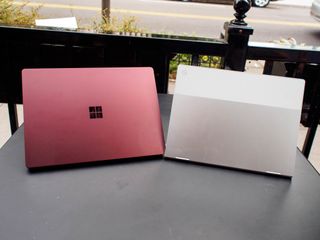 With its $999 entry price, optional stylus, and virtual assistant software included in every level of the operating system, forgive me for hearing a couple of people talking about Google's latest laptop and mistaking it for a conversation about Microsoft's Surface Laptop. This ultra-light, super stylish laptop from Google is aimed at people who are alright with spending a little more for some flash to go with all of the power under the hood, but how does Google's experience actually stack up against the best little laptop Microsoft has ever made?
Glad you asked, because we took a look at them side by side to find out.
Check out the full PixelBook Review over on Android Central!
Speeds and Feeds
There's a lot more to a computer than the silicone within, but here's how these machines stack up on paper.
Swipe to scroll horizontally
Category
Surface Laptop
Google PixelBook
Display
13.5-inch Pixel Sense display
10 point multi-touch
12.3-inch NTSC color LCD
Display resolution
2256 x 1504 (201ppi)
Aspect Ratio: 3:2
2400x1600 (235 ppi)
Aspect Ratio: 3:2
Software
Windows 10 S (Upgradable to Pro)
Chrome OS
Processor
Seventh-gen Intel Core i5-7200U or i7-76660U
Seventh-gen Intel Core i5 processor (Kaby Lake)
Storage
128GB, 256GB, 512GB Solid State Drive (SSD)
128GB, 256GB Solid State Drive (SSD)
Memory
4GB, 8GB or 16GB LPDDR3 RAM
8GB, 16GB
Graphics
i5: Intel HD graphics 620
i7: Intel Iris Plus Graphics 640
Intel HD 630
Rear camera
None
None
Front camera
720p
Windows Hello facial authentication
720p @ 60FPS
Ports
One full-size USB 3.0, Mini DisplayPort, headset jack, and Surface Connect
Two USB-C ports, headset jack
Sensors
Ambient light sensor
Ambient Light Sensor
Keyboard
Full-sized, backlit, soft-touch
1.5mm travel
Full-sized, backlit, soft-touch
0.8 millimeter travel
Battery life
14.5 hours of use (rated by Microsoft)
10 hours of use (rated by Google)
Pen
Surface Pen (not included)
PixelBook Pen (not included)
Weight
2.76 lbs
2.4 lbs
Dimensions
12.13 inches (308.02 mm) x 8.78 inches (223.2mm) x 0.57 inches (14.47 mm)
11.4 inches (290.4 mm) x 8.7 inches (220.8 mm) x 0.4 inches (10.3 mm)
As you can see, these two machines actually have quite a bit in common. The biggest differences, aside from the color obviously (everything should be this shade of red) come in the available ports and the keyboard. Google has made the shift to all USB-C ports, while the Surface Laptop continues to offer full USB-A ports and a a mini Display Port. Which is better comes down to personal preference and what accessories you already own for the most part, but the same can not be said of the keyboard.
While both keyboards are rocking soft-touch plastic on the keys and Google's wrist rests have a nice cushiony rubber instead of that lovely Alcantara, key travel is noticeably better on the Surface Laptop. The PixelBook isn't as bad as a new MacBook by any means, but those of us who enjoy key travel will be much more comfortable on the Surface Laptop.
The other interesting thing to note here is the PixelBook hinge, which is a lot more in concept like the Surface Book in how you'd actually use it. Nothing detaches here, of course, but the fully flexible laptop Google has made allows you to enjoy tablet mode and tent mode, something you can't do on a Surface Laptop. The trade-off here? Google's speakers are abysmal in every position but tablet mode, unlike the surprisingly good speakers on the Surface Laptop.
Chrome OS is still a thing, apparently
Google's self-contained Chrome OS is still a very different experience from Windows 10, which means if you're a big fan of what is happening in the Windows world right now you will likely not enjoy Chrome OS. If you live in a browser or in apps on your phone, there's a lot to like about using an OS built specifically to highlight those things.
If you enjoy a PC for gaming or you lean on GPU-intensive tasks like Photoshop and Lightroom, things are less enjoyable for the time being. Google and Adobe have promised some new things to make that better in the future, but for now the experience is primarily limited to what you can basically do on your phone. In a weird way, Google's laptop is probably the best Android tablet you can buy right now.
Is this thing for you?
That may not be for everyone, but it's important to remember where Google has found major inroads with Chrome OS. Schools buy the cheaper Chrome OS laptops by the hundreds, such that Windows is usually only experiences by the teacher in a lot of these rooms.
It's not unreasonable to think Google made this high-end Chromebook to approach those teachers who hadn't been quite ready to fully ditch Windows yet. It's not clear what is being done in the software to help realize this dream right now, which is an opportunity or Microsoft, but there's no denying Google's done some impressive things with the hardware here.
Get the Windows Central Newsletter
All the latest news, reviews, and guides for Windows and Xbox diehards.
Russell is a tech nerd who chases the best of everything, from phones to game consoles to laptops and everything glowing or beeping. He's the Managing Editor of gaming content for Mobile Nations and can be found contributing to all of the Mobile Nations sites. Reach out on Twitter!