Why all of Microsoft's future Surface PCs need a 4G LTE option
Microsoft's next round of Surfaces better include support for 4G LTE.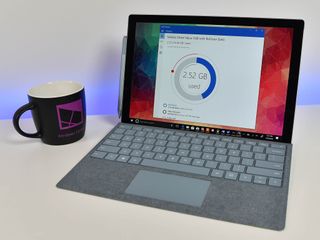 Over the last few months, Microsoft and its partners have been talking up a more connected future for PCs revolving around 4G and eventually 5G cellular connectivity. Much of that has been due to the push for ARM processors and devices, which started in late 2016 and then continued with the recent announcement of the Snapdragon 850. However, these "Always Connected-PCs" also involve Intel and AMD.
If Microsoft is serious about LTE, all of its Surface devices — including Laptop, Pro, and Book — should have an option for a cellular data modem. And we shouldn't have to wait for an extra nine months for it either. Here's why
Design makes all the difference
When Microsoft finally unveiled the Surface Pro with LTE, there was a lot of focus around the sophisticated engineering, the premium Qualcomm Snapdragon X16 modem, LTE band support, and a customized antenna that seamlessly blends into the chassis.
It's easy to dismiss some of that as just marketing hype, but it's not. Most of today's PCs that have LTE modems as an option fall in the business line, and there feature is just another way to jack up the price. A lot of those modems are the jack-of-all-trades Fibocom L850-GL with speeds "up to 450 Mbps", far below the gigabit Snapdragon X16 hardware.
An example is the Lenovo ThinkPad X1 Carbon (6th gen). For an extra $100 users can configure it with the Fibocom L850-GL. It's a modest modem that works well enough, but it's a far cry from what Microsoft accomplished with the Surface Pro with LTE, at least in my experience.
For instance, data speeds are about a third of what the Surface Pro achieves. Part of that may be because the Surface Pro's antennas and reception are just better. Whereas the Surface Pro may get three bars of reception, the X1 Carbon would yield zero or only one bar in the same spot. The same can be said of the HP Envy x2 with an Intel processor, which uses the Intel XMM 7360 LTE modem – it performs better than the X1 Carbon, but falls behind the Surface Pro and even the HP Envy x2 with ARM.
In practical terms, most of this is OK. You can still check email on the go and browse websites. But it's clear that there is a right way of doing LTE in a PC and a "slap-a-modem-in" way, resulting in noticeable performance differences.
Surfaces need to lead the way to 4G and beyond
There's an argument that can be made that regular consumers don't need the added costs of 4G LTE in their PCs. That's probably true, but many professionals would prefer at least the choice of adding highspeed mobile internet to their Surfaces. There is a reason why Dell, HP, and Lenovo all offer the feature in most of their high-end business laptops.
If recent speculation around Surface Pro and Surface Book refreshes in 2019, a new Surface Laptop (possibly this year), and rumors about a 10-inch Surface prove to be true, they all need to have configuration options for LTE.
If Microsoft is serious about pushing PCs into this new mobile age, it needs to show the market how it is done. Microsoft can't do this thing where it announces it and then takes nine months to deliver to the market.
Devices running Windows 10 on ARM with the Snapdragon 850 chip will be one avenue in which this problem kind of solves itself (those new devices will use an even newer Snapdragon X20 modem with 1.2 Gbps speeds), but Intel needs to do more for mobility, cost reduction, and modem performance if it wants to stay competitive, too. Manufacturers, as always, will desire choice and that includes modems.
For now, if users want the best 4G LTE experience in a Windows PC, the Surface Pro with LTE is it – even with its older CPU. Next up is HP's Envy X2 with ARM, though with the new Snapdragon 850 just around the corner, a version 2.0 refresh from HP (codenamed "Chimera 2") is just about guaranteed later this year.
If Microsoft doesn't release new Surfaces with support for Snapdragon X16 and X20 modems, the company will undermine its own effort to convince the masses that this whole cellular PC thing is more than a gimmick.
Windows Central Newsletter
Get the best of Windows Central in in your inbox, every day!
Daniel Rubino is the Editor-in-chief of Windows Central, head reviewer, podcast co-host, and analyst. He has been covering Microsoft since 2007 when this site was called WMExperts (and later Windows Phone Central). His interests include Windows, laptops, next-gen computing, and for some reason, watches. Before all this tech stuff, he worked on a Ph.D. in linguistics, watched people sleep (for medical purposes!), and ran the projectors at movie theaters because it was fun.
Totally agree, Microsoft has to start cementing a foundation in mobility through the Windows ecosystem and since they obliterated the smartphone angle. The ACPC is the final play when it comes to mobility. The Surface Pro LTE shows it is possible to have a x64 / x86 cpu with LTE embedded in terms of design + engineering not an after thought. WoA will take awhile to kick off into the mainstream, until then they need OEMs to start placing emphasis on LTE connectivity and the only way to do that is to lead the charge by enabling + adding LTE to the entire Surface Line up.

Curious Daniel if your LTE testing was ever in large vertical office buildings and if so, was the cellular coverage/density built out for that? It might usher in a whole new YMMV caveat in reviewing these devices if a test in lower Manhattan on the 20th floor of building X looks spectacular but the same floor of a downtown SC, NC or VA office is a spitting and sputtering experience. I say this knowing that in my location today, 20+ stories up (NC), I have devices (Vz and AT&T) that can hit "decent" data speeds but are mere shadows of themselves at ground level (about 10x less on download speeds, and 3x less on upload speeds). And that present level of competence is a massive improvement over the unusableness of a phone data plan in the same location 3-4 years ago. Guess this is part question and part thought. The question is will that build quality be able to overcome what phone tech on data cannot sufficient that it's not a realistic concern? And the thought is that it might be good to see how the devices do in some other real world business use cases.

It's an interesting caveat and I don't have too much recent experience around that, but will keep it in mind. I'd think the regular use case would be for when traveling by train/airport/car, or just out and about, whereas in an office you'd more likely use Wi-Fi.

I would agree for the *portable* Surface devices 100%. I am not sure of how 4G LTE would be of much benefit in my Surface Studio (if a next generation Studio is even coming) though, aside from if my network/fiber drops out. I am hoping for a Studio refresh at some point soon though; I love my current one, but I'm ready for one with a little more horsepower. :)

I mean, I specifically left off Studio for that reason and thought it was implied ;)

I definitely understood why you left it out of the article. Just having a slow work day for once and felt like throwing a comment out there about the Studio kind of hoping in the back of my mind that you might have some unshared details about an upcoming Studio refresh that you felt like sharing with us loyal readers. :)

Microsoft has said that they want more always connected PC's/devices going forward and the Surface Pro w/ LTE was the first step. LTE Is good, and should be an option that is there if someone wanted it. BUT they need to move to Thunderbolt 3 even more than LTE.

I'm confused about your comparison between thunderbolt 3 and LTE. What does one have to do with the other? I don't disagree about wanting thunderbolt 3, I Just don't get that comment in this article about always connected devices/LTE.

Not sure they have anything to do with each other, except they are both technologies that MS needs to adopt. I think I would prioritize Thunderbolt over LTE as well right now. I think they are mutually exclusive though, in the respect that I don't need them at the same time. Thunderbolt helps when I am fixed, to charge, attach a monitor, ethernet, conveniently. LTE is for when I am not where I would do those things.

For business, I understand the need for LTE and I agree it should be an option that Microsoft defines with quality and performance. For me, on AT&T, the free Hotspot is enough. I'd love a Surface Pro with LTE, but I can't justify another line.

I live in a developing country (but I am American), and free Wi-Fi isn't all that common here like it is in the states. However, the LTE networks here are very good and have excellent reach..so having an LTE-enabled laptop would be excellent and give me true mobility for my work.

I disagree. My surfacebook 2 is connected wifi and when out and about, I'm connected to my phone. More lines of data cost money, that can be better spent in other areas.

So, you're saying I should not be given the option to buy a Surface Book 2 with LTE because you want the one that doesn't have LTE? That doesn't sound very fair.

Heh, some people, Dan just don't get the gist of this being an option. Triggered with just the title of LTE and Surface since it does make things cost higher. It's an OK thing to opiniate about, and would probably be something "normal in future iterations". But people here, just get the idea that it will cost higher and somewhere in the backline thinks that this SETUP isn't as efficient. Sure they'll charge $150/200 like their Apple iPad counterparts; it will be the difference of convenience/not for some. But personally for me, that money could be invested on a "actual MiFi" that can connect to multiple devices more easily and if its broken (you don't cry over it like a $2-3000 Surface). It's another device to add, but it's more versatile to own:
- 1 Data Plan/number for Phone + 1 Mifi & Plan (for your Phone/Tablet/Surface or Familty at that)
- Than Owning one inside your Surface (which is convenient, and a good option if it's integrated like those ARM Windows 10 devices), but less versatile.

If you wanna spend on a MiFi... why not a thin, light weight WoA than can run for hours or days? And use it as a MiFi? Me... I'll wait till one day both Surface NB and Surface Portable have e-sim integrated, so I can hot-swap profile then tether.
* Active the profile on the Portable when I'm working, active on NB when I sit (and I can still tether). Hope we can active 1 profile on multiple devices simultaneously one day.

I agree. The only thing I'd add is not to upcharge so much for the LTE version. I priced out a Surface Pro with LTE with keyboard at about $1450 before the necessary keyboard. $1600 total for an i5, that's crazy expensive. It happens to be on sale right now for $1250, but $1400 is pretty expensive for an i5 too, even with LTE. With HP and Lenovo able to offer capable ARM based machines (mind you i3-like in performance) at $899 and $999 with LTE, keyboard, and pen included it's hard to justify the expense unless you absolutely need that little bit of extra horsepower in a device you carry around with you. But yeah... LTE should bean an option right out of the gates for any new Pro, Book, and Laptop. eSim too!

Because the inevitable Avastar WiFi is so terrible?

Great idea but i Honestly don't want to pay another dime for another line. Expand WiFi hotspts or allow for better integration from phone to portable device. Or make a Surface Phone that expands out to a larger screen and connects easily and external monitor, plus runs a full version of Windows. But above all else no more money for the phone company to apply data caps and flat out ruin any chance of having a great portable experience

The thing is you don't have to use the LTE connection. It's better to have that option built into the device as opposed to the clunky method of tethering your phone and running your phone's battery in the process.

"Great idea but i Honestly don't want to pay another dime for another line. "

You're arguing against a different point. I'm asking for an optional hardware configuration (it's in the title) with LTE in it that users can opt to buy, not putting LTE in

every single Surface sold from here to eternity and making you then buy a monthly plan.

I think that PC manufacturers should be adding LTE into all their mid and premium level laptops/convertables. Also don't require a plan to be purchased when you buy the laptop and allow the owner to activate the cellular service if they choose to. Adding LTE into all the laptops would drive up the modem volume and thus reduce the modem/antenna costs. Intel is already providing the majority of the phone modems, seems like this would be an easy next step for them. This would be a good step towards at least competing with phones and tablets for mobile computing.

Another thing to consider is that the 'dime for the other line' is a carrier construct. Doesn't have to be that way. Google Fi offers data SIMs, tied to the same account as your primary line for ZERO extra money. I pay for the line and a data amount for my Pixel, and can have up to 5 data SIMs for no extra cost. The extra devices just dip into the one data pool. MS also is pushing the pay as you need it concept, getting connectivity and data from the store as you need it, rather than a monthly subscription. I had that years ago with a Verizon capable iPad. If I needed data away from WiFi, I just went into settings and bought a bucket that was available for a month, no continuing contract. (The hotel wanted more for the WiFi for the weekend than Verizon wanted for the month one time). So there are potential options for using that LTE, other than getting another line/monthly bill. You have to have the LTE option to use it though. If the option becomes more ubiquitous, the carriers will need to be more creative in supporting it.

I agree that LTE should be standard in the i5 and above. Leave the i3 for students at a decent price they can grab. Most universities and schools have accessible Wi-Fi. This will also give the ARM devices some room to compete with the i3 devices as their prices will have to come down about $200/$300 ($700 - $1500 range) if they want to carve out a chunk of the future connected market. But in this new connected world when are they going to follow the Dell XPS line and stick a battery in there (the XPS has the largest battery in the 15'' allowable on a plane) that can hit 15hrs on Wi-Fi and 9/10hrs on LTE. I know this will increase the weight and thickness, but the connected future isn't much of a future if after 4 hours on LTE you have to run for a plug. Obviously the ARM devices are supposed to lead the way but the Surface Pro should also be first in class on the Intel side.

I never understood why this wasn't an option on the Surface. Samsung and Apple both offer it on their tablets. You would think that MS would offer this just to be competitive.

Off the top of my head, I think it has been an option since (at least) the Surface 2

Surface 3 (Intel Atom, 10") and Surface Pro with LTE (2018) are the only two Surfaces ever with LTE.

No Dan, you didn't read TbouncerT's post very well. He said "Surface 2", not Surface "PRO" 2 and he's correct. The RT-based Surface 2 had an AT&T variant.

Daniel, this will be a simple progression of technology. First, we had an 8086 processor and then you could buy the 8087 coprocessor (for floating point calculations, which I need because I was in engineering). Then we had the GPU. Then we had the integrated GPU. Intel just could not cram a modem onto its processor, but Qualcomm could using ARM. But this put the technology progression on a diverging path. Intel CISC chips were still powering the internet and most PCs. But ARM was powering smartphones. The argument you are making is somehow merging these two paths. By putting a modem in all computers (thus requiring a data plan) you essentially have hardware capable of doing identical workloads (powered through the cloud). I am sorry, but while you can argue that always connected devices provide higher utility, most people can handle their computing tasks because they are within a no-cost wifi (or network access)signal 90% of the time. Sure it would be nice to have the option, but the overhead of the option may not justify the investment given the demand. Maybe one day, all computers will ship with an integrated CPU, GPU, modem much like Intel has done with the CPU/GPU. If you need more power than the integrated GPU, get a discrete GPU. Same with a modem. But a modem is a much different animal than a GPU or CPU, which is why Intel's process tech fumbled the task (and also that an ARM has advantages in power efficiency over a CISC chip).

"By putting a modem in all computers (thus requiring a data plan) you essentially have hardware capable of doing identical workloads (powered through the cloud)."

Slow down, all I am asking for is

another SKU option

- just like 4 or 8GB of RAM, or i7 or i5 - where users can buy a Surface with an LTE modem. Nowhere did I say ALL devices should be REQUIRED to be sold with LTE. The title of the article is literally "

Why all of Microsoft's future Surface PCs need a 4G LTE option

". My second paragraph, emphasis added:

"If Microsoft is serious about LTE, all of its Surface devices — including Laptop, Pro, and Book — should have an option for a cellular data modem. And we shouldn't have to wait for an extra nine months for it either."

Towards the end, I state again:

"There's an argument that can be made that regular consumers don't need the added costs of 4G LTE in their PCs. That's probably true, but many professionals would prefer at least the choice of adding highspeed mobile internet to their Surfaces. "

I even argue the very point you try to make in your second paragraph. What's the deal? If you are suggesting that as a consumer I should not even have the

option

of LTE in a new Surface if I want to pay for it, then you're just wrong. But I'm pretty sure you're not making that point because it would be ludicrous, am I right? Otherwise, this is a strawman counter point, nothing more.

LOL! Your article is quite clear Daniel, if one takes the time to actually read it to the end and keep an open mind. Many people however have formed an opinion and rattle off a response even before they get to the end of the title! It must be frustrating.

What you said, and where is it written that having an LTE modem "requires" a data plan. I have bought cell phones without data, or phone plans, for that matter. It is a choice, which you don't have, if the capability isn't built in. I wouldn't be adverse to saying they should all have the capability. The hardware volume and manufacturing commonality might just bring the cost down for everyone. With eSIM and data buckets available through the store, you could get what you need, when you need it.

I can use my phone - no way am I going to pay for another line with my Surface. That would be dumb. It can be an option, but doesn't need to be forced.

Precisely what I've been saying. If adding cellular adds no more cost and carriers come up with a way for me to add the device at no extra cost, you've got my attention.

"I can use my phone - no way am I going to pay for another line with my Surface."

You have been living the dream since Surface 1 then. As you can only buy ONE model of Surface with LTE now. Now, what about me?

My

complaint that I state in this article that all Surface models should have

an option

to be purchased with LTE...care to comment on THAT? Because that's the topic here.

No one said anything about FORCING YOU to pay for another line, the whole POINT of the article is to say that it should be an OPTION MORE ACCESSIBLE TO PEOPLE WHO WANT IT AND ARE WILLING TO PAY FOR IT. I really don't understand some of these comments, almost as if they didn't read the article.

I'm only "in" for the Surface 10 if it has LTE. I've been operating under that assumption as a foregone conclusion. Apparently I've been wrong? If the S-10 comes out with LTE, I'll break a habit and long-standing personal rule and become an early adopter. No LTE? - I'll wait and see. Just sayin'.

I have no problem with cellular connectivity being as standard as Bluetooth or WIFI...as long as it adds no real cost. I'm not willing to pay an addition $50-$100, for example. It's not worth it to me. And I don't see any reason why it can't rolled into most devices cheaply. If you have the extra money or said device is the only one you carry, sure, this is great. Personally, I don't want to pay for a THIRD line when there's only my wife and I. This makes no sense. If carriers can figure out how to make this feasible, sign me up.

I don't get all this victim-like behavior. I clearly spelled out in the article that Microsoft should offer all their future Surface laptops/tablets with

OPTIONAL

4G LTE. My second paragraph:

"If Microsoft is serious about LTE, all of its Surface devices — including Laptop, Pro, and Book — should have an option for a cellular data modem. And we shouldn't have to wait for an extra nine months for it either."

No where do I say, imply, or request that ALL Surfaces must have LTE across the board and pass that on to the consumer. All I'm asking is give consumers the ABILITY to buy a Surface Laptop or Book 2 with LTE. We don't have that. It's not an option. No one is making the argument about forcing users to BUY a device with LTE, so I really have no idea what your comment is all about? It's like if I asked for a Core i9 Surface Book 3...that doesn't mean they can't sell one with Core i3. C'mon.

"I have no problem with cellular connectivity being as standard as Bluetooth or WIFI...as long as it adds no real cost. "

Of course it adds to the costs. Why do you think there are different Intel and Killer cards on the market and why some go into some laptops, others do not, why some have MU-MIMO and 2x2 and others do not? Some get BT 5.0, others get 4.1? You're absolutely paying for that. Just like how you pay for a Pro or Home license - it's all fixed in the cost. There was a time when Wi-Fi, was, you know, extra in a laptop.

"It's not worth it to me."

I mean, cool you are literally living the dream in 2018 then lol. You don't have a choice in the matter. Go buy a Surface Laptop with LTE. You can't. Go get an XPS 13 with LTE. You can't. So, you're in luck and everything is peachy.

I think the confusion stems from some thinking LTE = another phone line but this time as a mandatory requirement to purchase the device.

Oh when you put it that way, some of these comments actually make sense lol.

You know you are paying for WiFi and BT now, right? You just don't know it because it comes with every laptop. You don't get the non-BT model for $25 less. You pay for an LTE modem on every phone you buy, because there is essentially no longer a just phone, BT, WiFi, option. Daniel is only advocating for the option here. If in fact every laptop wireless capability included LTE, you wouldn't know you are paying 'extra' for it.

Bell in Canada is an extra $10 (Cdn) a month to add a device. Many family plans have up to 5 devices and loyalty customers can haggle. For business often paid by the business or at least deductible. This said... Laptops can burn through data and free WiFi is common in most areas.

I am not convinced there is a market for these devices. Ipads with lte never took off.

Small guess: iPads are not used as productivity devices, but for consuming media. PC laptops are. Also, "never took off" yet Apple still sells all of them with LTE, so....?

Really? I have LTE in my iPads. Doesn't mean I pay to light it up, unless I need to. That's kind of the point. I have the option. I also have a Google Fi data SIM in one of them. Costs zero to have it, and uses data out of my bucket when I use it.

I agree with all, LTE is a must in any 2 in 1, but we also need IP68 certified water resistant devices, where I live it has been raining for 5 days, so LTE outside is a waste if tour device is not protected for the long lasting rain outside caused by global warming which is causing anomalies on our Atmosphere

Another global warming nut. No, we don't need waterproofing.

@Jim Roscovius there is no "I" in "We". You don't speak for everyone and besides like it or not the earths temperature is increasing which is increasing sea water desalination as a result europe is getting cooler due the desalination effecting the gulf stream. It is due to the gulf stream that europe is 10 or so degrees warmer. This has enabled a national park in scotland to be able to grow tropical plants and plants that are not indigenious to europe. The common misconception most have of global warming is that the rise in temperature means hotter weather for all countries. Which is false as some countries will experience longer droughts, more forest fires whereas others will experience colder temperatures, inconsistent rainfall, bipolar weather etc.

I think eSim will solve the concerns of having another line. If we can grab some gigabytes of LTE which you pay for as needed then that will be really neat. You pay for say 20gb, and you use it till it runs out, maybe after 6 months or a year depending on your use. That will really encourage users to jump on board.

At $10/GB you would pay $200 for 20GB. That is expensive and would be tough to justify unless you are regularly working in areas that do not have WiFi. I think it will be a very niche option, especially since WiFi is available most anywhere you want to work these days. LTE options in laptops are rare for a reason. Demand just isn't there.

In other countries, such as Australia there is no extra monthly charge to add a data sim to your phone account - just a once off $5 for the sim card. The data allowances are just shared with your phone.

Like most things these days, everything has to be one or the other. You're either with us or against us. Daniel's article never says that ALL devices have to have LTE modems installed, just give the option. Secondly, even if they were all equipped with LTE modems, nobody's holding a gun to your head and requiring you to get a data plan. These devices run perfectly fine as Wi-Fi only.

Nope
They don't have the balls to do that
All they do is just throw a little money 💵 to other manufacture to test it

4g? Plans are in place for 5G. MS needs to get with the times, or is 4g all that is in place for the usa?

"Microsoft can't do this thing where it announces it and then takes nine months to deliver to the market." That is among the worst mistakes MS keeps on making. They teas something great … and then deliver a year later (or more) in the US. The rest of the world has to wait even longer. By the time MS hits the consumer market with anything in most cases the Competition (Talking Google and Apple here not third Party) has had what MS has teased for at least 1-2 generations. It is sad to watch them f* it up so consistently when the original concepts were so good.

Why not come up with a hybrid model? Put both Qualcomm Snapdragon socs and intel's powerful core series processors in the laptops. The processors used will depend upon the usage and power.

I just want these always-connected PCs to be mobile, have the 4G LTE option, but also have built-in telephony so I can make phone calls and text messages without a data connection. Truly an all-in-one computing device.

Rubino, you know what all of Microroft's future Surface PCs need? A consistent software UI and iconography. That's what they need.

Options are always better than no options, I would have no use for it (phone tethering suits me fine and works out cheaper) but for the people that want it, it's better to have it than not, otherwise you are just losing business to the competition that does.

So long as it remains an option and not a requirement. I'm not willing to give up my i7 for LTE. Both would obviously be better, but I need the computing power, and I can tether if necessary.
Windows Central Newsletter
Thank you for signing up to Windows Central. You will receive a verification email shortly.
There was a problem. Please refresh the page and try again.