Give your Surface Pro additional USB ports and an Ethernet port with DualRole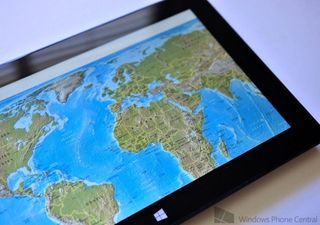 What happens when a tablet and an ultrabook have a one night stand? You get the Surface Pro 2. Thank you, I'm here all night. Both the Surface Pro and Surface Pro 2 are killer machines, but like all machines they have a few faults. With both you only get one USB port and neither machine has an Ethernet port. Here's one little doohickey that could become an essential travel companion to your Surface Pro 2. The DualRole from Kanex.
How do you overcome the limitation of the single USB port and no Ethernet port on your Surface when you're mobile? You probably pick might pick up a USB hub and a USB-to-Ethernet adapter. The DualRole from Kanex combines all those into one slick product that looks pretty svelte.
The DualRole has contains three USB 3 SuperSpeed ports. It also has a Gigabit Ethernet port bundled. This basically makes the DualRole an essential product for your Surface Pro (or any ultrabook really), especially if you're a road warrior.
You can also buy the Universal Power Adapter from Kanex, which is an optional accessory for the DualRole. It plugs into the DualRole and gives more power to each USB port, in fact up to 900mA per port. This is useful if you need to plug in something like an external hard drive that requires a little more oomph to power up. They include international plugs for the adapter. That way you can plug in while visiting Europe, Australia, the United States or the United Kingdom.
The DualRole goes for $59.99 and the universal power adapter will is $19.99. But we found it for $47 on other online retailers like Amazon.
The Kanex DualRole looks like a great accessory to make your Surface Pro or ultrabook more useful on long business trips. Have any other suggestions for similar products? Share in the comments. It's almost like we're going to order a bunch and compare them…
Source: DualRole, Power Adapter
Thanks for the heads up Simon!
I misread the title as "Surface Pro Three" thinking a new one was released. I was like, "where the hell have I been?!" lol

Same. I thought Sam had lost his mind.

Looks quite good might have to pick one up for my surface pro

This is what I use its a dock much better then this since it has sound and monitor support http://www.amazon.com/gp/product/B004PXPPNA/ref=as_li_ss_tl?ie=UTF8&camp... or get s USB 3.0 one they make multiple ones that are great http://www.amazon.com/gp/product/B00ECDM78E/ref=as_li_ss_tl?ie=UTF8&camp...

One USB and no Ethernet is only a fault when you think of it from a laptop point of view. From tablet/MacBook Air point of view it's a bonus.

Not a bad deal if you just need USB and Ethernet, but why not spend a bit more and get 2 video outputs, audio and two more USBs. http://www.amazon.com/gp/aw/d/B00ECDM78E/ref=mp_s_a_1_2?qid=1395436522&s...

The DualRole is a more mobile friendly solution. Your product is cool, but would be a pain to carry around if you're doing a lot of moving and mobile work. Cool find though.

As this was marketed for people who are mobile, I don't know if suggesting a 8.5 x 5 x 4 inches 13 ounce device is a very good recommendation. Maybe for a semi-permanent installation at your home desk. At 5.2 x 1.2 x 4 inches and 2.1 ounces, this looks like it is a lot more portable.

I had the Plugable, I liked it for everything except the video, but it was much larger than this one in the article. That one is a good utility to have along.

What a joke i have the targus usb ethernet adaptor its been on the market for 6months at least but why would you buy a surface when the asus t100 is cheaper and better in just about everyway

The Surface Pro destroys the T100 in just about every way.

Because the Asus is cheaper and not as good as the Surface Pro. Surface Pro has i5's and 1080p displays. Surface Pro has a sweet pressure sensitive pen. And has received amazing support from Microsoft. Firmware updates every single month. Better accessories. Build quality. etc.

I don't see how the t100 is better in any way except battery life. My Surface Pro has a core i5, 8gb ram and 1080p display. The T100 has an atom processor, 2gb of ram, 1366x768 display. The Surface Pro has display port out that can daisy chain multiple monitors.

The T100 is fine for the price but there is no chance it is better than the Surface Pro.

I'll order one of these for myself for when my Razer Blade comes in. If it works good I'll order one for the gf's Surface Pro 2.

I want a titanium surface pro so I can use it as a weapon when someone tries to steal it and have a hidden compartment that holds a AK-101.

You guys have the Surface Pro 3??? WPC has really steppes up in the world.

I have avoided the kanex because it looks like a Mac accessory. If you search on Amazon there are several micro hubs that are great for mobility. Contrary to Samsung commercials, Surface Pro users don't carry there desktop docks with them.

Anyone know if this works on a surface2?

Would be worth it if it wasn't plastic

"You probably pick might pick"?

Picked up one of these( https://www.windowscentral.com/e?link=https2F%2Fclick.linksynergy.co... ) from newegg love it. Network speed is fast and I only use flash memory sticks and can verify it can handle 2 flash sticks and a network connection without issue. I only need the physical nic for some work stuff but the extra usb's come in handy. Posted via the WPC App for Android!

I just purchased several of those for work. The only negative is that it required a driver install for the Nic, so make sure you have it working before you go somewhere without WiFi or cell coverage. Since install, it's been great. Previously I used a Diamond USB3 ethernet hub and I believe the drivers loaded automatically.

I like this one! Nice find!

I've got one of those but branded with a different name. Great device but doesn't have the supplementary power if that's something you need. Otherwise it's cheaper and I think looks better.

GUYS! K, theres a update for WPs Glance, the new feature says it adds compatability for "Windows Phone 8.1"! God, WP8.1 must be right around the corner!

I have this one http://www.satechi.net/index.php/st-u3b1n Works well. Doesn't have the supplementary power input but it is cheaper.
Windows Central Newsletter
Thank you for signing up to Windows Central. You will receive a verification email shortly.
There was a problem. Please refresh the page and try again.