Microsoft Surface Pro (2017) vs. Apple iPad Pro (2017): Comparing specs, OS, form factor and more
By Jez Corden last updated
The new Surface Pro has been announced, and it's a sleek and sexy hybrid that appears to bring together everything Microsoft has learned about its pioneering form factor.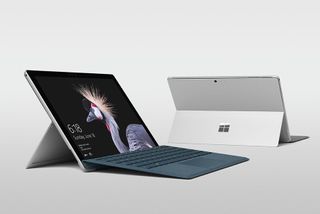 In the marketing materials, Microsoft was keen to compare the Surface Pro (2017) to both the MacBook and the iPad Pro, Apple's take on the tablet-laptop hybrid. Coincidentally, Apple just announced updated iPad Pros at its WWDC 2017 event yesterday.
Microsoft placed a lot of emphasis on inking with the new Surface Pro, touting custom silicon to reduce the latency between the pen and the display, and new tilt support for the latest version of the Surface Pen.
Updated June 6, 2017: We updated this article to reflect the latest specs found in Apple's new iPad Pro.
We compared the Surface Pro 4 to the iPad Pro in the past, and as you might expect, it's hardly any contest. However, Apple won piles of praise for the inking experience with its "Apple Pencil," at least when you disregard its silly charging solution.
We already determined that the Surface Pro 4 is superior to the iPad Pro in a previous comparison, and despite the latest iPad Pro Apple recently debuted for 2017, the Surface Pro's Kaby Lake processors, new Surface Pen, and new digitizer staves off any competition from Apple's Surface-clone.
If you're looking for a side-by-side comparison, look no further.
Surface Pro (2017) vs. iPad Pro: Tech specs showdown
| Category | Surface Pro (2017) | iPad Pro (2017) |
| --- | --- | --- |
| OS | Windows 10 | iOS 10 |
| Screen Size | 12.3 inches | 12.9 inches (10.5 inch model available) |
| Screen Resolution | 2763 x 1824 (267 ppi) | 2732 x 2048 (264 ppi) |
| Processor | Seventh Gen Intel Core m3, i5, i7 | Apple A10X |
| Graphics | m3 and i5: Intel HD 620; i7: Intel Iris Plus 640 | Apple A10X |
| Storage | 128GB, 265GB, 512GB, 1TB + microSD expansion | 64GB, 128GB, 256GB, 512GB |
| LTE Option | Yes | Yes |
| Rear Camera | 8 MP | 12 MP |
| Front Camera | 5 MP (With face authentication) | 7 MP |
| Ports | Full USB 3.0, Mini DisplayPort, Surface Connect, headset jack | Lightning, iPad Smart Connector, headset jack |
| Height | 11.5 inches | 12 inches |
| Width | 7.93 inches | 8.68 inches |
| Thickness | 0.33 inches | 0.27 inches |
| Weight | 1.69 pounds | 1.57 pounds |
| Battery (listed) | 13.5 hours | 10 hours |
| Price | $799 to $2,699 | $649 to $1,229 |
Windows vs. iOS
There's really not much of a contest here, at least in our opinion. While iOS has some great inking and note-taking apps (including Microsoft's OneNote), they're a far cry from the full power of Adobe Illustrator or Photoshop, which require a desktop OS like Windows 10.
iOS is a mobile OS, designed for phones and tablets. As such, the programs available are capable but relatively lightweight. Your Surface Pro would be able to run any program available on a Windows desktop, whether at work or at home. Beyond inking, the Surface Pro's beefy internals make it a moderately capable video editing machine that can leverage tools like Adobe Premier, and run developer tools like Visual Studio.
Whether you're going for the m3, i5, or i7 Surface Pro model, you'll be able to install and enjoy thousands of games on Steam and other PC gaming platforms. The Surface Pro is by no means designed as a gaming rig, but it will run Xbox 360-era games with relative ease, including Bioshock, World of Warcraft, and even some well-optimized modern games like Overwatch.
The iPad is capable of none of these things and is best thought of as a pure tablet with some word processing and inking capabilities, specifically for sketching, note-taking, and Microsoft Office. With the Surface Pro, you get way more versatility for the same price.
Form factor
The iPad Pro is Apple's first attempt at the tablet-laptop hybrid, owing to its "Smart Keyboard" cover. Microsoft has been doing the detachable keyboard thing for a long time now, and as such, it should come as no surprise that Redmond is simply better at it. The Surface Pro Type Cover has superior key travel, a full-size, glass trackpad for precision navigation, and the cover isn't necessary for propping the tablet portion up, either.
In order to use the iPad Pro in "laptop" mode, you will have to fold the cover into an awkward triangle shape, and then rest the iPad Pro against it. It's nowhere near as robust a solution as Microsoft's Surface Pro kickstand, which operates independently of the cover. This makes the Surface Pro useful in the kitchen simply for viewing recipes, or while traveling on trains or planes, placing the Surface Pro with the kickstand onto a desk or tray with no cover needed.
The Surface Pro kickstand also enjoys 165 degrees of flexibility, allowing you to change its angle for long drawing sessions, or for reclining on a sofa on a lazy weekend. The iPad Pro is very much designed to be a handheld tablet, and given its size, it might prove more unweildy and less convenient than simply popping out the kickstand on the Surface Pro. The iPad Pro is a little lighter at 1.57 lbs to the Surface Pro's 1.69 lbs, however. The iPad Pro is lighter still if you go for the 10 inch option. But the trade off in weight is battery life, of which the Surface Pro boasts an additional estimated 3.5 hours over all versions of the iPad Pro's 10 hours.
Surface Pro (2017) vs. iPad Pro: Which is right for you?
Ultimately, the answer boils down to an argument of ecosystem. If you're not interested in Windows' heavy duty programs like Photoshop or the core games found on Steam, and you rely heavily on your iPhone and existing iPad apps, perhaps you'll want to stay in Apple's ecosystem.
However, if you are a serious or aspiring hobby artist, want the freedom to install any program you wish and use your device in any way you wish, the Surface Pro is the only option.
Neither device comes bundled with their respective pen tools or keyboard covers, both adding to the overall price. But given the Surface Pro's laptop-like internals, you're potentially going to get more bang for your buck sticking with Microsoft's offering, even at the low end.
Stay tuned for our full, comprehensive review on the Surface Pro, and in the meanwhile, let us know what you think of both devices in the comments.
Jez Corden is a Senior Editor for Windows Central, focusing primarily on all things Xbox and gaming. Jez is known for breaking exclusive news and analysis as relates to the Microsoft ecosystem while being powered by caffeine. Follow on Twitter @JezCorden and listen to his Xbox Two podcast, all about, you guessed it, Xbox!
I should point out, and this never seems to get mentioned in comparisons that the ARM SoC does not support things like thunderbolt 3, mSATA etc - so when you list the ipads specs you should put "eMMC" and when you list the Surface Pro's specs you should put "SSD", because one is at least two times as fast as the other speed wise (and in many cases more). Comparing eMMC with SSD as equivilants based on size alone is very misleading to consumers. Same deal with comparing a ARM based usb-c, with a intel based thunderbolt 3 - intel really has the edge when it comes to hardware connectivity for obvious reasons.

In these days of managed perceptions I'm still surprised by comparisons like this. Comparing productivity device with a content consuming device?

Apple users cannot distinguish a cat from a semaphore, it a better to explain.

Good point I wasn't aware of that because the ipad pro benchmarks poorly - the new surface pro's are also pcie based, although the surface pro 4 has a sequential read of 1494 mb/s ish, and a random 4k of 29 mb/s
- the ipad has a sequential read of 411 mb/s and a random 4k of 23.8 Although technically they use the same bus technology, the drive controller is really galaxies away. Technically the bus should allow the same power - but I would not have even known that was PCIe based, because its slower than first gen SSDs using standard sata3. Literally the first PC SSDs ever were faster. And thats the highest end ipad pro, the 9.7 benches much slower.

I thought the iPad_Pro 9.7" specs were better "overall" than the 12.9" Pro?
Aside from screen-size, larger batt, & a slightly better CPU or was it GPU (need to review it all again!). At least using Apple's poor comparison tool that's clearly what it looked like for my needs/wants. Dang it, I recently ordered the iPad_Pro 9.7" 128GB Wifi + Cellular for that very reason!
(didn't really need the extra screen-size, battery, or slightly better perf. silicon) Do you know of any sites that do far more detailed/technical comparative analysis of the iPad_Pros? Still defo getting a SP, my SP3 i7/8GB/512GB's getting a bit long in the tooth, but in no rush, prolly not till Oct. or later! ;)

Thats why i just bought the ipad air 2. The "extras" with the pro are not worth the price of admission vs. the air. Plus there is nothing pro about the ipad pro. The surface pro is a far superior device. One except is apps. BUT I started using blue stacks yesterday, bingo. MUCH BETTER. I have all my android / ios apps that I cannot get on windows on my dell 2 in 1s now. There are alot of apps that my son used for autism therapy that wre IOS / Andorid only, now he can use them on his computer! Bluestacks is better than amibos as it just runs in a window instead of taking over your machine!

Thanks for sharing your thoughts, alas this isn't what I'm asking; I know all of that, I still want at least 1* latest gen. iOS device. Best Regards.

Well considering the air 2 is better than the "new Ipad", I consider it latest gen. If you are not going to use the pen ALOT, I would suggest the new ipad, and get a bluetooth keyboard for it and save LOTS of money.

"Better"? Can you point to analysis which demonstrates how/why it's better in every way? Or if not in every way, which ways, & how much etc. I will use the Pen a lot. I ordered the Logitech keyb case with it, looks like one of the best, better than the Apple one.

Just so we are clear i am comparing the ipad air 2, to the NEW IPAD.....NOT THE PRO. if you are using the pencil ALOT then yeah, the pro is the way to go, if not...get a "normal" ipad.

This is all I used at the time, forgot to dig deeper! https://www.apple.com/ipad/compare/ https://www.apple.com/au/ipad/compare/ Carefully sifting through that alone... The Pro 9.7" Wifi + Cell DID seem better overall specs-wise. (at least for the stuff that's most imortant to me) Though I imagine there's far better sources for deeper comparative analysis. That's what I'm seeking...

As far as I knew, internally all was the same spec wise. The only difference is the iPad Pro 9.7 has 2GB RAM VS 4GB for 12.9. Yes, 9.7 has better camera, better screen, and better speakers. The RAM is the only place it lags. Though, it seems very likely they'll update these next month. You can already order cases for 10.5" iPad Pro and it hasn't been announcd yet. Personally, I've used the 9.7 for a year and a half. Don't plan on upgrading. It's the perfect sized hybrid and ratio for me. I'm not going to lie and tell you I use it productively, but if I did, it would be for Office, which as far as I know is still free on devices 10.1 and below. So, the 10.5 won't do me good.

Well when I searched it was hard to find details. Like phone buyers at a tech store, ipad users don't seem to care much about relevence specs. What I found back when I was looking , regarding drive speed, i believe, was that the speed varied by drive size. Presumably they have different controllers. So most likely the bigger drives will be faster, the smaller ones slower. Don't quote me on that though. The 9.7 at the biggest capacity, from memory, was slightly faster than the 12. It might be a never model, maybe a slightly better controller. But google searching that stuff was not easy, a lot less easy than it should have been. If i'd googled the mb/s read write random of the surface, it'd be in the first two websites. Not so for apple products.... I think you'll be alright with the 128 speed wise, sorry I can't be more help. They certainly aren;t as fast as the SP, but some are better than others.

Sounds about right, often that's the case depending on the type of NAND/Controller, larger the better.
I'd get the largest if I could, but I'm working from a tight budget as we have to get a tonne of other stuff.
I doubt the differences will be noticeable on an iPad_Pro 9.7", or do you think certain usages may show-it-up clearly? What about all the other specs/components, on paper the Pro 9.7" WiFi + Cell looks WAY better than the 12.9", no?
Aside from the things I mentioned of course… Not sure I'll bother with some deep diving, sounds like you already tried & came up with LOTS of vagueness.
May at least do some digging at Anandtech, it's pretty-much the bible for all things NAND, or was, been out-of-it.
Wouldn't be surprised if they benched & real-world tested the iPad Pros, & compared them with other devices. But that's just one component, I was hoping for a deep dive on everything, & then comparing the 2 Pro variants! :-S
Thanks mate, interesting to read some of this stuff from folks who've "been there, done that"! Best Regards/Goodnight (3:15am!) http://www.anandtech.com/tag/storage

I'm afraid I haven't the foggiest about the wifi-cell. If it were me, I'd go 9.7 anyway, because I prefer the form factor of 9.7. My current windows tablet is exactly that, I find the larger ones a little unweildy, and 9.7 is just perfect for content IMO. For me, everything 4:3 between 8.9 and 9.7 is where the gold happens :) Apple generally make good products too, you can't go too far wrong if your interested in apple products, especially as ios software tends to be "lighter" than full PC software. I think even the drive speed, you'd notice it most for some applications, such as installing, loading (games, video or raw photo work), and not as much for every day tasks. Does anyone do benchmarking of the ipad products on youtube? The whole area seems woefully underserviced - people benchmark and critique the heck out of android and windows products.

Wow latest iPad Pro 10.5" looks to be quite a big bump, think I'll be skipping the 9.7" Pro in favour of it! Followed much of the live coverage very early this morn (Australian EST), my time-zone sucks!

Older version. Now the 12.9 has been refreshed with the the release of the 10.5 version.

@gamo62 What? What are you trying to say? I already know there's now a refreshed 12.9 & 10.5 (which replaces the 9.7). See my latest post about that...

Where I live the iPad Pro is much less expensive than Surface Pro on Amazon Mexico, which tells Microsoft should look into selling the Surface in Mexico. I think the so high price of Surface Pro in Mexico is because Microsoft doesn't want to sell premium hardware here. However, Mexico also sells high end MacBook Pro that sells for $3500 US dollars, so Mexico is a premium Market for Apple, why can it be for Microsoft products too?

ARM's advantage has always been in power consumption/battery life. But with a battery life of over 12 hours I think that's changing. ARM could obviously increase their battery life to 20 hours but so what? That isn't that useful. Meanwhile the sheer power of the Intel processor will always make it a far better choice for software performance. I don't mean kiddie-script phone apps. Real software. Xbox games are the ultimate discriminator.

If you actually would use the Surface Pro like working with Office or just browse the web, you will notice that battery will not last anywhere close to 12 hours. In addition the A10X in iPad Pro should easily outperform the 2 fanless Surface Pro SKUs.

The iPad Pro doesn't use eMMC, instead it uses PCIe/NVMe. It's no slouch for a device of its class.

Also, WC mentioned 1TB + SD card expansion. People new to Surface will think it's only for the 1TB version, when in fact, it's available for ALL models.

i hate articles like this, its a stupid PR. Windows is not the same as MAC and never will be. In terms of HW a 2 core CPU on a MAC can be more efficient than a 2 core CPU on a Windows pc so why would I compare those 2? Nonsense.

Because Apple never did it before, right? 😏

I agree in a way, comparing a surface pro with an ipad, or surface laptop with a chromebook, are both a little like comparing a space rocket, with a firecracker. There are surface similarities, but they are not the same class of product. I guess its worth making such comparisons if only to point out that windows devices are far more capable machines in terms of software and OS features, with more powerful hardware and hardware connectivity, and that the alternatives are essentially simply large smartphones, that visually imitate more capable devices.

When the average consumer goes out they look at what Microsoft has to offer and what Apple has to offer. The form factor is what they are after and they probably don't know about the technical superiority of either machine. So yes this is an apt comparison because this is what consumers will be choosing from in the market.

Ding ding...this is how your average person thinks. Pappale is clearly out of touch with normal people.

Far be it from me to stand in the way of good SEO, but can we the (not normal) enthusiasts who come to this site daily get a comparison to all the new Windows 10 tablets just announced? Samsung, HP, Huawei, Lenovo, Acer all have brand new Surface Pro competitors and they all look good.

This is not a Mac either, it is an idiotic crossover between an iOS device and a mac.

Actually it is just a big iPhone that can't make phone calls.

+1, just correct with "stupid big" .

An Apple "Genius" plugged an iPhone into a MacBook using a cord from mismatched generations and this baztard was born.

Not as much nonsense as the crap you post on this site everyday. It's time to find a new site to troll.

I guess I somehow missed it when Apple started using MacOS on the iPad Pro. Reading the article before commenting is always a good rule.

There you go again complaining about something. Don't you have anything nice to say for a change. Dude you must live a very sad life

I've been thinking the same thing. He spends WAAYYY too much time trolling here. It's becoming more sad than annoying

I bet you are cheering on Tiny Tim when he gets up during his media circus presentation, talks about how it is a post PC world, tells us about how the iPad is winning, tells us about how much faster the iPad is against PCs, and how great the Apple Store with the 2M apps. Of course, what he doesn't tell you is how the iPad sales have dropped every quarter year over year since it was first introduced, how he compared the performance against some stripped down $200 PC, and conveniently will forget about how here are over 17 million apps and full, productive applications for Windows. But none of that matters. You will cheer on Tiny Tim and drink the Kool-aid when he tells you that the iPad beats PCs, then complain about how you hate these articles when it shows with actual data that the iPad is a toy when compared to that big, bad PC.

This is a device (not OS) branding/perception argument. Apple positions their tablet as being able to replace a laptop ("puts incredible power that leaps past most portable PCs at your fingertips" - from their website). They added multi-tasking features (like split screen) to emphasize its "productivity" focus. Microsoft's OS is criss-crossing several device form factors (desktops, tablets, 2-in-1s) so it will surely have a brand clash with other devices in those categories irrespective of the OS they are using (iOS, Android, ChromeOS, macOS, Linux, etc.). Moreso, all those companies are marketing most of their devices directly against Windows laptops and desktops (as worthy alternatives). They want to uproot Windows OS-powered devices in the office, school, etc. Microsoft has no option but to meet them all head on and present a superior product perception across all device categories, with Windows running on them all (the Dream). Microsoft doesn't do a mobile-centric OS like iOS in tablet form factor anyway.

Why not, Apple compares the ipad pro to the surface pro.

But didn't apple introduce the iPad pro as a "2 in one" to compete with the surface pro from a consumer perspective? This is the key reason the article is very relevant... Consumers.

Forget specs, do you also not want to look into benchmark tests that look at things read/write speed, time taken for apps to load up, battery back-up in varioaus usage scenarios and on and on and on? If what you are saying was true, iPad/McBook et. all would have thrashed the surface pro in almost every department. But sadly it is the other way round. Stop believing what apple (or MS or WC for that matter) tell you. If you are a geek and can get hold of both devices do the tests your self or rely on several third party testers who put up their reviews and test results online.

@Papale: Any proof of that?

Not really. Apple and Microsoft are both aiming these devices at the same audience, so for a prospective customer, they are something to compare.

It is a ridiculous comparison because at the end of the day the Surface is a full fledge computer and blows the IPad away. Come on man! Geez!!!! Cut this garbage the hell out.

I successfully compared Thai food to Mcdonalds.....so you are wrong

How did that go? who came out victorious? You come out and say that with no details.....ha ha. damn, now i'm hungry!

And yet, Apple named their device the iPad "Pro" and made it a 2-in-1 device, and positioned it to compete against the Surface. It's a great comparison, actually. It shows how outmoded Apple's "Pro" device is compared to Surface. If you want the comparisons to stop, Would You Kindly ask Apple to stop trying to compete with crappy products? It's like sending a parapalegic to compete at the Olympics for figure skating. Sure he/she has a shiny unitard on, but it's not gonna net you the gold, and the judges will still have to judge your performance against others.

Again, another person out of touch with how average consumers shop and understand products.

Personally I find both Apple's and Microsoft's new marketing of their tablets distasteful and dishonest. Apple tries to pretend iPad Pro is a decent PC-alternative; it's not at all. Microsoft is now trying to market Surface Pro as a laptop or the best laptop; it's a 2-in-1 tablet first and foremost. I don't have any problem comparing iPad Pro to Surface Pro, but to some extent you are indulging Apple's lie that iPad is a reasonable PC alternative. Microsoft made this 2-in-1 PC category very successful and it makes me sad to see them shy away from their success instead of embracing it proudly. Surface Pro is not a laptop, it is better than a laptop.

At first glance you'd agree a surface isnt a laptop, but let me tell youa story... I used to carry around with me a big ol' 17" Sony Vaio it was a monster of a piece of kit and so much so i had like four of them, i'd upgrade everytime time there was a bigger and better one, i'd get on the train and drag this thing out and take up all the room on the table and start working, i'm a 3D artist and run high end DCC apps [Digital Content Creation] i needed the high resolution HD screen just to fit all the icons on the desktop...Then i got a surface Pro2 inthe December following its release, whilst the screen size was nowhere near as big, the resolution was greater and i had more room for menus and pallete of icons... i created 3D models, environments, fully rigged and animated characters on a little Pro 2 when the Pro 3 came out i did what i always did with the Vaio i got the latest and greatest i still run the Pro 3, i havent had to keep up with the newest model to work when i travel [which is much more convienient now with a surface] i dont get angry looks on the train for taking up too much room, the bettery lasts longer, its lighter and generally an upgrade on my laptop experience despite being smaller. yes windows 10 has made it a better experience, when i need the power of my Workstation in the office i can remote in and leverage 24 cores of CPU power and 16Gb of GPU power for rendering [i can make my pro 3 whistle a lovely tune with its fan by trying to render on the i7 CPU. The Surface isnt a laptop, it's not a laptop replacement, its a laptop upgrade, it does more than my laptop did in a more convienient way... I still have my last Sony Vaio, i turned it on to transfer files over to the Pro 2, honestly havent used it since...

For me it would come down to a simple "what could I do better on a $799 iPad than on a $799 SP?" The answer is nothing and i would have a lot more memory (among other things) on the SP.

You're right. There's nothing you can do better on an iPad. They're expensive media consumption toys, plain and simple.

Thats what I bought mine for. My surface 3 was not a great media consumption device. My ipad air 2 is. Just as my surface 3 was not a great laptop/desktop, but my new dell 2 in 1 is. The suface 3 sized device, with the same dock, but with PRO internals like a proper CPU, LOTS of ram and LOTS of storage would be a great device. More so now that I found that bluestacks app.

Interestingly you just contradicted yourself. Indeed iPad is better at comsumption.

I don't think it is. My S3 is a better consumption device. I have a ton more local storage for the money (especially will microSD), the use of industry standard protocols for casting (Miracast/WiDi vs. apple TV), and great support for things other than consumption.

The answer is everything I can do on iPad Pro. If versatility is to be considered, then SP wins immediately, but it makes no sense to make the SP vsiPad comparison. If the comparison is meaningful, then specs, ecosystem or whatever should not be mentioned, the only thing that matters is the app you prefer to draw in. In real life the SP vs iPad is super meaningless. Very few are going to buy iPad as a single computing device and those who do evidently do not want neither SP nor Windows nor the advertised versatility. SP alone can more or less replace Mac Book and iPad, so its future must be bright, but this is irrelevant to the SP vs iPad bla-bla.

Might as well compare a Bugatti Chiron to a Lexus LS.... The iPad Pro is a nice, top of the line, tablet, but it's nowhere near the performance capability of even a Surface 3...😆😆😆 But, seriously. My Surface 3 is more powerful than the best iPad.

Actually the iPad Pro I way more powerful than the surface 3, the A9X processor is almost as good as the core i5 model of the Surface Pro 4. The snapdragon 835 is also more powerful than the core m3

Yet i can't use full Office on an iPad (yes i NEED features not found in the iOS version), not can i use a mouse, or attach any variety of peripherals. An iPad is an excellent tablet, but not a good PC.

"Yet i can't use full Office on an iPad" Maybe you should bring that up with the developer: Microsoft.

Why, I prefer it with mouse support and a real keyboard :)

I would not use an iPadPro even if it has a CPU 10 times faster than i7 because: one, iOS can never be as productive and useful as Windows 10; two, iPadPro keyboard cover is a bad design - without trackpad, keys are hard to press, only one viewing angle, cannot lay flat for writing properly, and the list goes on.... I saw some people using iPadPro when I attended some training workshops for teachers - it really made me laugh as they were just using the device for web browsing and e-mail. Nothing more. I even didn't see them using Apple Pencil, possibly because they just didn't buy it / the Pencil is too long for putting on the shirt pocket / they didn't know how powerful OneNote is. The only good thing is that they felt proud of that iDevice.

One more reason for not having a pencil is how the hell will you keep it safe. In surface pro you can magnetically attach it to the device itself.

Depends on what performance your talking about.

Can the iPad run Microchips MPLabs Microcontroller assembly language program?.. Because that's what I'm running on my S3, and the S3 runs it without a stutter... What does powerful REALLY mean?🤔🤔🤔🤔🤔🤔🤔

Well you did talk about performance and not software availability in the first place. That having said, the iPads are from the performance point of view leaps and bounds above your Surface 3.

in some ways yes.....in other ways NO. It all boils down to apps...but as I mentioned, bluestacks fixes that for the most part. I would buy the surface 3 over the ipad pro 9.7" for "real work". Keyboard is better, pen is better, having full windows 10 is better for real work. For media consumption, tabletey stuff, (nice word hey?), I think IOS has the advantage. That is why I bought a 13" 2 in 1, and ipad air 2. best of both worlds then.

These comparisons are good for apple users so that they can see what a tablet can really do. I remember watching a similar comparison on engadget where the apple dude said Surface is not for him because its and I quote "too functional". :/ But from a PC guy's perspective, we laugh on it lol. Its not fair for Surface to be compared with large slates that are just meant for consumption. There is no comparison between a computer and a toy.

It's branding. They have no problem comparing their consumption OS to Windows and winning mindshare.

Nitish, Not really. I use apple products, but I am not an apple fanboy. Just as I use Microsoft products I am not a MS fanboy. You want to read some hilarious comments...mosey over to imore. that **** is funny! They say (apple lemmings), that the ipad pro is way more powerful and productive than the surface line. I just laugh. Call them out on it, and they just keep going...but.but.but.....apple. ha ha. Too functional. ha ha ha.....thats a new one. Thats like saying my car gets too good gas milage. Or, No, I don't want your free plane ticket, I want to pay for it. OH my, Lemmings of any type either Apple, Google, MS are funny little creatures.

So I guess im trying to sort out who the person I would want to LEAST hang out with... on one hand we have the Steve Adams defined "fanboy", this person, while a little over excited about some things, seems to be generally happy with new products by company A... On the other hand we have Steve, Steve just likes to be an negative anytime someone has a positive comment about something that is MS related.. Now Steve will post that he is NOT a fanboy, that he indeed uses Apple and MS, but I think we all know where his lost love lies.. hint, it has two P's in the name and its NOT Pappale.. heh! Sorry had to toss that in there... BTW Steve, nothin' but love for you man... I just like having a bit o' fun! :)

hahaha that's mostly the reasoning from apple fans, right? "but.. but.. but... apple" xD There is another point that apple fans make... the experience... lol now I am not sure how to quantify that to compare with experience on Windows...I can run heavy games on Windows PCs but not iPad pro or for that matter even macs. should that not be counted as experience... but then again they will say "but.. but.. but.. apple " I just feel sorry for them sometime.

The fact that a device running a desktop OS is so close in dimensions as a device running a mobile OS is amazing. Not to mention the battery life on the SP is reportedly way better than the iPad. Apple's days of touting convergence and optimization are clearly over. On the other hand, I also think the idea of mobile apps not being fully productive can't be argued anymore. If Microsoft's future direction is all UWP, we can't sit around and not think Apple and Google are taking similar direction in making their mobile apps desktop-class. Microsoft just has the head start.

MS has the development funding advantage. Its hard to find consumers willing to pay as much for apps on a purely mobile OS, as someone would spend on a static machine. Take AAA games, or software like adobe. That kind of funding in mobile OSes, higher margin software with deeper functionality, is virtually unheard of. That is really one of the main benefits of a hybrid OS, being able to leverage all platforms together. Of course, MS lacks the high volume, low margin, mobility centered software so far. Without apple having a hybrid OS however, this is easier for MS to bridge, than apple, despite their intentions on improving software quality to desktop levels.

I agree and believe that the use of Android apps on Chromebooks is the beginning of the UWPesque future for Google. For Apple, they have always been a wait and improve company. I will not be surprised if in a couple of years Apple releases its own UWP V1.

That last part is a tough call. While I'm sure Apple and Google are trying to find ways to make their apps "desktop-class". It would take a major overhaul of the underlying OS. UWP, like win32 before it, is a way for apps to tap into the power of the Windows OS through APIs. So UWP can already make more advanced apps than anything designed for a mobile OS, with more to come as the APIs become more complete. Apple may be able to get there without too much of a performance hit, but Android is already straining resources due to its lousy JVM.

I don't mean to be a troll but in the SP storage options it should be 256 not 265

its a murikan website, but can you please post the specs in non retarded units?

Sorry, I know you aren't "a murikan" and all, but could you post your next comment with less insults? Maybe you could also spell it American instead? I don't rag on your country (unless you're from North Korea[Seriously, check out an image of that area from space at night], of course), do I? All you really need to know is two things, anyways: 1) Larger numbers = bigger 2) If it's such a huge, horrible thing, please refer to your nearest unit converter. BONUS) Asking politely is likely to get you more chance at what you'd like, than being rude. Thank you in advance.

Yup. While I totally agree with his request, that lambasting is pointless.

No, the lambasting was perfectly appropriate given the rudeness in which the request was stated.

Hit start to Cortana > Insert number and unit > add "to (unit)"

Hello is there any indication of a new Surface Book? I am in the market for something more powerful than the Pro and prefer the Laptop with hinge and detachable screen format. Should I wait or get the current Book with Performance Base?

I would guess Q4 probably coupled with a ARM Surface 3 successor.

Yeah, I predict the surface 3 replacement will be running 10s.

"Surface Pro beats iPad Pro in a tech spec comparison - by a mile" Well...yeah. iPad Pro doesn't even deserve the "Pro" moniker in it's name. No SDCard, locked down iOS & apps, limited onboard storage does not make it a pro. Seriously, this is a needless comparison. Surface Pro has come a long way and it is awesome...except for price.

Needless for you, but there are folks who will consider a purchase between the two

s-2-n, if we are talking specs and features, the surface pro 1 has the ipad pro beat. More storage, sd card, ports etc.

IMHO Surface Pro is still not a polished product. I don't spend my money on the current iteration. I will wait for Window 10 on ARM and a Surface Pro with less than 7 mm thickness.

That's an unfair comparison.. Of course the SP trumps d iPad!!

The comparison is unfair, but thats the Ipad's fault. Its also necessary to make sure potential buyers know what they are getting....

The Surface Pro competes with the MacBook not the iPad. You are comparing a Tacoma to a F350. They are not cross shopped.

If someone wants to buy a tablet they will be given the choice of the iPad, an Android tablet, or a Windows tablet (Surface, Transformer, etc.). Microsoft has the Surface Laptop and the Surface Book to perceptually battle it out with the MacBook Air and Pro (and Studio for the iMac, and so on). They (Microsoft) filled the tablet space gap nicely (though not with a "mobile" OS) by creating the Surface line of tablets.

If someone wants to buy a tablet, Microsoft doesn't really have any options. If you want to buy a laptop replacement that can sorta double as a tablet, then the Surface Pro can work. Any iPad buyer who needs more power is going to be shopping for a MacBook and it's competitors. The Surface Pro doesn't compete directly with the iPad.

I know people who have an ipad mini and a Surface Pro.....so no, they do not automatically default ro Macbook pro.

I said "and it's competitors". Most of the Apple people I know wouldn't even think about anything else. They won't even acknowledge the existence​ of Windows machines.

@bleached You need new friends.

Me, I would never have a windows based tablet for what I use my ipad air 2 for. Just as I would never own a macbook pro. Macbook pro with the stupid touchbar, MacOS, and lack of top specs are the downfall of that machine.

Many people who are looking to get their *first* tablet devices will be searching out what the market is saying. They will hear "iPad", they will (probably) hear "Galaxy Tab" and they will hear "Surface" too. Why is it so hard to accept that Microsoft has every right to push back against the Apple strategy of using iPads to steal into casual computing use, meeting them at the same price points calling them out, and trying to one-up them with a more powerful (and increasingly more beautiful - FDS!) OS?

Agreed Tunde, If anyone asks me about devices, I ask them what do you want to do with it? If they say the normal tablet stuff, I recommend the Ipad air/new ipad. If they want to be doing things like using Office suites, photo editing etc I recommend a windows based device. All boils down to what a person needs. I never recommend MacOS devices because the OS is tererible, and the devices are way overpriced.

And yet, Apple says the iPad pro is equivalent and/or better than Surface Pro-line. They went head-to-head with Microsoft on this one, so if you want to blame somebody, blame Apple. They got themselves into this mess.

The iPad Pro was specifically designed and built to compete with the Surface Pro. It wasn't coincidence it came out not too long after the Surface Pro's popularity took off, nor was it coincidence that their marketing played off that way. Apple was the first to go as far as trying to compare.

Better compare it with Samsung's tablet

The only thing to compare is the inking. Outside of that Jez just may have waisted his energy... and, perhaps our time!

This has to be one of the most disingenious and idiotic comparrisons I have ever seen. How much where you paid my MSFT to write this? Did you just copy MSFT's ad copy? First, comparing the two devices here is like comparing Apples to oranges (pardon the pun). The Surface Pro is a frankensteinish combination of a notebook and a tablet form factor. Whle the iPad is a purpose built tablet device. The Surface Pro is nearly unusable without a keyboard and mouse. This is why the type covers and mice for the Surface are so probminently displayed. I have both devices actually. I have a Surface Pro 3 and an iPad Pro. The iPad is truly instant on and is a go to device for media consumption and web browsing. It can also be used for basic productivity functions. If I need more then that, then I go to my Surface Pro 3. You also got your specs wrong. The iPad Pro is fully capable and runs Apple's latest version of iOS. Which is 10.3.2 in the normal release ring. A better comparrison would be to compare the Surface Pro with other devices that run Windows and come from the likes of HP, Lenovo, and Dell. If you are so biased and have to try and to a hatchet job on Apple, then maybe compare it to the MacBook Pro. That would at least the a more appropriate comparrison based on price and specs. If you where going to compare sheer tablet use, the iPad series beats the Surface Pro hands down. Widows 10, even in tablet mode, is still not as easy to use or as responsive as iOS is. The tablet optimized apps are just not there yet either. Even the supposed tablet optimizations for Outlook are not that helpful. I find the Outlook iOS app to be better for mobile device usage. Sure, it's not as feature rich, but it is better designed for the device it's being used on. TL:DR - This is a STUPID comparrison of two different class of devices. If you must compare devices, then compare this with other Windows based devices in it's same category.

I think if you want to compare to MacBook, u use Surface Book. Surface Pro is a tablet that can work like a PC.

Great points.....can you follow up with a list of tablets, 2in1, laptops, computers, os's, and toothpaste that should be compared and those that should be? Windows Central im sure will appreciate your efforts.

As you can see apple wants to make ios system to fully replace the mac os being a legacy system and to be the main apple os. That is why they have the pathetic ipad cover/keyboard to show that ipad pro is a viable pc replacement. In that sense ipad pro can be compared to Surface Pro. Just my 2 cents

@richard wessels: what means fully capable? As long as i cannot develop my RAW photos in 16 bits mode with Capture One Pro or Lightroom (not the gimped iOS version), iOS is simply not capable enough for me and i am not speaking of Photoshop or something complicated.
Also, you can compare it to the MBP but the MacBook Pro is 250$ more expensive, thicker, heavier, does not have touchscreen, no digitizer... I am not sure it would put the MBP under a positive light 🙂
Also, they are plenty of app and even Win32 programs running just fine in tablet mode and the same Outlook app as iOS is also available on W10 by default so what are you referring to? It is a very valid comparison because my SP3 definitely replaces the iPad i gave to my wife (and replace my desktop with the dock and can be used as a laptop as well).

surface pro = frankensteinish. ipad = purpose built. how much did apple pay you?

I don't see the why half these comments are saying this is not an appropriate comparison......anything can be compared, no matter how ridiculous. Having said that, the tech media began comparing these lines of devices from the very beginning, and since the Surfaces are tablet/laptop Frankensteins, they CAN be compared with a variety of machines. We gotta stop putting things in nice neat little boxes....There is nothing absurd about a consumer standing in Best Buy trying to determine if they need an Ipad Pro or Surface......wtf is wrong with you people.......have a nice day 😊

Why are we comparing Apples to Oranges? Seriously? I am no fan of Apple but to compare an iPad to a Surface Pro makes no sense. A better comparison would be Surface Pro and MacBook AIR or something along those lines. Both are fully fledged PCs.

Can you really not see how these two devices can be compared? Its so obvious...

Because the average consumer wants a tablet and has no idea which is better.

Because surface pro is tablet first. Not desktop first. That's why.

Some days I use it like a tablet, other days, I use it like I would a desk top.....am I using it wrong? Should I make sure my tablet usage by percent is higher so that I can fall in line with it being tablet first?

It's completely fine, plus u got an advantage to be able to use it as a PC. But I'm pretty sure Windows kinda bad when using it as a tablet (because of apps) but UWP means to change that. Surface pro gives u freedom whether to use it as tablet or as PC. That's the main advantage, compare to iPad Pro, even with apple pencil and the keyboard, it's really bad to turn iPad to a PC.

But i want a tablet. And i want a laptop. But i want only one device. What Apple product should i compare it to?

You're not allowed to want those things.....according to the category police

Hahaha! "Category police" indeed!

These two devices are not the same, but they're also not mutually exclusive. The SP-line is designed to overlap with a number of were-separate devices of yore, and hence, the comparisons are valid.

Why compare them? Apple says this about their iPad Pro... "More powerful than most PC laptops." Microsoft says this about their surface pro... "The most versatile laptop." Before that they both had something like, the tablet that can replace your laptop. If you don't already these are competing in the same space. The laptop space. They both are trying to convince people to not get laptops and get these.

Great and informative comparison.

This is a great comparisson. I know Microsoft has also made the Surface Laptop to compete with Apple. MacBook Air vs Surface Laptop And last year they made same with MacBook Pro vs Surface Book iMac 2016 vs Surface Studio Now all Microsoft needs is a Surface Pro Mobile phone that can run Windows ARM!!!

sorry gabriel, the phone is not happening.

Oh it is! Though maybe as a Surface (Mini) phablet with a pen and in-box wireless earphones or something! They just cannot leave that device gap unfilled in their ecosystem (just like they didn't leave tablets to Apple to permanently and perpetually define, in spite of a late start).

Well if it's a tablet then it's not a phone. They don't have an unfilled gap in their ecosystem...the iphone and androids fill it fine. They are making their money now instead of losing it! I use and pay for MS services on my IOS phone. MS is making money without losing money on hardware. Surface phone.....NOT HAPPENING

You don't follow tech news then do you. There will be an ultra portable Surface that has telephony abilities but not until 2018 or 2019. So far the name Surface Phone has been kept out of it - but make no mistake if a device can do telephony then guess what they means it can be a phone. So everything so far points to you being wrong.

it very well may not be a phone, but doesn't mean it won't compete in the same space as a phone.

This article shouldn't even exist lol

Apple sells about 10x as many iPads as Microsoft does Surface Pros. People still buy Surface Pros?

Apparently enough to be a billion dollar business and only be a tiny part of the business. Apple's main product is their HARDWARE. Microsoft's main product is SOFTWARE, and this makes Apple look like they set up shop yesterday by sheer quantity comparison. #burn

I love the microsoft fanboys. Lose their **** when WC does an article saying how to switch to iphone (clearly the way forward with MS services), then when WC does an article on how the surface pro is better than the ipad pro they lose their **** calling it pointless. My chirst fanboys GROW UP!

Way to paint a bunch of people with a bunch of broad brushes

Well yeah....MICROSOFT FANBOYS...are not the same as people who use and enjoy microsoft products. I am the latter. But I am also bright enough to know that there are other systems out there that are maybe better than what microsoft offers. See the difference? If you can't you are in the MICROSOFT FANBOY catagory, if you can, then your not painted with a brush at all. Have a look around, You will see who I am talking about.

You keep on using that word (FANBOY), I don't think I means what you think in means.. We should have a drinking party... every time Steve, DJCBS, X I'm, and the new guy ED, etc. use the word FANBOY and its variants take a shot.. we will ALL be hammered in like 3 min.

I know exactly what it means.....It mean being blindly loyal to brand X and thinking Brand yzqa is garbage, even though you have no personal useage of said products. Just like the FANBOYS here. They are blindly Loyal to microsoft, saying that every other platform is garbage because they THINK it is...Or, Company A or Company G have shady business practices and will not use their products because of this....Meanwhile Brand M does the exact same thing if not worse and they are fine with it.....THATS a FANBOY.

See, I'm already a little tipsy, and I have only read what Steve (The Lurch) Adams has posted... this is going to be a damn HOOT! heh!

Some of us are also bright enough to not be anti-fanboy, if that makes sense. Lo and behold: Microsoft actually makes very competitive products today which, in many ways, are better than what (GASP!) Apple makes! Maybe better in a different way; maybe not as "intuitive" as the "touch friendly iOS", but many people don't care, because they'd take hardcore productivity over touching a bunch of colourful icons. Fanboys are nothing else than loyal customers, and loyalty for something has existed throughout the history of mankind; it's not new. Don't pretend you're not a fanboy of something too.

ah, yes. no true scotsman.

Mr. Adams is couching his argument in an extreme fashion saying that fanboys are "blindly loyal" to one company while stating that a competitor "is garbage." No doubt such extreme behavior exists and is relatively common. Yet I would in fact try to make sure I was characterizing people's argument appropriately and not creating a "straw man". GG002 states that "fanboys are nothing else than loyal customers". I think it is fair to say that the distinction between fanboys and loyal customers is in fact how a fanboy presents to others and themselves their argument for or against particular companies or wherever the "fanboy's" particular obsession is focused. Just as a fanatic's rationalization and world view would be often marked by obsession and logical fallacies of various types, so would be fanboys.

he clearly states they're not the same people as those who use and enjoy MS products. that's ridiculous. its all just a spectrum. its just liking and not liking something. none of the words have standardized meanings and they all mean something different to everyone. fanboy and nerd are synonomous to some people. being passionate is not necessarily bad. you can be overzealous, true. but still to try to create arbitrary distinctions between two groups and then pick and choose who goes where? yeah, that's ridiculous.

Loyal customer can be interpreted in any way you want. But it doesn't exclude the fact that fanboys can be loyal-till-death-do-us-part, which can be traced throughout history with any product and any war on the best one. People will tend to stick to certain (fashion) brands, trends, smart marketing and defend their choices as if their lives depended on it, even if they may have "buyer's remorse". Maybe I shouldn't have called it "loyal customers", but rather "loyal AF customers". Happy?

I have an SP3 and an iPad Pro 12.9 which my job purchased, and I use at work and personally. This comparison for me is valid because looking at from the consumer standpoint I'm conflicted between the two devices. Both offer hardware and software capabilities the other does not. For me, I always gravitate to my iPad Pro 12.9 w/ (Apple Keyboard and Apple Pencil) I do this mainly because the experience on my iPad Pro is simply easier and faster for me for a basic browser, email, document opening (annotation or editing) video viewing via an app. My SP3 can do these functions and more but the experience while doing it on mouse/kb first interface isn't enjoyable. Apple's touch-first environment makes picking up the device and just using it my preferred means of interaction especially when on the couch, in bed or on the go. Battery life and easy to use applications that lean toward a touch first life makes the iPad better for me when I'm doing simple stuff. The SP3 shows its real worth when I need to do actual work (I'm a desktop support tech) PowerShell, Active Directory support, Folder/File management, etc.. my SP3 with a keyboard and mouse makes nice to have. Remoting into my desktop from my iPad works, but the touch only interface has its drawbacks. Both devices when used together provided the best of both worlds

To me these comparison's are too Apple's and Orange's and the bias will fall towards the source of the comparison (Windows Central in this case favoring the Surface). I've grown up on Windows and find the freedom allowed as an IT Pro myself of over 20 years to be unmatched by iOS. Like you said, iOS as we know it is a touch first mobile OS designed for phones and tablets so inherently it's capabilities are limited when compared to full fledged Windows hence this comparison is Apple's and Orange's and most cases isn't a fair comparison. As hampered of an experience as the iPad Pro is, depending on someone's uses, the iPad Pro can easily fulfill the needs of the general majority of people and a good majority of the creative folk that it is mainly designed for. To me the biggest downside to the iPad and iOS is not having the ability to use a mouse and all interaction has to be touch. Because of this, the Pencil can only be used as a drawing device unlike the Surface Pen that can be used as a touch device as well. As far as Windows 10 has come, the touch experience is still not as fluid as iOS which shouldn't come as a surprise to anyone since Microsoft has to balance the OS where iOS can focus solely on it's touch experience. Both devices/OSes have their benefits and downsides but in too many ways these two should be not compared side by side.

you just wrote a whole paragraph to compare Apples and Oranges

If you switch to use tablet mode and then use Edge / Mail / Word store apps it's a pretty good experience imo.

to me, Edge is perfectly fine and is about as touch-first as any other browser i've used. MS Office mobile is absolutely fantastic. As is the simple email (and if you need more than that, Outlook is available and you're probably looking for more than any touch-interface provides anyway). The items you mentioned all have touch-first interfaces available and if you're in tablet mode, you won't run into any "kb/mouse-first" interface issues. hell, i use it *out* of tablet mode a bunch of the time without any issue.

100% agreement. I had a Surface Book and an iPad Pro 12.9. Since I have very little "heavy computing" needs, I found myself using the iPad for pretty much everything and going weeks without even touching the Surface Book. Not an Apple fanboy & the Surface Book was a very nice product. I've tried every surface since they first came out and honestly only went back to apple tablets for anything other than entertainmen with the 12.9.

The irony in all this, is that the folks who are saying that this comparison is should not be made.....they then start to list the features, pluses and minuses, and end up comparing the two devices to explain why the two devices cannot be compared......LOL.

It is a strange article if you look at it from a rational point of view. Of course, Windows Central does have its fair share of Microsoft fanbois--especially in its copyeditors--so it shouldn't be surprising. The iPad Pro. List price $800-1000. A real product. In real stores. The Surface Pro. Pre-order. List price $800 to $2700. We're talking Apples and oranges here. As for you "irony" comment: there's a point to listing the reasons the comparison the WindowsCentral fanboi posted are invalid. Windows 10 is a mediocre touch OS and a TERRIBLE tablet OS. I should know, I use Windows 10 primarily on touch/tablet devices (Dell 2-in-1, HP 1000 G2, HP Stream, Surface Pro 3 and it's riddled with bugs and inconsistencies. I'm not a heavy iOS user (I should say a very light iOS user), but, when I do use it I marvel at its interface design. iOS. 100% is touch and is 100% tablet based. Microsoft may have been first out of the gate by bringing touch to the desktop paradigm, but, I suspect that Apple will be the first to make touch work on a desktop-like paradigm. Another key point countering the comparison is that there simply isn't much worth mentioning on Windows 10 UWP in the way of graphics software. Even if Windows 10 were able to just "get out of the way" on a tablet-like device, what's the point of having a touch Windows device if you're using Win32 software? The interface just doesn't scale. Take AutoDesk for instance. An excellent piece of software that looks and performs poorly on Windows 10. Microsoft's own apps are quite good (Paint 3D, SketchPad), but, they are so limited it's kind of sad, really. So, ultimately, Apples and oranges is this comparison. You're pitting a laptop-wanna-be-trying-to-be-a-tablet against the ultimate tablet.

I use the Surface Pro 4 everyday as a tablet....and the Pen is great when more accuracy is needed. Im sorry, but I dont fit into this "Ultimate Tablet" category you people keep referring to in order to "not compare" two devices that, funny enough....are compared everyday by everybody....but here you guys are "no, no ,no ......don't compare them".......Okay, you don't have to, and your reasons to not compare them is even more invalid than the Windows Central Fanbois.....again, you list the plus and minuses to tell us why they shouldnt be compared....the irony strikes again.

I just find fanbois obnoxious and in need of a good knee-capping under all circumstances. Now that I'm primarily (98%) a Windows and Android user and thus need primarily Windows information I'm absolutely amazed at the level of reality distortion that goes on in the Microsoft fanbois. Or, the need to shore up their ego by trying to climb over Apple--even if they're completely ignoring the facts. In terms of overall obnoxiousness and delerium I'm still convinced that Linux takes the cake. Its fanbois win, hands down in the delusion category. Microsoft is a close second in the realm of crazies. When set beside Apple's fanbois Apple's are downright mild. Android, haven't really paid attention to the Android world so can't really comment but there too it seems like everything is relative to Apple. I guess it makes sense. Apple is now in control of the world's most profitable OS so people feel the need to measure their worth against it (Disclosure: I am not inclined to add to Apple's bottom line and haven't purchased even a used Apple device for myself in over a decade... not because I dislike Apple but because Windows is now "good enough"). Why do I find fanbois deserving of unreserved scorn? Because they make it hard to make informed decisions. WindowsCentral has evolved into a reasonably useful tool for me, but, a large percentage of articles are useless because they're designed to knock Apple or to uncritically promote Microsoft's wares. I don't want marketing nonsense. What I want is the straight up facts without idiocy. Windows 10 is great OS. It is stable. It runs on a stunning array of devices. It's the only desktop OS that's even bothered to try touch. But, please, please, please don't pretend like it's any good on touch. Or, that its interface is great--it's not and has a lot of really amateurish beta touches. I am constantly reminded of how amateurish it is when I try to use it on my plethora of touch devices. As for the pen, yes, I can see that being a useful feature (to be honest, I don't really like it much... I've even spent some time on Lenovo's high end tablet with a pen... it's smooth but the software just isn't there to make it sing). But, please don't pretend like Microsoft is in Apple's league yet. Microsoft has come a long way, but, it's still got a long way to go. Disclosure: I will never buy an iPad Pro. I have no need for the pen, though, I might buy a Surface Pro-like device some day (I'll never spend that kind of money on a tablet). I might someday invest in an iPad of some description for other reasons. The few times I've used an iPad I've been impressed by the smoothness of the experience. The other reality is that the app ecosystem is so incredibly mature in iOS compared to what's offered in Windows 10 app store, and, what never ceases to amaze is how seamless Apple makes the experience of moving from one iOS device to another. In time I'm sure Windows Store will improve, but, for now, if you hear someone say that Windows 10 is a good touch OS (as this article pretends) you can bet your dollars to doughnuts that they're a fanboi.

but, I suspect that Apple will be the first to make touch work on a desktop-like paradigm.

Nope! They'd sooner put a headphone jack on iPhone 8

i'm not even sure what you're a fanboy for, but you're level of zeal against windows is ridiculous. maybe you're simply the opposite of a fanboy? hateboy? i dunno.

bugs and inconsistencies. I'm not a heavy iOS user (I should say a very light iOS user), but, when I do use it I marvel at its interface design. iOS. 100% is touch and is 100% tablet based. What is their to marvel at in iOS user interface? The grid of icons or changeable wallpaper?

I have to agree regarding use on tablets. Windows 8 is FAR superior for touch devices. Nothing about W10 on my SP3 is user-friendly when it comes to touch. EVERYTHING is way too small to accurately tap on, outside of the Start Menu, which Microsoft has made about as painful as possible to even rely on. The ONLY area W10 shines on a tablet is inking. That is IT.

what did Windows 8 do that Windows 10 can't?

Horizontal Start Screen in tablet mode :)

i feel like i'm misunderstanding what you're saying, because if its what i think you're saying, its not on issue on windows 10. so i'm assuming its something else. so could you clarify?

Charm-Bar as swipe-in from right. You could easily share, project, print and stream from there. Task bar as swipe-in from left. Essentially you had full control with both of your thumbs. I rolled back to Windows 8 on all by tablets, because Windows 10 just sucks in tablet mode.

I agree and I rolled back to 8.1 on my Dell Venue 11. Windows 10 is terrible on it.

Really, speaking of strange responses. The Surface Pro has a release date of August 15th, that's a week from now. It's certainly not vaporware and in a week's time your "Apples and oranges" comment will be irrelevant. A release date difference of a week is a petty concern. Windows 10 is a desktop OS with which has been modified to allow touch with varing levels of success. Windows 10 can run legacy programs going back decades in some cases and can be used either as a full desktop experience or as a tablet touch experience. Microsoft is still working at improving the tablet/touch experience of Windows 10. On the other hand iOS is a phone/tablet OS and was designed from the beginning as a touch experience. The iPad Pro is a tablet with an keyboard accessory. Apple's actual desktop computers have ZERO touch capabilities with the exception of the "touch bar." Speaking of Apples and Oranges. And as far as your statement "I suspect that Apple will be the first to make touch work on a desktop like paradigm", they better get to it, because at this point they seemed to have made little attempt at it over the years. Unless you count "THE TOUCH BAR" ... Why limit the appeal of the Surface Pro to UWP applications, even in the case of graphics software? We are not talking about Windows 10 S. The Surface Pro is a hybrid, a two in one. The iPad Pro is a tablet.

yeah, you aren't a biased fanboy at all.

iPad Pro costs 800$ and the SP costs...800$. That sounds pretty comparable to me.
True, you can have the SP with 512Go of storage, 16Go of RAM (4 times more thab the iPad) and a core i7 twice as powerful as the iPad Pro but you do not HAVE to take the highest end SP, the lower end clearly compete against the iPad Pro.
Also, the SP4 is available since 18 months and the new one in 9 days so it is not like it is vaporware.
Regarding WIN32 programs, they look as good on a 12,3" SP as on a 11,6-13,3 16:9 or 16:10 laptop screen.
And the pen can replace the mouse making it a non issue to use in tablet mode. Actually, I use Adobe Premiere Element (in the Windows Store) and Capture One Pro in the train in tablet mode ans this is great.
For me, it is THE ultimate tablet as non others can do that. The bonus is that it is also my laptop and my desktop thanks to the dock.

Call me crazy but I think it's wrong to compare these two device, Surface is in It's own universe 🌌, surpass the iPad.. I think ipad is in league with other tablets.. Surface Pro is hybrid.. Lol like a mix of vampire, wolf 🐺 and witch, all you get is powerful device on It's own league...

You are right! I would've compare it if there was a new one, to the surface 4!!!

Ageed, we all knew that. But consumers don't. This article is how we educate.

it's because both of them is tablet-laptop hybrid. both of them try to be a laptop, and clearly the Surface Pro wins, but as a tablet, clearly iPad Pro wins.

The Surface Pro beats iPad Pro hands down in almost all categories. The only exception is that iPad has more touch friendly apps. The Surface Pro kickstand and the type cover make it more versatile for several user scenarios.

Neither are a go for me. I still want a surface mini! And now that skype is disappearing on my Surface RT I'm saddened even more as its useful functions seem to be dwindling down and my time frame till its dead with most things and what i want comes out is ......

I can just say my Surface Pro 4 is far better than any new ipads.. Ipads are same as bigger screen iPhone..Surface has a class where ipad is a kid and Surface is a Boss..

Nice analogy, especially because bosses retire and kids grow up to replace the old bosses.

for what I want to do the Surface Pro is better but i would buy a used ipad to use for less technical things. I think Mcrosoft products will get more apps due to the fact Microsoft now allows developers to put native adds in their apps and games so that DEVELOPERS can make more -MONEY-$$$. HMM If Apple and Android have been doing this all along no wonder they got more APPs than The Windows store got. Microsoft thanks for reaching out to developers because it gets more Apps for Windows mobile device to help close the apps GAP

Of course it does, you are talking about a toy vs. a real computer, no comparison.

hello all friend, want to get your suggestion about this two product according to my below work and queries ( New I pad pro and the new surface pro-2017 ) 1. I want to use like a copy, notebook, board for education purpose - example, if I write with my pen or pencil it should be converted in system text recognization.(my preferred language is Arabic and Urdu, which should be converted like English) editing on PDF file, or any file which similar to PDF and all related official work, like the chart , database etc. 2. Watching YouTube videos and serials. 3. Is these both products support the sim card? 4. Some time drawing also. 5. 10.5 or 12.3-inch size suitable for me, not an issue. 6. All program of Office 365 which product supports? Office 365 is very important for me. Overall my main purpose is self-education for Ph.D.

please excuse me if there is any mistake in my English language because I am poor in the English language.

Both devices should be adequate for all your requirements bar one. Offce 365 on the Surface will be far superior to the iPad versions. As you state that office 365 is very important, I suggest going with the Surface.

thank you, thats mean Microsoft also support the sim card. ?

When we get Windows on ARM devices then we can compare them to iPad Pro. Surface Pro uses a real OS.

Windows on ARM is the full Windows 10 OS!!! ARM will run all the desktop apps. Your confusion is exactly why I said MS should never have made Windows 10 S.

Yes, programs through emulation... Window 10 S runs on regular processors and can be upgraded to Pro anytime. You can't do that on ARM.

You can't do that on ARM.

I don't even know what you're trying to say. Because

everything

that can run on a machine with W10S and W10 pro can run on the new ARM emulation, including the OS (heavy GPU tasks not withstanding, but not because of compatibility issues). That's the point of emulation. Maybe you just don't understand that word.

The difference is its limited by the low-power chip. Windows 10 S isn't.

I think if Windows 10 S succeeds to some extent (no, not talking of it decimating ChromeBooks or denting MacBook Airs - just selling a decent figure is enough), it would drive more Developers to the UWP and Windows Store. The more we get to see Windows 10 S, the more Windows Apps will be developed and the more Apps developed, the better the chances MS has with a Windows Phone - call it Surface Phone if you will... So Windows 10 S is just MS plugging the biggest hole in their run-up to a Mobile and to reaching the '1 Billion Devices' Goal. Once that's attained, there are other Goals - most prominent one being wresting the initiative frim Android and getting back to being the most used OS! This is something that Android occupies this year, toppling Windows' Installed Base!!

I suspect the difference Windows on ARM will bring to the Surface line will be price. The Qualcomm 835 processor (and later 845) blow the doors off Apple's ARM CPU. Hopefully Microsoft will use its cost advantage to take the Surface product line to the mass market.

You dicks comparing iOS to full fledged windows. This is the kind of comaprison that needs to be hated because this microsoft fanboys are comparing a full sized PC/ hybrid (anything you may wanna call it) to a tablet , not "apple's take on the tablet-laptop hybrid" because apple publicly admitted they don't support this kind of device. They just don´t think a touchscreen in a laptop makes sense. Apple just said their tablet could do some things the Surface does without the hassle of carrying a full computer. BTW go compare it to the MBP. That would make sense xD, as it runs Photoshop and all that stuff:p

Per Apple's own description of their iPad pro "It offers far more power than most PC laptops,". Comparison is perfectly acceptable since apple advertises it as such

Just because Apple advertises it doesn't mean it is true or makes sense.

Apple's new A10X chip is about 4x faster than a quad-core i7 when it comes to photo editing in Serif's Affinity photo editor. Considering there are no Surface Pros that ship with quad-core CPUs that means the new iPad Pro is more powerful than any Surface Pro. Serif's on-stage demo from WWDC is worth watching.

Haha because performance in affinity and core count are the only things that matter when it comes to cpu performance. My phone has an octacore soc and runs Candy crush at 10000 billion fps. Must be the most powerful device ever. Compile code much? Transcode videos ever? Do you even computer? No one in their right tech savvy mind would even compare i7 with an apple chip... Unless you're apple marketing.

@bdfortin The only thing worth watching is yourself in the mirror when you say stupid things like this. An optimised piece of code cannot be compared to unpredictable user behaviour with all sorts of tasks.

None of the very mature speed comparisons in the preceding posts matter (certainly not to the consumers who actually pay money). What matters is one thing: does the device do what the user needs it to do? If yes, it's worth it. If no, then it's not. Benchmarks only tell part of the story. I have been caught many times by the benchmark trap. I am a benchmark sucker. I've bought three cameras that were highly rated and offered certain features. While they were highly rated I've been sorely disappointed with all of them. On my latest DSLR I went with build quality. I don't like the lens (extremely slow focussing, and, it's a fairly slow lens) and do not like Pentax's defaults. Ultimately, it's not like the Canon DSLRs that I understand so well (I've been using Canon SLRs since before DSLRs). Canon's DSLR build quality at the same price point is terrible, but, despite that my Pentax sits, mostly unused with only a few thousand shutter activations in its carry case because I simply don't enjoy using it. I would've been better off getting an inferior build quality Canon. Getting an inferior build quality camera would've hurt my sensibility so much, but, I would've also actually ended up using it. Or, perhaps I should've taken a gamble on the similar Nikon DSLR? Over the years I've learned from my many mistakes that I really need to stop worrying about getting "the most bang for my buck". While I may save money up front or get the fastest device, in the long run I still end up worse off than if I'd accepted a slower but better suited device or paid a little more for what seemed like a worse value for the same specs. Apple's strength has been making devices that allow people to do things that other don't. What's the use of a computing device if it doesn't allow you to do what you need it to do? For example, iMovie is a nice example of Apple's strength. It really doesn't matter what hardware it runs on because on Windows there aren't any easy-to-use yet fairly powerful video editors (I have been hunting for years and have yet to find one :(. I miss it sorely but, not enough to buy myself a Mac again (Windows does 95% of what I need and I can buy comparable hardware for much less than a Mac so I'm a Windows user for cheap :). I've suffered through the indignity of Windows Movie Maker, and, have tried Adobe's rather frustrating consumer grade software through work. Adobe, while "powerful" required a lot of research to use effectively (its interface was way to complicataed to "open and use"). WMM was too limited and, perhaps even harder to use than iMovie because it was so limited. The very first time I fired up iMovie (back in the mid-2000's) I got it to produce something decent without a single minute of training or reading. Later, after some minor experience with iMovie, WMM just was a running joke. My late 2013-home built Windows 7 i5-4570 rig (which only the very fastest of today's laptops can touch) can run at least 10 circles for every one circle my 2005 era 1.25 GHz Mac G4 can on every single benchmark you could possibly imagine, except for one. It's also the only one that matters. In the end, for one project, I actually pulled out my 2005 era G4 Mac mini running 2009 era software because it allowed me to do some audio editing that would've required hours of fiddling with Audacity. The time it took to set up the Mac mini was less than had I tried to do the same thing with Windows software. Anyway, the point is, iMovie ran on my 2005 era Mac. It allowed me to do something with minimal effort that WMM, Adobe and Audacity on my order of magnitude (literally) faster Windows 7 machine could not. So, while benchmarks may matter if you're comparing green bananas to green bananas, but, as soon as you start comparing a green banana to a perfectly ripe mango the benchmark flies out the window. If you will actually eat the delicious mango it really doesn't matter how fast your green banana can be peeled because you still won't be able to eat it when you're done peeling it.

It doesn't matter at this point what the spec comparison is. iPads run iOS, so this is a pretty terrible comparison anyways. This issue is that Microsoft failed with Windows RT, so they don't have an "iPad" to compete with the iPad Pro, and Apple has been more successful at getting their "UWP" Adopted by developers, users, and even businesses - iOS Apps. Couple that with the fact that they were a lot more forward thinking than Microsoft when it came to a few other technologies like AirPlay (Screen Mirroring to an AppleTV) and AirDrop, and on the consumer end they beat Microsoft to the Hand-Off & Continuity breakpoints (which Microsoft had cited as a goal way back in the Windows Phone 7 days). Also, developers seem to be finding more and more ways to port over to the iPad without feature cuts. Affinity Photo is now on the iPad, with 100% feature parity with the desktop app. This is a huge deal. In the future, I foresee there being less reasons for users to even accept severely feature-cut "mobile versions" on iPad (i.e. Office for iPad) because these devices, and indeed the iOS platform, is proving itself able to handle PC-level workloads these days - at PC-level performance levels without being over-specced.

- b23h "Why limit the appeal of the Surface Pro to UWP applications, even in the case of graphics software? We are not talking about Windows 10 S." Then don't... Affinity Photo has been ported to iPad with full feature set, and runs as well as on any Mac. Have them port it to UWP, with full features, equal performance, and a UI completely adapted to Touch and Pen. I think that's the biggest take-away from the iPad announcements at WWDC. It's possible to port desktop apps, even fairly complex graphics software, to iOS with full feature parity while taking advantage of the other input methods Apple offers for the iPad - namely the Pen and Keyboard - in addition to Touch. Apple doesn't just add features on top of features, they actually take care of the plumbing, as well. Microsoft often doesn't.

- Gone Fishin "Per Apple's own description of their iPad pro "It offers far more power than most PC laptops,". Comparison is perfectly acceptable since apple advertises it as such" It does. I think you people are out of touch. You should use some of those AMD (and Intel Pentium/Celeron) Laptops and AIOs that are being sold in droves by stores like Wal-Mart and Best Buy. They're right, an iPad Pro will run circles around them. Many of those PCs struggle to play 1080p 60FPS video, if they can at all... Majority of consumers aren't paying $1,000 for a Laptop. That's why the majority of laptops in these stores are Bargain Bin to Mid-Range fodder.

That doesn't make any sense. The only reason why the iPad Pro does so well with its games is because they simply have never been used for PC grade AAA titles. Overwatch. GTA 5, the Witcher...if you give any of that to an iPad (compatibility issues aside) the Intel cards obviously trump it, and if you put the lowest level celeron in an iPad and ran simple Apple apps, it could do them without a sweat. I used to own an HP Stream 13 with the lowest level Celeron in it. I benchmarked GTA 5 at normal settings (run from microSD card) and it came out at around 5-10 fps, which is SUPERB for a 60 dollar, dual core processor that is totally budget. If you put an A10 in it (once again, compatibility issues aside) I doubt it would even be able to comprehend PC grade commands.

starting price $650 up to $1230.... Based on your description of "most people", most people will not be buying this either. the 12" base model apple with Wi-Fi + Cellular and their keyboard will vs a Surface pro with the i5, larger hard drive and option to add a micro sd card, with a keyboard are about $30 difference in cost. Arguing that their comment is correct when compared to cheaper machines... Pathetic to say the least. If I am paying double the cost, I expect double the value. And I don't see that here.

Wow, the author's contempt for the iPad is palpable. Calm down.

What comes around, goes around.

Strange how Windows Central decided to compare a tablet and a laptop (after all, Microsoft markets the Surface Pro as "The most versatile laptop"... even though it doesn't ship with a keyboard).

Apple's own advertising compares the iPad pro to laptop computers. So it does seem at all strange that they would compare the Surface to the iPad as the pricing really is not that much different.

I think this comparision is fair enough. I have both Surface Pro and iPad Pro. I use the iPad for media consumption (e.g. watching youtube videos, reading news, listening muscis, watch movies etc.) so it is not a productivity tool... just a tool for me to enjoy and consume my leisure time. While I can use my Surface Pro 4 freely and have great experiences in all kinds of productivitiy tools. I notice some comments say this artical is apples to organges comprision. It's somewhat right depending how you view this.

It depends on uses. I use my convertible Windows device for office work mostly. The exception being drawing and photoshopping that works perfectly once I flip the computer. So for me, the Apple tablet would be too restrictive in my opinion.

The best comparison wouod be between windows surface and macbook, not ipad.

Why not compare similar products? There is a surface laptop now as well. Tablet vs tablet and laptop vs laptop. They are already similar prices...

How far is the new Apple A9x? Does it stack up with kaby lake core i5?

I (MS fan) think: The performance on the iPad is perfect, because IOS isn´t that "big" OS, or it has not sooo much features like Windows - but on this Surface I think - Windows 10 1703 will be great - you can do all kind of stuff on it!
:D
My opinion: The Surface Pro is better :)

Friends If I share my mobile data to New Ipad Pro, it will work or not?

This is an okay comparison although a bit cringe worthy because of the heavy leaning towards surface. I've been a surface camper since the rt days, owed all versions except pro 5, but now I'm actively researching about ipad pro 10.5. Im looking for a tablet mainly to read books, magazines, train online and watch videos, and maybe take notes for my masterals. I'd also like to replace my phone as my primary gadget. Ofcourse my sp4 already does what I want but
1. It's heavy (I already ditched the kb since I mainly use it as a tablet),
2. It only lasts me 3.5 hours
3. Windows 10 (ux) sucks so bad I really miss windows 8.1. Always paid attention to tablet world and haven't considered iPads before, until ios 11. Funny how there's big brouhaha about multi tasking and drag and dropping files, stuff windows always had since day 1. But atleast they're coming here soon and those 2 features alone might be enough to sway me to ipad pros. I'm also considering just buying a Surface book and just using the clipboard, but battery life is mediocre. After having 5 surface products, and being the most passionate surface user I know (I also love surface touch, pity they don't make them anymore), I think the iPad pros have or will be finally surpassing the surfaces as the ultimate tablet (not tablet slash laptop, which surface still wins easily). And for people like me who yearn to have a great tablet experience (and mostly uses SaaS offerings) this was a nice article but not nearly good enough because it's too biased.

Surface Pro is always better
Windows Central Newsletter
Get the best of Windows Central in in your inbox, every day!
Thank you for signing up to Windows Central. You will receive a verification email shortly.
There was a problem. Please refresh the page and try again.