Surface Pro 3 gets firmware update to finally fix battery draining issue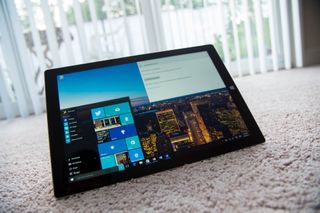 Microsoft has issued yet another firmware update for its Surface Pro 3 tablet. This is the third such firmware release inside of two months for the nearly two year old tablet, and this one may finally fix a fast battery drain issue that has affected some users.
At the time of this post, there's no change log published for this latest Surface Pro 3 firmware roll out. Earlier this month, Microsoft confirmed that it was testing a software solution for the battery draining issues that some tablet owners have been reporting for the past few months. A quick look at Microsoft's support forum (opens in new tab) shows that people who have installed the firmware update are reporting better battery life on their Surface Pro 3. We will update this post when Microsoft publishes a change log.
Update: Microsoft is now confirming that today's firmware update addresses the battery issue.
You can find more info on their updated FAQ page (opens in new tab)
Thanks to Richard, and Stephen B., for the tipS!
Windows Central Newsletter
Get the best of Windows Central in in your inbox, every day!
I've been on Insider since day 1 for mobile and PC. While there have been some bumps along the way in mobile, my SP3 has never worked reliably since I began running Insider builds. It's infuriating to pick up my SP3 in the morning and find out that the battery is drained. Or begin a meeting and have to soft reset the device because it won't turn on. Or when the keyboard stops working...Nothing but a headache. Hope this "fix" actually fixes things.

When it's that critical for you to use your device, you shouldn't run a insider build on it.

Sure, fine, but you would think these issues would be resolved A YEAR later...

Dude...do you even understand the purpose of Insider builds?? software 'beta' be broken!

Uhhh, like I said, I've been on Insider since it began. Im very familiar with the concept. Im just disappointed that im dealing with problems a year later on PC (not mobile though!). Plus, if the problem is fixed by a firmware update, the problem might not have anything to do with Insider in the first place. Whatever. No need to respond further.

I agree with you on the firmware for sure. On the insider, I understand where your are coming from. Because the issues you mentioned exist on Anniversary update as well. When I saw that Anniversary edition didn't fix them, I continued with Insider hoping it will be resolved on Beta first anyway.

Not using insider builds and the has been a constant issue for me

Not using insider builds and the has been a constant issue for me

I totally agree. With the phone I accept the bugs because it a new platform but on the Surface its just pathetic

While I'll echo what others say regarding the fact that you shouldn't run a preview OS on your main device, the reality is also that even the full, release version of Windows 10 made the Surface Pro 3 dramatically worse in terms of battery life. On Windows 8.1, my Surface Pro 3 EASILY got 9-12 hours of battery life, depending on what I was doing. On Windows 10, that was cut in half.

...Then don't be an insider on a device that you NEED to work.

Agreed, I would never use Insider for a work device. I use it on my 950xl which is my back up phone but not on my 950 or SP3.

Has anyone else had their SP3 just stop working completely recently? Mine won't boot at all. I think it tried to do an update the other day and it ****** it up. Nothing works to get it back on.

Yep I've had that happen a few times. I'm hoping the update helps as I've only been getting a couple of hours on a full charge. Will give it a few discharged and charges as it suggests and see if anything improves. If it doesn't improve I'm contacting Microsoft. Posted via the Windows Central App for Android

Yup. Started happening in the last build. I usually do the long power and volume button hold thing to get it to turn on and go to the DOS like prompt with hardware related configuration menu. Then turn it off and back on. Fixes it.

See skiboysteve's comment below. Maybe it'll help you.

I have a feeling this could be part of my issue, but at this point I get NOTHING when I charge it and try turning it on. Went from working great to being a paperweight.

Make sure you are plugging it into the adapter and not the dock. See the FAQ link I posted

My SP3 completely died after the January firmware update. It bricked a lot of devices and they rushed out a fix a few days later. Some people recovered but not me (I tried everything possible). The stupid thing was that my 1 year warranty ended 1 week before. I was so pissed that I left it in my drawer for 3 months. I bought a 950 and logged into my MS account and looked under the devices section to make sure 'find my phone' was working. It's the same section that also shows warranties... now I have no idea how or why, but the warranty for my SP3 was showing for March 2017!!! I bought it in Jan 2015, and it definitely only had 1 year warranty, not 26 months. So I lodged a warranty request, sent it away, and I'm typing this on a new SP3. Anyway, check your warranty page and hopefully you'll be able to get a new one too!

Well the onus is on them, they (MS) bricked the devices so they have to get it fixed.

Not just SP3. My Surface Book is that reliable neither.

Never had the battery drain issue on my SP3 but I'm glad to have an update. Don't know what else is different but the updating splash screen is new! There must be something wrong with me because I get a charge just seeing that.

This fixed the battery issue on my SP3. The battery had degraded to only holding 5 WHrs (supposed to be 42 WHrs), and it was dropping down every day. For example two days ago it held 7 WHrs... so if this didnt come out today I might have had a surface that wouldnt boot. Thank goodness! BTW to check if your surface had this issue just open command prompt and type "powercfg /batteryreport" and open the generated html file. If you see your capacity is degrading severely then you should get this update ASAP. If your surface is so badly affected you cant boot, try plugging into power and attempting to boot many many times and inserting/removing power a few times during boot. Seems to work for some.

It isn't a battery drain issue. The battery is draining like normal, but it doesn't report the battery size properly. It thinks the battery is tiny so it dies immediately. Infuriating my SP3 has become useless without a cord. I hope this fixes it. Posted via the Windows Central App for Android

Received the update and it worked! My Surface Pro 3 now reads 4.5 hours until dead instead of 20 minutes @ 100%! So happy, this month has been a pain having to carry around a charger everywhere. Posted via the Windows Central App for Android

Never had that issue with mine but glad it worked for you and others.

Lucky! I guess it had something to do with the manufacturer of the battery. It was a frustrating month.

Official statement and FAQ https://www.windowscentral.com/e?link=https2F%2Fclick.linksynergy.co...

I just want to be able to use my Surface 3 again, because after that redstone 2 update it has been horrible! I can't do much of anything on it without it crashing or simply not working. Yes I understand it's beta, but I'm just saying that I miss using my S3 and can't wait till they fix it.

Sounds like a rollback is in order.

You signed up for buggy software when you joined that insider ring. You shouldn't install very early software on any device you plan on using regularly. RS1 only just rolledout. I'd say rollback/restore to the stock OS and join the Release Preview ring. You won't get the bleeding edge features, but you won't have many issues if any. If you don't rollback, then you'll probably have the same issues for a while.

how long is this system update supposed to take? Mine's being going on for 50 minutes.

Mine took less than a minute. Posted via the Windows Central App for Android

Mine has been going for at least half an hour. Did yours ever finish?

After 1 hour, I ended up holding the vol up & power buttons down til it rebooted. The update history says it was successful.

It took 30 seconds longer than a usual bootup for me. Maybe you had other updates that tried to install at the same time.

nice, just need my sp3 to have it's wi-fi issue from wakeup fixed now (officially, not task scheduler workarounds) - oh well there is always next year?

Just read the FAQ from Microsoft. They say to plug in the AC adapter and do not use the docking station. Remove all USB devices and external monitors. Then run the update. My SP3 was updated automatically while in the docking station with lots of USB devices and 2 monitors hooked up. I wonder how this will turn out.

I didn't see that warning. Mine also was in the docking station with many USB devices plugged in.

I never saw that warning, and my SP3 downloaded the update and installed it without an issue. however, I never had the battery drain issue. I also turn on battery saver as soon as I unplug. It added 2.5-3 hours of estimated battery life.

That's good, but what about the people who MS charged hundreds of dollars for a battery replacement for this issue? Unless they come up with a refund program for those, they are looking at a lawsuit

Big companies have big lawyers who will find a way out of it. Plus I don't think anyone will actually go through the pain. But again, you never know.

The problem is acknowledged in the FAQ published by Microsoft and they promise a solution, although we will have to wait for confirmation from those affected that adequate compensation is bring offered.

My Surface Pro 3 has an LG battery and seems to be holding up well. The update arrived today. I don't know if it will make any difference. Now my Surface 3 does have a Simplo battery, but, it too seems to be behaving itself.

You would know if you had this issue. Posted via the Windows Central App for Android

So will they fire the Indian who wrote the buggy one?

Never,. They are like family.

Deja vu? I think I've seen almost the same headline for about two years now? And, while the SP3 is still as bad as it was, even my SP1 and 2 managed to get the same problems since the Anniversary update. Not impressed!

Ian,. I love your avatar!

Thanks, made it last summer...

Ha ha, an early adopter. I was'nt beliving it until they announced my 1020s were not going to be upgraded. Then I jumped ship. MS is like the big log in the toilet bowl, that spins around with the flush, just a matter of time before it goes down the hole. ha ha.

I'm buying a SP2 win 8.1 should I upgrade it to Win 10? What do you think folks?

After reading "fuel gauge" I want an option to change the battery icon to a fuel gauge.

Better (SUPER) late than ever. I ve sold mine. Too much battery and wifi issues....

Was away on hols so late reply here. My SF3PRO works like a charm. I came from an SF2PRO and definitely this is much better. I did however do a complete new Win10 install on it, deleting the entire partition. The only other thing I installed whas the latest Intel graphics driver (now .4501). I always update that one manually - for the rest works really like a charm. Battery life is really good too.
Windows Central Newsletter
Thank you for signing up to Windows Central. You will receive a verification email shortly.
There was a problem. Please refresh the page and try again.