Surface Pro 5, Project NEON appear to have been outed on LinkedIn
Steely-eyed Microsoft watcher h0x0d recently noticed a LinkedIn profile that appears to out the existence of the Surface Pro 5.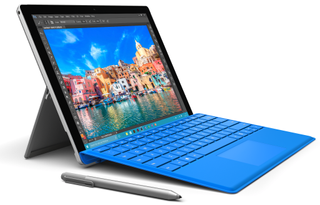 The fact Microsoft is working on a Surface Pro 5 will surely come as no surprise, as the 2-in-1 has propelled the brand to a billion dollar undertaking for Redmond.
The profile in question has since been amended, but h0x0d grabbed a screencap which describes the Surface Pro 5 as a "device of the future."
Additionally, the LinkedIn profile talks about Project NEON, which we know to be Microsoft's upcoming design language refresh across all Windows 10 devices.
We expect the Surface Book 2 and Surface Pro 5 to be outed sometime in the Spring, to coincide with, and possibly showcase the Windows 10 Creators Update. The Surface Pro 4 is well over a year old at this point, and has been receiving a few generous price cuts lately (opens in new tab), which generally indicates new hardware is on the way.
The Surface Pro 5 will no doubt be rocking a Kaby Lake CPU upgrade, and will probably sport all other sorts of boosts to screen resolution, RAM, and beyond. Microsoft has also been patenting all sorts of new pen features, including a rechargeable pen dock, and we could see them debut alongside the Surface Pro 5.
A Surface Pro 5 "render" has also been making the rounds, found on the official French Microsoft News website from 2016. But the render in question is identical to Surface Pro 4 renders used back in 2015, leading me to think the file name in question could simply be a typo.
Either way, it shouldn't be too long until we get to see the Surface Pro 5 for real.
What do you want to see in the next Surface Pro? Hit the comments.
Windows Central Newsletter
Get the best of Windows Central in in your inbox, every day!
Jez Corden is the Managing Editor for Windows Central, focusing primarily on all things Xbox and gaming. Jez is known for breaking exclusive news and analysis as relates to the Microsoft ecosystem while being powered by caffeine. Follow on Twitter @JezCorden and listen to his Xbox Two podcast, all about, you guessed it, Xbox!
Can't wait for Build for Microsoft to announce Pro 5, Book 2, Redstone 3 features and Project Neon. Edit: Pro 5*

Can't wait for Build for Microsoft to announce Pro 4...

Pro 5 is what's on the way, we had Pro 4 already, guessing just a typo :-)

Maybe they meant the Surface 4 and not the Pro line?

Doubtful, Surface 4's unlikely to be ready for Build. It's possible... But SP5's more likely to be ready before S4.

I'd really like to see a refreshed Surface 3, i.e. Surface 4. The plain Surface is just enough smaller to matter for size, is a fanless design, and can support LTE (current one has that option). As far as updates, the obvious would be dual USB-C (with thunderbolt?), so you could charge AND do something else without a dongle/splitter. That would open up a lot of docking solutions I expect. My Wife's Dell XPS can already make use of my MS Display Dock designed for the Lumia's, so no reason the Surface 4 couldn't use it. A CVH (Continuously Variable Hinge) would be nice on the kickstand, but not a deal breaker. Using a Qualcomm 835 and the new Win 10 for ARM would seem a possibility, and probably improve battery life. Apple keeps pushing their iPad Pro as a passable PC. The Surface 3 is already a better choice at a better price, IMHO. A Surface 4 could only be better still.

I'd like to see the Surface Pro and Book lines merged, with the "Surface Book 2" just a keyboard base option for the SP5. I don't see why the SP can't just be the display portion of the SB.

This is something I have thought about as well but the Surface Pro, I guess is the "cheaper" alternative and doesnt need to be as powerful as a Surface Book. Each Surface has a different level of power which works with a price range. This also makes me think that the Surface Phone is actually going to become simply, 'Surface' (replacement to Surface 3), which would make sense considering the price range as well as power/specs. It wouldnt make sense for MS to release a Surface Phone and a Surface, as they would both be near identical in specs and price just maybe differ in screen size. The way I see it:
- Surface $399-$699
- Surface Pro $699-$1200
- Surface Book $1200-$2500
- Surface Studio $$3000-$4999

And what about Surface Hub?

I forgot about that, to my understanding the Surface Hub starts at $8999, which would ultimately make it the largest Surface. It might not be the most highly spec'ed but obviously the price is going towards the large touchscreen and has its own market.

I like the simple straight forward pricing approach you suggest. However, as much as I would wish for it to be the case, I really don't think a Surface Phone will be anything less than $700. And it will probably cost more. MSFT has a habit of pricing their phones rather high.

I mostly wait for the Surface Phone.

special price only for you.. 4000$

Eagerly waiting for SP5, SB2. Will be exciting to see if they include Lenovo yoga book like keyboard, and which can be folded and used as a separate tablet/phablet( reference: Productivity future visions video, Microsoft's patent on dual display, attaching 2 surface devices and obviously Ntrig pen technologies).
Surely Microsoft will won the internet on that day and future high end market. I'm very sure these are under production / research.

Eagerly waiting for Studio 2 and Cellular PC with foldable screens.

As long as they have USB-C with Thunderbolt I'll be happy. I want to be able to use the Surface Book 2 with the Razer Core and charge it from the same adaptor as my phone.

This is what I've been waiting for

Or better yet Scorpio could be used in a similar fashion to the Razor Core

That would blow my mind......if I could plug my surface pro into my Xbox, and throttle the PC to do gpu heavy work, it would be sick.......i doubt it though. Thunder bolt and USB-C is absolutely necessary. I'd love to see a new docking station that has Nvidia 1080 in it, but the SP5 would need to ditch the dual core, and upgrade it's chip to quad core at a minimum

I don't think the dual core Pro series would really be a candidate. The top end Quad core models would be better suited.

Would be nice if they had a dual sad version where you could use both drives independently or raid 1 mirror.

Doubt about that. The CPU heat throttle is a problem even with a powerful GPU option. Surface Book design feature the fan behind screen, which is far from a good venting system. Also, the Surface Book screen is not proper for gaming, it's refreshing time is almost 80ms, too much for competitive gaming.

What??? Before Half-life 2 Episode 3???

The surface phone announcement will kill all that hype around the SP5 and SB2

If it happens, it's way off - SP6 and SB3 more likely.

Sadly I disagree, consumers no longer care about Windows phone, it'll probably be ignored outside of the business world.

It's not that consumers don't care about Win 10 Mobile -- it is that Microsoft has starved the stores and their own website and us here in New Zealand and everywhere else of L660 and L670 and so on devices. What is worse is that they even starved the world of the Alcatel IDOL by not having it on the MS Store. Shame upon MS for being so stupid and capitulating to iOS and Android when they could have help their ground.

You mean the Surface Cellular PC with SD835 (SD840?), foldable screens and x86 on ARM? Yeah, it would.

Yeah, nobody with good sense would ignore that.

Samsung and Apple will have theirs out first so it won't be hard to ignore the Microsoft version.

What could Samsung make that's comparable?.. Apple could use OSX, but I doubt that would be ready before a "Surface Phone".... MS just may be first, this time.

You have it backwards. What could Microsoft make that would compare to the Samsung or Apple version? They don't have a great touch platform for devices <10" and they definitely don't have apps to complement it. Samsung will probably be first with such a device as they have the $$ and display technology to make it happen. LG will be next and that is where Apple and Microsoft will probably source their displays. Microsoft will be in competition with Apple for the first round of folding displays and there is no way Microsoft will be able to win that contract. Apple's volume will demolish Microsoft's chance at it.

I'm not sure about that. LG is, other than Samsung, only one company (at Samsung the Display section doesn't care about phone section or shipyard section). So if Microsoft gives technologly to LG to build a similar device, LG would give the Deal to MS. With Apple no chance.

Apple will always be priority due to their volume. They will be able to order 10 million, Microsoft won't. Microsoft doesn't have any technology that LG needs. Samsung display division might say that they won't prioritize their other departments, but come on! You don't think their CEO, (who is in jail right now!) really thinks that?

Sadly, without all the apps, it's destined to fail, and I'm a huge fan of W10 Mobile (I use a Lumia 950), but I'm going to have to switch back to android soon unless something miraculous happens (like dual booting android)

Well, remember that it takes 3 generation for MS to make something "big". If the first gen Surface Phone comes with a proper price tag, maybe people will try to be the white mice. If the price is as high as Iphone, then maybe wait for Surface Phone 3 is better, right:)

I think the most interesting aspect is that this person appeared to stop working on it back in January, suggesting that the team no longer needed design for it. This lines up well with an announcement at BUILD for the Surface Pro 5. It will be a little disappointing to see the SB2, since I bought a SB with Performance Base for work, but Kaby Lake isn't a big upgrade and I do not expect SB2 to be significantly changed given it is only the second generation.

Yeah, particularly with the Surface Pro, I don't think the devices are going to be getting huge cosmetic and functional overhauls, I reckon just a bit of spec-boosting and attention to the displays. The SP4 is already heavily refined, the SB might get some a little attention as a first gen product but I can't think of anything that radically needs improving. Does make me wonder if the model-number approach to new products might disappear in the future and tech just becomes a continuous upgrade, with hardware getting subtly better with tweaks to production.

The downside to doing that would be that people that care about names would no longer be pressured to upgrade for the sake of upgrading. That subtle marketing that tells you your model is no longer new has an impact on everyone.

Yeah, but just wondering when that will die off. Each iteration of tech now seems to add less and there's less reason to get the next upgrade.
Maybe in the (relatively distant) future people won't really care with some product lines. Tech will always be evolving but even the smartphone market is slowing down.

Don't know why, but I'm feeling like MSFT this year is not going to do much. Sure they will update their surface models but I think they are going to wait until next year for more. For me the Xbox project is what to look at. I'm curios, although I doubt it, if they will use the windows 10 arm core they recently showed. Because if my Xbox becomes my desktop pc that would be awesome.

I'm interested to see what neon will look like I liked the days when windows looked like vista that's just me though

It's certainly not just you, though personally I prefer how it looks now.

The only good thing about vista ;)

I wonder if we will see integrated depth sensors on the back of the SP5. Thus would allow users to use the SP5 to see shared windows holographic spaces. This was actually featured in one of the creators update promo vids a few months back. Would be nice to see Capture 3D work on it as well (announced but not launched 3D scanner app for phone).
I would also expect the SP5 to drive the new windows holographic tethered headsets.

I wonder if we will see integrated depth sensors on the back of the SP5. Thus would allow users to use the SP5 to see shared windows holographic spaces. This was actually featured in one of the creators update promo vids a few months back. Would be nice to see Capture 3D work on it as well (announced but not launched 3D scanner app for phone).
I would also expect the SP5 to drive the new windows holographic tethered headsets.

I almost went to buy the Surface Pro 4 on Black Friday, but then realized Surface Pro 5 is just around the corner!

I, on the other hand, bought a SP4 during BF for $1K (i5, 8G, 256G version normally selling for $1.3K at the time) with type cover of any color choice ($130) and premium sleeve (still selling for $80 at the MS store today) included. A saving of $510. Or wait another 6 months or more for the SP5 to come out and pay full price. I went for the SP4. Still a worthy machine one year after launch. No regrets :-)

When SP4 was out, it was buggy and way below described in the event. Now, SP4 has been a good device as they once bragged years ago. Conservatively, expect the same to SP5, amazing but not well optimized. Similar to the new macbook, also buggy and not reliable. SP4 therefore is not a bad option, LOL

Talking about bugs, most of them are related with Windows 10. Now the OS becomes more stable, so I don't think that would be an issue. :)

This was in fact due to Surface Pro 4 being very fast incorporating the new Skylake processor. The hardware was OK, there were just issues with the Firmware / UEFI and it got fixed. Yeah they should've rushed less, no they won't rush that much again.

Personally would like to see a USB C port along side the USB 3 port.

Didn't we already know about this?

It will destroy anything spec and capability wise that Apple can dream of, but people will still flock to apple. The new Surface will still sell pretty well, though.

iPhone maybe (probably neither), Mac no. Surface is growing 13% YoY over 2016, Mac declined 10%.

"... a billion dollar undertaking..." Jez, I see this repeated a lot, but it is not quite accurate without more context. Surface generates a billion dollars plus *per quarter*. That makes it a 4-5 billion dollar business *per annum* for Microsoft. Since in finance it is common to speak about the size of a business in terms of annual sales, this is quite misleading unless you specify the quarterly duration.

Not really because they report quartly and those quartly results effect the stock prices so signficantly

2-3 hour longer battery time. Thinner, lighter and I wouldn't mind have 13 inch screen. Power keyboard, maybe a keyboard to hold the screen up, lika a ordinary laptop.

I like the form factor of Surface Pro 4. Still, there is room for improvements:
* LONGER BATTERY LIFE
* Switch to USB-C to save space (and increase battery capacity) -- or make it 2 ports.
* I'd like to see an SD card reader (really necessary when using the machine for photos, etc.)
* Increase display area by reducing bezel
* Include finger print reader in keyboard -- the best ones on smartphones appear to be faster than the video recognition system
* Improve material in keyboard -- the current material feels like a sweaty, slippy, plasticky material after resting the palms on it for a short time. Use the cool "skin" like material on the best Thinkpad keyboards instead
* Improve the touch pad -- it is ok now, but can certainly be improved
* Better pen attachment -- the current magnetic one is too weak, and is prone to loosing the pen
* And IMPROVE THE BATTERY LIFE

Right now the battery life is mostly sensitive to the battery size. If SP 5 comes thinner, then maybe it will be as what SP4 used to be. Even new Macbook Pro suffers a poor battery life after becoming thinner with a smaller battery. The SP5 design is of real challenge.

Surface 4 (or 5?) With 11" screen (same body size as Surface 3), Snapdragon 835, 8GB RAM, 256GB storage, 2x USB_C, 12h battery life, 6mm thin, 500g weight :P

Can you imagine the SP5, SB2 and a Surface mobile device were all announced? OMG that would be amazing!! 😁

In other news, the sky is blue

I really hope they improve the pen ergonomics and performance aspects for Artists. My own experience, and when reviewed by Pro arists, is that it's not comfortable to use for long periods, and it still has the slow-line jitter and line tappering issues, and no tilt support is pretty poor. This includes its use with the Surface Studio, so they're persistent issues. I held off buying the Pro 4 because of them, although I didn't think I'd be waiting this long for the 5 :/

My wish list has only one check box in it...SP5 with OLED touch @o@

Cant they make cheaper version of pro 5 with AMD Ryzen, Vega GPU, HBM2? Since they made Windows 10 for ARM that could also further reduce the price

I guess they will have at least one version of Surface product that makes use of ARM, that would lead the world to jump in new space of Windows 10.

It would be genius if MS can come up with something as revolutionized as the last SP3,4, SP book. I just can't imagine what else they could do with the current shape of laptop, thinner, more powerful hardware, ? That's not new.

I just want bluetooth to work on 950XL.

I have always had problems with Bluetooth pairing in Windows devices. From stick computers, full desktop, surface pro or Lumia devices. My workaround it's always the same: remove the device from the list of paired devices, and pair it again. Surviving with this tip for years.

I'm waiting for it,hope to see the new Project NEON

I wish there were a 14 or 15-inch variation inf the Surface line.

I'm hoping that the SP5 has a longer run time than the SP3 & 4. If a successor to the S3 is in the works, call it the Surface 5 to keep the base and Pro names in lock step. If there is a Surface Phone, please create versions for USA CDMA carriers. For far too long, customers of Verizon Wireless, Sprint and US Cellular wishing to give a WM10 device a try, have been shut out as Microsoft, HP and Alcatel have avoided CDMA certification altogether and gone 100% GSM. Verizon Wireless isn't supposed to have its new network up and running until 2019. Do these WM10 device manufacturers want to keep their products irrelevant to so many people?

I totally agree with you Dexman335. I'm on Verizon and we got maybe one or two good devices out of the Windows Phone lineup and PUFF, gone. They need to make it available on all radio/cell channels.

That's because CDMA is a closed silly technology and needs to die.

Despite the inevitable, CDMA is still here. Manufacturers of Windows Mobile devices are not helping themselves by avoiding certification. It keeps their products out of the hands of potential users, thus having them purchase iOS and Android devices which have the ability to run limited versions of full Microsoft Office programs. I would have liked to have purchased a Lumia 950XL. Sure, I could have gone to a Microsoft Store and picked one up, but, as a Verizon Wireless customer, it would have been a waste of money because the phone cannot be brought onto VZW's network. Ditto for the HP Elite x3 and Alcatel's new phone. Sadly, I suspect that the Surface Phone will, also, be a GSM-only model. Essentially, customers of VZW, Sprint & US Cellular who wish to give a Windows phone a try, will be forced to either switch carriers, or, wait until their carrier upgrades to a next generation network.

I'd like to see a Thunderbolt 3 port, and perhaps merge the Surface Pro and Surface Book line, making the Surface Book merely a keyboard option for the Surface Pro...heck, that Surface Book performance base could be like a Power Cover 2 with not only extended battery life, backlighting and additional ports which could add to the Surface Pro's current 6-external ports, but also an external GPU, which is what I want from a Thunderbolt port.

20MP Camera with pureview technology and Zeiss lens, tri- Led flash. 8mp with front camera with pureview technology and zeiss lens. 367 ppi Pixel sense . Sim card port (nano). New colours like gloss white, jet black and gold.

I definitely agree on the Camera aspect of the next Surface Pro. The camera needs to be addressed, IMO the iPad Pro takes the best pictures, in terms of tablets out on the market. Microsoft needs to incorporate the same technology they have on their High End Lumias. That Carl Zeiss lens got the job done on the previous phone models. Obviously that tech is old now, but they need to push the envelope further and stay ahead of the game in that area as well as overall technology going into the next SP5.

With in built finger print scanner(without type cover) . In much as it would come with a type cover.

No matter what, it doesn't change the fact the PC martket is down

Can't wait for improved pen features! You know though, it would be awesome to see an i7 version with a BIGGER screen!
That regular thing is too tiny to actually use in all seriousness. Sure, keep the baby one for the kids and coffee shop crowd, but give users a bigger option, all the other features are great, the surface line is awesome' potentially' but I just can't use it so I have to consider the Wacom mobile studio pro 16, which I couldn't afford in a dream. A better dream is a 15.6 inch surface pro. oooh... dream'n good. :)

Tell you what though, it would be great to join two surface screens together, like a book....Great for so many apps where you have a control and palette area and another workspace. They would both need to be the same, pen and touch capable...
Just let them daisy chain or something.... an endless surface. ;)

Please USB C charging on the Surface Book. Only way to pull me away from my Xiaomi Air.

There 4 things the Surface pro 5 needs to take it to a Super power Tablet/laptop hybrid. 1= LOWER PRICE, MODEL, 2= Extra USB 3 port, 3= USB-C port and thunderbolt ports. 4= 4G/5G cellular connectivity
Windows Central Newsletter
Thank you for signing up to Windows Central. You will receive a verification email shortly.
There was a problem. Please refresh the page and try again.