We want to know what games you are playing on your Surface Pro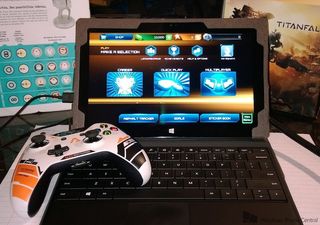 Microsoft's Surface Pro tablet coupled with Windows 8, brought one of the most immersive gaming experiences to the mobile computing space when it was released back in February of 2013. Popular Android and iOS devices were also able to bring an exciting experience, but a well-built tablet with the full power of Windows truly unlocked the door for more than just a casual game on the go.
One of our loyal readers and forum members, MicrosoftFoLife, started a thread commenting on how much he enjoyed gaming and playing Skyrim on his personal Surface device. We would like to know is what some of your favorite PC games to play on your tablet are.
Popular games such as World of Warcraft, Counter Strike, Team Fortress, Portal, Call of Duty, and more, could be played directly from the Surface Pro due to its Intel Core i5 CPU and integrated Intel HD 4000 graphics chip. The Surface Pro 2 upped the power even more with Intel's Haswell chipset and a new world of possibilities.
Popular benchmark site NotebookCheck, ran a collection of game benchmarks that included World of Warcraft, Diablo III, and F1 2012. All games were able to achieve a very playable frames per second rate of 27-32 on high graphic settings. If you turn down the graphics to medium in World of Warcraft, Diablo III, and F1 2012, you will get a wonderful 128 fps, 43 fps, and 28 fps respectively. If you turn down the resolution from native, you can achieve even smoother play rates.
If you have a Surface Pro 2, we really want to know what you have been playing! Do you play with your device's Touch cover, Type cover, controller, or other peripheral? If you are a big gamer, make sure to also include your benchmarks and FPS rates!
If you want to join in the original conversation, you can click here to check out the thread over in our "Microsoft Surface for Windows 8 Pro" forum.
Related reading
I dont have a surface, I have a Dell Venue 8

well i guess this isn't for you then....

How do you play CS on win8 RT ? I thought it didn't run desktop apps, but surface has an i5, which isn't ARM.. I'm confused. Can anyone clarify ?
Edit: is it that the surface 2 pro is on 32/64 bit, that's why it can run these games ?

Both Surface Pro and Pro2 are Non-RT devices. They run W8 and can run x86 software.
Surface and Surface 2 are RT, hence can only run market/store apps.

The rt can't play any games. But the pro and pro 2 can.

Do you mean... The RT can play STORE games while the PRO/Pro 2 can play store and normal Windows games?


RT plays apps. Pro plays games.

Me too! I like the Nintendo emulators, and use an old Logitech USB (PS2 looking) controller.

Sounds good to me! I love emulators.

Oh yeah, I've a N64 Emulator and I was playing OoT with an Xbox controller. Freaking awesome!

I have the Dell Venue II. i5 CPU, runs like a champ, full version Windows 8.1, Even have dual fans to keep it cool. And 128GB of storage and a 64GB SD card You can keep RT

I have Surface RT for my couch use. It has no fans, and stays cool and absolutely noiseless. Runs all day of use on single charge. And if I want, I can play Halo SA or Asphalt 8 on it. If I have to really play a game, I use my Lenovo laptop with i7 vPro, 8GB RAM, 512 GB SSD, NVIDIA Quadro K2000m with 2GB video RAM. Dell Venue, Surface Pro or Pro 2 are work tablets/notebooks, not really meant for gaming.

W530. Meant for CAD, but can handle many games flawlessly, especially with the video card supporting PhysX, etc.

Sorry but I disagree. The Pro and Pro 2 can game and why limit a machine to x or y for some random reason?
P.s. A Quadro card is not meant for gaming as it's a pro card. See what i did there...


Well this is about the pro and pro 2. RT can't play games.

Ummm? Did you miss the games in the store?


I've seen videos of people play half life on a DVP8, so just try any game you can.

I have a wireless mouse and Bluetooth keyboard that I use on my tablet and I play Minecraft sometimes.

The only thing I don't like with my Surface RT is not being able to play Gears Of War lol

how are the surface tablets? I thought about the ipad but want a better opinion

My wife has a Surface 2 and she has a lot of problems with it. I love my Surface Pro and if I had to advise her again, I'd say to pay the extra money for the pro version. It seems to lock up a lot more frequently than my Surface Pro and she has problems printing to our HP printer (forget scanning since you need hp's software to run that). Although it has one USB port and you might think that's enough, you can't use the Logitech unification software to connect multiple Logitech devices to a single receiver without full windows which was a bummer.

I have a surface rt and a hp multifunctional, I'm printing everything with the plug n play drivers and I'm scanning without any issue with the Microsoft native scan app. Try it.

Is that the new app from a week or so ago? I haven't true that one yet. Also, is your hp Ethernet, WiFi, or usb/shared? Right now she prints from word and it almost always fails the first attempt with 1/3rd to half a page printed. It almost always says it fails to print even when it does. I usually scan from the printer and send it to a computer but that may require the software

Actually no it is not new, i am using it since windows 8 check the link(http://www.wpcentral.com/comment/878330#comment-878330). I cant say it is the most rich in features but it does the job well for me. Funny thing is that the hp scan app does not recognise the scanner. Also the other hp apps are not of much use, order consumables etc. I use the printer with usb connection, i just plug it to the usb and i press print, the first time the surface installed some drivers and that was it.

i have the first gen Surface RT and it scans/prints to my canon printer fairly well, may be consider doing a factory restore and then update all the patches, you can get to the stock scanning app by going to start then type scan now i have noticed mine slowing down after the last update though, wonder if they will fix that... still decently usable just switching tabs in IE sometimes get a little jerky, hopefully 2nd gen is better

I have both an iPad and Surface 2. I find the Surface 2 to be much more productive. The kickstand, type cover, and USB really make it terrific. The iPad is essentially a candy crush machine for others in the household now. I suggest you go for the 64GB version of the Surface 2 if you're getting it.

My girlfriend with her Surface Pro and myself with my Surface Pro 2 print and scan wireless using WiFi to our Canon MP495 connected to network using WiFi, using the windows scan app and before that we scanned by right-click on canon under devices and printers and selecting Start scan, all done wireless, works gr8.

Surface rtwas good for me when I had it but the surface pro is of course more powerful. My first and only tablets and I liked the surface and I love my surface pro. You can get a surface pro first Gen for a little more than a surface 2.

Even without Haswell I think the Surface Pro is still one of the best buys on the market. Especially now that it's a generation old and the price has dropped.

I love it. The price for the RT was great. Sure, I would prefer a Surface Pro but for pretty much everything I do on a daily basis, the RT does the trick. I would recommend a type cover though, as the touch cover is good but not so great for writing most of the time.

Multitasking is what sold me on the Surface 2. My iPad is on the floor collection dust now. Have flipboard running on one side, WPCentral on the other, music playing in the background connected to my Bluetooth radio, and it's all wonderful. Preferred the type cover over the touch one, going with the blue cover on silver surface. No regrets!

Payday 2, Space Engineers and Diablo III

How is Space Engineers? I've contemplated buying it a few times.

Whoa!! A payday 2 fan? Likewise myself...I really love that game and skipped some days off work to 100% it #confessions

Ok meet me at WalMart I'll be the guy sittin on a toilet. PS I brought the condom's.

Question is asked to US only

Civilization 5 is great on the Surface Pro, and it even runs on the Dell Venue 8 Pro.

I love using the touch screen with Civ 5

But First... LET ME TAKE A SELFIE

Half Life 2, Morrowind, AVA

Had my Surface Pro for a few weeks now & only been playing the xbox live titles so far.

Got a Surface Pro, but not a gamer. Sometimes play Jetpack Joyride with my kid.

Actually on my Pro 2 the only thing I've been doing is work. It compiles my projects pretty fast (I know speed can be subjective, I'll just say it compiles specific projects faster than my m11xr2 does) and I have not had any slow down issues. Loving it!

what kind of work are you doing? do you find screen size an issue or do you dock it? I'm thinking of picking one up

It's a combination of things. Some of it is work directly on a server through ssh so obviously the performace does not matter a whole lot. We happen to have some big projects written in Java. For these we use an Eclipse setup and these are the ones that I compared for performace (running, debugging, compiling, etc.). Buttery smooth. I don't exactly dock but I do use an external monitor every time I am at my desk. To me, the problem is that when you don't have an external monitor you want to have high dpi settings (to actually see things). But when you connect an external monitor you have to lower the dpi settings or everything will look ridiculously giant (I use a 24" monitor at the same resolution 1980x1020). The annoying part is that for dpi changes to take effect you have to log out. I have also used it stand alone (I mean no external monitor, when I go outside) and I have been able to work with no problems. Due to the high resolution of the screen I actually love the way things look. It is extremely sharp and the code looks beautiful. Obviously when working in this manner I tend to only have one window at a time maximized. I have been able to work for about 7 hours without running out of battery.

Thanks! I work a lot with excel, concerned that screen size might be a problem

I dunno about Nimdock but I use my surface pro(1) for lightwieght dev work sometimes. More than that though its handy for multi-tasking during remote grooming meetings and such where I can jump on the eliptical and attend the meeting simultaneously. I do like being able to go eat breakfast and work and the resolution is not bad (I use gaming glasses though which have a slight magnification so it makes it easer to read the normally small print). Often when i'm working on it, I'm really remoting into my dev system so compile speeds on large projects I can't give you but when doing my own side projects on it, it's really handy, going on-site I don't even carry my laptop anymore and rarely feel the need to have anything more powerful. I don't normally even hook up an external monitor to it yet because it's portability is one of the features I like most on-site. You just pick up, go into the meeting, share to the webex session and start presenting (I like being able to walk around the room and talk so I get out of the way of the actual visuals).

I use my pro 2 for work every day, however I find the screen to be to small.. Next time I will be getting a 13 inch display for sure. I use the dock from Microsoft though, that helps alot! I do both excel and some coding.. Chose it for the portability, next time I'll go for the bigger screen.

Call of Duty, BF4, this thing will run almost anything. http://youtu.be/wq31Ryi9OWw http://youtu.be/xG67R6t4Jew

NOTHING ! ON MY 2ND SURFACE2 I GET THE BLUE SCREEN ALL THE TIME

That thing still exists? I have three W8 machines and I haven't seen it once. Knock on wood!

Yep, had to replace my wife's surface 2 in December because of it. Hers mostly just locks up with the lock screen half opened or keyboard slid half down

Ride to Hell: Retribution

This makes me want a surface so much more. I wasn't even considering the fact that I could game on it cause I assumed it wouldn't be sting enough. Nice to hear it is.

Gotta get a pro or Pro 2 though. Not the rt.

I play DYAD, The Longest Journey series, Torchlight 2, Warframe, Shadowrun Returns, Civ 5, Endless Space, Super Street Fighter 4 AE 2012, The Swapper, and Halo: Spartan Assault. All run extremely well, plus I use an external monitor so it works out even better.

Have the surface pro 2 and steam installed: Guacamelee, Strider and Sir You are being Hunted - all with the 360 wired controller...
I'm supposed to be writing lol

I played FFXIV for months on a surface pro :) it was really great.

Which controller is the picture? Haven't seen that before..

looks like a titanfall special

Does surface pro have full windows 8.1? Which means that it support desktop apps that aren't submitted to the store,if not, go you have any good suggestions? For windows tablet at full windows 8.1

I have a Surface Pro and it's running Windows 8.1 update 1

I don't have it yet, but I want to buy a Surface Pro 2 in the next few months, and the very first thing I'm going to play on it is Metro 2033; I never had an Xbox or a gaming-capable PC, only a PS3, so I've only been able to play Last Light.

Diablo 3 mostly. On a surface pro 2... However, I feel like I have to put all settings on the lowest possible for it to be smooth. Not sure why?

D3, Civ 5, Portal 2, Guacamelee, Rayman Origins and Legends. All kinds of great games. FFVII through Steam. That with the mini displayport to HDMI for a hotel room TV is AWESOME. At one point we had a SNES emulator running Mortal Combat 2 with a USB hub so we could do two player fighting games. Street Figher 2 as well. Amazing. People on an airplane with an iPad, I've got my Surface Pro setup with an Xbox controller and some headphones. Hybrid = win.

Dude no. I have a pro one and it automaticallly set basic medium everything and its so smooth

no surface pro, but i am using a ASUS vivotab 8. i play Papers, Please; Team Fortress 2 (~30fps 800x600), project64 emu (>60fps). i even bought a USB n64 controller from retrolink, it isn't a perfect n64 controller but it is good enough to really not notice most of the time.

Recently played Bioshock Infinite on a Surface Pro 2. Runs quite well when you do 720p and medium quality.

I use steam from Valve. I play Skyrim, civ 5, torchlight, tomb raider underworld, Stardrive, and DOTA 2, and in metro I play asphalt 8, minesweeper, halo Spartan assault, wordament, to name a few. I'm pretty impressed with the power of the original surface pro

What are some good games for the Surface RT? I really user mine for business but would like to use it for games every once in a while.

Halo Spartan Assault, Asphalt 7, Asphalt 8, Hydro Thunder, Reckless Racing, Six Guns, FIFA 14, Zombie HQ, Guns 4 Hire, Armed!
All these run on Surface RT.

Does Visual Studio/Expression Blend count?

I play World of Tanks on my Surface Pro 2. It runs at 80-100 fps dependig on map on standard graphics setting. I play using a wireless keyboard mouse combo from logitech. Also play Halo Spartan assault using touch ofc.

is that a game where you run around with your phone and try to establish a connection with other phones until you get that most wanted connection? ;P

Wait for him to crash to wall with a surface.

Pretty much playing every damn thing that's Xbox Live enabled. I'm in love with the fact that my tablet, smartphone and home gaming console share the same achievements/leaderboards. BlazBlue, Asphalt 7, Six Guns, Bejeweled, Monster Island, UNO, Rayman, Fruit Ninja and The Harvest are some frequent choices. I'd like to say Dungeon Hunter 4 as well, but the lack of XBL makes me not want anything to do with it.

Anyone tried this https://www.marvelheroes.com/?

Pretty much Asphalt 8 is all I really play on the Pro. My wife has a ton of games on her Surface RT. Which she takes everywhere and loves it.

I have an SP2. I play Minecraft, Stick of Truth, and TF2 on it.

You want to know?? Take it busy big guy! Be more gentle.

On my SP2, I play probably too much Hearthstone.

Playing Civ5 on my Surface 2 Pro.
Lots of fun :)

There should be a section for "what games do you want in the store"

Sat here in my hotel room with my pro 2 playing need for speed and burn out paradise with microsoft wireless xbox controller, love this tablet.

I have a Surface Pro 2 and play DC Universe Online, Batman Arkhan Origins and Strider 2014 (desktop). Rayman Jungle Run, Alphalt 8, Hexic, Fruit Ninja, Maquinarium ("modern" interface) at the moment. I have a Plugable docking station with keyboard, mouse and headphones from Razer, and a 21" full hd Samsung TV/monitor.

was playing hearthstone on the surface pro with touch for a while. way before they released the ipad version! now...just bingo lol

Guild Wars 2, Team Fortress 2 and The Mighty Quest for Epic Loot run pretty great on my Surface Pro. Love the device!

I don't play a lot of big games on my Surface Pro, but I'm doing 3d modeling in 3ds max, video montage in Adobe Premiere and Adobe After Effects and photo editing in Adobe Photoshop and Adobe Photoshop Lightroom and to be honest, it's the fastest computer I've used to far. It never slows down, it's faster than my big PC (which I haven't used much since getting the Surface Pro), and it's even faster than the 9000$ computer I used to have at work to do photorealistic 3d illustrations (although the PC is now about 5 years old, but it was still worth 9000$ at the time!). Even when I'm working at my desk with my real monitor I use the Surface instead of the real big PC since it's faster. Only problem is that since it's the first generation Surface Pro the hard drive is only 128 gig, so when I'm working on video montage I have to constantly move files from my external hard drive to my Surface to make sure I don't run out of space. (but I could also buy a micro SD card to add some extra space...)

What else? Zork Grand Inquisitor...

Does that work well with touch controls by any chance?

Sadly no...I use a Bluetooth mouse with it. This game and others of its kind SCREAM for touch screen conversions...

I play alot of civ v and Diablo 3. some bf4 as well.

Send me a Surface Pro and I will let you know!

I don't use my surface pro often for games. It's mainly a productivity, notetaking or media cinsumption device. The only game I play often is wordfeud. Sometimes wordament and occasionally Armed! Wordfeud and wordament work perfectly. Armer has issues that live posters are hard to find and takes ages to load. But I think the issue is more serverside than on the app or surface pro. Windows phone has similar issues.

I recently played Tim Schafer's "Broken Age". I love the Rayman games and also a lot of the Metro casual games.

Does Broken Age work well with touch controls?

I don't play anything on it mainly because i don't have one

I'm hooked on Hearthstone. Unbelievable game design, fun, casual but competitive by nature and it's made for touch and those animations! Later on I'll try to run Dolphin to play some Smash brothers Melee on the go with an xbox controller.

yeah... my surface pro 2 is being used mostly for.... Asphalt 8 and zombie Tsunami :( I do have 2 Ys games installed (via steam) as well as vanguard princess, but having a dedicated gaming PC upstairs, I tend to play games there. I bought it to edit photos, videos and other stuff on the road, but haven't been on the road yet :)

Suppose I should buy a dock of some sort, plug in my USB 3 drive, and have steam titles install to that.....

Need more xbox games for surface 2 but please no in app purchase..

X-com enemies within. Played Diablo 3 but died with lag. Also playing dawn of war on low settings. Sometimes runs out of memory. Surface pro

I just completed South Park TSOT, Carmageddon 3, trials fusion beta, nfs undercover, a few W8.1 xbl games

I played the Elder Scrolls Online Beta and Project Spark Games. I have been fighting trying to get The Witcher to work on it though.

Anyone play FFXI or FFXIV on the Surface Pro or Pro 2?

I play FFXIV on my Pro 2. Works fine.

No Surface, no Xbox, just a gaming rig with Win8.1.1 and a WinPhone...
Even so, on the PC, I own every Xbox-connected game.

I completed Limbo on it w/ Xbox controller and TV out. Other games I've played on it but didn't play longterm on it: Super Meat Boy, Aliens Colonial Marines, Alien Breed 3, Riptide, illomilo, Halo Spartan Assault, Vendetta Online... I actually do more work on it, even actual production. Graphics, audio, design docs. It handles even large, complex PSDs well. Looking forward to upgrading to the Surface Pro 3 (skipping the 2) so that I can play more games on it smoothly. Many of the 3D games bring it to it's knees.

Star Wars the Old Republic here on my Surface Pro. Also played Skyrim and Portal.

Project Spark. No other game matters.

I play Civ5 and HoMM3, no keyboard.
To prevent HoMM from crashing (old game), I close all explorer.exe processes and then run the game via the task manager command prompt.
Works like a charm.

I don't have Pro, just RT, but if I could I would like to play more and better Xbox Live titles!

I been playing borderlands 2, Skyrim, dead island series and kingdoms of amalur on my pro 2 with a wired Xbox 360 controller. Its the best tablet I have ever had and I am so glad I got it.

Cive 5 has a touch enabled mode so I have been playing that a lot of gemotery wars Portal 2 super meat boy

Original Surface Pro 128 GB - Civilization V, Total War: Rome II, Total War: Medieveal II, Xbox Live tiles. Just lowered graphics settings for the Total War games.

Playing Rift and Trove Alpha on mine, as well as emulators.

Heartstone, Diablo III, world of Warcraft.. Pro 2.

later last year the power supply unit in my desktop died and i was left with just my Surface Pro (1) for a month or two(oddly, similar timing to when Paul thurrott's own desktop died haha) , during this time i used it to play games like Diablo II, Path of Exile, World of Tanks, Heroes of Newerth, War Thunder, Kerbal Space Program, Homeworld 2 and an assortment of N64 games too, it can handle quite alot whilst plugged in and with the details turned down. :)

I've a Surface Pro 2 (512GB) and I've got: Street Fighter
Defense Grid
Great Big War Game (App)
Trackmania Stadium
Repton 1, 2 and 3 I did try the Dolphin emulator but it couldn't handle the audio and video together no matter what I tried. Shame


Civ5 and Endless Space! Currently waiting for Civ Beyond Earth.

Played a mix of Sim City, Crysis and Minecraft so far on my Surface Pro 2. I don't play many games on this as I have a gaming PC, but this (I'm on the Surface at the moment) well when I'm not at the gaming PC. My Surface is mainly for Windows Phone/Store and web development.

Microsoft, release the official Xbox One drivers for Windows 8.1 already!

Big Rigs: Over The Road Racing. Fantastic game that will keep you amused for hours.

Surface Pro 2. Mostly play adventure games like Broken Age and Broken Sword 5 and some times other types like Age of Wonders 3 or Wasteland 2. I use the pen primarily with some touch controls when possible and a type cover when needed. Very nice on my daily commute to work for example. Some games require lower resolution and graphics quality to get Ok frame rates.

Surface Pro 2 Diablo 2 : RoS , League of Legends, Titianfall. I do have 256, 8gb ram verison if that helps. Runs fine.

Final Fantasy XIV, Elder Scrolls Online.

Titanfall. On my SP2. Granted all the settings are low but it runs.

Magic the Gathering 2014, Final Fantasy XIV, Elder Scrolls Online, The Wolf Among Us, Team Fortress, All the Mass Effects

What are the Specs of the tablet you had for the testing?

Hi all, I bought my microsoft surface pro 3 few weeks ago and of course I installed STEAM, there was already some games, Tomb Raider worked great, but my surprise was when I installed the Broken Sword 5, with which I collaborated with crowfounding, whose resolution is giant and does not allow me to change it, someone would know how to do? thank you
Windows Central Newsletter
Thank you for signing up to Windows Central. You will receive a verification email shortly.
There was a problem. Please refresh the page and try again.