Are Microsoft's Surface Signature Keyboard Type Covers with Alcantara worth the extra cash?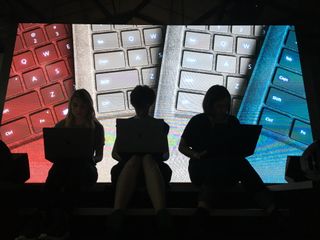 To Alcantara, or not to Alcantara? Is there even a question?
Microsoft offers only a couple different official Type Covers for the Surface Pro, Surface Pro X and Surface Go: the regular ol' plastic-y Surface Type Cover and the fancier (and pricier) Surface Pro Signature Edition Type Cover with Alcantara. I bought versions of both for my Pros and my Go, to see which ones I liked better. After using the different versions, these are my thoughts.
To be clear, the two Microsoft's Surface Signature and regular Type Covers for Surface Pro and Go are mostly the same, except for two things: that Alcantara and the price. The Alcantara version for the Pro starts at $132 on Amazon (considerably more if you buy through Microsoft) compared to the $90 regular ProType Cover. For the Go version, the Signature Type Cover with Alcantara starts at $95 on Amazon, while the regular Go Type Cover goes for $93. Both keyboards are solid.
The Surface Pro X Signature keyboard with Alcantara is a bit of a different story. It's only available in a bundle with the latest Surface Pro Slim Pen, which means it costs significantly more; it starts about $200 on Amazon. The keyboard is slightly more condensed than the regular Pro keyboard, too, with different key travel.
The Alcantara feels a lot like suede, but it's not made of any animal products, which I appreciate. For more details on this Italian-made fabric, read our post detailing everything you need to know about Alcantara.
The regular Type Cover is made of smooth, soft plastic. My palms tend to get a bit sweaty when I type for extended periods. And after a while, I found that my hands kept sticking to the material as if it was gripping them a bit. That's a turnoff for me.
The Alcantara feels great. It's soft, and my palms don't stick to it, even when they're all swampy. Of course, I've read numerous reports that suggest Alcantara does not hold up well at all over time. And after a year or so of use, my platinum Pro and Go keyboards definitely show signs of age. However, they are also relatively easy to clean, which can go a long way toward extending the lifespan. In my experience, the lighter color Alcantara accessories show more wear than the darker colors, so keep that in mind if you want to make a purchase.
So is the Alcantara Type Cover worth the extra cash?
Absolutely. The cost is relatively small if you buy through Amazon. It's an exceptionally slight difference when you consider that you'll probably be using your Surface PC for at least a couple of years.
How you feel about the way Alcantara looks is a personal preference. But I think most people will agree that it feels great, at least when it's new. The plastic on the regular Type Cover doesn't feel bad, but it also certainly doesn't feel good.
The Signature Edition Type Covers also come in three different and better-looking colors — platinum, cobalt blue, and burgundy — while the regular version is only available in black.
Functional fashion
Surface Pro Signature Type Cover
Function and style skillfully combined

The Signature version of Microsoft's Surface Pro Type Cover adds a touch luxury to what is already an excellent keyboard and cover, thanks to the addition of suede-like Alcantara fabric.
Less stylish
Same great cover, minus the Alcantara

The regular version of Microsoft's Surface Pro Type Cover is just as functional as the Signature version. In fact, it's precisely the same, except for the material it is made of, and it costs at least $30 less.
Opt for Alcantara
Surface Go Signature Type Cover
Fashionable and functional

The Signature Surface Go Type Cover with Alcantara adds some style to what's already an excellent keyboard, and it's available in multiple unique colors.
Opt for affordability
Same great cover, minus the Alcantara

The regular version of Microsoft's Surface Go Type Cover is an excellent keyboard, with all the same features as the Signature version, except for the Alcantara. It's also just a bit more affordable.
Xtra cash gets you Alcantara and a Pen
Surface Pro X Signature Keyboard with Slim Pen
New and improved keyboard, with Alcantara and a Pen

The Surface Pro X Signature Keyboard is a different but similar design to the company's Surface Type Covers, with a different key layout and a built-in slot to hold the new Slim Pen.
No Alcantara, no Slim Pen
Newly designed keyboard, minus the Alcantara

The new Surface Pro X Keyboard is the same design as the Signature version, but it doesn't have Alcantara fabric and doesn't come with the new Surface Slim Pen.
Get the Windows Central Newsletter
All the latest news, reviews, and guides for Windows and Xbox diehards.
Al Sacco is content director of Future PLC's Mobile Technology Vertical, which includes AndroidCentral.com, iMore.com and WindowsCentral.com. He is a veteran reporter, writer, reviewer and editor who has professionally covered and evaluated IT and mobile technology, and countless associated gadgets and accessories, for more than a decade. You can keep up with Al on Twitter and Instagram.