Surface Pro X Signature Keyboard with Slim Pen Bundle available for preorder
A new bundle will save you some cash if you were planning on getting the Surface Pro X's pen and Type Cover.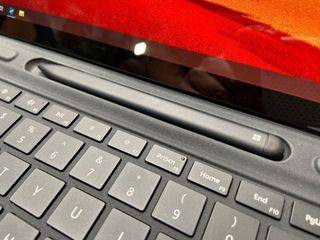 What you need to know
A bundle is availalbe for preorder that includes the Surface Pro X Signature Keyboard and the Surface Slim Pen.
The Signature Keyboard and Slim Pen work with the Surface Pro X to deliver a wide variety of input methods.
You can preorder the bundle now

(opens in new tab)

for $270.
The Surface Pro X features an upgraded design for the Surface Pro line, including slimmer bezels and a thinner body than any Surface Pro device we've ever seen. To go along with that new design, Microsoft announced the Surface Pro X Signature Keyboard and the Surface Slim Pen. These devices combine with the Surface Pro X to provide a variety of input methods. Now, there's a bundle with both accessories available for preorder on Microsoft's website for $270 (opens in new tab).
The Surface Pro X Signature Keyboard features Alcantara fabric and has a charging cradle for the Surface Slim Pen. This bundle includes the Alcantara version of the keyboard, which is not currently listed on Microsoft's website to purchase separately. If you'd prefer to get the non-Alcantara version, it's available for preorder for $140 (opens in new tab).
The Surface Slim Pen has an updated design that allows it to fit inside the charging cradle of the Surface Pro X's keyboard. It's flatter than other Surface Pens, with a somewhat similar feel to a carpenter's pencil according to Mr. Mobile. It charges wireless and rests inside the keyboard when not in use. The Surface Slim Pen is "compatible with a wide variety of Surface devices," according to Microsoft, but the company did not provide a complete list of supported devices. If you'd prefer to preorder the Surface Slim Pen separately, it's available for $145 on Microsoft's website (opens in new tab).
The bundle's listed release date is October 22, 2019.
New toys
(opens in new tab)
Surface Pro X Signature Keyboard with Slim Pen Bundle
This bundle includes the Surface Pro X Signature Keyboard that features Alcantara and the Surface Slim Pen that charges wirelessly within the keyboard.
News Writer and apps editor
Sean Endicott brings nearly a decade of experience covering Microsoft and Windows news to Windows Central. He joined our team in 2017 as an app reviewer and now heads up our day-to-day news coverage. If you have a news tip or an app to review, hit him up at sean.endicott@futurenet.com (opens in new tab).
I don't think it just saves money, I think it is the only way to get the type cover that supports docking / charging the pen. The $140 Surface Pro X Type Cover purchased separately does not have the area to store/charge the pen. I suspect a lot of people who preordered the pen and type cover separately are going to be unpleasantly surprised.

"unpleasantly surprised" Yeah, that's kind of a theme for this launch. Everything has a pretty big "but" attached to it. Everything feels like it's just...not quite there. The Surface Pro 7 is probably together, but it's also reached a point where it seems to have stagnated and just added cost for the sake of profit margins. Nothing in 2019 looks all that exciting, while the 2020 stuff is so far from the current lineup of products that it has too much to prove to be excited for just yet.

This device looks cool, until you look at pricing. Why is Microsoft charging double what Apple is charging for a storage upgrade to 256GB? $300 for an extra 128GB of storage? That is highway robbery.

Pen is too expensive imo. Interested in reviews of this bundle with the X.

I do remember when they offered Xbox along with Surface Pro 6, it was a great DEAL :) I liked how they stored the pen inside the keyboard, i keep searching for the Pen im using with my Surface 😁😁😁😁

OMG this is my dream device.
S3xy thin bezels.
Snapdragon battery life (I am typing this from a Lenovo C630 ARM device which I love - but this Surface X is a cut above)
That pen holder in keyboard. The black finish. Absolutely droolworthy.
Microsoft Surface Team are absolutely smashing it.
Good times

Thanks for the video, Daniel. This looks like the Surface I have wanted since 2012! I am so intrigued by this device that I decided to break one of my cardinal rules never to buy a first-gen device; I just placed my pre-order. Now just to wait until Nov 5th...

So you're in all seriousness planning on plunking down $1269.99 for an ARM based laptop with a first gen chip in it? As much as I'd love to see WoA succeed it's too rich for my blood. I'd sooner get a new HP spectre x360. If you're that interested in WoA why not wait for HP Envy x2s next iteration or Samsung Galaxy Book's next iteration where KB and pen will no doubt be included at a fair price?

It is not sure if HP makes a new Envy X2.
Aside from that, why should he not get the device he wants?

This is not really first-gen. You can consider the likes HP Envy X2 with Snapdragon 835 first gen, the devices like the Lenovo Yoga with Snapdragon 950 second gen - but this one here is certainly 3rd gen. To give you an idea when comparing the Envy X2 to the Surface Pro X, we are easily looking at 2xCPU performance and 3xGPU performance - huge jump.

I don't know how much of a market it would have, but it would be interesting if someday the surface pro keyboard had the trackpad double as a Wacom style tablet. It would also likely mean a much larger trackpad.

Why, when the entire screen doubles as a wacom style tablet? Is there a reason you would want to not see what you are writing directly under the pen?

It's too bad they didn't / couldn't make it compatible with the existing Surface Pro line.

A question for anyone who knows the answer: Will the MSPX run Win32 programs in emulation? I tend to think there aren't many programs available for Snapdragon processors...

The question of if a program needs emulation is totally independent of the question of if the program is a Win32 program. If a program is compiled for a different processor architecture it needs emulation. So if your Win32 program is compiled for ARM it does not need emulation on an ARM CPU - but would need emulation on Intel CPU and vice versa.

Depends on what you need...obviously but on a first gen HP Envy x2 I get everything I need from the store and I haven't switched out of S mode. Office, several browsers to choose from, lots of high quality MS apps and many others. My wimpy SD 835 does informal, light media consumption and browsing with no problem and I charge it twice a week!

Does anyone know if Microsoft will have a line of Type Covers for the Surface Pro 7/6 series that'll also have the storage/charge for the slim pen?
Windows Central Newsletter
Thank you for signing up to Windows Central. You will receive a verification email shortly.
There was a problem. Please refresh the page and try again.