Surface Special Edition NFL Type Covers now on sale for all 32 football teams!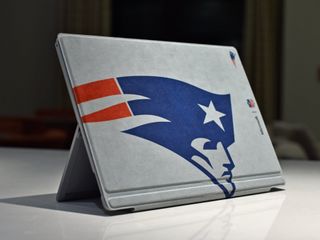 Microsoft has had a long-standing partnership with the National Football League (NFL) where the teams, coaches, and analysts utilize the popular two-in-one PC.
That partnership looks to be going further with a treat for the fans: Surface Special Edition NFL Type Covers (Surface Pro 4). Starting today, you can order your very own NFL Type Cover for your favorite team right from Microsoft online or from a Microsoft Store.
The covers run for $159, which is a $30 premium over the regular Type Cover at $129. Consumers can pick from any of the 32 NFL teams for a logo emblazoned across the back and a new gray color.
Microsoft sent me one ahead of the announcement and even let me pick the New England Patriots (Sorry, Seattle, but I do live in Massachusetts). The logo is impressively done as it is not painted or even stamped on the cover. Instead, the fabric itself that is used to wrap Type Cover is colored for the team's logo. That means there is little chance your team's emblem can be worn off from regular usage. The new Type Cover features two logos – one large, and one small – along with the smaller NFL | Microsoft wording.
The NFL Type Cover is exceptionally well done, to say the least, and it feels like a quality product. I expect nothing less from the Surface team.
Truth be told, I'm not a big football fan although I do watch the Patriots religiously (translation: I root for my home team, but don't watch non-Patriot games). I think this idea is great as we all know US football fans – like international soccer/football – can be very enthusiastic about their team. Seeing as the NFL is already using Microsoft Surfaces why not extend that to people who want something a little more unique? As usual, you are getting top quality design and hardware, and I think it does look rather cool. Granted, it's $30 more than a regular Type Cover, but if you're a fan of a team and the Surface that probably won't deter you.
Now that Microsoft has demonstrated it can print semi-personalized Type Covers, who knows where it can all go if the Surface becomes even more popular. Either way, I think this is a great way for the Surface to go more mainstream.
Anyone here tempted to buy one? Also, feel free to tell me why the Patriots are terrible in comments. I love the smell of fail in the morning. #FreeBrady!
See NFL Edition Type Cover at the Microsoft Store (opens in new tab)
Windows Central Newsletter
Get the best of Windows Central in in your inbox, every day!
Daniel Rubino is the Editor-in-chief of Windows Central, head reviewer, podcast co-host, and analyst. He has been covering Microsoft since 2007 when this site was called WMExperts (and later Windows Phone Central). His interests include Windows, laptops, next-gen computing, and for some reason, watches. Before all this tech stuff, he worked on a Ph.D. in linguistics, watched people sleep (for medical purposes!), and ran the projectors at movie theaters because it was fun.
Joking aside, I'm not that big of a fan to be offended at people hating the Patriots. Although I do enjoy seeing people get wrapped up in such silliness on the internet. While I do enjoy watching the Pats, my real heart is for MMA/UFC. Nonetheless, these covers are kind of neat and I think it's a great opportunity for Microsoft. Also, feel free to read some alternative analyses of sports fans ;)

Really? Iunno why, but dont you dont strike me as the type to enjoy watching two men best themselves to a bloody mess.

Hey, come on now, I also enjoy two ladies also beating themselves to a bloody mess as well ;)

Great reply Dan hahahaha :D Posted via the Windows Central App for Android

That Patriots cover looks a little deflated..

Oh ****, those are hella nice!

Yet another reason why the type cover is not bundled with the Surface. When will the media stop listing that as a negative? Makes me a bit angry when I see them do that like it's a big problem with the line. I want to pick my own color.

It can't claim to be a laptop replacement if it doesn't come with a keyboard... Also, the Surface (and Windows more generally) is pretty rubbish in tablet mode. So a keyboard is kind of necessary (unlike on an iPad) I say all this as a Surface 3 owner

I strongly disagree on all counts. Just because you purchase the tablet and the keyboard in separate boxes does not mean it can't replace a laptop. Completely ridiculous. There are good reasons why they are sold separately, primarily to provide for choice of color and whatnot. I use my SP4 frequently without the keyboard in tablet mode... works great.

I've purchased many a desktop that DID NOT arrive with a keyboard.

Won't be buying any of these. I won't support anything NFL related as long as Goddell is in charge.

Ok there SJW. Run off to your safe special place.

I mean I could go that, or I can do exaclty what I'm doing which make a lot more sense. I disagree with his power and the suspensions he levies (not just those against the pats) I think he's a pretty horrible commissioner and I chose not to support the organization he runs.

After the shenanigans he helped orchestrate in St. Louis in letting the Rams leave even though the city had a stadium & financing plan in place, I completely agree.

only $159 USD? I figured they'd cost well over $200 USD since sports leagues love to gouge their fan base.

I think this is really cool, the type cover is a great touch.

The grey colour looks just like the Alcantara premium keyboard, is that actually what they have used for this or is it the regular one (which already seems soft touch enough, though I'd be tempted by the Alcantara if it wasn't grey). I've customised my surface with a skin from decal girl which has the added benefits of still being there in tablet mode, and adding more protection from scratches no matter which way up I put the Surface on a table.

Too bad i still have a surface 3

Too bad I no longer have a team. :( Krank-e stole the Rams

Very tempting. Might be time to get a surface with a big ole Redskins logo on the cover. I'll have to see if they do this with the fingerprint type covers, too.

I had the same question. My current type cover works fine, but justifying a Colts type cover would be made easier if I could get the fingerprint reader as well to be able to take advantage of Hello....

I just checked the online store. Doesn't look like the fingerprint id version is included in the offer. Shame that. Would've been the cover to end all other covers otherwise.

Sadly the big ole Redskins logo cover came out just after I bought a new cover. But GO SKINS!

is this alcantara like the signature type cover? at least for the back?

It is not. Normal material for this just gray.

So at the same price as signature type cover, NFL would be more eye catching though.

Could this be start of custom made type covers just like moto maker?

I think this is pretty cool

Some of them look really cool, like the one with the pirate flag. I'd buy that one. Even though I don't like or give a sh*t about American HandEgg. I don't understand why Microsoft doesn't do these sort of customizations more often and around the World. For example, they should have long released an Xbox inspired type cover in bottle green.

They need a Moto Maker-type deal, wher you can mix and match logos and colors. If it's good enough for XB1 controllers, it's good enough for Type Covers, right? I'm kind of surprised you can't get things like the Xbox or Windows logos as well. Maybe that's a long-term goal for this project of customized Covers?

I know it's because the NFL has a deal with MS for the sidelines, but I'd still rather see them have MLB ones. I guess it doesn't affect me because I wouldn't be in the market for one of these until a SP5, but more a wish for the future. Not a big football fan, though I'll hope the Bears win and continue to play fantasy football. Much more into baseball, though. These do still look great though. The only design knock is that they'd be much cooler if they were done fully in team colors, like a green one of the backers, powder blue for the Panther, or navy/orange for the Bears (to me, some might prefer the muted base with a logo).

I feel the same as you about MLB ones, but also like you, it's not like I have a Surface anyway. lol.

Ok, I'll bite: Does the Patriots themed Surface have enough memory to store the plays for all of the other teams, or just the ones in their division? lol Loving the recognition from Antonio Brown, Go Steelers!

OneDrive, unlimited...err 1TB storage.

Does it have a finger print scanner

They should have added an air bladder palm rest, 12.5psi max.

Cool! Let me know when they start doing EPL prints and I'll be sure to get one.

Look nice but won't see the logo most of the time...it's on the backside of the keyboard. I generally keep my Surface in a bag when not in use. I think a skin on the backside of the Surface is better to show off your team affiliation.

Yeah it's American HandEgg, not actual football ;) Posted via the Windows Central App for Android

Come on.... 49ers!!! Man, I'd love one of these covers for my Surface 3. Great promo from Brown....

Ive always wanted to get the new SP4 type cover. This just sealed the deal, Go Bucs!!!

SP4 Type Cover is so good. One of the best keyboards I have used.

When it comes to typing, I honestly prefere the experience on the Type Cover 3 actually. The keys on the TC4 are way too hard to be a comfortable experience to me. The thing the TC4 has going for it,to me, is the trackpad.

I like the innovation in placing the teams on the Type Covers for a custom fan experience but the design could've been more dope. The grey is nice but maybe an 'alternate uniform' choice would've been nice too. The Steelers type cover in Black with yellow keys or a Cardinals Red type cover with black keys...I unno. I just think these are kinda bland looking. But I'm grateful they came out with them. Perhaps they can open their Design Shop idea, like they did for the Xbox controllers for all things Microsoft devices. Want a Lime green Surface, BAM! Want a Magenta Type Cover, BAM!

Pretty frustrating that this doesn't come with the fingerprint sensor especially since that versiion's limited to just Black (ahem, Onyx) right now. I'd be all over it. I don't know why MS even makes the Type Cover without that feature. Windows Hello and advanced security is expected now.

I think this is a great offering. While the NFL covers may not appeal to everyone, it shows the potential of personalizing the detachable keyboard.

Get that patriots crap outta here!!!

Are they on that expensive gray felt too??
Windows Central Newsletter
Thank you for signing up to Windows Central. You will receive a verification email shortly.
There was a problem. Please refresh the page and try again.