Surface Studio 2 goes up for preorder starting at $3,499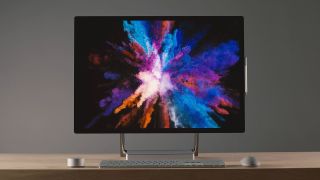 Preorders are now live for the Surface Studio 2, with prices starting at a whopping $3,499.
If you're eager to pick up Microsoft's new Surface Studio 2, you can now throw your hat in the ring with a little early. The Surface Studio 2 is now available to preorder at the Microsoft Store, with prices starting at $3,499 for the base model and going up from there.
The refreshed Surface Studio 2 is mostly the same on the outside, with the only hint at a new model being a new USB-C port and a screen that should now sport deeper blacks.
On the inside, however, Microsoft has mixed things up with NVIDIA GeForce GTX 1070 graphics and Intel's 7th Gen Core i7-7820HQ processor. Though neither upgrade is in the realm of the latest tech from either Intel or NVIDIA, they're both significant steps up from the original Surface Studio's 6th Gen Core i7 processor and GTX 980M graphics.
The base model sports 1TB of storage and 16GB of RAM for $3,499. You can step things up to the same storage but 32GB of RAM for $4,199. At the top end, a configuration with 2TB of storage and 32GB of RAM is available for $4,799. Yeah, this thing ain't cheap.
Shipments are expected to start going out by November 15. If you're interested in a Surface Studio 2 for yourself and can afford the price of entry, you can preorder the PC at the Microsoft Store now (opens in new tab).
See at Microsoft (opens in new tab)
Everything Microsoft announced at its October 2 Surface event
Windows Central Newsletter
Get the best of Windows Central in in your inbox, every day!
Dan Thorp-Lancaster is the former Editor-in-Chief of Windows Central. He began working with Windows Central, Android Central, and iMore as a news writer in 2014 and is obsessed with tech of all sorts. You can follow Dan on Twitter @DthorpL and Instagram @heyitsdtl.
Student and Parent of a Student 10 percent Discount helps... Plus, eBates 3.5 to as high as 7 percent rebate cuts price down quite a bit! Shop smart people!

Yes, eBates. Even works with your Xbox purchases so long as you go there first and purchase in the browser!

I use the ebates browser agent plug-in. So, I never miss the opportunity!

Was just going to post about the EDU discount. I don't understand why Windows Central doesn't report this kind of stuff by default. Have they been told by Microsoft to not promote educational discounts or something?

Only 1% Cash Back for PC Hardware.

Hmmmm, well don't know about you, but I have received 3.5 to 7 percent rebates on every single Surface purchase I have made. That has been every Surface, except the 1st one. Double cash back (thus, 7 percent) coming for Microsoft Store purchases soon from ebates.

Very interesting claim. May I ask, are you saying this "discount pricing" is through ebates?

The percentage on Surface hardware at ebates changes weekly.

I pre-ordered mine at BB site today using the BB credit card and getting 6% reward back. I don't know if the upcoming Trump tariffs (25%) would impact the Surface Studio or not, but the tag on the old SS did indicate it is 'Made in China'. I think it is safer to get it now, just in case.

I agree with 10x the device, but not comparable in pricing. iMacs start at a much cheaper price.

didn't know that the iMac had such display (hinge, resolution, colors accuracy, touch, pen support...)

The iMac doesn't include a laptop CPU like the Studio, or even a desktop one. It includes and 8-core server CPU.

The iMac Pro comes with a server-grade, Intel Xeon CPU. It's an 8-core, full powered CPU. It has 4 USB 3.0 Type-A ports and 4 Type-C Thunderbolt ones, vs. just the 4 Type-A and 1 Type-C (no mention of Thunderbolt). The iMac has a 10-Gigabit Ethernet port, vs. a 1-Gigabit port on the Studio 2. The Studio also seems to start with a GTX 1060 GPU, where as the iMax Pro start with a Vega 56, an AMD GPU that generally performs a little bit above a GTX 1070 (it's actually seen as the main reason the GTX 1070 Ti was released). The Studio's display is impressive, but the rest of it is a pretty underwhelming device. Laptop CPU, $200-250 GPU, and a rather pedestrian lineup of ports. $3,500 for that, while going to a comparable GPU to the iMac Pro puts you close to the iMac Pro's pricing...which includes a server-grade CPU. I never buy from Apple, their products are completely detached from my interests as a consumer. However, you blatant fanboy take that is completely ignorant of the market shouldn't be taken at all seriously.

excellent 1070 graphics! hmmm this should've been on the first model but yeah, ok...
I wish this thing was builder friendly, i'd gladly upgrade the internals myself.

For me, it's a case of I'd love the screen of it, without the internals. Hook it up to a desktop rig, use my powerful PC which I can modularly upgrade, and use Surface Dial on screen (why I'm after a Surface Pro). That to me would be a real godsend.

Same. Furthermore, I hate that it's constructed in a way that prevents upgrading just the computer component of it.

UP TO a 1070, the site states it starts at a GTX 1060. That's kind of crazy, that $3,500 gets you a laptop CPU and a $200-250 GPU. IDK if Microsoft has no clue how to set up a decent cooling solution or not, but if Apple can put in an Intel Xeon and a comparable/better GPU in its base model (yes, for more money, but it's a much better value than the Studio 2 offers overall), then the Studio is pretty much strange from an engineering standpoint. They go from a desktop CPU and a laptop GPU to a laptop CPU and desktop GPU, while Apple's rolling out a server CPU and desktop GPU in the same product category.

Don't forget you can get this financed to

Now, to find a way to convince my wife that we *need* to upgrade from our current Studio to the new model...…...

You will find a way like work out a deal lol

Sell your current one. Tell your wife that with Microsoft's 24 mos no interest payment plan, it will be incredibly cheap due to the time value of money with inflation. $1 today is worth more than $1 two years from now. If you sell your Surface Studio today, you may be able to get $2000 for it. That $2000 now is worth more than the $2000 in year 2 of your payments. So it's almost like getting an additional discount of another $70 or so. Ta da!

Reflexx - you are on to something!

Lol! You've done this before

$600 for 16 GB ram. Steep or nah?

Its hard to believe they didn't go with the newest gen hardware from Intel and Nvidia with a starting price of $3500.

Nah, I'm good. I can build a great computer for much less

Re: DaveG,
It's the interactive touch screen monitor aspect that is key. You must be thinking of building a comparable or better box and adding a 22" Wacom Cintiq touch screen monitor for $1,700? Vs 28" Surface Studio 2. Then just write the macros to replace the Surface Dial?
I'm just trying to figure out what you are proposing.

Probably proposing something that doesn't cost $4000 and works just as well, if not better.

Yeah... There is no such thing

I think it's the inflexibility that discourages people more than the need for top-shelf power. The fact that the computer/base is fixed and does not seem like something you can upgrade makes this seem very wasteful. You'd essentially be throwing away this beautiful interactive monitor next time you needed to upgrade your computer hardware.

Most, if not all, all-in-one type of PCs are like this. It's another price you pay for having a compact system. There are exceptions like the ones lenovo have made for gamers, but even then you can only upgrade the graphics card

With the 1070, this should be powerful enough to run VR/MR, which is pretty cool. I don't think the Studio 1 was capable.

not meant to be a reply to this thread. Not sure what happened.

Too bad they say it starts at a 1060 on the product's spec listing. That should still run WMR decently, but at $3,500...that's pretty weak. I can't get over the laptop CPU offering.

Only $200 / month for the top of the line model! :D

If i was going to pay that silly amount for a computer with an OS that is more like a mobile phone than a computer OS I would get a Mac.
Windows Central Newsletter
Thank you for signing up to Windows Central. You will receive a verification email shortly.
There was a problem. Please refresh the page and try again.