Own a Lumia Icon? Swap the back plate for the Lumia 930's green or orange one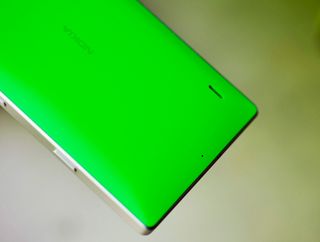 Earlier this year when Verizon finally released the Lumia Icon, I gave the phone a solid review. However, one thing that always bothered me about Verizon's Lumia phones is their lack of color. For instance, the Icon comes only in white or black, but there is no red, which would seem like an obvious choice for the rosy-hued carrier.
Fast forward to mid-year and the Lumia 930 picks up some borderline neon green, and bright orange back covers. Is there a way to switch them to add color to your Lumia Icon? You bet, and you can find the answers in our forums.
In a thread titled 'Orange and green backs' forum member 'moverton asks the question about swapping back plates and reader 'malachijd' answers. Reportedly, the process is "very simple" although you do need to purchase a few items, including:
New Back: Green, Orange, White or Black. 11.90€
NFC Module 4.50€
Wireless Charging Module 6.60€
LED 7.43€
The total investment is about $60 if you buy it all at once through a third-party website, detailed in this post. Removing the back is mentioned in the official disassembly guide (PDF) and overall, the project looks relatively simple to do, making it a fun weekend venture.
Is $60 worth it to go from white or black to green or orange? Well, it is your money and your phone, and I have to admit that both the green and orange plates are outstanding looking. I leave the decision to you, but if you need help and want more info, you have friends to help you in our forums. Go!
Thanks, Justin L., for the tip
Windows Central Newsletter
Get the best of Windows Central in your inbox, every day!
Daniel Rubino is the Editor-in-chief of Windows Central, head reviewer, podcast co-host, and analyst. He has been covering Microsoft since 2007 when this site was called WMExperts (and later Windows Phone Central). His interests include Windows, laptops, next-gen computing, and for some reason, watches. Before all this tech stuff, he worked on a Ph.D. in linguistics, watched people sleep (for medical purposes!), and ran the projectors at movie theaters because it was fun.
I'd try it if someone gifted me an icon :)

Haha, no kidding :P Posted via Windows Phone Central App

No he meant back. No error

Oh, didn't catch his pun. To the op, nice pun. You got me. :P

Black works as well :) I was toying with both options and finally went with back

I know. But you went with back. It wouldn't have been much fun anyway if you went with black. :)

@psykojell Well played pun, well played

Here's a thought WP central already sells accessories right!. Why don't you guys start a collaborative effort with windows phone fans around the world and microsoft to start a community backed crowd funded project where you can work with the WP community on designing accessories for Microsoft products and WP products. And find an accessory manufacturer to produce them. I will be one of the first to back such a project and submit a couple of design ideas myself

lol well done, psykojello!

i'm glad to see that i can change the battery xD and all the other things.. i have a lumia icon and is white but i dont really like the verizon logo on the back of the phone..

Jesus I'm literally going with my Icon to the Nokia service tomorrow morning to get my green plate! One of the first ones with Lumia 929 in the states with a green plate :D

I'm not sure they'll do it for you at Nokia. I'm betting they won't... Or they'll charge you for it.

Yeah they'll probably charge me for it... After all it is a Lumia 929, not 930, and it's not supported in Europe. I'm sure I can strike a deal though. Unless I claim it's 930 looks the same except for the big red engravings. I'll keep tabs and let you know how much they'll charge.

Nokia service center? Why not DIY;)

Cause I'm on vacation and I got places to be and beers to drink.

Feels weird to just do green and orange.

Yeah I Wish there was a red or cyan option

I agree. Yellow would also be nice.

Yup. So ugly! Red, blue and yellow are just so much better.

Or what about the gray like the 925?

The colour definitely makes a big difference. I think its worth it to change it up :)

I hope Verizon loosens up with colors on future Windows Phones. I want my boring black L822 replacement to have some swag.

That's great. And btw I have the 1520, with that three metal dots staring at me everytime I see the back plate, I mean come on what's the point of that when I can't purchase any wireless charging back plate like 925 or 1020 has :'(

You are on AT&T? Daniel recently posted some article on how to add wireless charging back to 1520. So if he has it than it's doable!

Definitely doable. My AT&T Lumia 1520 has Qi now, so happy. However, that project is a little bit more involved, so I recommend finding someone with some soldering/electrical experience.

Already knew about that but I'm too lazy to do that( & finding someone to do it))ahahaha anyways I don't think they are gon release some back plate :'(. Anyways this is off topic, I'm just ranting lol

Can u change the backs on those I just wanna change the color the 32gb for att only came in black, too lazy for qi and refuse to buy into pma have too many Lumias and nexus devices for that

At least our 1520's have cyan, and the ability to use all of it's offerings....got to rub that in while we can. Was not fun going back and forth between do, 8.0, 8.1, and downloading.

To bad the 930's are only Verizon. Might look at an unlocked one.

They are unlocked just not customized to work on other carriers lte but hspa+ & below is fine

Cdma + GSM means you may not have LTE. Maybe a pentaband 930?

I got to Europe with my Icon and I do have LTE here

I'm good with the matte white and my clear case.

Cool to know that something like this can be done! I guess I'm old-fashioned and like my white backing. Although, neon green looks pretty slick ;)

I'd like to go green, but $60 feels a bit steep at the moment.

Remove the back panel. Spray paint it. Put it back where it belongs. Voilá! a unique back color.

If you dint want the Nokia on the back its alright, then worry about not clogging the microphone holes with paint.

12" distance, brief sprays, repeat

Wonder why you can't use the screws again after? I used them again when I put my 900 back together.

My anti-clutz bulletproof adamantium case would just cover it anyway and as the poster above says, 60 bucks is a bit steep. Let's just hope the next flagship has a little flair.

Sweet I got mentioned and thanked in the article. And it really is a game changer. I have a clear back case so the green really shines through

Same here with the case but those colors don't do it for me, I'd go custom and match my car or something or a nice burnt sienna or red.

http://www.pure-gear.com/slim-shell-case-for-nokia-lumia-929.html

Plus the time to actually do the process. If they made decals like what comes on the back cover of the icon then I would do it but they don't.

I just put a skin on the back...$5 from a US company. Though I like the green, I am not doing $60 for a permanent color change. The skins allow me to switch things up regularly.

I used decalgirl.com pretty good.

I have heard of that company before. Yeah, adds color, keeps it thin...god stuff.

Where did you buy those skins? Sounds perfect!

What website did you find a skin for the Icon?

I don't have a problem with Verizon only releasing 2 color options but it would be nice to have additional options with them that can be selected through their website or Nokia. That's a win win.

Always wondered how they could call this firmware update cyan when they're is no current model spring that color.

I can't believe people still use their phones without adding some sort of protective case. With all smart phones, definitely my 1520, I was almost afraid to even hold the thing or even have it in my pocket while sitting for fear that it was going to slide out. I see so many people with shattered screens, yet they can get a cool, comfortable, textured for ease of grip and protective case in a variety of colors, with holsters and/or kickstands on Ebay/Amazon for under $10 shipped.

If the phone wasn't a Nokia, of if was something with shitty construction like the iPhone or any Samsung device, I'd worry. But Nokia phones don't break that easily. Well... They didn't when Nokia was in charge. Phones under Microsoft Mobile not so much.

You should see my relatives' Nokias, a Lumia 820, Lumia 620 & N9 ... All fu€ked up beyond repair ... I'll take a picture next time I meet them.

I've owned 5 smart phones since 2010 Droid X, Droid X-2/ iPhone 4, HTC 8X, HTC Droid DNA and in 2 days a Nokia Lumia Icon. I have never had a case on any of them and have never had a broken well…. anything on them. I might just be lucky. I had a liquid seal screen protector on the iPhone but other than that, nothing. I look at it as designers spend a good amount of time making some really sleek looking phones, and slapping a case on them defeats the purpose of that. Phones, especially well-made ones definitely make a statement. I remember when I had my HTC 8X in California Blue, it defiantly got people interested and onto Windows Phone with the vibrant colors. I look forward to getting my neon green back for my Icon and showing it off :) Just my 2 cents!

I have yet to see anyone that uses a Lumia with a protective case. They're sturdy phones.

No idea why they don't do more colours in the first place. Probably pick up a 930 in a couple of weeks am due an upgrade soon.

Because there's no demand. They won't produce 100000 cyan phones and then only sell 10000 of them. Believe it or not, the market for people who like flashy coloured phones isn't that big.

Yeah true but they offered a good range of colours on the 920 and everytime I was in a shop or on a website they were always sold out especially the red. I can't find any numbers for volume of colours sold.

With regards to the dull colors on Verizon, I think they said they are going with a "business class" look for their windows phones. If there's one thing we all know it's that business people love Windows phones and HATE colors.

When the 920 came out, the yellow model was selling for a much higher price on ebay and craigslist. Also I've def seen a lot more iPhone 5Cs in different colors, or the gold version of the 5s.

Yeah I have noticed that as well

I've got a green 930, and its gorgeous. But if I scuff the back up, it's nice to know it's easy to replace it for a new one!

I hate it how Verizon has no colored lumias. Spice if up a bit. Whites no bad on some phones, but I will never go back to a dull black/grey device.

Someone please, PLEASE, make a video of this process.

There's really no need for a video. The back just simply pops off and you put a couple stickers in the same spot as the original and you're done. It really isn't harder then that.

I feel like someone should sell the backs with everything attached.

I want a yellow one SUPER BAD!

I had a yellow Lumia, but when I got my new green L930, it was seriously WAAAAAYYYY better. Yellow is last year's color, it's been overdone

I don't own an Icon, but personally, I think the white looks way more elegant than the black and the orange or green 930. Something about the colors with the metal portion of the phone just don't mix to me...

We seem to be the opposite color

The white offers the steel color sides as opposed to the black that has the black steel. I agree and think the clean metal look accents the white/green/orange really well.

To me it doesn't matter what color it is all that matters is that it whats

I reckon this will work will with the black 930/Icon, because it has the black sides unlike the other colors, so a black 930/Icon with a green/orange backplate would look awesome.

I built a 930 with the black and orange, see the forum (page 4)

Having seen the instruction I wouldn't risk doing it on my NL925 even though there a fault with the audio port and the thought of having to leave in the shop for a week. So, I got myself a NL930 and loving it.

Nice! While I love the 930'green\orange backs ... I'm not sure I'd do that to an icon ... I'd go the skin route ... Not permanent, low risk & doesn't kill your resale value.

Trust me, it's the easiest, least harmful thing to do!

Silver bezel with black cover

Oooo didnt think about that. Nice!

I have black border and orange cover

My red Lumia 920 still looks nicer than all these new Lumia models, except maybe the 1520. Bur seriously, all Lumia flagship devices should have a Cyan and Red option.

No, cyan and red are not as popular, and Microsoft would've lost money. And btw, I think the 930 is the BEST looking smartphone out there

I have a red and black Trident case for my icon, so I don't need this.

Metal rim works better with black and white in my opinion. I've played with green Lumia 930 and don't really like the colour combination

I have a black and orange 930 now, it's awesome!

I would still stick to white

Would be awesome to have it inter changeable like other Lumias...

Here's a thought WP central already sells accessories right!. Why don't you guys start a collaborative effort with windows phone fans around the world and microsoft to start a community backed crowd funded project where you can work with the WP community on designing accessories for Microsoft products and WP products. And find an accessory manufacturer to produce them. I will be one of the first to back such a project and submit a couple of design ideas myself

The black one with a green back. It'd be cool.

Swapped my black 930's back for an orange one. Looks awesome with the orange back and the black border! (there's a few pics on the main forum on page 4)

I want to get the led only , is there a link for it?