Sway for Windows 10 updated with better way to find your presentations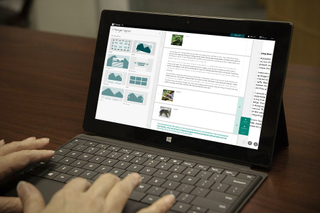 Sway, Microsoft's multimedia presentation tool from its Office division, has been updated for Windows 10 on the PC. It includes a redesigned My Sway page that allows users to find their presentations faster.
Here's a look at what's new and improved in Sway (via MSPU):
My Sways - We've redesigned the My Sways page to make it easier to find your Sways and view featured Sways.
Maximize Storyline - You can now hide the Preview pane for a more focused editing experience.
Accessibility Support - We've made several improvements including better screen reader, high contrast, and keyboard support. We've also added an accessibility checker that flags alt text and hyperlink issues, and makes it easy for you to fix them immediately.
Miscellaneous — We've fixed several bugs in this release.
Microsoft first launched Sway for Windows 10 in August 2015, and at the time it promised that a version for Windows 10 Mobile was in the works for a release "in the coming months". However that app has yet to make its debut. Hopefully it will arrive with the release of the Windows 10 Mobile Anniversary Update.
Download Sway from the Windows Store (opens in new tab)
Windows Central Newsletter
Get the best of Windows Central in in your inbox, every day!
Still waiting for them to update it to work on their own mobile OS, crazy as that sounds.

I'm a MS super fan, but that situation is really really ridiculous. They are software maker and if they want their UWP to rise, they should care a minimum for those using it.

Agreed. I guess msft thinks about its future way too much than to think of what's happening at the present.

There is no Sway update in the store today. Last update I got for Sway was 5 days ago, and took me to 16.0.7341.4502 (according the "About" in the app).. Is there a new update you're describing that I can't get yet, or are you 5 days late with stale news? I do seem to be able to hide the preview pane, so I'm assuming you're just being slow :)

Is this a Fast/Slow App Ring release? (i.e. are you on Fast or Slow Ring?) I'm on RP Ring (thinking of returning to Production soon) but haven't gotten anything. N.B. I'm RS1 Build 10.0.14393.67, AKA Anniversary Update 1607...

Got ~1min to address this? http://www.windowscentral.com/sway-windows-10-updated-better-way-find-yo... Thanks again.

What a shame! Nearly a year after there is still no mobile version on MS own platform but they sing praises of their UWP.

Wow this person is using Sway on a Surface Pro 2. (see photo in article)

People use this app? Serious question - not trolling.

That's what i was thinking about.. tried once but i cannot see a real aim in working life.. any suggestion? Posted via the Windows Central App for Android

The thing about sway is that it works best as a way to surface online content to tell a story. If you have a social media project you can repurpose your existing content easily. It's best for projects targeted at the millennial generation, and you can build a sway with nothing more that a web browser. The real question is why you need an app. I have done it both ways and unless they added some new features lately the experience is identical. Since the sways only exist in the cloud there's no advantage to a local app. You can't work offline.

All great, but I also appreciate the ability to save presentations to my hard drive.

There should be something good about sway.

I like it actually. The real need is to be able to track/target viewers. The only way to measure how many people have viewed your sway is to link it through docs.com. That experience is unwieldy for the end user...

Isn't Sway only available in Botswana or something?

I use it some times but i prefere PowerPoint as it has more customizable options. This being said, our clients really like the web like animations of this app.
Windows Central Newsletter
Thank you for signing up to Windows Central. You will receive a verification email shortly.
There was a problem. Please refresh the page and try again.