T-Mobile guarantees the best trade-in price on your used mobile devices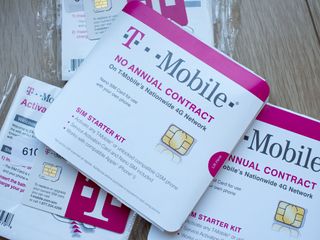 T-Mobile today announced the US carrier will be guaranteeing the best trade-in prices for customers. The company aims to best AT&T, Sprint and Verizon by offering $50, as well as the difference back, if consumers find a better deal elsewhere. It's for a limited time only and kicks off on September 17. T-Mobile will monitor the market and adjust trade-in prices accordingly.
If you happen to find a better deal after trading in with T-Mobile, all one has to do is contact the carrier and confirm details as to where, when and for how much the better deal was for that particular device. $50 will then be rebated as credit on the account. It's a neat deal for anyone looking to upgrade with the network.
Check the below press release for more details.
Bellevue, Washington – September 8, 2014 – In advance of a huge wave of new superphones and tablets coming to market this fall, T-Mobile (NYSE: TMUS) today vowed to beat the big carriers' best trade-in values on used devices - to help American wireless consumers get the very best deal on the hottest new devices.
Consumers can now have peace of mind when they're ready to upgrade, knowing that their trade-in at T-Mobile is the best deal they'll find anywhere compared to AT&T, Sprint and Verizon. And, they'll never have to worry about the fine print and all the details the carriers continue to hide behind.
"We're going to see some of the most phenomenal devices ever in the coming months, and that means a whole lot of Americans trading-in their devices and upgrading," said John Legere, president and CEO of T-Mobile. "For years, the big carriers have been ripping off their customers with low-ball trade-in values, so we're putting an end to that and guaranteeing we'll give customers what they deserve − the best value in the industry."
This latest move is just one more example of T-Mobile changing the way consumers buy wireless service and innovating ways to give everyone the best access to the most amazing technologies of our lifetime.
"When that new superphone's price is the same everywhere you go, the difference in your final cost comes down to the trade-in value of your old phone," said Mike Sievert, chief marketing officer for T-Mobile. "Now when you're ready to upgrade – it's a no brainer where to find the best value– the Un-carrier. Guaranteed."
To make good on this guarantee, T-Mobile will track the market every day to ensure we keep our promise. If a customer can find a better trade-in offer from a major national carrier, T-Mobile will beat that offer, give them the difference back and because we value this help from our customer we will top it off with another $50!
This offer starts September 17 and is for a limited time. All a customer has to do is call T-Mobile or go online within seven days of completing a trade-in at T-Mobile and tell us where, when and for how much they saw a better deal for their device. It's that easy.
Eligible device trade-in, qualifying credit, and new device purchase with qualifying service required. Difference in trade-in price and $50 offer applied as a bill credit within 2-3 bill cycles. See T-Mobile.com for details.
Windows Central Newsletter
Get the best of Windows Central in your inbox, every day!
Rich Edmonds was formerly a Senior Editor of PC hardware at Windows Central, covering everything related to PC components and NAS. He's been involved in technology for more than a decade and knows a thing or two about the magic inside a PC chassis. You can follow him on Twitter at @RichEdmonds.
T-mobile!! This is why I work for them!! Keeping the competition fresh and making my job a lot easier with all the extra incentives tmobile has to offer. Love it and keep it coming! Uncarrier 7.0 coming soon!

Have you heard anything about the 830 in tmo's pipe line?

Nothing yet unfortunately.

Stop playing, you and the rest of us all know that every single carrier is gross--"uncarrier" branding or not.

Every carrier is not perfect, but you have to agree Tmobile is trying pretty damn hard to stay relevant. Things like music freedom, international roaming or even wifi calling mane them unique. Other carriers arnt even close to doing what tmobile has done when it comes to satisfying customers. And when the spectrum update Is complete, u will see who's rising to the top

Gimmicks are useless if your coverage is still poor compared to the others. Fix that first then you can play your little games.

my t-mobile coveragesis perfectly fine, i almost always have full bars, and i ararely actually drop the signal

I loved T-mobile, but unless you in a city area or close to it it sucks. I am an over the road truck driver, and converge sucks. I had to switch to Verizon because of it I can be in the middle of nowhere South Dakota and get LTE can be in middle of nowhere New Mexico get LTE. When I had T-mobile as soon as I left Rockford, IL south on I-39 forget any signal higher then 1x.

I don't understand the benefit of making such a remark at an employee unless he is a top shot who can make something happen. You just make the person uncomfortable to open up next time.

No they're not. I switched to T-Mobile because of those gimmicks and I'm quite happy.

I get great T-Mobile coverage. In fact I get faster LTE speeds than my coworkers on Verizon or AT&T. I pay $120 for 6 lines, or $20 per line, and I get unlimited calls/texts and 2.5GB of data at high speed per line. I remember when I was on AT&T I had two lines at $120 and was only getting 500 calls, 200 texts, and 200MB of data per line. And God help me if I accidentally went over on any of those. And ever since I joined T-Mobile, every few months they actually make my plan BETTER, not worse, AND my cost has actually gone down thanks to them opening up more lines. Until T-Mobile did their "Uncarrier" thing, all the carriers kept making customers plans WORSE and charging them more for it. T-Mobile has changed all that and now the other carriers are rushing to keep up. So seriously, you stop playing, not all carriers are equal.

Unfortunately, anyone with a Lumia 1xxx, 9xx, 8xx, and probably 7xx tuning WP 8.x would end up trading in for a downgrade if they want to stick with WP. Total mistake pulling the 925 without a suitable replacement, and yet that had to be done so the 635 would sell better. Should have dumped the 521 instead.

How about expanding coverage in the RI 02859 area. For years we had ZERO coverage, now we have spotty 2G and a very large dead zone. No coverage issues with the other three carriers. Once we get decent T-Mobile coverage and better Windows phones to select, I would consider making the switch.

Great! Now offer a decent Windows Phone!

+925. I want to trade in my 925 for... Oh wait.

25 bucks! You can buy a case for the phone you dont have!

I am really hoping I can get an unbranded version of something new from the Microsoft Store or Newegg. I am beyond disapointed with the abandonment of my Lumia 810.

I think 810 users should at least be able to trade in their 810 for a 925, no charge. To produce a phone and later act like it's the only one that doesn't exist is irresponsible.

This is in preperation for the iPhone 6. T-Mobile remains enamored with all things Apple.

Can't blame them iPhones sell well and they want more iPhones to sell as refurbished or use for test drives etc.

wow big spenders offering $11 for my lumia

Which basically means they'll offer $5 more for your device than other carriers. Limited time only.

No phones high end wise m8 coming in December

TMOBILE is awesome in south Florida. I've been on the the network since 2002 trouble free. I just can't wait for the 830 and HTC M8 to be available. Not thrilled with the 635! International roaming is so sweet that I can't leave them. Free unlimited data even on 2G and unlimited texting internationally can't be beat!

BOUGHT my 925 from newegg. I wonder how and what would happen during trade in.