T-Mobile has two more ads lined up for the Super Bowl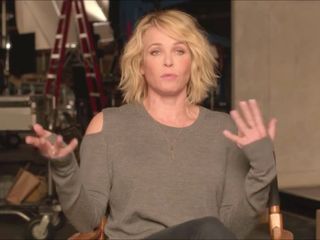 It looks like T-Mobile will be showing multiple new ads during Super Bowl XLIX. In addition to their ad starring Kim Kardashian, T-Mobile will also air a spot featuring comedians Chelsea Handler and Sarah Silverman. While the full ad hasn't yet been posted online, the carrier did post a behind-the-scenes video.
T-Mobile has yet another new ad that takes aim at the data practices of their rivals. Called "Data Vulture", the ad stars Rob Riggle and, well, a vulture and was produced specifically for NBC's online livestream of the Super Bowl.
The carrier has also announced an endorsement deal with Seahawks cornerback Richard Sherman. The deal includes three magenta buses with Sherman's face and T-Mobile branding on them, which will act as free shuttles to key locations before the start of the Super Bowl.
Source: T-Mobile (opens in new tab)
Get the Windows Central Newsletter
All the latest news, reviews, and guides for Windows and Xbox diehards.
Oh but that Kim Kardashian article.

Spend that money on your network instead.

Agree. Do people really buy something because some dopey celeb does an ad for them, that they're paid to do? Save the money and use it to get better. Dont pay these stupid clowns hundreds of thousands or millions. Especially if they're trashy

Yes people do buy based on ads, why do you think the business run ads?

All three of these are pretty polarizing celebs. Think they would have went more neutral.

Generally, business run ads to introduce people to new products or new promotions for current products. Ads like this will get name recognition but will do nothing for selling a product. Would you really switch from your current carrier with an ad like this? Plus they are spending $4 mill on a 30 second spot. Probably would have been better off running multiple commercials on several popular shows promoting their pricing and data models than running single ad like this during the superbowl, even if millions of people will be watching.

"Do people really buy something because some 'dopey celeb' does an ad for them, that they're paid to do? " Key word there is celeb. This has been proven to not work. Ironically, it was cemented by someone during a class discussion in which he thought Brett Favre was promoting Levi's, when in actuality he was not. Sometimes the Celeb has more pull than the company itself.

Microsoft...Windows Phone.... Get to it bro, Win 10 it up

Better phones, better pricing, better coverage. T-Mobile has none of those.

The pricing is hard to beat, especially international calling and data

In the seven years I was with T-Mobile the number of times I needed their international gimmicks were less than 1. I'm sure they are great for some, but that is likely a very small percentage of T-Mobile's actual user base.

$100 for 4 lines and 10 gb of data is hard to beat. ATT charges $160 for the same plan. I think verizon is around there too. So, there is better pricing but you pay for it in coverage.

and Cricket (Also AT&T) charges $100 for 5 lines and 12.5GB of data. Not so hard to beat, really.

So who signed a tmo contract after seeing the Kardashian commercial?

Tmo doesn't have contracts...Contracts are for idiots!

JUMP, Score, and going into debt for cell phones are for idiots. but so are contracts, so I agree with you there.

You realize there are good debts and bad ones? It's an interest free, 2 year loan. Only an idiot would pay up front when someone is giving you an interest free loan. You can pay off the balance at any point if you want to leave the carrier. With contracts, there is no option to pay off the phone an leave. You have to pay expensive termination fees. An example of a bad debt is charging your vaction to a credit card and then paying 18% interest for years to come.

Financing such a low ammount is what an idiot would do. The device devaules faster than the term of the loan and T-Mobile overcharges for their devices to essentially front load all that interest you don't think you have. Be smart and buy the phone outright from someone who is not T-Mobile.

True. In a way, I hate att next plan. The 1020 today costs 350$ unlock on amazon. Buy on att with next plan or whatever its called, you'll be financing $500. Either way these companies rip you off no matter what you do. Same with tmo. They don't sell at the depreation value but at manufacturers full retail price.

Good or bad it doesn't matter both are debts and debts is debt. Posted via the Windows Central App for Android

It's a different type of contract. Finance the phone and use their service. Only difference, you're not hooked. Same as 2 year contract. You either pay price difference of phone financed or early termination fee.

The way they prorate the termination fees means that terminating the contract is more expensive than just paying off the phone financing. When I switched to T-mobile from AT&T, the termination fee was over $100 when there was less than a month left on a contract. The phone was a 2 year old 920. So, the phone was paid off at that point. I didn't care since T-mobile was covering the charge.

After I saw the disproportionate ass of hers to her body, I decided to stay with ATT. ATTs overall better connection and reception is sexier.

Why are we reporting on TMO superbowl ads?

Why is Tmo rounding up the most annoying women in showbiz for their ads? Who's next Kathy Griffin?

Ordeith must've gone to crap places. My sister used wifi calling which is free, and free data when she lived in Spain this past fall. T-Mobile is the best value wise and unlimited data everywhere globally.

yeah in india we also prefer brand by quality, not the brand endorsed by celebs.

So, basically, T-Mobile is putting its hopes behind some of the more disgusting celebrities to push its product? Good grief.

Cool idea with the buses.

I know they better be all over the new Flagship Lumia when it's released.