Four different ways to do a Windows 8 screenshot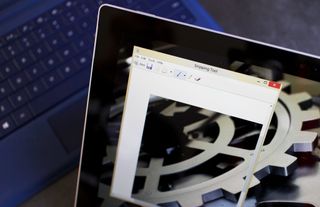 Beginner's Tips Series!
There are tons of reasons why you might want to capture an image on your Surface Pro 3, or other Windows 8 computer. Maybe you want to preserve a pic of your high score for posterity. Perhaps your IT guy won't accept "My Outlook isn't working" as a legitimate gripe and wants a screenshot of the error message. Or just maybe, you write for a technology website and often find yourself needing images when creating "How To's" for your readers.
Whatever the reason, Windows 8 makes is super easy to getting a pic of your screen. If you are new to Windows 8.1 or have a Surface Pro 3, you may be wondering what your screenshot options are, so we break 'em down for you.
Method 1: I want options
The most versatile way of grabbing images off your device's screen is the Snipping Tool, which has been included in Windows since the Vista days. The Snipping Tool can be found in the full Apps List under the Windows Accessories section. You can also do a search for it in the Charms bar.
Once you open it, just click on New, and then use the cursor to select the portion of your screen that you would like to save.
The Snipping Tool gives you the option of capturing your entire screen, an individual window, or by drawing either a rectangle or free-form box around the area to be saved. From there, you can even use the Snipping Tool to mark up the image and save it to wherever you'd like.
Method 2: I don't need options, just a quick snapshot
Press and hold the Home button (aka, Windows button) on the front the Surface, then just press and release the Volume Down button, as if you were taking a picture.
The screen will dim briefly and then go back to its original brightness.
The screenshot will be placed in a subfolder of your Pictures folder called Screenshots. If the Screenshots folder does not already exist, it will be created automatically.
Method 3: I have an external keyboard
If you are using a desktop computer setup and have an external keyboard, you can press the Windows key + PrtScn to perform the same function as above. Again, the resulting image will be saved to your Screenshots folder.
Method 4: Old style
In the event you want to keep it oldschool, the PrtScn button alone still gets the job done in Windows 8. Pressing that will copy a picture of your Desktop to the Clipboard, so it can be pasted into an application like Paint or Word. Using Alt+PrtScn together captures only an individual window.
Got any other tips for doing screen captures? Let us know in the comments below.
I didn't know 1-3, I feel so old right now. Thank you for this!

One can also install 'Gadwin Printscreen'!! A single keyboard key press and the jobs done!!

The nice thing about Gadwin is that you can ask it to save and autonumber screenshots, and that you can select the image format (jpeg compression level etc). The drawback is that there is no way to start a screenshot without the keyboard. I wish the tray icon could be used to start capture.

You can press windows key and h to take a screenshot and share it straight agay

Same here. I know the number 1 when my office makes me use macbook pro for iOS development (dual boot with bootcamp for developing .net backend) at 2011. Back then, I use snipping tool to take screenshots because of lack of knowledge about shortcut for prtscr button in mac keyboard layout (it's should be fn+F11 if I'm not mistaken).

I wonder how many options will be available when Windows 10 for phones released?

Its not really System integrated but the office functionality to take a screenshot from a particular windows or the whole screen is also pretty nice ;)

I like to use OneNote for screenshots. It's really great tool for screenshots because it is automatically backed up to Onedrive. So i can take screenshot of a drum pattern on melody at home go to the studio open OneNote and it's there for me in the studio. I love OneNote for so many reasons this is just one of them.. I also like to use me method 3 in this article if just need whole screenshot, but I also moved my default screenshot folder to Onedrive again so I can easy share or have on other devices.

Office has an option that is very easy and I use all the time. Click insert and the screen shot. It gives you the option of doing the whole screen, individual windows or you can take a snip in the same way as the snipper tool.

years over years over years using windows.... and never knew about the snipping tool... sorry, i'm gonna cry over there

Snipping Tool rules! :) I use it every single day for work. I also use Paint for the win.

THIS!!! Paint still rocks :)

Snipping Tool is great. FYI: There are three (3) versions: Windows app; OneNote app; and built into Office. I'd like to see Microsoft unify the apps *and* features into a single package.
•
For Print Screen, Windows Phone uses the Power and Volume UP buttons. Surface uses Volume Down, is that correct?

Knew them all... Good for beginners, though.

I like to use this freeware app 'Greenshot' for taking Screenshots. My favorite feature is instant routing to different sources, like an e-mail or direct upload to imgur! http://getgreenshot.org/

Nice, will take a look at it thanks.

I second the vote for greenshot, it's an awesome tool to quickly make a screenshot and add notes, frames, arrows and whatnot to it.

Damn....all this time I've been holding my Pro 2 up to a mirror and taking a photo with the front facing camera! Just kidding I only knew about the 'hold home button and press vol down key' method so this is helpful for when the keyboard is attached

I prefer taking a picture of the screen with my phone. And then emailing the image to myself.

Did you hit your head or something?

I didn't know about Alt+PrtScn. Thanks for the tip! In case you didn't know Skype for desktop can paste the print screen to the chat directly from the clipboard. No need to save the image first using Paint or similar software.

5th method : Press F13 . The screenshot will appear right away.

Dang! you make me look for it! ;P

The thing I hate about the win+vol down is that if you accidently hit vol up it enables the super annoying narration mode.

Hey Daniel and Seth, Instead of Clipping tool, which requires you clip, and then save, and then drag the file to the program you are using there's a trick using OneNote which is much quicker. [OneNote 2013] Press Windows+N (Clip to OneNote), Press S, clip, it will open a dialog. In here you can chose where to paste it to but I will chose copy clipboard and tick the remember choice box. Open the program I want it to go to, press Ctrl+V. [OneNote 2010] Windows+S suffices. By using this way, you can just clip a part of the screen and paste it to Skype almost instantly.

Under Windows 8 or 10, using OneNote has changed to: Windows+SHIFT+S your screen will fade and you'll be presented with a crosshair so that you can click and drag whatever you want to snip. on the 1st time, it will ask you if you want it to go into a OneNote notebook or to your clipboard.

I use the one note tool. Windows key + n, then press s for what is basically what you get with the snipping tool.

Method #5 - Install Jing and use that. www.jingproject.com. Fantastic tool for both simple screenshots and 5-minute videos, by the same people that do Camtasia. Amazingly, it's little half-sun icon at the top of the screen appears even on Metro app screens and the Start Screen. GREAT tool.

... or SnagIt. TechSmith makes great apps.

Alt-PrtScrn takes a screenshot only of the active window or dialog box. Good for dealing with tech support. And maybe good to know: Winkey-VolDown also places the screenshot in your clipboard, ready for pasting in documents.

Press the windows button+ print screen on the keyboard.

SHARE Charm, select Screenshot from the drop-down.

Well done Chris_Kez for picking this one up. I am surprised that I had to scroll so far down the comments to see someone add the Share charm option.
Daniel Rubino needs to add this one to the article.

We use Snagit for professional captures. Is great SW but not free.

I paid $50 for Snagit 10 but only used it a few times because for my needs OneNote is simpler and everywhere. Snagit is great but a little overkill also.

Great application! TechSmith makes good stuff.

At home, I'm generally old school, with the Print Screen button. Since in most cases when I'm doing a screenshot I just want a certain window, I use Alt-Print Screen to get the active window and paste it into whatever (Word, Photoshop, Paint, whatever). There are times I want more control, and for those times, I have a couple of options in addition to what was in the article. First, there's OneNote Screen Clipping tool. Generally, it's crop the shot you want, copy to clipboard, and paste to whatever. I also have ScreenPresso installed, which I installed in order to record audio/video of my desktop. I used this in my College Algebra class, in OneNote, with the pen, to share with others how I solved a certain problem. Doing math with a keyboard just isn't right, and seeing it done by hand, with narration, is definitely the way to go with higher level math. ScreenPresso does video only, audio and video, or screenshots. Nice app.

I think I have seen a video that you can double press the button on top (the one that opens OneNote) on the SF3 pen and it will take a screenshot.

For those who have a Surface Pro 3, double-click the cap button on the pen, which will then allow you to define an area of the screen to clip and will then bring up options of what to do with clipping (clipboard, OneNote, etc.).

I always used to use the screenshot function under the Share menu in the Charms bar.... but I'd either have to email it to myself or save it to OneNote.
The Win+Prt Sc has now saved my life haha

So that's how the snipping tool works! And i'm here using a Chrome extension just for screenshots! Thanks Seth.

Thank you for this. I take many screenshots from my phone,but couldn't remember how do it on my Surface and didn't bother with doing a search to find out how. I didn't know about the other options either. Thanks again... :)

Happy we could help. That's what we're here for. :)

I have the snipping tool pinned on my taskbar :3 THANKS FOR METHOD 3 is flawless, thank you, thank you, thank you.

I have Snipping Tool on my Taskbar too. Use it a ton.

Faststone capture is the best, especially if you are a creative. It also has screen colour picker and onscreen ruler. Best app by a long shot!

OneNote has the best screenclipping feature. If you open OneNote, you should have a little OneNote icon in the tasks bar by clock. Right-click it and in the menu that appears you will find a sub menu for setting how the OneNote screenclipping tool works. For example, you can have it immediately send the clip to OneNote. I personally just have it take the clip and then I paste it into whatever program needs it. Once you set your preference, you simply use the keyboard shortcut whether OneNote is open or not moving forward. The power of it is that when you press WINDOWS + SHIFT + S it will dim the screen, then using your mouse left-click and hold while you crop the area of the screen you wish to clip. So not only do you have the clip, it's cropped the way you want it. Love this feature. And it works with OneNote desktop app period, meaning it should work on other OSes. I was first using it on Windows 7. It used to be just WINDOWS + S, but now that launches search.

You can click a screenshot with your Lumia

Going to bookmark this one. Screenshot of an individual window. When has this existed since?

You forgot the Surface Pro 3 pen option of double-clicking the top (purple) button. It opens the image in OneNote, but it is actually saved to the clipboard so you can paste into another application like Paint.

You forgot one!!! Swipe on (or win+c) hit share. If you're in an app you'll need to change the top option to screenshot.

What about double tapping the surface pro 3 pen button???

good to know, only knew the old school printscreen buttom, now with win key or alt it becomes a lot more useful & easier

Or the one, superior way: GreenShot

Greenshot. So versatile. So good. So free.


On Surface Pro, pro 3, the keyboard does not have the PrtScn button.


Good point! No INSERT key either!

To do a printscreen on the Surface Pro 3 keyboard (since it doesn't have a "Print Screen" button), press Function key (Fn) + spacebar. To capture just the active window, press Alt + Fn + spacebar.

Method 2 sounds like a better option then the wp8.1 implementation

How about the Share function (screenshot) using Charms?

To do a printscreen on the Surface Pro 3 keyboard (since it doesn't have a "Print Screen" button), press Function key (Fn) + spacebar. To capture just the active window, press Alt + Fn + spacebar.

Double click the pen on the surface 3 on any screen and it opens One Note. It they give you the option to paste in the entire previous screen shot, or you can crop it on the fly. Faster and easier than the snipping tool!

I use "Send to One note" app toolbar... It's much faster and easier...

oh never knew these ways :D

These ways are indeed convenient but lacks features. I'm using a tool called Free Screenshot Capture. Other than taking screenshot, this tool also comes with a built-in editor and image uploader.

I am trying to find a hot keys shortcut way of taking a clip from the screen, but I cannot find it. snipping tool does not work on Google chrome, it just takes me to my desktop. please help! thanks
Windows Central Newsletter
Get the best of Windows Central in in your inbox, every day!
Thank you for signing up to Windows Central. You will receive a verification email shortly.
There was a problem. Please refresh the page and try again.