Tap Titans returns to the Windows Phone Store after being pulled in March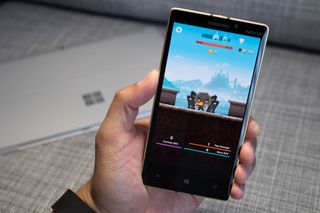 Tap Titans, the popular "clicker" fantasy role playing game from developer Game Hive, has found its way back to the Windows Phone Store. The app was pulled in March due to issues of the game crashing on low memory devices.
The bad news is that the re-released version of Tap Titans no longer works on those low memory smartphones, so you might be out of luck. For those folks who are unfamiliar with the game, your goal is to develop a hero with all sorts of weapons and abilities to fight giant monsters. Here's a quick look at its features:
HIRE 30 animated heroes to help you along your journey
DEFEAT 60 unique and destructive monsters
EXPLORE 10 beautiful, hand-crafted environments
PRESTIGE to new worlds to collect relics used to buy precious artifacts
SUMMON 30 powerful artifacts to give your heroes special abilities
Thanks to Kyle for the tip!
Download Tap Titans from the Windows Phone Store (Free)
Windows Central Newsletter
Get the best of Windows Central in your inbox, every day!
One by one.. They will return

I love the way you said it!!!!

They have to return to make money from all windows 10 devices hahaha.. Windows 10 will be the best...

I think if it was a Astoria project, it would have been universal. But well, I could be wrong.

Looks like windows 10 is having the desired effects !!!

I think they saw "THE BUILD".

I think they did. Our revival is here.

Even bank apps that were removed will come back... Seeing the popularity of windows 10

Sometimes I wonder if this is coincidental, or the developers have the same inkling as me that Windows 10 is going to be very popular

How many people have Windows 7 PCs? Hundreds of millions if not over a billion people. How many people have Xbox Ones? Tens of millions of people. Windows 10 has the potential to be on more devices than Android and iOS and Mac OS combined. Any developer who ignores that many potential customers has either a blind, irrational hatred of all things MS (Snapchat), is actually paid by Google and/or Apple, or stupid. Or all of the above.

Haha a blind, irrationally angry google employee... This sounds about right actually :D

I've been playing since it first launched. Still has some major issues that hopefully get fixed. Such as tournaments being broken and landscape being completely busted

The game crashed awhile back then stopped working so I uninstalled and just when I thought I was free from my addiction it came back

Windows store has been flooded.

I installed to give then support. Fun game though.

We,need the P0RN HUB app.Jk jk,jk,Lmao!We need less of those.

Pornhub app on hololens looks insane lol

Damn, FNAF on hololens?! Id shit my pants

And still not available here in Brazil. Just like Project Astoria, MS should make a Project when devs submites their games and these game receive age ratings for all the countries.

I know it's not ideal, but if you really like the game you could change region and change back right after finishing the download. I think Brazil is going to have a lot more potential when more carriers offer their payment options in the Windows store. Like Claro already does.

Desde que comprei meu primeiro Lumia, eu não usei mais do que uma hora com idioma Português e região Brasil. Uso ele no Inglês (US) e na região Estados Unidos. Essa é a única forma de usufruir de todos os recursos do sistema. Concordo que às vezes isso pode se tornar um problema, mas pela minha experiência, os app feitos no Brasil não costuma ter restrição de região, o que nos permite usá-los mesmo com o aparelho configurado em outra região. Since I by my first Lumia, I haven't used for more than a hour in language Português and region Brazil. I always used language English (US) and region USA. That's the only way you can use all benefits of OS. I agree that can be a issue some times, but in my experience, the apps made in Brazil don't use to have any restriction with regions, which allow us to use even with other region.

Can someone make a 3rd party app of Kik,

This game sucks, as in sucks all your time away. I had to remove it because I was not getting anything done with my life haha. *reinstalls* nooooo

They coming they coming!
Where's my weed guy?

1gb only? Seems pretty simple.

Not to be a party-pooper, but I'm pretty sure this is Astoria/Islandwood coming to the front. I was at Build, and those two teams were talking with app companies. King wasn't the only one in on the deal. I would venture that some companies pulled their Windows specific code to make room for Astoria/Islandwood versions (shared codebase!). We should see a few things returning, and I'm plenty cool with that.

Cant download:( says i need 1gig of ram, but im using a Lumia 1520 wtf!?

Are you on the Windows 10 Preview? If yes its one of the bugs.

Yes i am, thanks for the reply bro

Now we understand that a big % of the pulled apps have been pulled for the update!

P.s not available for all regions :( not in Germany at least

There'll be no stopping the Windows 10 juggernaut folks!

Hahahaha this game is awesome. Lol

Really no 512 support ? My android phone can run this game even having a 512 ram

Not working on my Lumia 930? Switch region to US and download the game via the link/QR (cannot find if I search store btw) then when I launch the game it shows the first two splash screens and gets stuck on stage 240(eventhough I have never played this before) and the UI is all messed up.

Make this game available to 512mb phones.