Techland reveals post-launch roadmap for Dying Light 2 Stay Human that promises five years of content support
Five years of post-launch support is planned for Dying Light 2.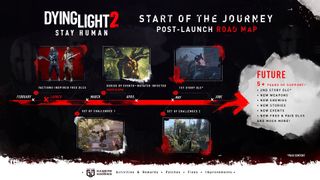 (Image credit: Techland)
What you need to know
Dying LIght 2: Stay Human is an open-world survival horror game developed and published by Techland.
Techland have revealed a roadmap showcasing the post-launch content plans for Dying Light 2: Stay Human.
This post-launch roadmap says the game will receive over five years worth of free cosmetic items, in-game challenges and events, paid Story-based DLC content and more.
Dying Light 2: Stay Human is the latest major entry of the Dying Light franchise, a series of open-world adventure games where you must use parkour skills and converse with the locals to survive in a post-apacalyptic world filled with zombies and mutants. Recently, the series' publisher and developer, Techland have announced on Twitter the roadmap for Dying Light 2's planned post-launch content and it includes the following:
In February when Dying Light 2 launches, there will be free DLC items and costumes inspired by the various factions you will encounter in the game.
March will see the addition of the first set of in-game challenges that will test the player's skills.
In April, Dying Light 2 will receive a series of in-game events that hint at fighting Mutated Infected.
The second set of in-game challenges will be added to Dying Light 2 in May.
In June, the first paid DLC content will be added to the game and it will be the first story-based DLC.
Afterwards, Techland promises to continue updating the game with a 2nd paid story-based DLC update, new weapons, events, enemies, storylines, and more free and paid DLC content over the next five years. Dying Light 2: Stay Human is slated to be released on Feb 4, 2022 for the Xbox One, Xbox Series X, Xbox Series S, PlayStation 4, PlayStation 5, and PC via Steam and the Epic Games Store. A Nintendo Switch version is scheduled to be released six months afterwards.
The Dark Ages have returned
(opens in new tab)
Dying Light 2: Stay Human (Preorder)
Run for your life and your humanity

Get ready to parkour through ruins and slice apart infected mutants in Dying Light 2: Stay Human, the long-awaited sequel to Techland's 2015 cult sandbox-adventure title, Dying Light. In this post-apocalyptic adventure, you play as Aiden, a young wanderer in search of his long-lost sister who is said to be the key to his forgotten past. Develop your survival and combat skills to survive this cruel world and help shape the destiny of The City, the last bastion of human civilisation.
Alexander Cope is a writer for Windows Central and iMore that has been gaming since the 16-bit era.
Normally, I would look at these things and see then as overly ambitious. Tech land, however, has done an amazing job of not letting their game rot from neglect. They've still been havungbmini-events and small DLC releases for a game released 5+ years ago, whose successor was supposed to be out quite a while ago. They've done a passable job supporting a game that didn't really need it (looking at you, Over watch team). I'm willing to assume these guys will do right by their game, despite the delays. Their commitment to doing ANYTHING for the players of Dying Light, so it isn't forgotten, is commendable.

Latest entry in the series... It's the 2nd lol. That aside I can't wait for this game. Techland did a fantastic job on the original. They are still updating it with free or cheap DLC as well as fixes should any bugs pop up. Ive played this game more than almost any other which may sound odd but it's just an enjoyable game. The traversal mechanics are a ton of fun, the combat is fun but challenging, the weapons are creative and there is an insane amount of them.. I have no doubt in my mind that dying light 2 will be supported just as much as the original if not more. I'm assuming the delays were mostly to allow hardware to catch up with their vision. They weren't willing to compromise and I thank them for that.
Windows Central Newsletter
Thank you for signing up to Windows Central. You will receive a verification email shortly.
There was a problem. Please refresh the page and try again.