Teenage Mutant Ninja Turtles: Shredder's Revenge provides a new spin on an arcade classic
Get ready to fight the Foot Clan, Bebop, Rocksteady, Shredder, and Krang.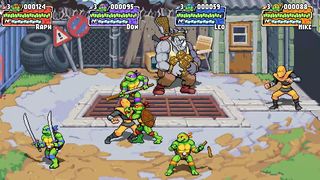 (Image credit: Dotemu)
What you need to know
Dotemu and Tribute Games announced Wednesday that they are working on Teenage Mutant Ninja Turtles: Shredder's Revenge.
A release date hasn't been announced, but the game will be available on PC and consoles.
The game evokes the style of '90s arcade beat 'em up titles like Teenage Mutant Ninja Turtles: Turtles In Time.
Dotemu and Tribute Games have teamed up with Nickelodeon to produce a new tribute to the golden age of beat 'em up arcade games and the original 1987 Teenage Mutant Ninja Turtles animated series. Announced Wednesday, Teenage Mutant Ninja Turtles: Shredder's Revenge aims to emulate the style of Teenage Mutant Ninja Turtles: Turtles In Time by letting players team up to control pixelated versions of the titular team as they fight their signature villains including the ninja of the Foot Clan, the mutants Bebop and Rocksteady, the alien Krang, and their nemesis Shredder.
The trailer, which features Faith No More's Mike Patton performing the show's theme song, shows off a bit of gameplay and some original animation including the Turtles' mentor Master Splinter and their reporter friend April O'Neil both also kicking some butt. That could be a hint that they'll also be playable characters. The game will take players through the buroughs of New York, into the sewers, and even to Krang's home, Dimension X, as they try to stop Bebop and Rocksteady from gathering gadgets needed to power Shredder and Krang's new scheme.
While no release date has been announced yet, the game will be coming to console and PC and can be wishlisted on Steam. Dotemu and Tribute Games have a strong pedigree in the retro beat 'em up space, with Dotemu helping to make Streets of Rage 4, which is among the best beat 'em games for Xbox, while some members of Tribute Games worked on Scott Pilgrim vs. The World: The Game. Here's hoping the new title lives up to those standards.
This makes my inner child happy. It also makes my outer adult EXCITED!!!

After Streets of Rage 4, I trust Dotemu with this. I'll get it.

Oh this is awesome! And you don't need an RX 6900 XT to enjoy it either.

Mike Patton singing the TMNT theme song? Yes please!

"Turtles in Time" on the SNES is still hands down one of my top 5 favorite games ever. I still play it and re-shelled on Xbox 360 on occasion. Even my kids enjoy it, although they prefer the 360 version, I think for graphics, lol
Windows Central Newsletter
Thank you for signing up to Windows Central. You will receive a verification email shortly.
There was a problem. Please refresh the page and try again.