Telegram Messenger Beta update brings two-step verification, sessions list, more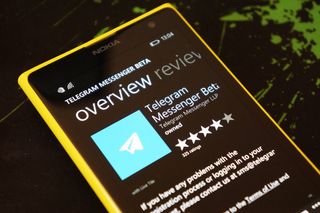 Telegram Messenger Beta for Windows Phone has snagged an update to version 1.9.0.0 today, bringing with it some added security features for the already security-focused messaging app. The highlights include two-step verification and a session list that allows you to close active sessions remotely.
Here's the full breakdown of what's new in Telegram Messenger Beta version 1.0.0.0:
Sessions List: View your active Telegram sessions (on desktop, tablet and mobile devices) and close specific sessions remotely.
Link Previews: Get rich link summaries for tweets, YouTube videos, Instagram photos and other content.
Two-step verification: Set up an additional password that will be required to log into your Telegram account.
Two-step verification should come as a welcome addition for keeping things secure. Likewise, the ability to remotely close active Telegram sessions is a godsend for people who have a habit of leaving the app open on multiple devices, or just want to keep an eye out for suspicious sessions. If you'd like to snag the update, long with the features above, feel free to hit up that store link below to get started.
Thanks to everyone who sent in tips!
Download Telegram Messenger Beta for Windows Phone (Free)
Dan Thorp-Lancaster is the Editor in Chief for Windows Central. He began working with Windows Central as a news writer in 2014 and is obsessed with tech of all sorts. You can follow Dan on Twitter @DthorpL and Instagram @heyitsdtl. Got a hot tip? Send it to daniel.thorp-lancaster@futurenet.com.
It's gonna come out of beta at version 2

Coming to 2 years I think? Still on beta.. But still good

Why does it matter if its beta, it works very well

Because it's on a beta OS?

Why doesnt it close when you keep pressing back?

Two step auth is best auth.

Because if anyone steals or guesses your password, they still need to go through the second level of authentication to gain access to your account. It is something many tech companies are implementing, and really helps to protect your accounts.

1024 key takes 12 hours to crack just saying, 4 x at 2048

A 2048 bit key would normally take much more than 4x a 1024 key to crack. Why 4x?

Use it every day! :) Great app!

Have you noticed it doesn't close when you keep pressing back?

Yes, it stays in task view. What's wrong with that? O.o do you use facebook app? And messenger? Both stays open too in taskview. There are a few more apps that stays on in taskview. Idk if that is a function or a bug but its not even a big deal :)

That is how most Windows Phone 8.1 apps are coded. SofaScore, Disqus, Maestro, Telegram, Flipboard, built-in Calendar etc. They all stay open unless you manually kill them.

I wish Kik would update there app. I know they have no plan to but that's lame.

Like half the world uses and im sure the company doesn't care what one person says about there service.

Half the world probably don't have cell phones

The best support I've ever seen for an app in the Windows phone store

Telegram and hike are best but WhatsApp still has maximum people on board.

But long delay for hike update, still full sticker store not available.. It is best app.

Nice! I hope whatsapp would just disappear since Facebook bought them and people use telegram instead, it's more feature packed and regularly maintained and updated, and secure.

You trust two Russians running this app and call it secure? Ok.

You can easily take a look at it's source code

Aye! Who wouldn't trust Russians anyway ;-)

Then you trust services run by Americans? Really? After all what Edward's revealed?

Great point. And Edward is hiding in Russia too, so there's that.

Still looking for a method to send and receive photos securely. Like really securely. Any help on this?

Then what's secure, mate? Apps by Americans? :)

Yes, two Russians that had to leave Russia and now are based in Germany I believe, because they were against government interference in VKontakte. Two Russians that put their net worth and lives on the line to oppose Putin on the matter of principle. I'd trust them. Pretty racist statement rockstarzzz. You know nothing about them aside from the fact that they are Russian.

Telegram to me was very unheard of untill reported on by WCentral, not that I dont read other news, but its not a popular app and seems lame. Now, If Kik updated there app, that'd be amazing!

Its pretty popular. Over 50million downloads on android alone.

None of my friends use it. Where have you ever gone somewhere or met someone knew and someone says "Hey what's your telegram info?". Lol

Dude, you are not the "WORLD". I'm not on whatsapp or your so called kik (Havent even heard of it till now). My friends love WhatsApp and a lot are using Telegram as a backup. Telegram can send all types of files and is hence more useful for students. I'm sure kik is more popular in your area, doesnt make it so world wide. Quit being so narrow minded. Peace.

I never mentioned a thing about the world, however, I have friends/colleagues across the globe and all of which use Kik and WhatsApp both, I've never met anyone who uses Telagram. Its not "my" so called Kik, its a messenger belonging to a lot of users. Go look at the users of Telagram, Kik, and WhatsApp and you let me know which has more user base. I dont have time sit here and listen to you complain which of which is greater than the other. Stay outclassed. Peace.

Here in India....Kik doesn't exist. WhatsApp and Hike are most popular. Telegram is slowly building its fanbase. Some of my friends are using it, some of them loved it but left because of less contacts. However, everyone preferred it over WhatsApp in terms of everything...just contacts were missing.

Tranquil is right. Indians don't know or give a s**t about Kik.

"What's your Telegram info" does sound weird, but you can ask someone to "send you a Telegram". That would be SO BOSS. :D

In my country nobody ever heard of Kik. Just saying..

I'd rather use Russian app which may or may not be used by rus spec services than use anything else US based, which we all know is clearly monitored by US special services (Thanks Edward!!!)

When will it bring my friends from other chat services :(

That would be supremely handy. Use WhatsApp message backups, and chat with non Telegram users, then i'll happily use this app over any other chat app. Sadly all my friends use either WhatsApp, Facebook Messenger, or Kik. None use telegram :(

You only have like 5 core friends, get them to come over and you'll be satisfied

How did you know that? :o

Yeah, all of my best friends are on Telegram and I don't need anything more. Now WhatsApp is like graveyard for us. Telegram Desktop application rocks!

Telegram keeps getting better! Big ups to the developers- the support is immense. We barely lack a feature.

I think Telegram is a good app. The problem is none of my friends use it

Same! I want to use it but none of my friends use it :/

For me, Telegram has replace Skype (except for voice/video calls) on desktop/PC and it just syncs to my phone. Great app, great dev support. Now, if they can just solve the connection/notification issues.

and a landscape mode! Have been waiting for it for years!!

The only things I think are missing from other platforms are Photo Editor and Default Sound. This last one is kind weird, because inside the app we can listen the default sound, but when the app is not open and you receive an notification the sound is the default OS notification sound. I already mentioned this with the support but they still didn't fix this.

Download Melodia app and download telegram tone from it as notifications tone for telegram.

Typo in the article, says it's version 1.0.0.0, it's actually 1.9.0.0.

I agree with others here who say that Telegram support for Windows Phone is excellent. I must commend Telegram for their regular updates & enhanced features. I can think of no other app developer that reliably releases app updates for the Windows Phone platform. If only other app developers would follow suit - namely Evernote, Box, Instagram, Threema.

Hike also has a great support

They haven't released their promised update in March that was meant to bring the app in par with Android!

This. The Hike app is a bit slow, and they are still working on the 8.1-optimized update.

Sucks I have no one to use telegram with

Convince people with this like I did. lol https://www.eff.org/secure-messaging-scorecard

Gimme a T...t, gimme a E...e, gimme a L...l, gimme a E...e, gimme a G...g, gimme a R...r, gimme a A...a, gimme a M...m..
What do you get❔❕
TELEGRAM❕❕❕

No news for windows 10 right now. Will it be released today or not?

I can't find the saved photos?

Is it an album? Or do I need to use files app?

If you are referring to Secret Chat, the only way you can save photos in there is by taking a screenshot and the sender will be notified you have done so. In regular chats you can save pictures by opening it in the chat and tapping on the bottom right corner and select save. Then you should see an album called Telegram with the photos you've saved.

All the "... but my friends don't use it..."
Man, Windows Phone has a bunch of introverts using it. Tell your friends to use it!
Almost all of mine that I've told have downloaded it. It is free, after all. The few who didn't are stubborn iPhone users or people who suffer from NIH syndrome.
My iPhone friends propose I buy a $700 iPhone so I can use iMessage. I propose they download a free app. SMH.

What annoys me is that Telegram and Whatsapp are so much more reliable than Skype for push notifications...... though my complaint about skype mostly centers around calls/video attempts not going through. Albeit, Telegram and Whatsapp are simpler in that respect, will be interesting to see what happens if either of them get voice/video service going mixed with desktop like Skype.

[Off topic] Is WP10 TP available for Lumia 520 yet?

That build is VERY close.

Is Telegram more secure than whats app or not?finally!

Absolutely. Whatsapp security is a joke and now that it's owned by Facebook.......

Exactly! Facebook ruined the privacy of WhatsApp. You can tell when a person has read your message, even when they've blocked their "last seen". It makes hiding your "last seen" almost pointless.

Yeah and Facebook profits off of the gathering of personal information. Though they say they won't do the same with Whatsapp, it still scares me.

Allow to add a background in the chat , please devs!!
Good job

Hasn't that been there for a long time?

Ah ok. Thanks for clarifying.

Has anyone got a group on telegram

For anyone having a hard time convincing people to try out Telegram, just show em this: https://www.eff.org/secure-messaging-scorecard

Nice one. Skype....... :O

Yeah... Actually all the most popular IMs look pretty shocking, Whatspp, Viber and Skype all score atrociously.. And from what I've read the other ones with perfect scores are really difficult to use.

They added people hub integration i wish whatsapp would also do the same.
Windows Central Newsletter
Get the best of Windows Central in in your inbox, every day!
Thank you for signing up to Windows Central. You will receive a verification email shortly.
There was a problem. Please refresh the page and try again.