Telltale games are being delisted from digital stores, discs still available
Telltale's titles are being removed from GOG soon.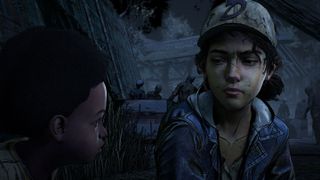 What you need to know
Telltale's games will be removed from GOG on May 27.
They may be removed from other storefronts too.
In order to buy them, you'll have to choose the physical versions.
You can buy experiences like The Wolf Among Us for $20 on Amazon

(opens in new tab)

.
A few months ago, Telltale Games announced that it was closing its doors for good. Luckily, the team managed to hand off The Walking Dead: The Final Season to another developer. Unfortunately, the saga doesn't end there. When many developers go out of business, their games are delisted from various storefronts. That appears to be the case with all of Telltale's titles as well. If you want to buy them, you'll have to get them through physical retailers.
It's unclear when Telltale's creations will be removed from the Microsoft Store, but they'll be delisted from GOG on May 27. If you purchase the titles before that date, you'll still have access to them in the future. New purchases just can't be made after the date. You can take a look at some of the company's popular games below and how to buy the physical copies.
Minecraft: Story Mode - The Complete Adventure
Minecraft: Story Mode is an interactive adventure set in the Minecraft Universe. All eight episodes in the series are on one disc for the first time. These include all five episodes of Season One and all three episodes of the Adventure Pass.
$18 at Amazon (opens in new tab)
Tales from the Borderlands
All five Tales from the Borderlands episodes are packaged together in this collection. This epic interactive adventure is a great addition to any gamer's collection.
$9 at Amazon (opens in new tab)
The Walking Dead Collection
The Walking Dead is an unparalleled journey into the heart of what it means to be human in a world that has lost its humanity. Not only do you have to deal with the undead, but you have to content with villainous humans.
$27 at Amazon (opens in new tab)
The Wolf Among Us
The Wolf Among Us is another five-episode series set before the events seen in the first Fables comic book series from DC and Vertigo. It's a violent, mature and hard-boiled thriller where the characters and creatures of myth, lore, and legend are real and exist in our world. You step into the shoes of a wolf detective on the hunt for a serial killer.
$20 at Amazon (opens in new tab)
Tales from the Borderlands was recently delisted from Steam, but 2K Games is working to get it listed again. Since almost all of Telltale's titles were licensed properties, they may eventually return to storefronts. However, that's not a guarantee. If you want to buy them, it's best to get a physical copy to be safe.
Which games are your favorites? Will you miss Telltale's projects? Let us know.
Jump into digital
(opens in new tab)
Xbox One S All-Digital Edition
Dump the discs

Secure your Xbox One S All-Digital Edition, Microsoft's new and ambitious disc-less console. It's the cheapest Xbox One ever made, bundled with a trio of downloadable games.
Excellent and affordable Xbox accessories
Up your Xbox experience with one (or all) of these budget accessories, all of which are approved by the gamers of Windows Central.
PowerA Play & Charge Kit for Xbox One (opens in new tab) ($15 at Amazon)
This charging kit keeps your Xbox One wireless controllers juiced up, and it offers batteries for two controllers. At just $15, this is hands-down our favorite budget charging companion.
ElecGear 4 Port USB Xbox One S Hub (opens in new tab) ($19 at Amazon)
This brilliant little USB splitter hub attaches perfectly to the side of your Xbox One S console. It's ideal for use with chargers, controllers, headsets, and more.
Controller Gear stand (opens in new tab) ($13 at Amazon)
Proudly display your Xbox gamepads with this stylish and functional stand. The licensed design is minimalist and black, and it has a hidden storage compartment, making the price of $13 a real steal.
Asher Madan handles gaming news for Windows Central. Before joining Windows Central in 2017, Asher worked for a number of different gaming outlets. He has a background in medical science and is passionate about all forms of entertainment, cooking, and antiquing.
As good as the Walking Dead games are (in particular season 1), Tales from the Borderlands is my favorites hand down, it's not only my favorite Telltale game but probably my favorite Borderlands game as well!

Long live digital-only gaming...

True that this is a bigger risk than physical, but if they are already installed, they are still playable. This would be equivilant of owning the disc until you loose the hard drive or delete the game. Of course loosing the hard drive is more likely than losing a disc, so there's that.

I own several games that have been delisted on Xbox 360, and can still install them.
Delisted doesn't necessarily mean removed from the collection for existing owners. It seems Microsoft planned and has the rights to keep providing the files to digital owners.

This is true as well and I had forgotten about it. Windows 10 (and so Xbox One) began allowing reinstallation of delisted apps so long as they are on the server. Now there are some that have been removed if I remember right.

True. One of my favorite game from 360 era is the one of a kind, Scott Pilgrim the Game. Delisted, but still available for DL. Seriously wish that game can be BCed tho. Then the game owners can play the game on xb1x, Xbox Next, phones and PCs (through xCloud or xvc) Back to TT games. These are niche games tbh (that's why the studio is not sustainable).
People who own'em digitally already. still own them. No harm done.
People who were not interested... no harm done.

You won't lose access, I said that in the article. You just can't buy new copies.

Dude seriously, give it up. Your trolling is getting lazy.

I mean, PC has basically been digital only for well over a decade, but anyway. Even if you do buy a game from a store 9 times out of 10 it's just a code to download.

Enjoyed all of these titles but the controls seemed to get worse with each new release. BTTF (not listed here) just seemed "blah".

Love that digital future. "We'll tell YOU when you're done with the games you paid for." /smh
Windows Central Newsletter
Thank you for signing up to Windows Central. You will receive a verification email shortly.
There was a problem. Please refresh the page and try again.