Tesco starts selling its own 7-inch Windows 8.1 tablet in the UK for £99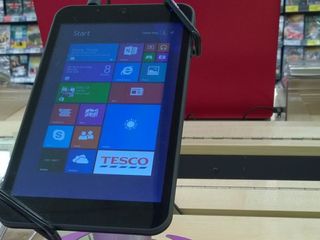 UK-based retailer Tesco is now selling its own 7-inch Windows tablet in its stores and online for £99, and it comes with three Tesco-branded apps pre-installed on the device. The retailer is also selling the Connect tablet with a new Lumia 530 smartphone together for £129 without a contract, or for free with a £12.50 a month contract for 24 months.
The Connect tablet has a 800x1280 display, and inside there's an Intel Intel Atom Z3735G quad-core processor with a clock speed of 1 GHz. There's 1GB of RAM, 32GB of onboard storage and 2 MP cameras for both the front and rear of the tablet.
The Windows 8.1 apps that come pre-installed on the Connect include Explore Tesco, which lets users check out the many brands of the retailer. There's also Tesco Groceries, where users can order their grovcery from the app. Finally, there's blinkbox Movies & TV, with over 20,000 films and TV shows to download for rent or purchase.
Tesco recently launched an 8.3-inch Android tablet, the Hudl 2, for the price of £129, but it has a faster processor and 2GB of RAM. What do you think of Tesco's strategy of offering its own Windows 8.1 tablet and apps?
Source: Tesco (opens in new tab)
It's good to see more options
+ when should the secret event start?

It probably did already. Just waiting for the lucky attendees to post something.

Can we watch it, keynote for instance

What secret event? The one in UK?

This is good for Tesco customers, who likely have a Windows PC at home and feel familiar with Windows. Having their apps on it is great for the platform too.

Great to see the UK's largest supermarket selling these new budget Windows devices to the masses. Tried for two weeks to try the display model out, but was told they was waiting for a password. Crap exuse

I just picked up a HP Stream 7 from the Microsoft Store UK for the same £99. Any chance of featuring that at some stage?

MS Store UK? I assume you mean the online one?

Good to see mainstream alternatives being offered to android tablet hopefully they'll push this with equal gusto.
Microsofts plan seems to be working as for app, well I've seen the comments but.. at least they've made one and hopefully will improve upon it.

Nice to see a new windows tablet however they should have made an option to put android or windows on their other tablet.

Dabs currently have a 7" Linx W8 Tablet for £78 and a further £30 off if you trade in your old tablet. If anyone was after a cheap W8 tablet.

Only problem with that is no one has heard of "Linx" if you search them they don't have a website, they don't even have a Wikipedia page. Plus this is in the biggest supermarket chain so will have a high profile.

Here's the website for Linx tablets, via Bing http://linx-tablets.com/index.html

Was gonna say I found it no problem. And reviews of some of their products - though not one of the W8 tablets. Didn't look hard either. Tesco also isn't the biggest supermarket chain, probably biggest in the UK though. Regardless it doesn't mean the product is good. When John Lewis started expanding their own brand the amount of cr*p they put their name on was incredible - and people still thought it was good quality. Not saying it's going to be bad, but not an instant good product. P.S. Buyers get bribed to hell and back with 'gifts'.

I'd prefer to see one with higher specs for double the price.​ I wouldn't by anything with that amount of ram or storage it's just asking for a crap experience.

Actually, if you run it as a Wimboot build it should be fine, except... MS have forgotten to allow moving Metro apps to SD card so you'll have less app space (after OS takes a cut) than your phone. If Win10 addresses this then great. I do think an extra gig of ram would be more competitive with their Android models. I'd be tempted to get the Hudl 2 instead and put Windows on it. It must be possible to just format the SSD on an Android tablet, right?

Great to see this but I'm a little confused... The Hudl 2 is an Intel tablet, right? So shouldn't it be easy to just shove Windows 8.1 on it? I mean, the Hudle has access to all the Google services (which Google charge for) so technically shouldn't it actually be cheaper for them to put Windows on it? The Hudle 2 is really gorgeous and it just seems a shame that there's no cheap Windows tablets that look that good easily available to the general (non geeky) consumer. That £129 530 bundle though... Wow! Amazing deal! A shame the 530 isn't exactly the best phone ever but it's a great bundle for smartphone beginners, kids, and even parents/grandparents.

I don't know if its just a typo or if it really is this bad, but according to the Tesco website it weighs 800g!!! That really is like a brick.

It's about 370g I believe

Who here has used a Tablet with only 1 GB? He's still good even after some updates and installing some programs?

According to some reviews, if you stick to Metro apps and steer clear of the desktop the performance is good. You wouldn't want to use the desktop on a 7" screen anyway.

If anyone wants to view a place for cheap & quality electricals take a look at CPC.farnell.com

i can only see the linx tablet and the lumia 530 bundle for £129, not the connect (but i might have missed it)

7" tablet, 6" phone. With Windows 10 the distinction will be very blurred - in theory my 6" Lumia 1520 and a 7" tablet will just be the difference of 1" and ability or not to make phone calls.

Good point, I can't use a 7 inch tablet because of my 6" Nokia I will have to jump up a few sizes... But I'm sure the 6" windows tablet with phone capabilities is right around the corner.

that's a bit of a shame because I'd love to see W8.1 in the Hudl hardware.

I choose the hudl 2 over the windows tablet as I was looking for something with a slightly bigger screen. I was very surprised of the performance of the hudl2 has to be one of the best tablets around for it price range. Also come with a stack of vouchers £10 blinkbox credit and a free leather case for hudl 2. Well worth the bucks.

Sainsbury's supermarket is selling the Linx 8 for £99, and the Linx 10 for £149. Seems a better product for the same price as the Connect. Glad to see more and more tablets available.
Windows Central Newsletter
Thank you for signing up to Windows Central. You will receive a verification email shortly.
There was a problem. Please refresh the page and try again.