There's still time to grab a Windows Central Ninja Cat t-shirt!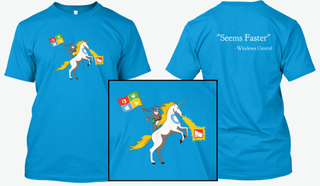 A few days ago we launched our first, limited run, Windows Central t-shirt featuring the ultimate Ninja Cat and Unicorn combination. We've been blown away by the reception it's seen, but there's still time to grab one before they're gone!
We set the bar at 500 to be printed, and since we weren't sure how it'd be received we left a pretty healthy time frame on it for folks to snap one up. But, good news, in the spirit of the "seems faster" motif, those of you who bought one already won't have to wait until the clock hits zero to get them. As of the time of writing we're sitting at an amazing 410 shirts sold, which means there's only 90 left to be had. When we hit 500 instead of waiting, we'll end the listing, get them printed and start shipping them as soon as we can.
Enormous thanks to everyone who's grabbed one (or more than one!), we've truly been excited by the response. We've had a lot of positive feedback and suggestions and as such, it's something we're definitely considering doing again in the future! If you still want one of these though, hit the link below to snag one of the final 90!
Update: We did it! We hit 500 Ninja Cat tees sold! Following the advice from the fine folks at Teespring, we have now changed the campaign end date to March 17th. This means if you didn't make it into our initial goal of the first 500, you still have a little bit of time to get in on this limited edition shirt before the campaign ends and they get printed and sent out.
Windows Central Newsletter
Get the best of Windows Central in in your inbox, every day!
Managing Editor - Tech, Reviews
Richard Devine is a Managing Editor at Windows Central with over a decade of experience. A former Project Manager and long-term tech addict, he joined Mobile Nations in 2011 and has been found on Android Central and iMore as well as Windows Central. Currently, you'll find him steering the site's coverage of all manner of PC hardware and reviews. Find him on Mastodon at mstdn.social/@richdevine
Where can I get the original image? The one that's on the T-shirt.

Oh. Where exactly and how do you know..?

That's what you get for trying to be funny. Then you saw India and got all seriously interested and bit the bait. You have failed. FAILED.

Next time I'll try to make the folks here cry (good for the sites' popularity).
I didn't get serious or anything at all. Just pushed him to see till where he can take his bluff to.
Keep your failed tag with you. Suits you.

Cover up your shaaaaame. Maybe you can hide it and your bad humour in ANTARCTICA!

See loser get a life. For long you have been after my ass (without any success) dunno why.
Maybe jealousy..? Hatred..?
Whatever it is, time to stop. Don't reply or mention me in any of your comments. Keep your enlightening thoughts to yourself.

What? I don't even know or remember you dude but if I've replied to your comments before then it means you're a special case of ding-dong. If you want to be a smartass and play people around, then you have to accept that you will be played too. That and I don't see why anyone would be after your sorry, skinny ass. Keep that to yourself. Yikes.

nah don't like the WC logo and name on tshirt ... its spoiling

Last I heard it was on its way to Mars

No, it has actually reached Uranus.

You guys are the worst...

Made me laugh when I read :)

Seems faster is a classic here and now immortalised on these t-shirts lol

"Seems Gay" ....and that's coming from a dude with Gay Friends....too many colors ;)

I'm still trying to figure out why this ninja cat thing is so great.

Because the internet (in it's infinite wisdom) made it so

Because it's freaking awesome.

Because it seems faster ;)

No pants. Too restrictive.

Richard can we get some mankini?
:-D

We can have the 'seems faster' printed under the belt area. Lol.
DM JK

Seriously?
I thought this is a Windows news site?
The last three "articles" are about discounts and selling your own overhyped product.


what pisses me off nowadays is the delay in the news... I knew about the new leaks of wp10 like 3 hours ago before wc posted.... still a huge fan of this site... I really follow it but its high time for me to change I think !

WC staff believes in confirming the genuiness news first. There are other sites who sell the folks with crap and hoax images, news etc. But WC doesn't.

I'm just wondering how it would've benefitted you by knowing about the topic 3 FUCKING hours earlier. Do you not have anything else to do during the day?
(Pardon my French)

3 hours to hear about news, confirm it, write up an article, and actually run a spell check (something fewer and fewer sites do), and publish is a pretty good turn-around time. There is a reason it is called 'work'

Run spell check? Surely you aren't serious about that. Almost every article is full of errors. I agree tho that 3hours isn't that bad, and I would rather they just post accurate stuff and not crap

"seems faster" You're awesome guys !

What would you rather hear about? Nutella giving more stuff to ios & android, Xbox gaming news, or apps leaving WP? Because that's all there is these days!

Honestly, I'd like to hear the last four-five articles from wmpoweruser.com here first: Official app from The Voice MS UK giving away handsets Announcement of Azure IOT Suite Official MS flip-style covers for Lumia 640 and 640 XL showing up online. These are all relevant and there is no reason that the authors can't follow the same sources and post accordingly, even if they need to come back and update. I prefer to get my news here because I find the articles to be better written and more informative than the aforementioned site. With this said, I've been a bit put off by the frequency of posts relating to the selling of cases, etc., and wish they were a little quicker to the punch on breaking news. At one point they addressed that isssue but it seems it has received less attention as of late. In any case, this is my general feeling. I think it is important for those who operate the site to get a good overview of what the constituents are thinking, good and/or bad.

Not much news until Windows 10

Can u give me option to follow only selected kind of news dats restricted to windows phone n pc... Not interested in products and xbox stuff... Waiting for that feature... Consider it :)

Not gonna come. Readers from around the world. Different interests. Learn to scroll.

Nobody comes to this site to learn about product discounts.
They come here for Windows/Microsoft news.


The daily articles from Brent also makes up one of their sources of income. They too need some mint to survive.
And if there's an (rare) article from SanDisk or Amazon discount....
Well if someone needs a card and sees the article, it might be beneficial for em. I forwarded the links to my bro. He needed one for his droid, so someone benefited. It's not according to you or anyone else. Plus if you have any news, tip the WC folks as there is nothing happening today.

Actually I do. If there is a discount on a Windows product. I'd like to hear about it so I can save money.

Readers with dffrnt interest can take interest in dffrnt stuff... Its just i dnt want unncessary stuff on my notification panel ... Btw i know about the product and ad benefits but a site should consider the interest of consumers n followrs... Ppl who r nt interested in xbox or dnt have xbox are nt gonna buy related stuff... No point in getting notifications or info about that... And how would u like if i feed u info about things u dnt need or dnt like... Frustration?? Learn to understand the point before commenting ,, thnx

Notification Problem----Either switch it off from the app settings or disable the app to run in the background.
Unwanted News Problem----Flick you thumb or scroll with your mouse.
*different
----------------
Even I don't have a Xbox or a Band. Nor am I interested in the Previews of Windows 10 for desktop (yet). Not even in some apps which I don't use. But I dunno whine unnecessarily as there is currently no solution to this problem.
The WC folks are not gonna classify news according to your needs or someone else. Try another tech site and tell if it does such thing or not. Maybe even I'll switch.

Switching notification off will off every other notifctn and other interested news frm WC so dnt teach me kid... BtwLearn to know the meaning of whining kid... Asking feature isnt whinning... If it so then every1 here is a whiner including u... Grow up and dnt act like u r supergenious or something or u run MS...

Hey, I jumped in and ordered because of this. so...

Where doe the "seems faster" slogan come from?

Every. Single. Comment. Section. (Okay, not so much these days - but it was incredibly annoying for a few months)

Funny last I checked the site is called windows central not wp central so anything windows related is fair game you wanna cry about it?????? Spend a month on phonearena then come back here

There is a Windows logo in the shirt. So its related to windows

Why you guys have a limited run on these? Just keep printing as long as they are selling...

All the interested(410) folks have bought it. Now....

What's the story behind "seems faster"?

Started as a joke on app updates.
Ended on banning overexcited folks.

Okay I ordered :) Probably going to be my silliest shirt ever.

When you quit being a moron.

Wow for being a fan site there sure are a lot of whiners. This is just an article to help you show pride in the site and Microsoft. If you can handle that then why are you here?

Whom are ye sayin that too..? Reply this to a whiner.

I know right. This shirt is obviously for Microsoft fans (such as myself).

Do they ship worldwide or what?

Wont people think I am a total dork in this?

Do you care about people thinking you're a dork? My friends all know I'm a dork. All I talk about is Windows, Xbox, and other Microsoft related things. Embrace the dorkiness if you're a dork.

What's so special about this?

It shows pride in being a Microsoft fan. That's what's special.

Ordered mine as soon as I saw Daniel tweet about it. Cant wait :D

Too funny to pass up. Ordered!

nintendo might sue for stealing Ponyta images.

Should have mine march 1st

Didn't March 1st pass already?

Maybe he lives somewhere reeeeeeeeeeeally remote and meant 01/03/2016

Love the colour, but that slogan on the back is not my thing. It is quite simply the top thing I would change about the site. Spam. But the t-shirt does look good in that colour.

Yeah, the slogan was the deal-breaker for me

So I got an email stating the shirts will be printed (I ordered two) as they got to 510 sold. Nice!!

500 to be sold, at $20 a shirt. That's ten grand in gross revenue, guys. Congratulations! Mind sharing the estimated net figures? I'm just curious to see how my favorite tech journalists are doing financially.

When are you guys going to sell that Windows Central coffee mug that Daniel showed on his Instagram a week or two ago?

Hurry and buy them now to get one of the last 90 available before we end the sale!! Then simply neglect to end the sale... 534 sold and counting... Psychology for the win as it got me to pull the trigger before that 500 mark... Sneaky guys, very sneaky! hahaha No regrets!

No one wants a shirt splattered with windowscentral self promotion logo on it. Make it without it and boom, sale

BUENASSS NOCHES, COMO HAGO PARA OBTENER ESA CAMISETA, ME GUSTA MUCHO.

I wanted to order one. Didnt realize there was a deadline. Hopefully you will offer it again.
Windows Central Newsletter
Thank you for signing up to Windows Central. You will receive a verification email shortly.
There was a problem. Please refresh the page and try again.